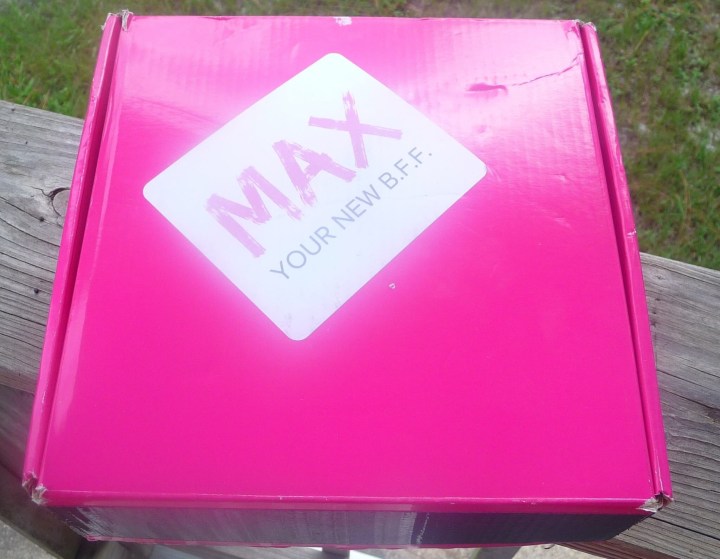 Max Your New B.F.F. (formerly Bakery16) is a monthly subscription service that delivers your favorite baked goods, as well as other lifestyle items. Aside from baked snacks and treats, you'll also get stationery, cosmetics, bath items, etc., all for only $22.00 per month. It's a subscription box that gives you a bit of everything every month in one box.
What an adorable box! Crafts, household, and food items. August's box is pool party themed! Inside was cup, freeze pop bags, floatie, a candle, and a bottle of blow out spray.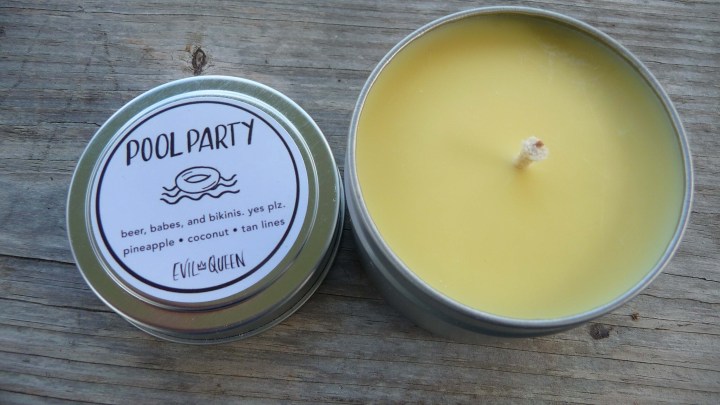 The first item is the Evil Queen Pool Party Soy Candle ($7?). This candle smells like a day at the beach. Oh my! The candles are 100% soy wax and fragrances free of harmful chemicals, homemade, and vegan/eco-friendly.  Those are always a plus in my book.  I like the fact it is female owned also.  Check out the site for the different scents she offers.
My next item is Amika  Bombshell Blowout Spray ($19.50 for 8oz Amazon). I received a 1 ounce bottle of the product (roughly $2.43). This is an ultra-lightweight mist, derived from rice, formulated to add volume and shape without buildup. You use it before blow drying your hair to give it extra texture and lift. Next girls night out, I am giving it a try.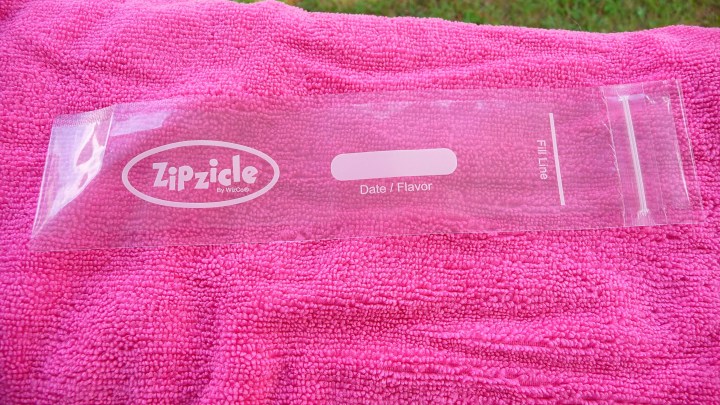 Everyone loves freeze pops! No kiddie pool party would be complete without them.  My box came with 5 bags of Zipzicle Ice Pop pouches ($6.99 Amazon for 36). You can decide what flavors you like most and make your own. They are simple to use. You just fill them with your favorite fruit beverage or juice, close the bag and freeze! And for the adults, they are perfect for cocktail inspired pops containing alcohol.
My next item is  a Max Cup from CupsCo ($9.95 Cupsco). It is an 16oz stainless steel cup. You can order customized cups for events or as gifts. Believe it or not, they have a beer pong set also! LOL. Each cup has a handpolished mirror interior, is 100% type 304, 18/8 food grade stainless steel, BPA- free, Phthalate-free, and Lead-free. They are dishwasher safe, which is good in this house. They are stackable, packable and shatterproof. I already love this cup. Just wish I had a lid with this one. They do sell the lids on the site.
My last item is a Big Mouth Pool Party Beverage Boat ($10.99 for a set of 3 Amazon).  OH MY GOSH I LOVE THIS!!!!!!! This cute inflatable beverage float is adorable. I received 1 but they are sold in packs of 3. They are used to keep your drink handy while swimming or floating in the pool.  No more getting out to get a drink unless you need a refill.I don't have a pool so I improvised. As you can see below,  it can hold my 16 ounce cup pretty well. I could not stop giggling when taking this photo.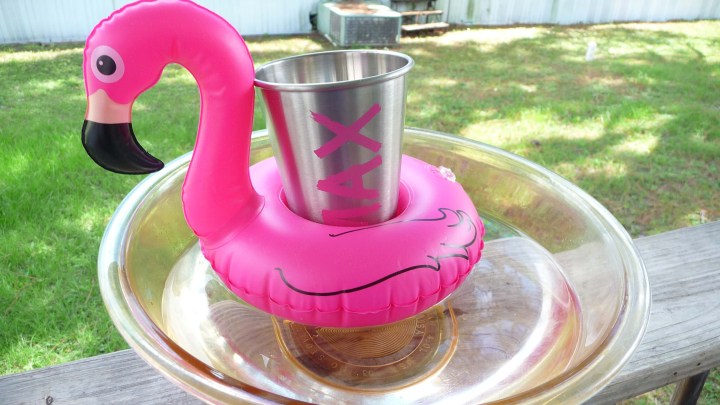 Well as you can see I am ready for my invite to any last of the season pool parties any one may have. I'll be waiting for them in the mail!  The total value of the items was about $24.
What do you think of the Bakery 16 subscription box? You can save $2 on your first box with coupon code HELLOSUB16.
Visit Bakery 16 to subscribe or find out more!
The Subscription
:
Bakery 16
The Description
: Think Outside the (Subscription) Box! Bakery16 brings you all the anything and everything in a box! You'll get baked goods, snacks, cosmetics, stationery, etc. delivered right to your door.
The Price
: $22.00 per month