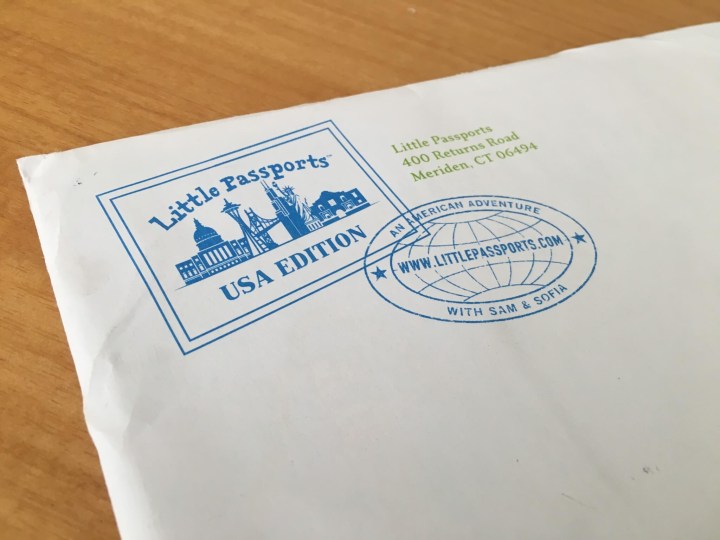 Little Passports (USA Edition) is a kids' educational subscription with crafts and fun activities about the fifty states.  This box is designed for children 7-12, but any bright kid 5+ would like it. Your kids will learn about the geography and culture of the United States with the USA Edition.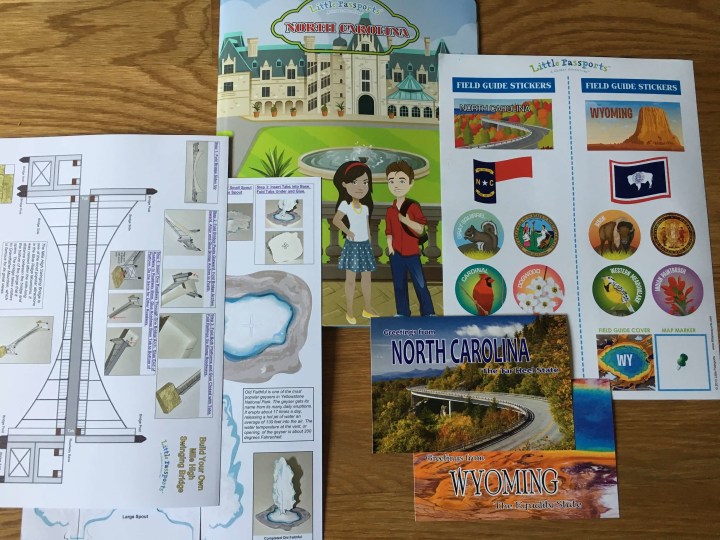 This month, Sofia and Sam visit North Carolina and Wyoming.  The box contains a cute double-sided activity book, postcards from each state, stickers for your field guide, and two stand-up models.
The postcards, stickers, and models are brightly colored and fun.  If you were in need of a restroom in. . .you know what, never mind; it's too easy.  Postcards!
The stickers are for the Field Guide (you DID save the Field Guide, right?) and cover the state bird and flower and so on.  There are even "pushpin" stickers to mark the map poster (which you also saved?).  Nice, quality stickers.  Yet another state featuring the mighty Gray Squirrel as its state animal.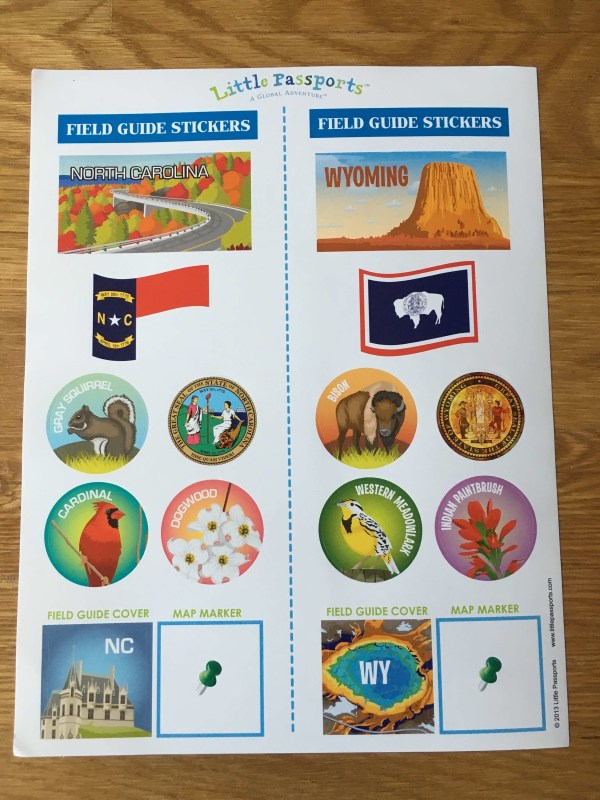 The models are punch-out coated paper and this month made a bridge hanging a mile (!!) up from a ravine and Old Faithful the geyser that is definitely probably not going to unleash an apocalypse in the Northern Hemisphere potentially at any moment.  The bridge model was cool, and the geyser was at least better than that New Jersey boardwalk last month.
The activity book flips over and upside down to cover both North Carolina and Wyoming.  It's a glossy, colorful, 32-page activity book with fun facts and games about the states.
The cover of North Carolina features the Biltmore Estate, a very unairconditioned old home in the amazing, fantastic, one-of-my-favorite-cities of Asheville.
Some of the highlights of North Carolina include Sam and Sofia's note and map, more fun info about Asheville and the Biltmore, PIRATES, a cool glider to build, and a gorgeous seek-and-find.
On to Wyoming and Sofia's jaunty head wrap.  Highlights of Wyoming include the letter and map, a dubiously scientific mentos-and-coke rocket, an interesting discussion of ancient monuments, and a pudding that reminded me of playing the Oregon Trail a thousand years ago.
Another quality box!  The activities are fun and age-appropriate, and they do a good job highlighting some interesting aspects of the states.  Nonreaders will need help, but older kids can do everything on their own.  We can't wait to see where they go next month!
This would be a great grandparent or aunt/uncle gift, or a supplement to a homeschool curriculum, especially ahead of a roadtrip or visit to another part of the country.
Save $15 on annual subscriptions! Use coupon code WELCOME15.