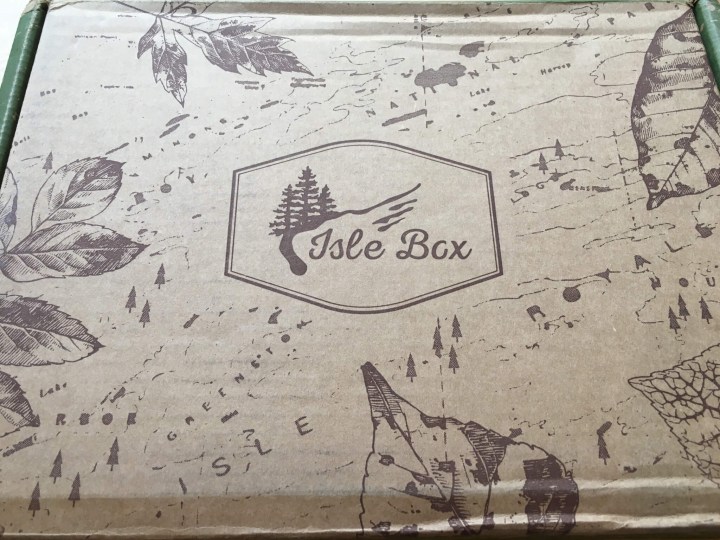 Isle Box is a monthly subscription box containing items of interest to outdoor enthusiasts of all persuasions. Its curators, adventurers themselves, strive to select current, indispensable items for those who love the outdoors. The box is named after Isle Royale, a National Park in the middle of Lake Superior.
Isle Box offers an array of collections to choose from. While some would be perfect for first timers, others may appeal more to seasoned adventurers. When you sign up, you'll select either the monthly subscription or a seasonal subscription. This review covers their monthly subscription box for August.
Each monthly pass box includes 4-6 items not typically found at REI. These include one big ticket item valued at $30 or more, 2-3 supplemental items valued at $15 or more and 1-2 food items valued at $5 or more. In all, you should expect to save at least 25%  from suggested retail values when purchasing this box! The box costs $44.99 each month.
August's box contains a hammock, water bottle, sunscreen and freeze-dried ice cream.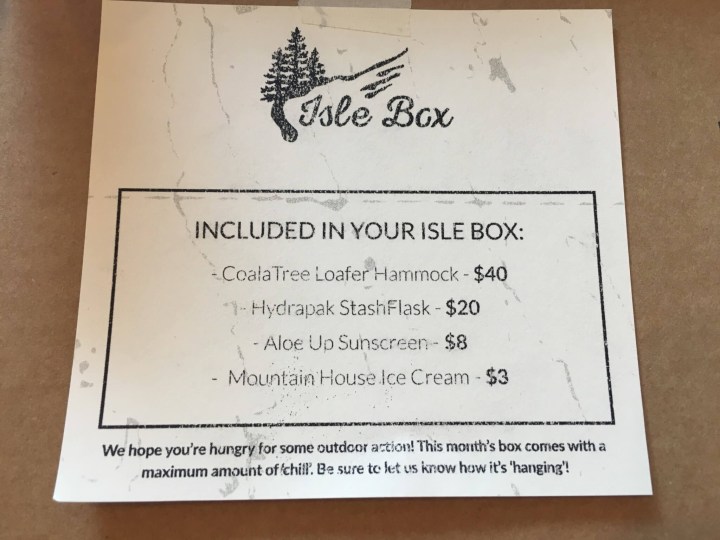 Each month's package arrives along with a list of the box's contents and their respective retail prices. August's theme is Chillin'!
We hope you're hungry for some outdoor action! This month's box comes with a maximum amount of 'chill'. Be sure to let us know how it's 'hanging'!"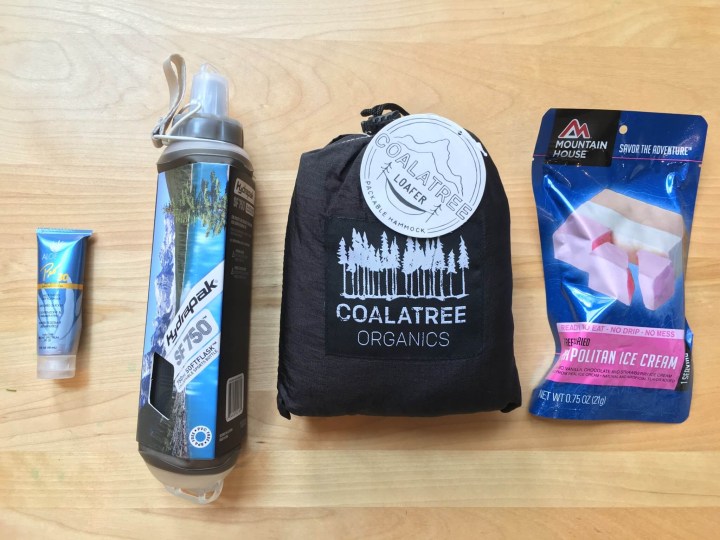 These products certainly evoke chillin' to me–relaxing in a hammock, sunscreen applied, drinking water and eating ice cream. Sounds great!
Coaltree Organics' Loafer Hammock ($39.99) arrives, along with two ropes, tucked inside a small attached pouch. Weighing 13.4 ounce, this lightweight hammock is made from parachute nylon with triple stitched seams. Online, Coaltree Organics states that it holds two people whose combined weight is less than 450 pounds comfortably. The package itself states that it has a 250 pound weight limit. Just to be safe, I plan to use this as a single person hammock.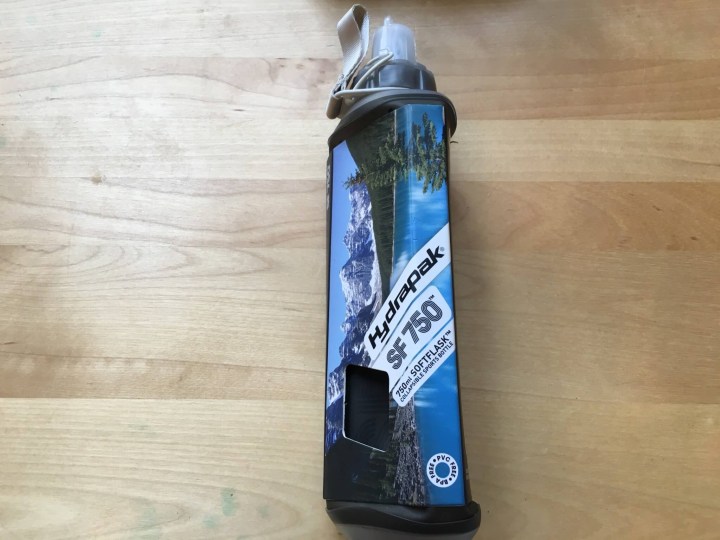 Whenever you're outside, even if you're lounging on a hammock, it's important to stay hydrated. Luckily, Isle Box included a Hydrapak SF 750  ($20.99)! This collapsible water bottle takes up only as much space as it needs to to accommodate the liquid inside of it. Cool! The bottle boasts a silicone bite valve and dust cover. Weighing in at just 2.3 ounces, this is the perfect go-to water bottle for all of your outdoor adventures.
Aloe Up's Pro Ultra Sport SPF 30 Sunscreen ($3 based on the cost of 4oz) is a chemical sunscreen that also contains 35% aloe vera gel. My skin absorbed it quickly and easily. It's water resistant for up to 80 minutes and promises not to run.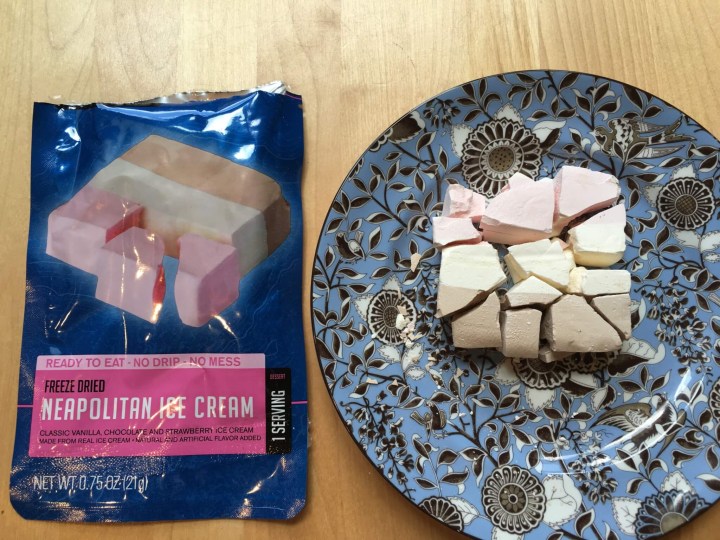 Mountain House's Freeze Dried Neapolitan Ice Cream ($2.99) is delicious! Although I was never a fan of astronaut ice cream as a child, I loved this! It's soft and creamy and the flavor is perfect. I originally received this in June's Isle Box, but I loved it so much then that I'm thrilled to have received it again!
I think Isle Box is great! I've used the gear they've sent me repeatedly while car camping with my son, and I'm sure to get a lot of use out of this month's selections as well. I love that their gear is down to earth and accessible while also being useful to more seasoned adventurers of any persuasion. I also think the value is great–this month, you're getting over $65 worth of gear for just under $45. That's pretty hard to beat!
I really enjoyed the products contained in Isle Box this month and hope to receive many more installments in the future!
Visit Isle Box to subscribe or find out more! Save 10% on your first box! Use coupon code  NATIONALPARKS.
The Subscription
:
Isle Box
The Description
: Isle Box seeks to give you the greatest gear that you don't even know you're missing out on. Some of the greatest adventures that you can have are spawned from the unknown and that is exactly what we aim to bring you with Isle Box: an unknown box of gear that we know you're going to love. Get the Monthly Pass or the Seasonal Pass.
The Price
: $44.99 per month for the Monthly Pass, $124.99 per quarter for the Seasonal Pass.