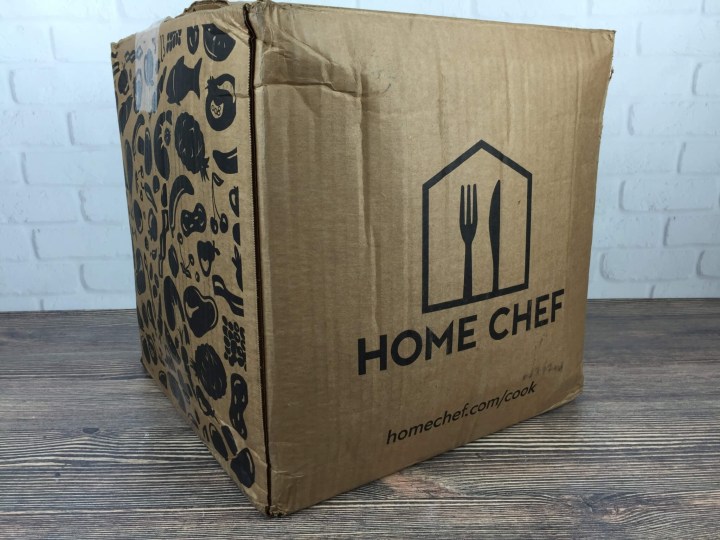 This week's Home Chef selections featured an awesome, simple twist on quiche Lorraine!  Home Chef is a meal in a box subscription – every week choose from a variety of recipes and have all the ingredients and preparation instruction delivered to your door.  It's similar in concept to other weekly meal delivery services, but it has its own unique features and perspectives.
Meal selections are suggested automatically according to a profile you fill out noting your family's preferences, but you can change your selections any time. Home Chef offers an incredible 10 selections available for 2, 4, or 6 people, a breakfast choice, a smoothie choice, and a fruit basket selection.  The portions are huge, and this is currently the least expensive and has the most choice out of any similar major subscriptions (for 2 people) – $9.95 per person per selection (they typically have one meal a week that's a premium meal).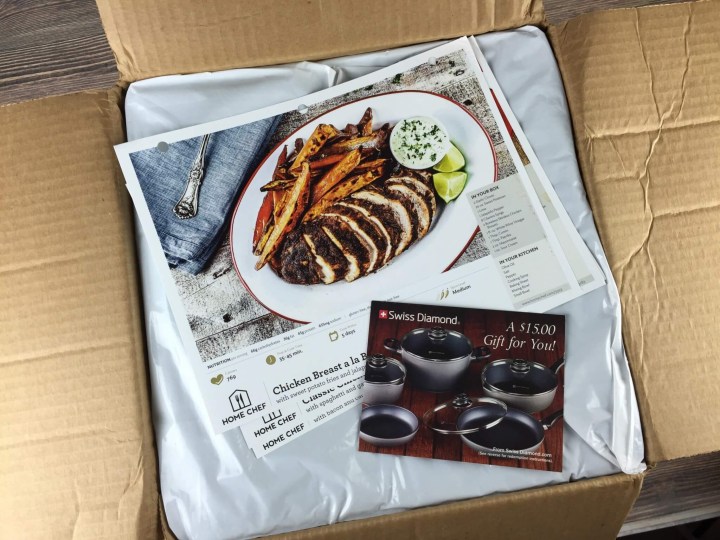 This week, our food was packed within an arrangement of puffy, padded cooler pads.  The food is segregated in bags, and each bag has nearly everything needed to make a complete meal.  You have to have a basic kitchen setup (stove/oven, cookware, etc), but a couple tablespoons of cooking oil and salt and pepper are usually the only ingredients you have to have at home. Unlike other boxes, Home Chef includes liquid egg when needed rather than expecting you to have eggs on hand, and they even include a bottle of oil for shallow-frying when a recipe calls for more than a few tablespoons worth.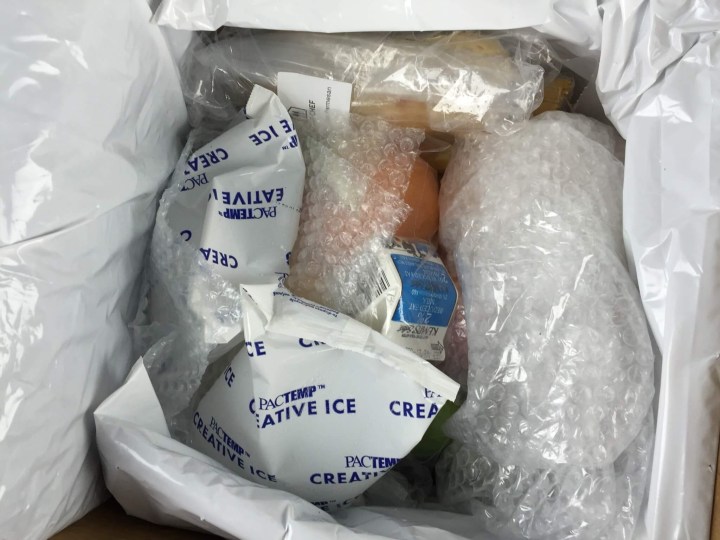 The box is always packed with a sufficient number of ice packs — the meat is placed in the bottom of the box with several of them.  I like that they now put all the meat in giant bag to protect against leakage and to let you get the meat out without fishing around.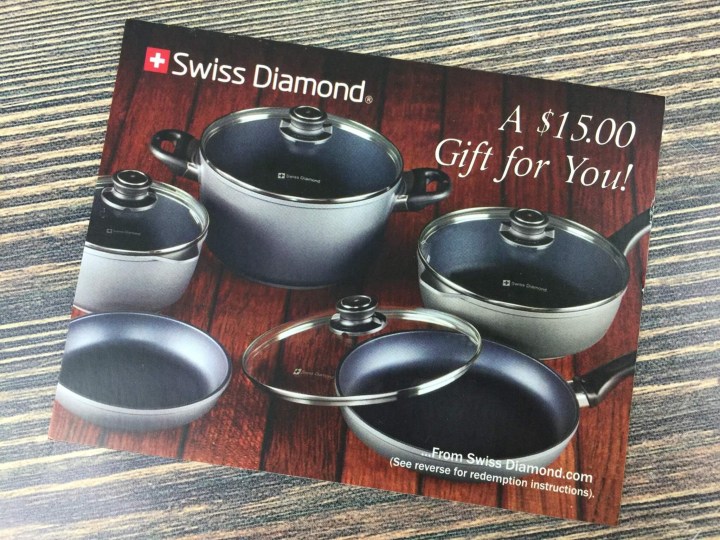 A special discount card was included.  It's good for $15 off of select Swiss Diamond cookware.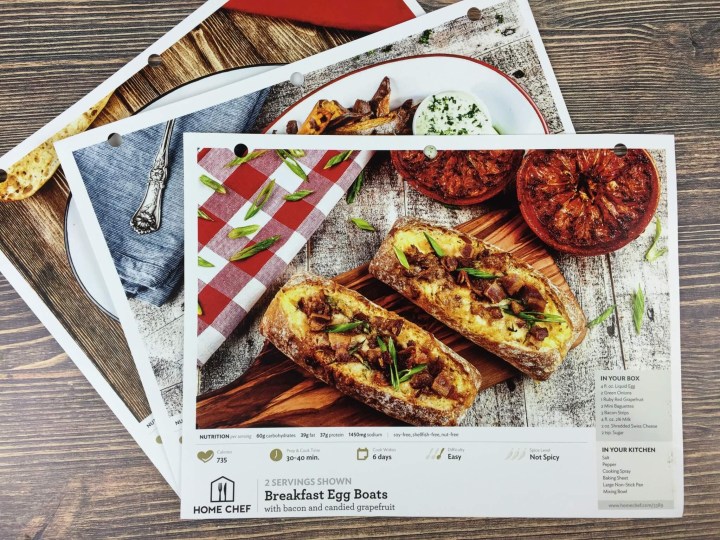 The recipe cards display prep time, difficulty,  a "best cooked by" time frame, and even a spice level.  There is also a list of stuff you may need from your own kitchen, like cookware and salt and pepper.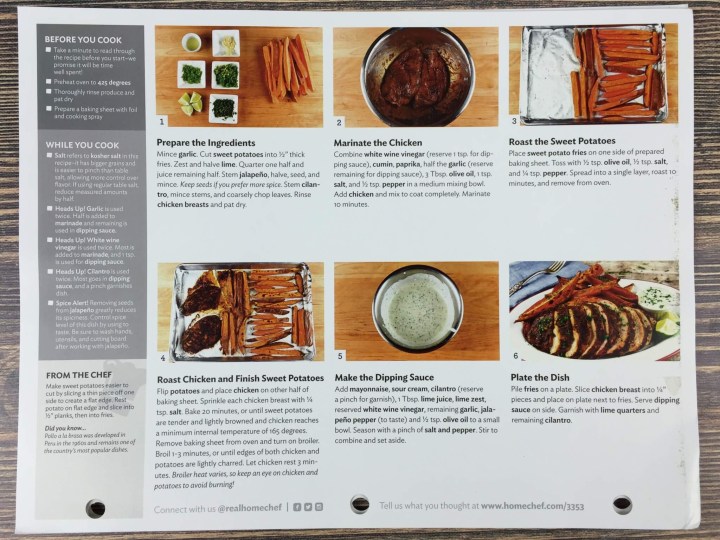 The back of the card has the actual recipe guidance, complete with pictures and boldfacing of ingredients.  The recipes are accompanied by pro-tips and explanations of cooking terminology and techniques.  The tips appear in a sidebar so they don't clutter the actual recipe.
The order of preparation abandons strict adherence to mis-en-place, instead instructing you to start the long lead time items first.  Although this makes the chopping slightly less efficient than doing it all at once, it gets your meal to the table faster, and with everything finishing cooking closer to the same time.  I like it for these reasons, and because it saves me from having a completely overflowing cutting board when I start cooking.  The recipe cards have pre-punched holes so you can store them in a recipe binder.
Each recipe was packed separately, and neatly, in its own bag.  Unless otherwise noted, each of the pictures of prepared food below show one of two servings made by each recipe.  Due to our selections, this box cost us $89.60.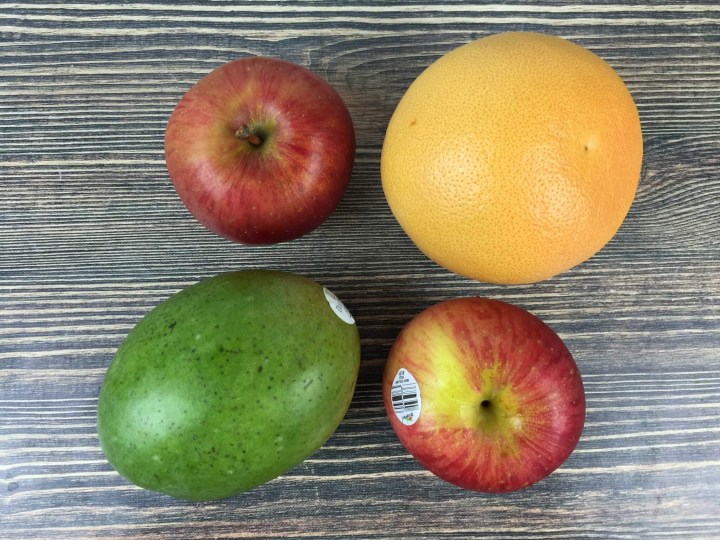 Summertime Fruit Basket With Grapefruit, Mango, And Fuji Apples.  We really dig the fruit Home Chef selects — it's both ripe and firm, and the flavor and texture is always good.  We've received this particular assortment before, but sometimes we receive pears, oranges, or other fruit.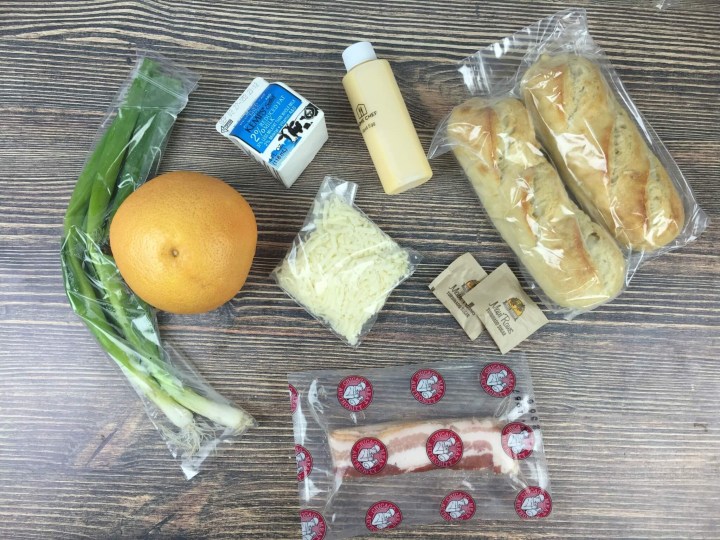 Breakfast Egg Boats With Bacon And Candied Grapefruit. 30-40 minutes, easy, 735 calories per serving.
It was really hard to get a picture of the boat that conveyed its true size — it was a very big breakfast (that is a grapefruit next to it, not an orange)!  Prep was very simple, but I did have to cook the bacon prior to assembling and baking.  It turned out really well, and It had a great quiche Lorraine flavor, but it was easier to eat with your hands!  Pan-caramelized grapefruit was a nice side — It gets really soft and shreds easily with a fork, so you don't need to cut out the segments like you typically would.
Chicken Breast A La Brasa With Sweet Potato Fries And Jalapeño-Garlic Dipping Sauce. 35-45 minutes, easy, 769 calories per serving.
A cumin and chili powder-based marinade gives this baked chicken a big, bold flavor, and the cilantro-jalapeño dip is wonderfully lively and creamy complement.  Simple and elegant sweet potato fries rounded out the plate.  Sweet potato fries never disappoint, so I was glad that two potatoes were included for this dish.  With only a little basic knife work required, this dish was super easy, too.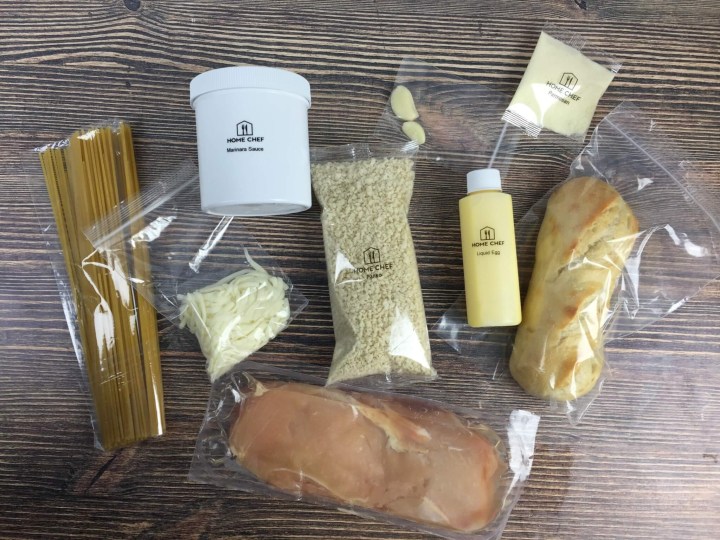 Classic Chicken Parmesan With Spaghetti And Garlic Bread. 45-55 minutes, intermediate, 1083 calories per serving.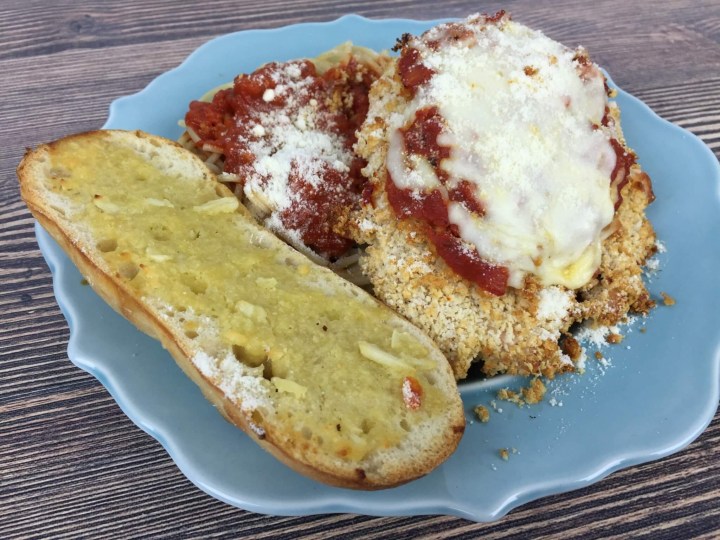 This dish used panko crumbs to create a simple breading for the chicken.  It adhered well, but it remained very dry and felt more like a savory streusel than an integrated breading.  The sauce was very sweet and bright — it was good, but it didn't strike the deep, simmered all day note I would have liked.  The parmesan-garlic bread was superb.  As expected, this recipe made a heaping mound of food!  It was served atop spaghetti, so it made for quite a filling meal.
Home Chef tends to be the most mainstream of the meal kit subscriptions, featuring dishes that are familiar and comforting.  Home Chef has always had a huge selection of meal options to choose from each week, and it is the undisputed portion king of the meal kit subscriptions!   They have also been adding some more exotic and adventurous offerings to the mix, with Indian, Southeast Asian, and African dishes appearing as choices.  I think they did a great job with these offerings, providing both quality and novelty.  In addition to great dinner options, they also offer breakfast selections and a fruit basket (which we have been very happy with whenever we've gotten it).
Have you tried Home Chef? What did you think of your meals?
Visit Home Chef to subscribe or find out more! Get $30 of free food when you sign up – just use this link to get the deal!
The Subscription
:
Home Chef
The Description
: Receive fresh ingredients and visual, step-by-step recipe cards on your selected delivery day every week. Cook like a seasoned chef in your own kitchen with ease.
The Price
: $60.00 every week