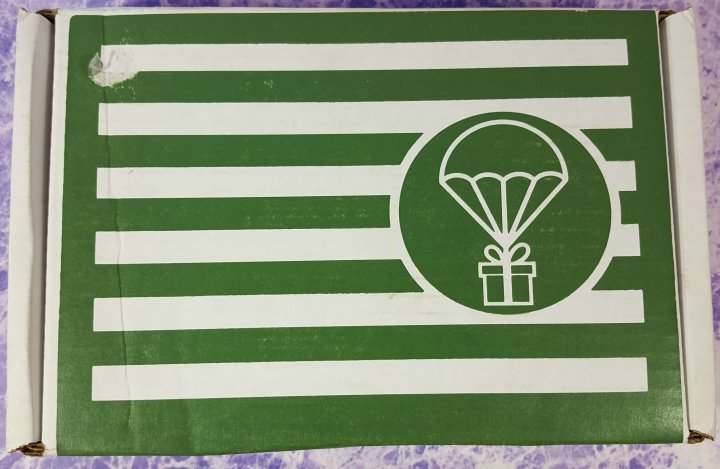 The Hippie Hobby is a bi-monthly craft subscription box. In every box you'll receive a complete crafting kit, which incorporates recycled, upcycled, or natural elements (the "Hippie" part!). Every box also includes a surprise DIY craft project with an upcycled, recycled or natural twist!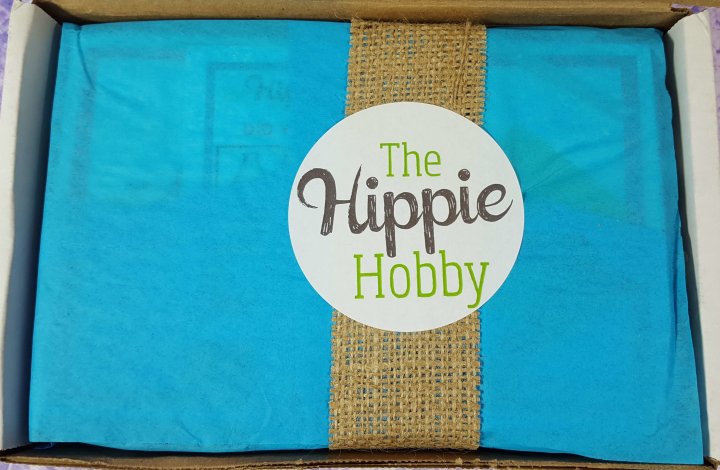 The first look in my box and its so pretty and bright this month.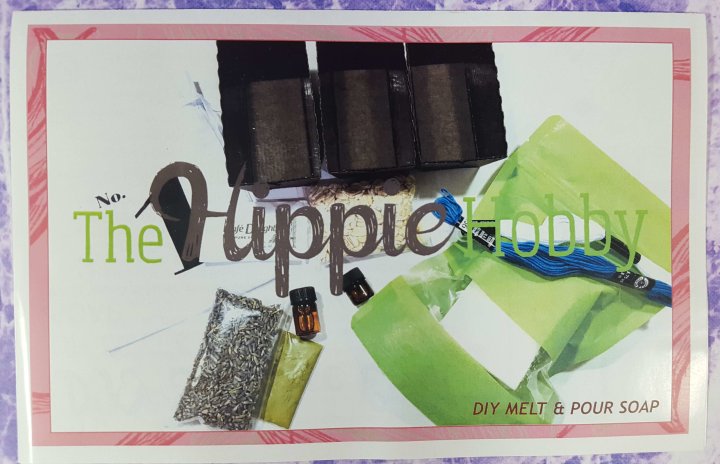 The information sheet is a folded paper and the front has a great picture of the products included.  This month we are making some homemade soaps!
The information card provided the instructions for the craft and was full color with complete instructions. The printing on this is high quality.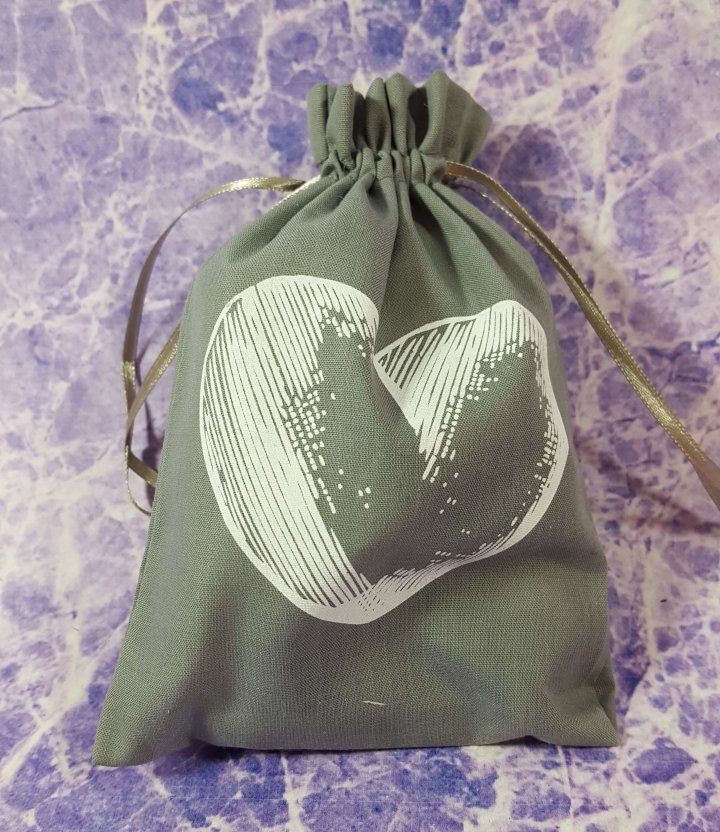 When I dug into the box I saw this cute little sack and thought it was adorable and couldn't wait to see what was in there.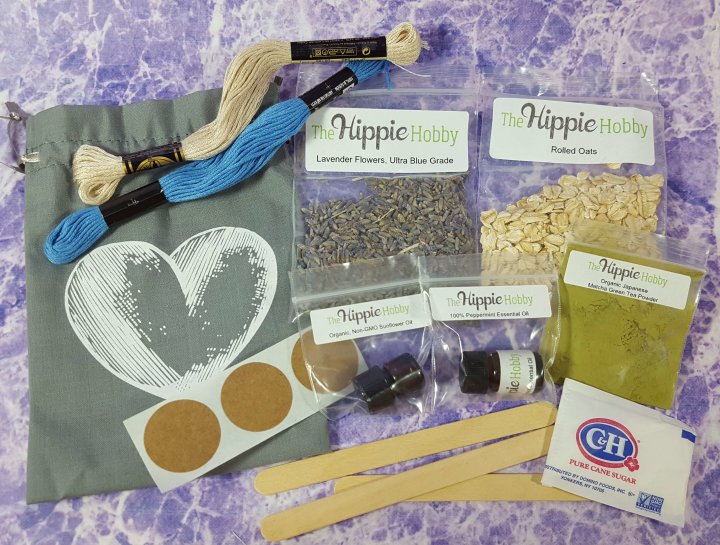 The craft this time has lots of different ingredients in it and they all came in their own little bag inside the fun heart bag.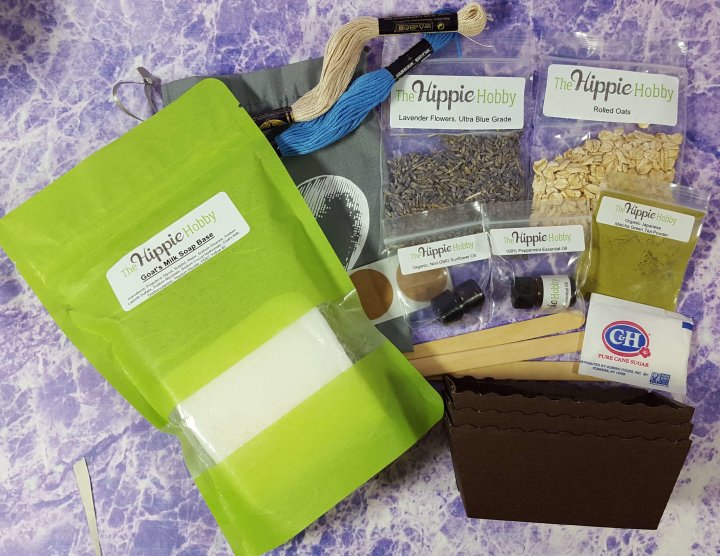 Everything that is in the box. The ingredients in the little baggie and then the soap base and some mini loaf pans.
The box also included an extra little booklet this month that asks "Did You Know?"
It goes on to explain a bit about whey they chose the ingredients they did and what they are good for. I love this little extra touch and having it right at my fingertips to look at.
This was a project that had to be done quickly so I didn't get a good chance to take pictures as I was working but it was easy to do with you putting the ingredients for each soap in the loaf pan and then heating the soap base in the microwave and pouring it into the pans.  I then mixed it around a bit and that is what you see above.  The base was starting to set up quickly so I didn't take pictures in between all the steps.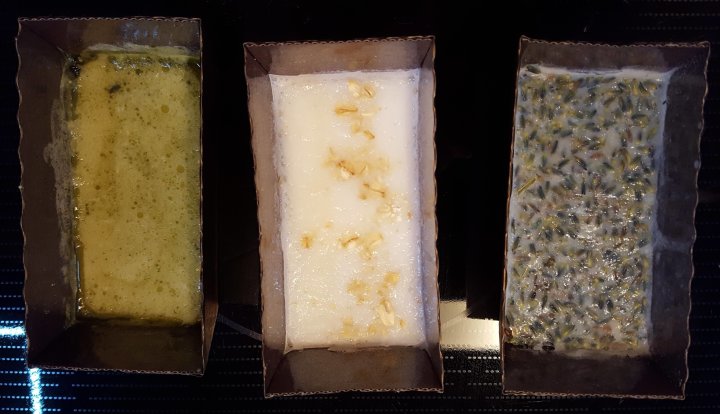 After I had them in the loaf pans I put them in the refrigerator to set up.  The directions say for at least 30 min and we left ours in a bit longer since they stayed in while we were eating dinner.  When I pulled them out you could see that they were firm to the touch.
I plopped them out of the molds and flipped them over and they look so cute.   The one of the right looks white and at first I was confused but its actually the sugar that had settled on the bottom.
Here is a side view so that you can see the layers.  The Lavender floated when I put the base in, the oats stayed settled and the sugar stayed settled too.  This won't make a difference when using the soap but if you want more of an all through look then you will want to mix it a bit more when putting it in the loaf pan.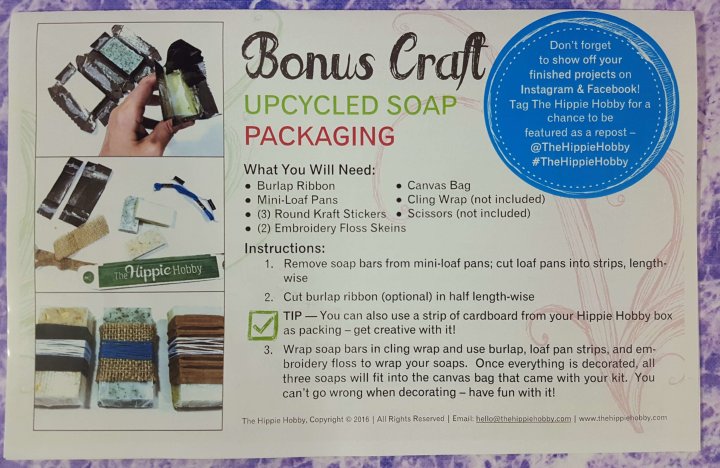 The extra craft this month is some ideas on how to decorate your soaps to give out as gifts.  I'm not sure I will be gifting these but I did go ahead and wrap them up with the supplies provided.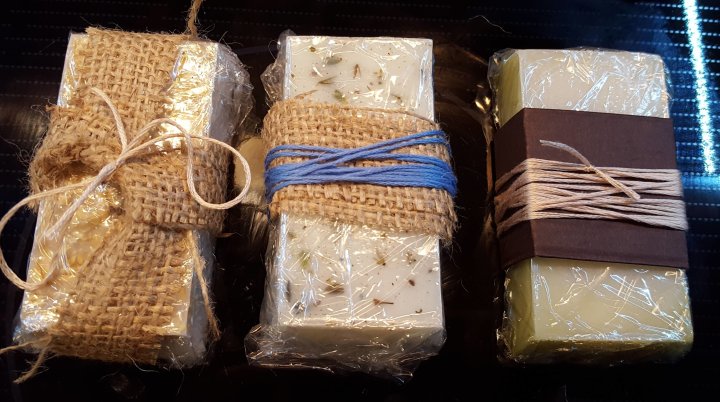 How cute are they?  I let my boys pick the colors so we mixed it up a bit.
This was a really fun craft this month. I loved the ease of it and that they set us up to make three different soaps to choose from and they all smell great.  Actually with all the peppermint oil in them my fridge still smells like it when I open it from where they were setting up.  Hippie Hobby is such a great box every couple of months and I get to make a craft that is easy and fun and not something that I would normally do on my own.  The finished products are always great and I love upcycling and using the natural products to make them.
Visit The Hippie Hobby to subscribe or find out more! You can save $7 on your first box with coupon code HELLO!
The Subscription
:
The Hippie Hobby
The Description
: When you sign up for The Hippie Hobby, every-other-month, you will receive a "hip" kit full of everything you need for your very own DIY crafting experience. We strive to incorporate recycled, upcycled, and natural elements in each kit. Get Hippie and get your Craft On!
The Price
: $23.95 every other month