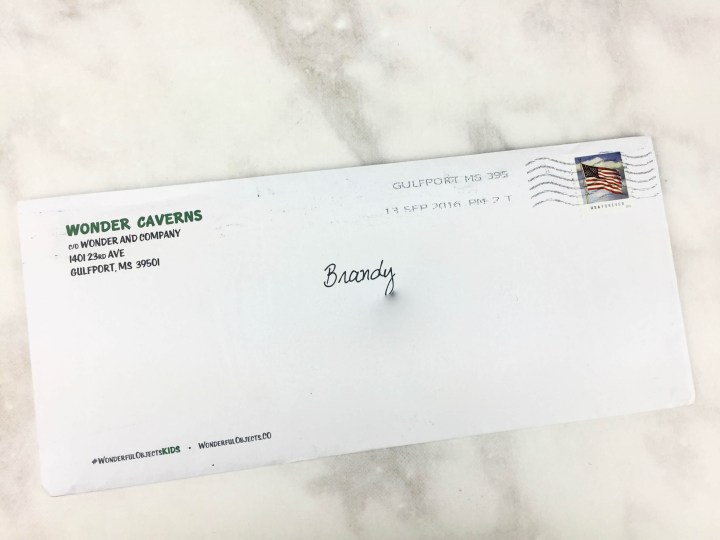 Wonderful Objects Kids Box by Wonder and Company is a quarterly subscription service that lets your kids explore the magic of story-making. For $72 per quarter, you'll get a mystery box that invites children to ask "What ifs…?" and encourages them to find answers through an imaginative and magical way.
In advance of the actual box, you receive a teaser envelope stuffed with curious clues to draw you in to your upcoming adventure.  Even the envelope was styled for the current theme!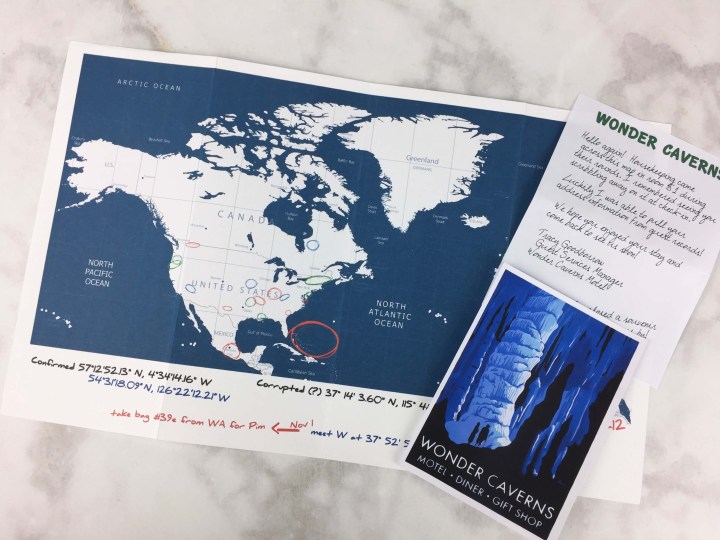 Everything in the envelope!
The note is from the manager at the Wonder Caverns Motel – apparently we left an important item behind during our recent stay.
The Guest Services Manager  included a sticker as a souvenir. How thoughtful!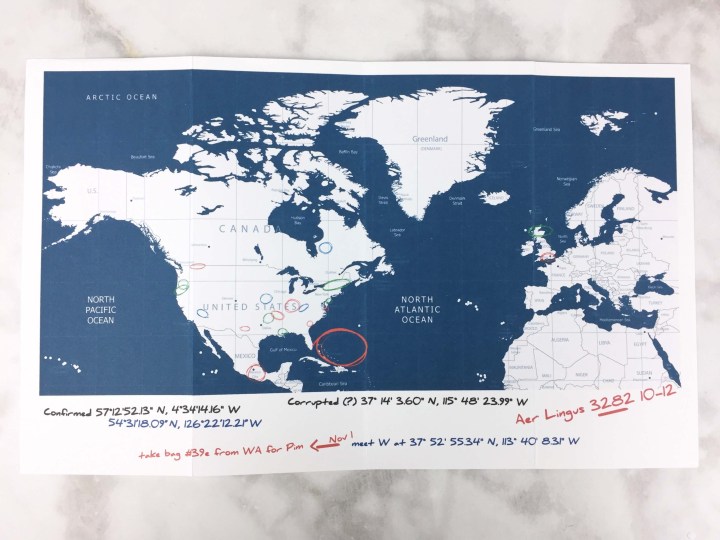 The map has several locations throughout North America and Great Britain circled and possibly color coded.  There are also several coordinates set out in latitude and longitude, listed as either "confirmed" or "corrupted."  Can we say mysterious?
We looked up the coordinates – the first points to Loch Ness!
The others weren't as apparent and will need some more investigation!  Perhaps this one marks a Big Foot sighting?
I think the last two are supposed to point to Area 51 or another mysterious location – we will have to resolve the "corrupted" coordinates to be sure.
We will have to hang on to the teaser materials, as they are likely used to solve a puzzle in the main box — last time we needed a decoder from our teaser to solve a code in the box.
We are really excited to see what comes in the full box!
Save $10 on any plan with code HELLOWONDER10!
Visit Wonderful Objects Kids Box by Wonder and Company to subscribe or find out more!
The Subscription
:
Wonderful Objects Kids Box by Wonder and Company
The Description
: The Wonderful Objects Kids Box is a story-making experience directed by your child. Unfolding across quarterly mystery boxes, unexpected deliveries, and exciting clues, Wonderful Objects encourages children to ask "What if…?" and invites them to turn their answers into something magical.
The Price
: $72.00 per quarter