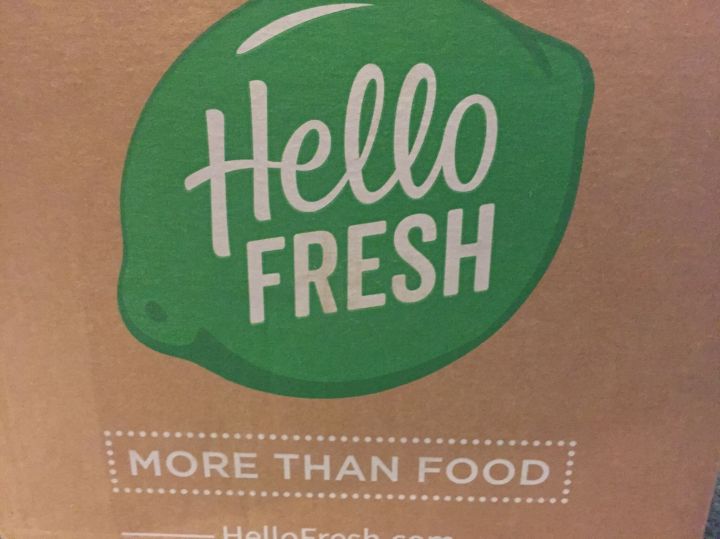 Hello Fresh is a meal kit subscription box with complete recipes and ingredients to make 3 meals every week, with each meal feeding either two or four people, depending on the plan you choose.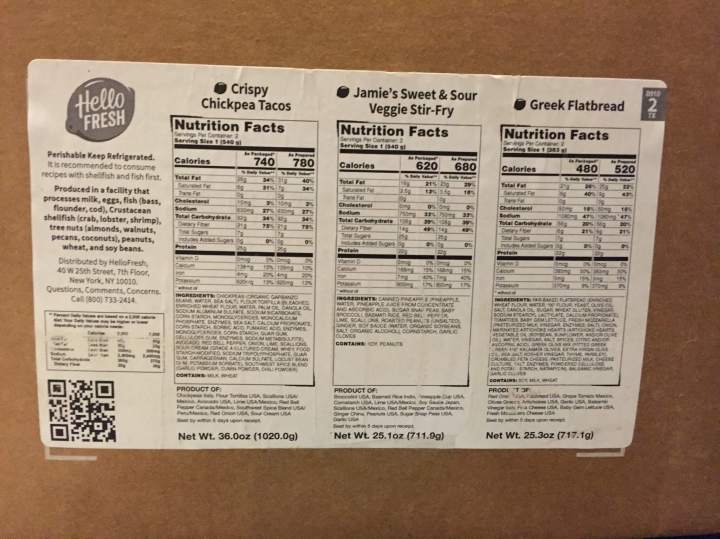 Though it is a subscription, you can pause your deliveries when needed — whether you are out of town, have other dinner plans, or just aren't in love with that week's selections.  The standard subscription provides high-quality meats (free-range chicken, antibiotic meats, etc.) to use in the recipes.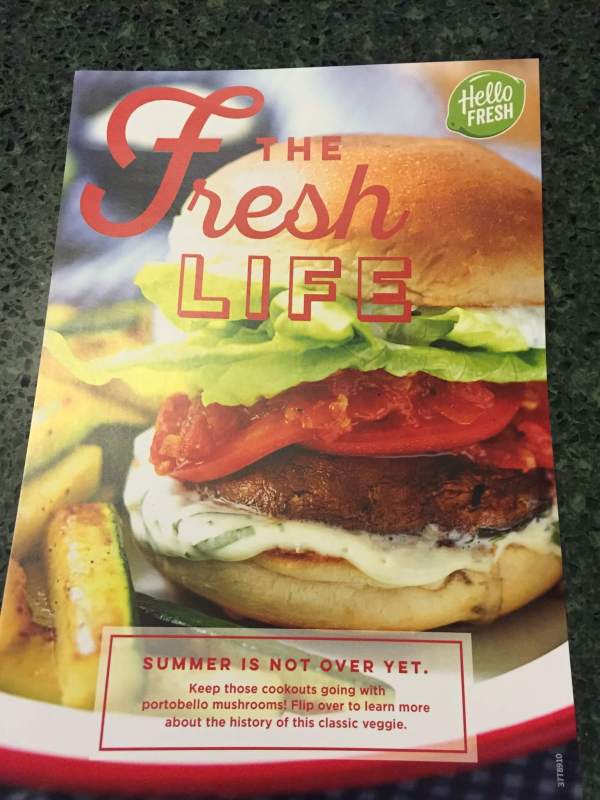 Though we do eat meat, we cook vegetarian three times a week.  Thankfully, Hello Fresh has a vegetarian subscription for both casual and dedicated vegetarians.  This review covers the vegetarian box, which featured a recipe by Jamie Oliver! 
The boxes used by Hello Fresh keep all the ingredients for the recipes in order, and they stack nicely in the fridge.   Within each box, everything but the largest vegetables is separately packaged, and is packed at the bottom. Condiments and canned goods are provided in high-end, commercial packaging.  Hello Fresh usually provides spices in their own, pre-measured branded packaging.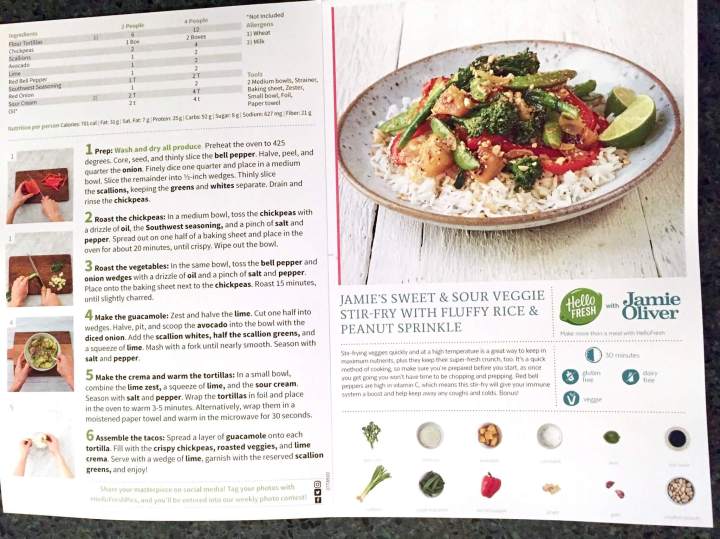 Hello Fresh has great instructions, and they are easy to follow even if you are an inexperienced cook. There are even some kitchen tips included in the information card.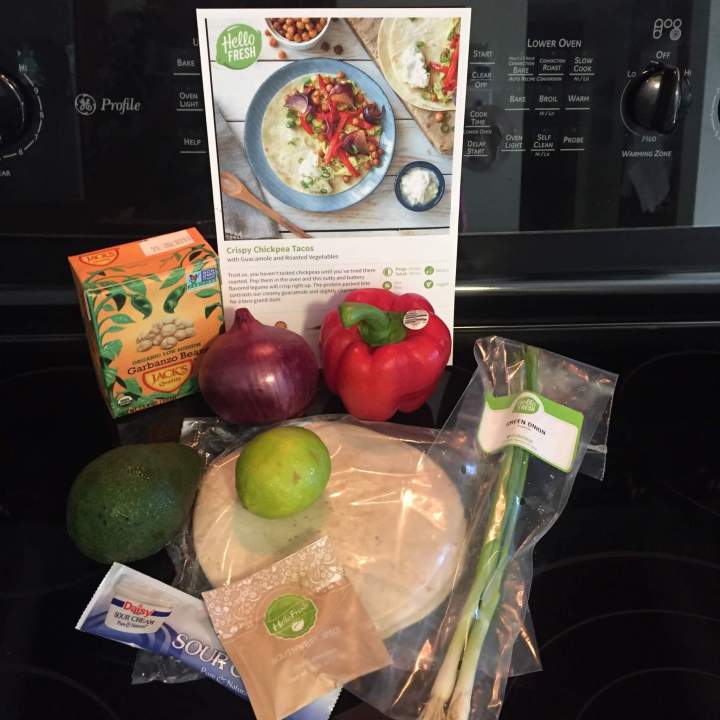 Crispy Chickpea Tacos With Guacamole And Roasted Vegetables. 30 minutes, level 1, 781 calories per serving.
Last week my parents, husband and I went to a Mexican restaurant.  I ordered the vegetarian plate and got a cheese plate with some veggies hidden underneath.  Next time I'll order the fajitas without the meat!  So when I saw this Mexican recipe I couldn't wait to make it as I still wanted some really good Mexican food.  I definitely wasn't satisfied with my dinner from last week.
Wow, the flavors of the vegetables and chickpeas were so fresh and crisp, you could taste each flavor yet they blended so nicely.  My husband was loving the crema made with lime.  It added just the right zing to the flavors.  We had only one small problem, our avacado wasn't smooshy ripe, it was still a little on the firm side so I just finely chopped it and then followed the rest of the directions, worked out just fine (excuse the pun).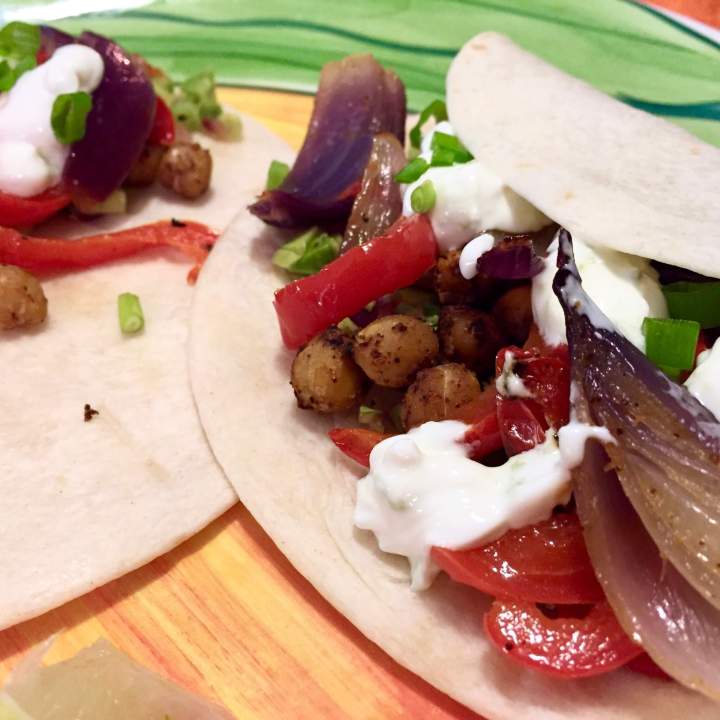 After plating the meal, in walks my daughter who took a year of culinary classes at the local state college, hates onions and bell pepper but says, "gosh that really smells great!"  She said it several times.  This meal smelled good,  looked awesome and tasted fantastic.
My taste for Mexican was definitely satisfied tonight for a while anyway.
Jamie's Sweet and Sour Veggie Stir-Fry With Fluffy Rice and Peanut Sprinkle. 30 minutes, level 2, 680 calories per serving.
I am SO stuffed!  After eating a decent serving my husband says, "there's only a little bit left, let's split it."  And like a moron I agreed.  What was left was 2 more complete servings and I ate it all. UGH!  I think I need to be like an "old fart" and undo the top of my pants and just sit here while it all descends into the depths of my belly.  ha ha ha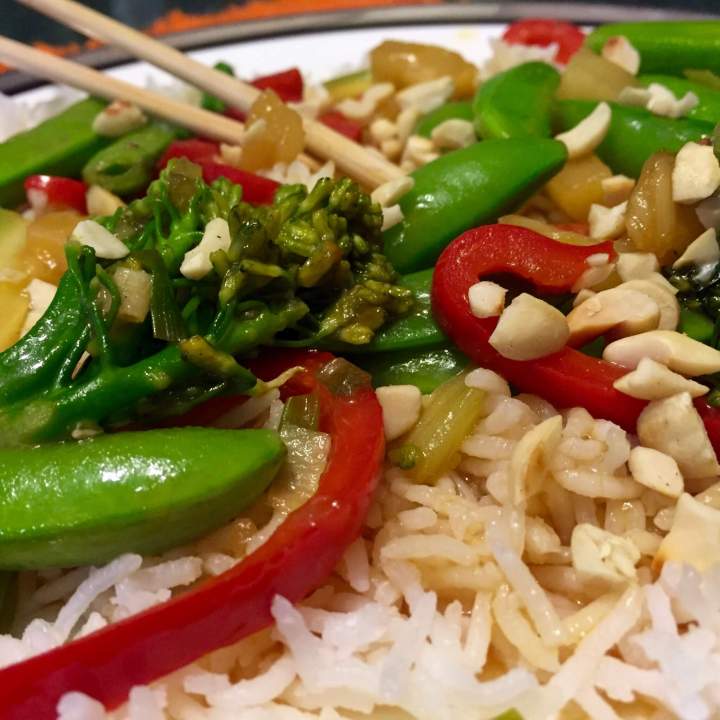 This was a very sweet stir-fry on top of fluffy rice that didn't stick together, I prefer the non-sticky rice, so I really liked this.  Frankly, stir fries are a particular favorite of ours and since starting Hello Fresh we really don't get to make it like we used to, so this was a real treat.
We both commented on the color, I said this would be appropriate for Christmas time because of the wonderful red peppers and green veggies.  Speaking of red peppers, lots of vitamin C in them.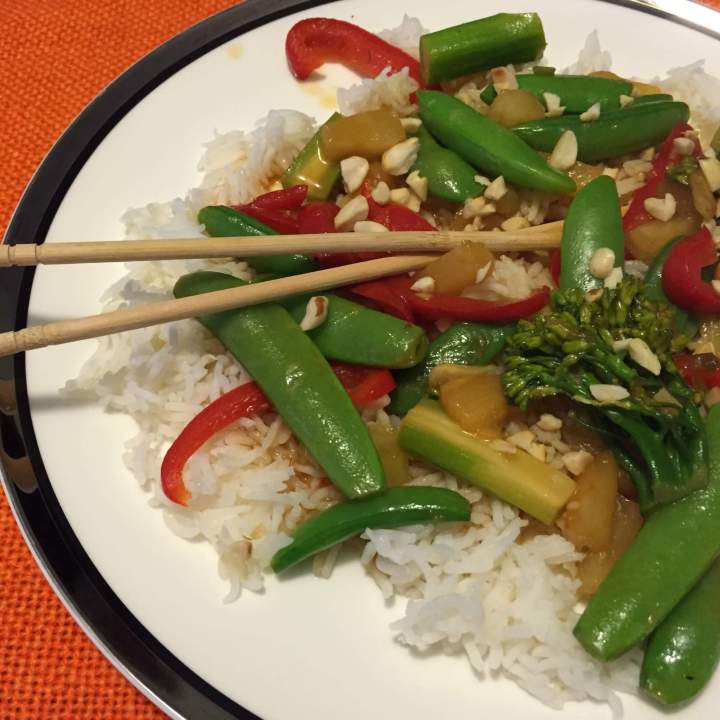 Yummy and nutritious, you just can't go wrong, well maybe you can if you eat way too much.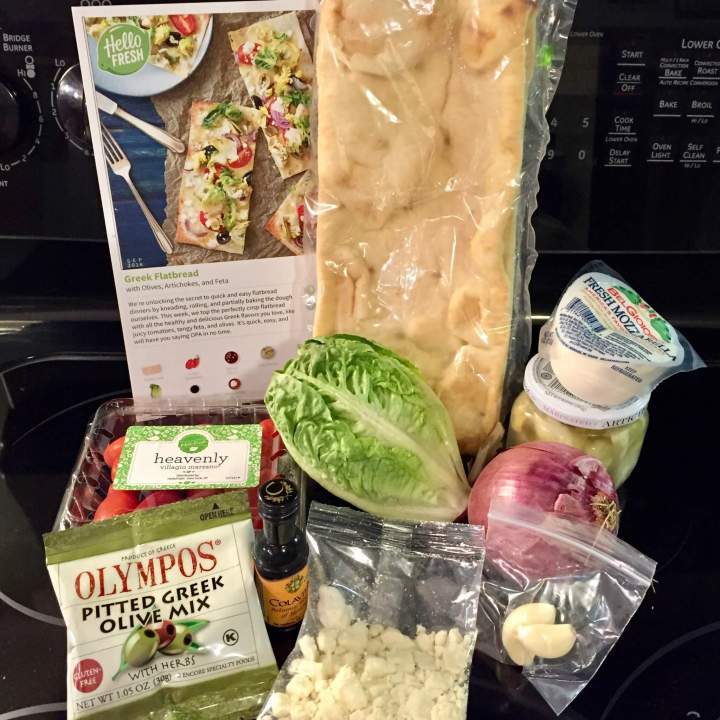 Greek Flatbread With Olives, Artichokes, and Feta. 25 minutes, level 1, 524 calories per serving. Thin and crispy, that's how I love my pizza and my husband likes the thicker stuff.  Score one for me on this recipe.  The flatbread was thin and crispy after being in the oven, love, love, love.  The ingredients were so wonderful. Only I just realized we ate the lettuce as a separate salad and I was supposed to put that on top of the flatbread, OOPS!  That's ok, as I had used all the onion so our flatbread was pretty full. Now when I make this again I plan on roughly chopping the veggies rather than slicing and then mixing together then putting on top of the flatbread.  I tended to get a bite of one item rather than a mixture.  But the tastes were so  Greekly delicious.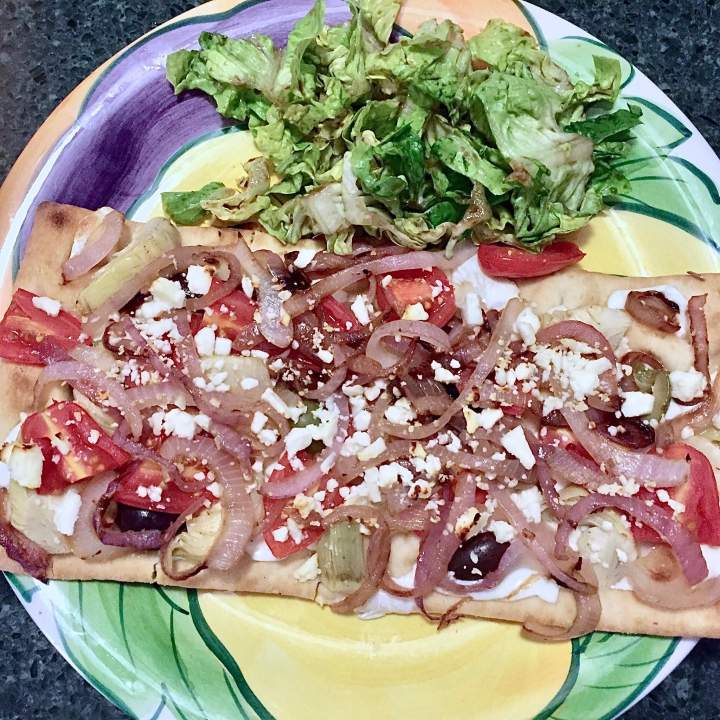 I have to admit I did saute the onions, can't handle them raw.  BTW, I light a candle to burn off the fumes otherwise I'll be bawling with mascara running down my face.  Do any of you have a better way to get rid of the onion fumes?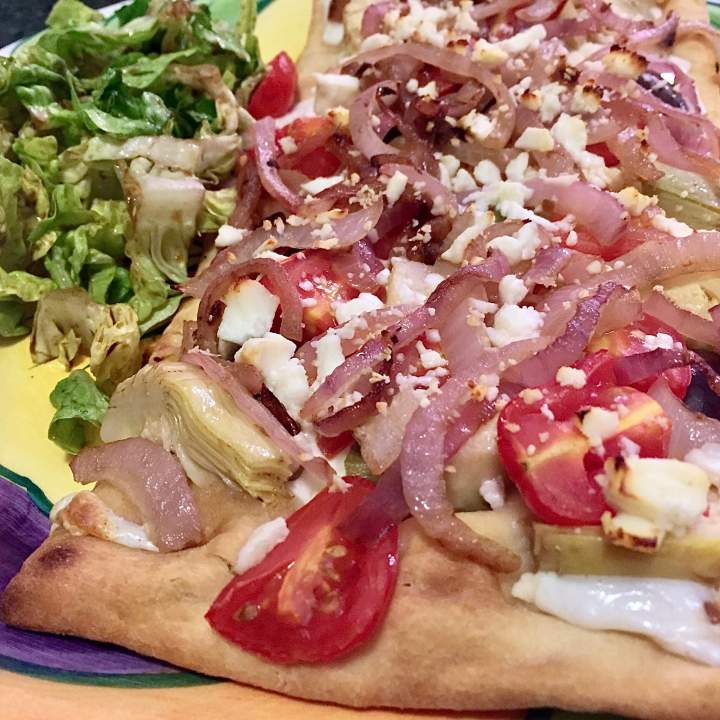 Back to the flatbread, easy, quick and  νόστιμο! (That's delicious in Greek.)
 BTW, did I mention that Hello Fresh was rated very good by Consumer Reports?  Whoo hoo, Hello Fresh!
 Have you tried Hello Fresh? Currently you can get a $50 Discount on your First two Boxes with coupon code HF50SUMMER.If you just want to try one box save $40 off your first box with coupon code 7UT7K8.
Visit Hello Fresh to select your box for next week!
The Subscription
: 
Hello Fresh
The Description
: Each week Hello Fresh delivers beautifully photographed step-by-step recipe cards, with the exact fresh ingredients needed to create a selection of new recipes.
The Price
: $69 per week for 3 meals (59 vegetarian)