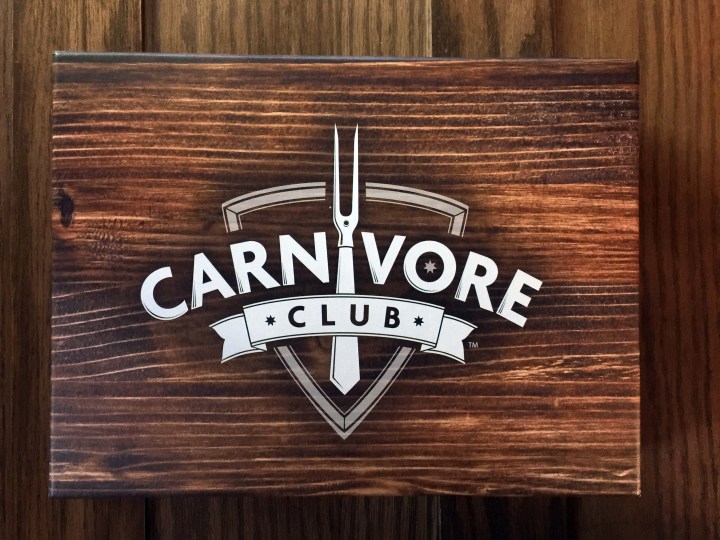 The Carnivore Club delivers  high-quality meat selections, right to your door. There's not much better in the world than that. The last box was jerky, this month, it's a selection of products from Shaffer Venison Farms, a family operation located in central Pennsylvania.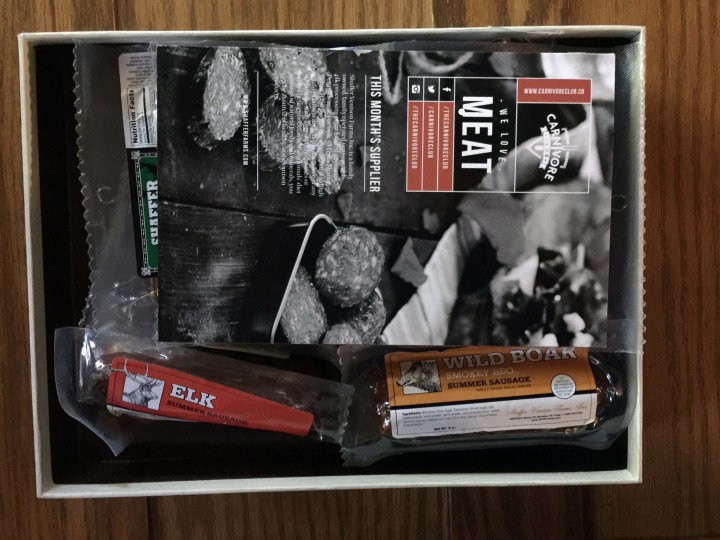 Carnivore Club says, "For over 15 years Shaffer Venison Farms has been committed to high quality venison and elk products free of any stimulants such as grown hormones or other chemicals. Because the animals' diet consists of natural foods and minerals, you can be assured of healthy venison products."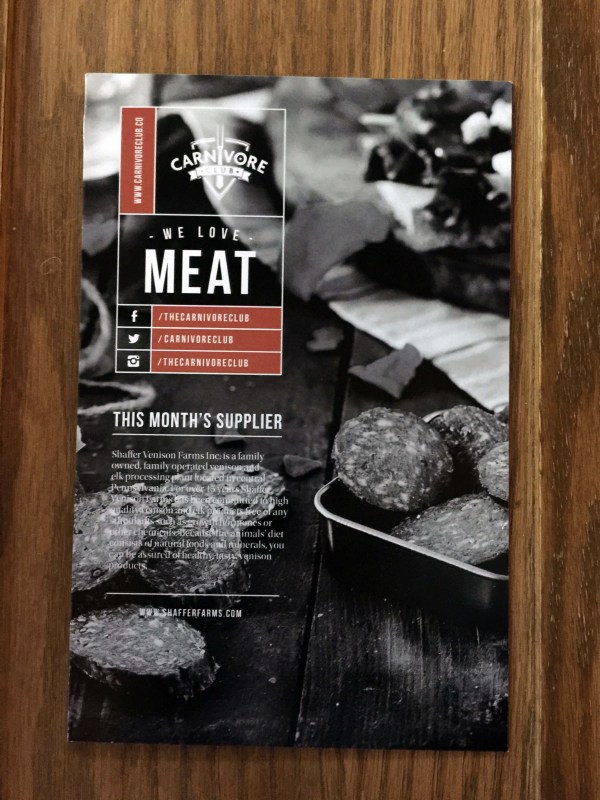 As usual, Carnivore Club sends a handy guide to the meat they've included in this month's box.
This month featured five different venison and elk meat products, including meat sticks, summer sausage and some jerky. A fine looking box o' meat.
First up were the Sweet & Smokie Venison Snack Sticks.
What They Said: Hickory smoked to perfection, these venison snacks are 100% meat, and expert blend of mostly venison with just a touch of pork for a little added juiciness. No filler ingredients, no artificial flavors, just good, pure meat.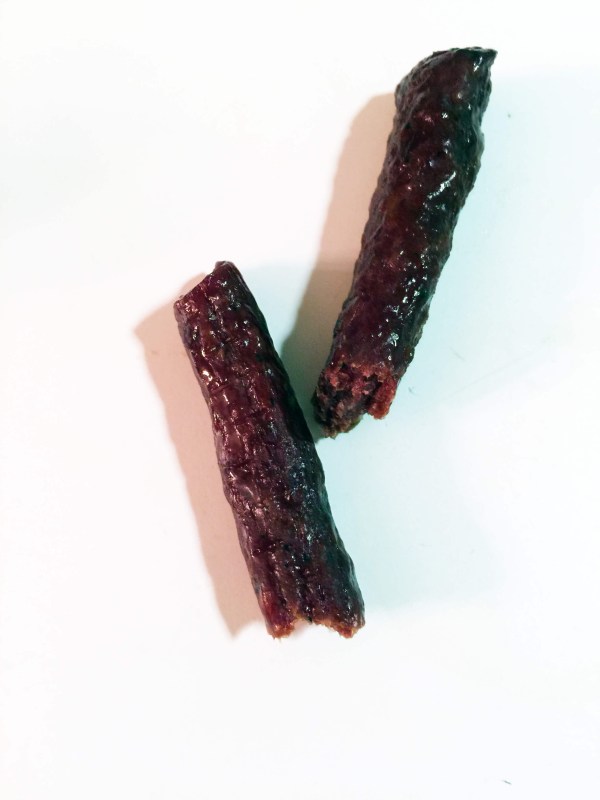 What I Say: These were pretty good. Not spectacular, but solid. I didn't notice the pork, but I definitely tasted the venison and it was well spiced and not overly smokey, which is the usual pitfall of smoked meat sticks–the over-reliance on 'liquid smoke'. Not here. It also didn't taste 'gamey' at all. The spice blend complimented the meat well, and they were quite tasty.
Sticking with the meat, uh, sticks. I opened the Teriyaki Venison Snack Sticks.
Teryaki Venison Snack Sticks. These weren't listed on the card from Carnivore Club but I'm glad they were in the box! (It was supposed to be Venison Cheddar Sticks). These are some very tasty meat sticks. Like with the Sweet & Smokie sticks, I was worried they would be gamey, but they weren't at all. They were a really great mix of venison and pork (you don't really taste the pork, but I suspect it adds fat that's missing from the lean venison) and the teryaki is a nice addition–it's not overwhelming at all, and it complements the spice mix in the sticks very well. It's a really great combination. They lasted all of a day in our house!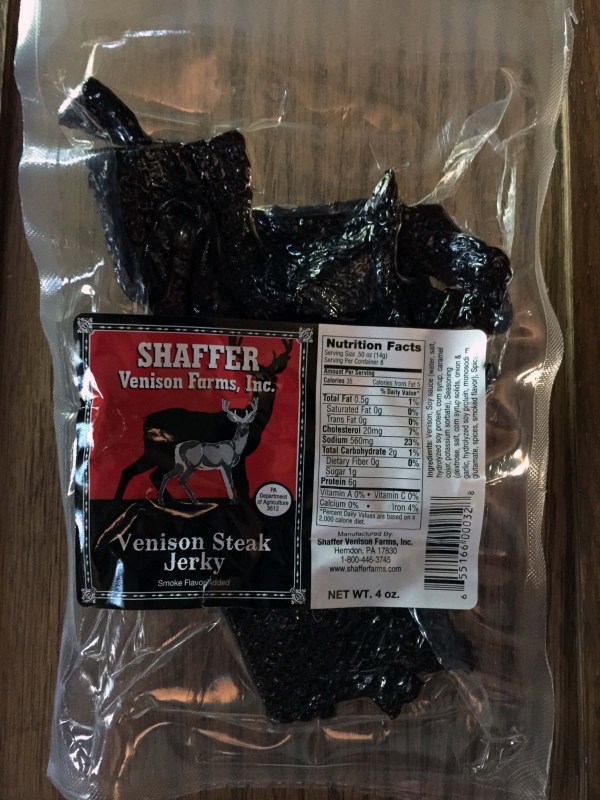 Next up, the Venison Steak Jerky!
What They Said: Hickory smoked Steak Jerky, whole pieces sliced from leg steaks, seasoned and then hickory smoked to perfection. If you're going to indulge in some venison jerky, the lean, flavorful examples that Shaffer Venison has lovingly cured from whole premium cuts is some of the best stuff out there.
What I Say: I was very disappointed in this jerky. I am a bit of a jerky snob, I'll admit, and the last month's box featured nothing but jerky. So I was really looking forward to some premium venison jerky. However, I knew I was going to be disappointed when I looked at the ingredients: corn syrup. Corn syrup doesn't belong anywhere near good jerky, and sure enough when I opened the package, the meat looked like it had been lacquered. It was in a clump, hard to pry apart. It wasn't a marinade as much as a glaze. And it completely overwhelmed the taste of the meat, and it wasn't as though the glaze was so good I didn't care–it was pretty mediocre overall. I'm a firm believer that with jerky any marinade or glaze should complement and bring out the natural flavors of the meat. I really wanted to taste the venison here, but instead, all I could taste was the glaze. I didn't even finish the package, and no one else in the house would try it.
So, on the heels of a disappointing jerky, time for a different meat: Wild Boar Smokey BBQ Summer Sausage.
What They Said: The punchy pork flavors of wild boar mingled with the sweet, smokey BBQ sauce flavor makes for a delicious meaty summer sausage that will please most palates. Pair it with some crackers, a sharp cheese, and some crisp, cold beer for the ideal tasting experience.
What I Say: Yes! This was some tasty summer sausage! It was surprisingly mild and delicious. The sweet BBQ flavor really came through, but wasn't overly sweet and didn't over-power the pork at all. This was a really delicious summer sausage that totally redeemed the jerky episode. I was hesitant about the wild boar, because I've heard that it can be gamey, but that wasn't the case here at all.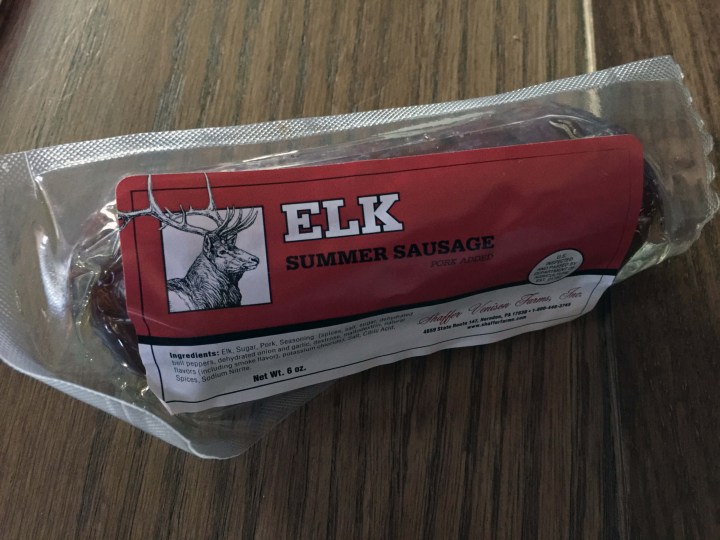 Moving on to some Elk, the last sample was the Elk Summer Sausage.
What They Said: You're in for a real treat. They start with imported Italian sea salt from the Sicilian coasts. Then, once it reaches their team of artisans in Quebec, they infuse it with hand-crushed fennel and cold pressed orange zest oil to create a truly unique product – all natural and distinctively Italian.
What I Say: I've never had elk. But now I want to try it in other ways! I did find it odd that the description went on about the salt, but the first thing I tasted was the peppercorns. The fennel and the orange went well together and gave it a slight sweetness that was very nice. I don't really know how to place the taste of the elk. It wasn't gamey exactly, but it definitely wasn't as mild as the boar. It was probably a little more beef like than the venison, at least it seemed that way in this sausage. It was definitely a little different while also being quite good, so now I have a mission to seek out some elk to enjoy straight up and see what it's like.
Overall, this was a decent–but not the best–Carnivore Club box. I have to admit, after the last two boxes (the 'Nduja Artisan's box and the Savage Jerky Box) the Carnivore Club set the expectation level very high. So in comparison, this month was a little disappointing–but I think if this had been my first box from them I would have been pretty satisfied. The meat sticks were solid, and the teryaki version really quite good. And I really enjoyed both of the summer sausages, so all in all, it was a good sampling of stuff that I would never have tried if left to my own devices, which is the best thing about boxes (to me).
Visit Carnivore Club to subscribe or find out more!
The Subscription
:
Carnivore Club
The Description
: The ultimate meat of the month club for discerning individuals. Every month they curate exceptional charcuterie created by artisan producers from around the world. Every installment features an artisan supplier with 4-6 of their most unique and best in class cured meats.
The Price
: $55.00 per month