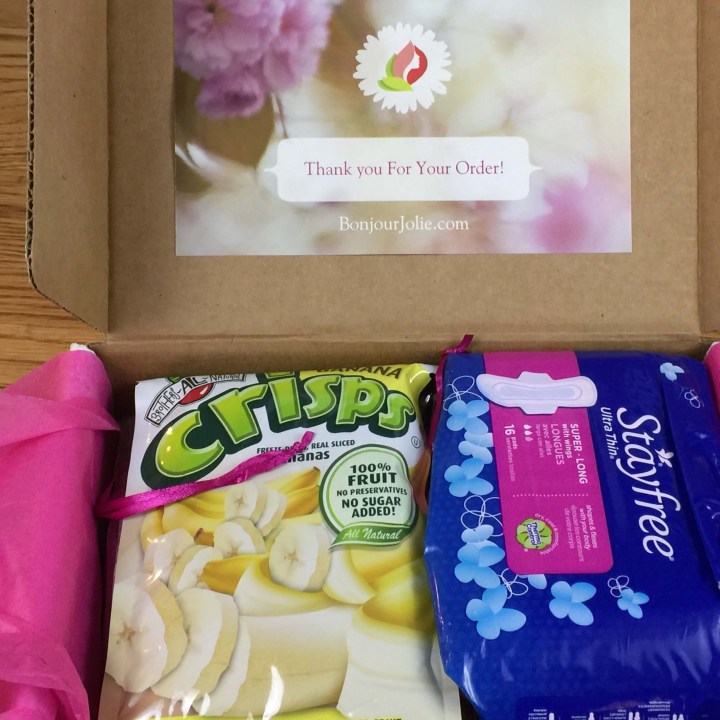 Bonjour Jolie is the way to pamper your period for as low as $16 a month – it's a monthly period/time of the month subscription box with everything you need! This box comes nicely wrapped and very discreet. The best feature is having it delivered on your schedule.
This card ran down the entire contents of the box, along with web addresses and prices. It also shows what this months theme is, French Inspired Goodness!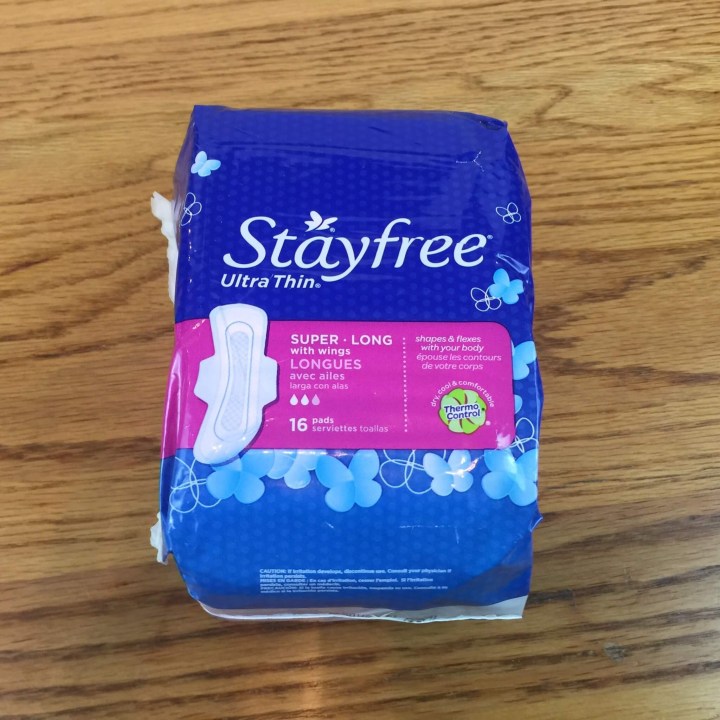 A full sized package of supplies is available or I could have mixed it up by making it a combination of pads and tampons.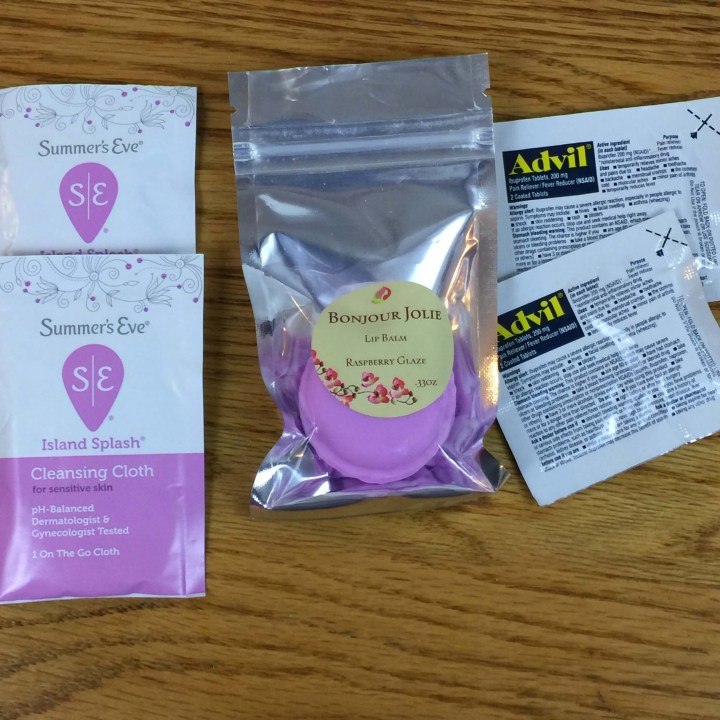 My two favorite items the cleansing cloths ad Advil packets, these add-ons are absolutely worth it! I love the exclusive Bonjour Jolie beauty products, this month is lip balm.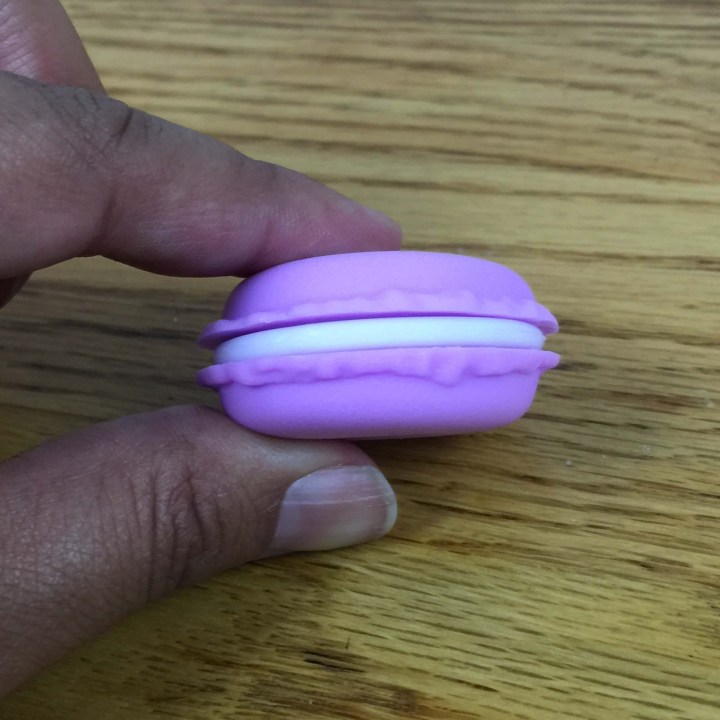 How adorable is this macaroon inspired raspberry lip balm? The scent is light and fruity with a high shine. I will be adding this to the stocking stuffer list. I originally thought the $7.99 price was a bit steep but after using it I would pay the price and not bat an eye. I love that it's cruelty and paraben free.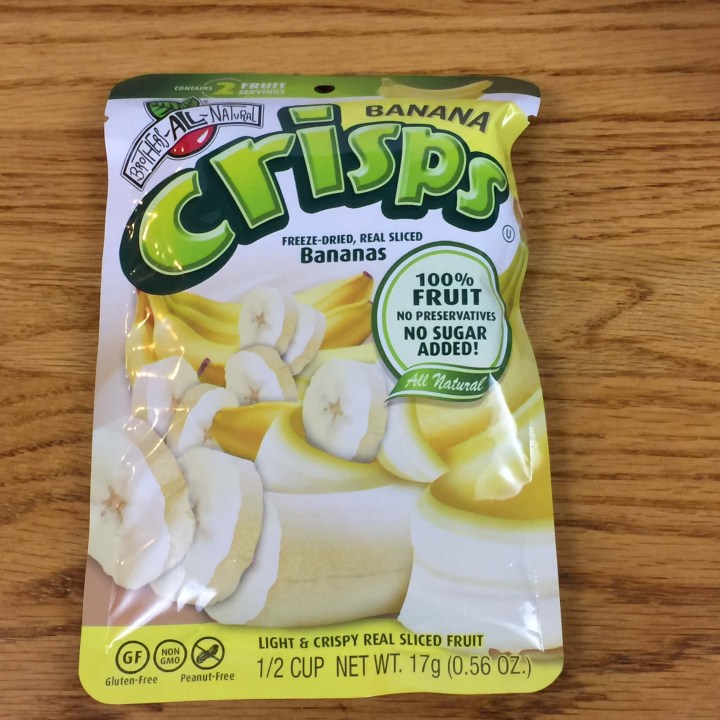 Brother's All Natural Fruit Crisps retail for $1.25 . We are huge fans of these products in our house. they are delicious and packed with flavor. I like to dip them in chocolate while my daughter likes to eat them with peanut butter. Also they are great in a lunch box or my purse for a quick pick me up.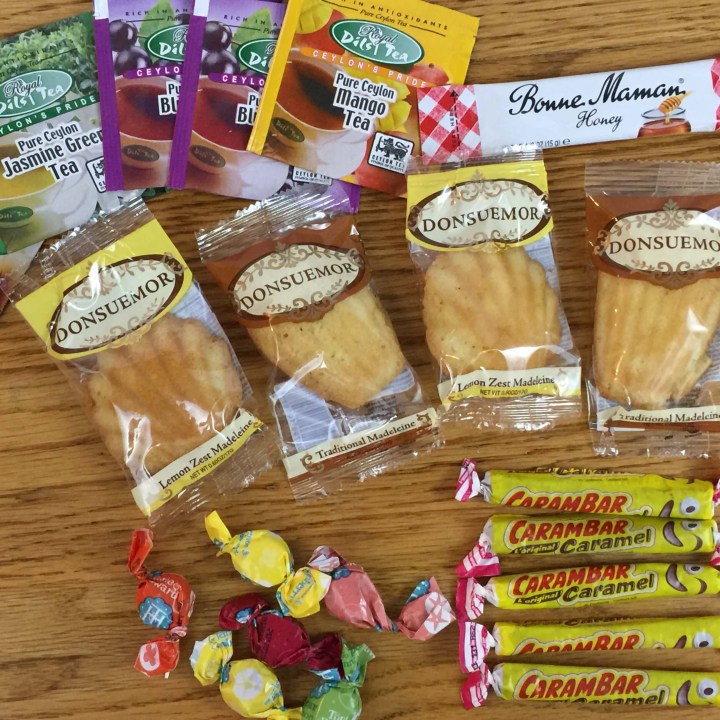 This month's sweet treats are amazing!
Royal Tea ($1.25), I love that this tea comes in fruity flavors and is packed with great taste. There motto, one taste and you'll know why its called the champagne of teas.
Tori & Howard hard candies are packed with flavor. Unfortunately they were not listed on the content card so I can't order them. I was super impressed that they are not overly sweet and taste like fresh fruit.
Carambar French Caramels ($1.50) have a lovely dark caramel taste, with the flavor reminiscent of the crispy top of a creme brulee.
Bonne Maman Honey packet, also not listed on the content card. Since I adore tea I am a sucker for individual honey packets and this one was no different. High quality and fantastic taste, so glad I chose to eat it from a spoon instead of in a cup of tea.
Donsuemor Madelines were beyond fantastic. They were soft, moist and filled with traditional lemon flavor. I will be searching for a recipe for these cookies. And if I can't find one I will order them for the wonderful price of $4.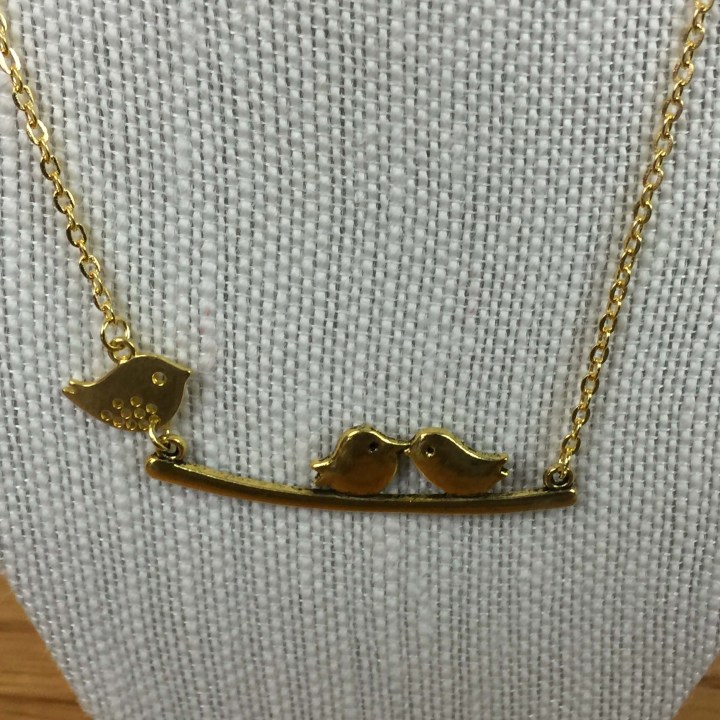 Singing Birds Necklace is nickel and lead free with a retail price of $9.99. This piece is beautiful and simple, it could be worn alone or in layers. I love the two little birds that appear to be kissing. I think it was made for my inner romantic.
The Bomb Gals Vegan Bath bomb retails for $6.99. I'm not a bath person so this price seems a bit high to me, however, my daughter is in love and ready to spend her allowance. She enjoyed the light scent and how it made her skin feel soft at the end of her bath.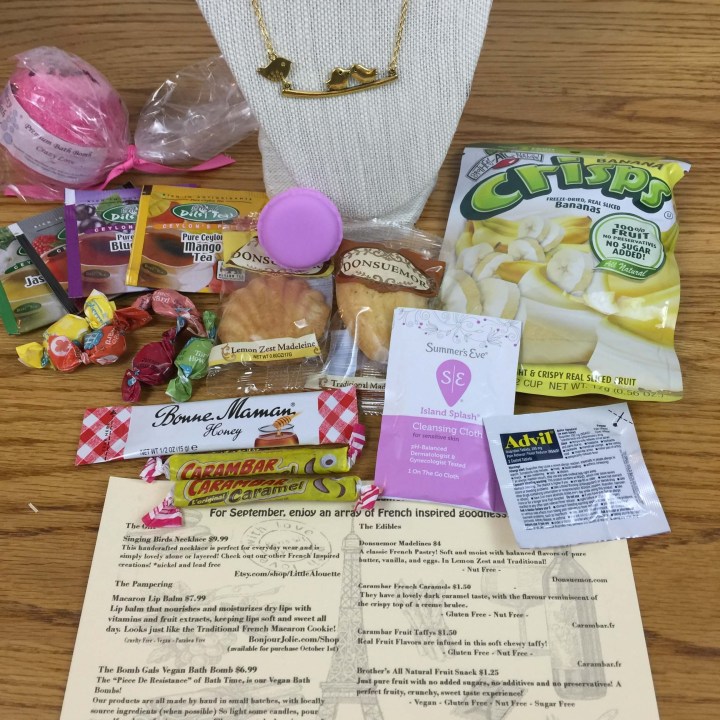 Bonjour Jolie hit it out of the ball park with this month's treasures. It was so neat to try products from France and that were French inspired. I think my favorite part of this subscription is being able to use all the items that are included. I also love that women of all ages and walks of life can spoil themselves with great goodies.
Have you tried Bonjour Jolie?
Visit Bonjour Jolie to subscribe or find out more!
The Subscription
:
Bonjour Jolie
The Description
: Bonjour Jolie is a period pampering box available for women and teens. Boxes are themed and are curated with bath and body items, teas, and of course, edibles!
The Price
: $22.50 per month