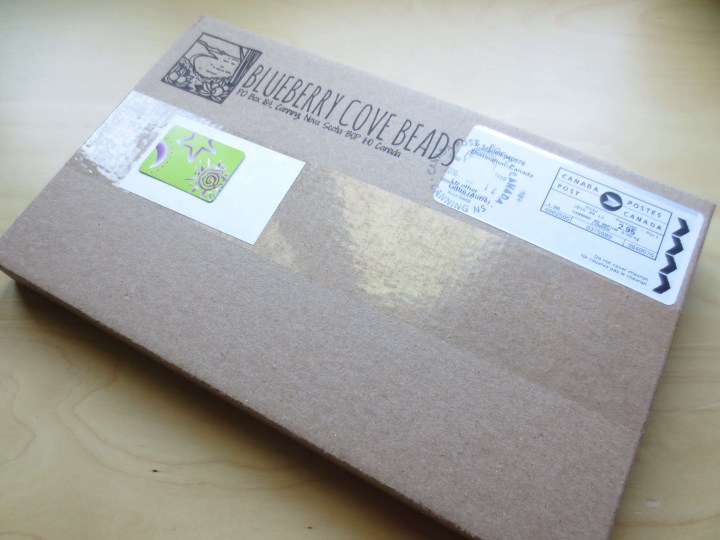 Blueberry Cove Beads is a monthly bead subscription box. Each month, you'll receive between 9 and 13 different items. It can be a mix of loose beads, bead strings, findings and pendants. You can share your creation on their social media for the chance to win a free box. Boxes are $22 per month plus $5 shipping in the US & Canada and their website features projects you can create with your beads.
Inside the box, there's always a nice black satin pouch with a postcard showing the theme of the month.
Each month has a different theme. This month's theme was GEOMETRIC. Quite different from last month's flock of birds! Just by looking at the cards, I'm pretty sure they'll be a lot of colours as well. I find it fun to guess the theme, then the kind of beads we'll get just by looking at the picture.
There is no info about the content of the box. Instead, we get a card explaining the challenge (optional) for the month. We can share our creation on their social media to enter a draw for a free box. Also, it's really neat to see what everyone else creates with the same set of beads! This month's challenge is to make a necklace with two different geometric shapes! Interesting.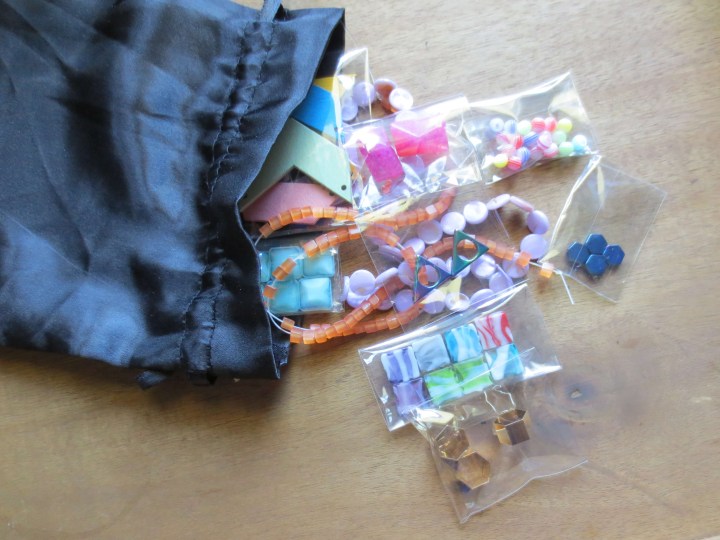 Everything comes individually wrapped in self sealing plastic bags, except for the bead strands and some of the single beads. Very colourful! And there's quite a lot of different geometric pattern. I see some gold as well.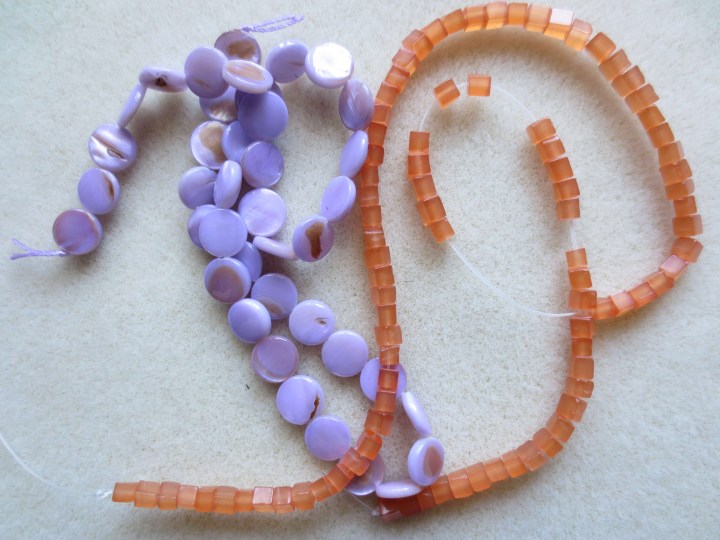 As usual, we get bead strands. This time, we have 10mm coin lavender shell beads. They are lovely and the hint of orangy-brownish colour goes perfectly with the second strand (4mm square orange glass beads). Just mixing the two would be nice for the challenge and also a fun pop of colours!
Painted wood chevron pendant. 45 mm long, they are huge! I might make little holes along the bottom side to hang a bunch of tiny beads.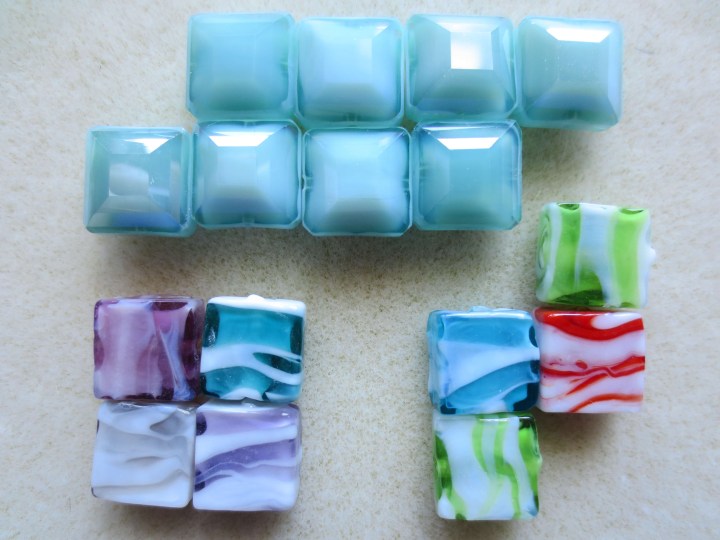 Square glass beads, two ways! I couldn't resist playing a bit with their placement! They are 12mm beads and the blue ones have are slightly more green than the picture shows. They are also quite heavy. Both sides are faceted and they are pretty by themselves. I wouldn't really use them for earrings, unless the design stays minimalistic. The second type are flat and I have round and barrel shaped beads in the same green, so I might bring them all together for a long chain necklace!
20mm dyed cracked glass beads, octagon. Very pink! The hole is quite large, so they could easily be strung on leather cord or waxed cotton cord.
5mm round beads (acrylic?). They would be perfect on a bracelet or on earring for that little pop of colours. They are very light.
Hexagon shaped golden beads. 18mm wide and 8mm high. They do not mess around! They caught my attention right out the bag and I want to to something with them. Although their is a big hole, there's no hole on the surface. I was thinking of maybe glueing them together and make a pendant with them. The gold is slightly on the pink side, but they are not rose gold.
16mm triangle shaped beads with metallic iris coating. These are very interesting! The holes goes from the top through the bottom, passing through the circle. So, a tiny bead could be hanging in the middle of the circle, maybe a square bead! They would be great as earrings too!
8mm hexagone shaped beads, metallic blue. THEY ARE SO PRETTY!!! They are my favorite in this shipment! I want to keep them simple, so I'll make dangle earrings with at least two of them. Maybe a delicate pendant with the last two to match the earrings. Probably on silver. I love blue and silver!
2mm square golder beads. They would be perfect as spacer beads or as accent on some other beads.
I did two sets with this month's box.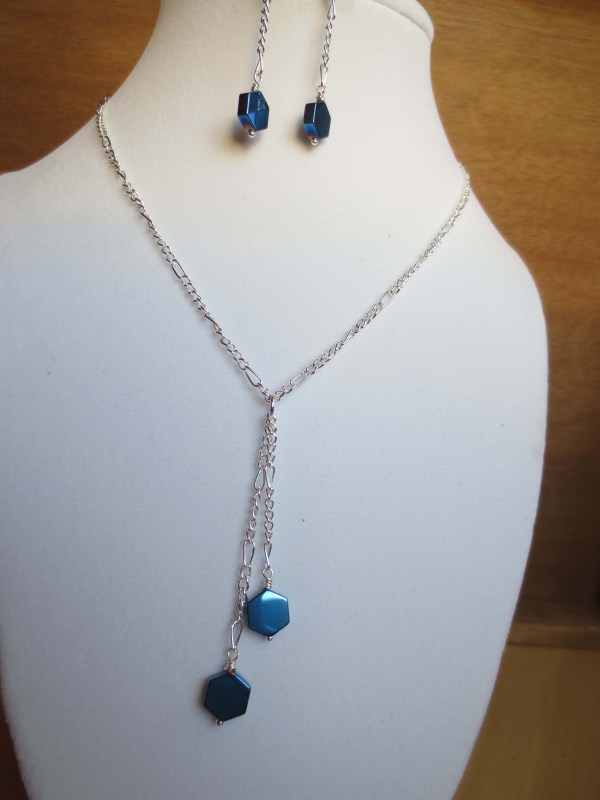 The first one uses the hectagon beads on a simple silver chain.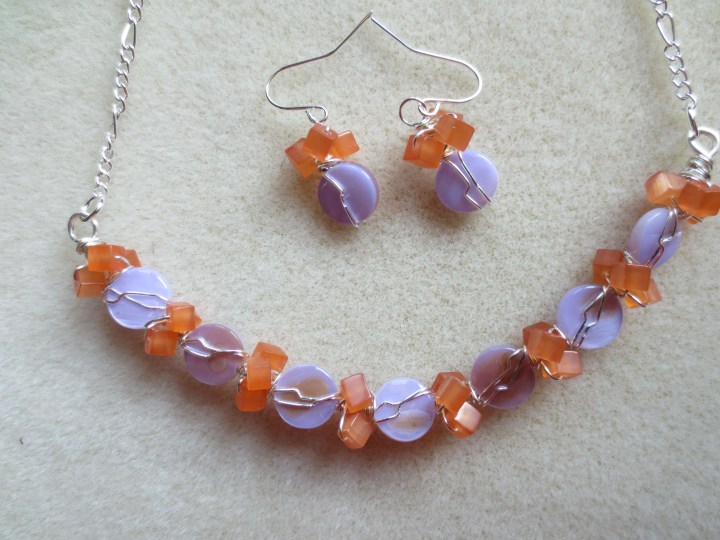 The second one uses the square orange beads and the lavender coin shell beads. I wire wrapped them together to make a rigid component attached to a silver chain. I still need to shape it a bit more to obtain a nice curve, but otherwise, I love the look of it with a t-shirt. I'm really in love with those two colours together!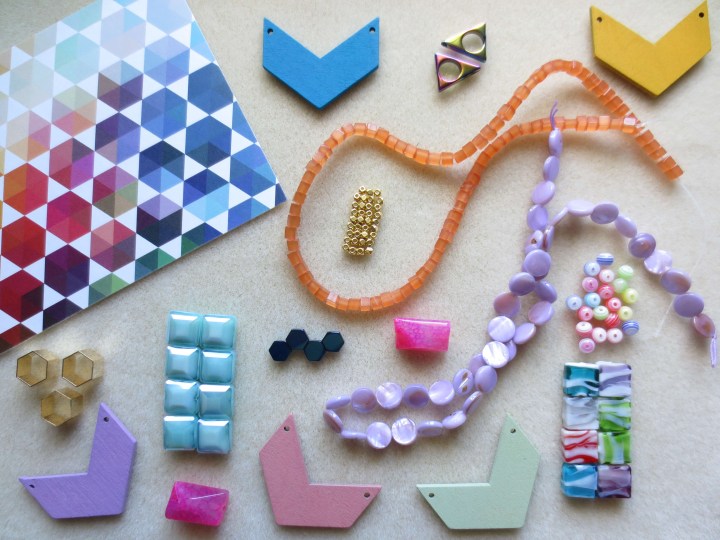 Geometry! That is such an interesting box! Few usual beads, but even they get a little sparks of geometry (the round lined beads). I like all the different shapes, and the colours. They are more pastels than like, but they are bright and fun! I discovered a new colour mix I like : orange and purple! I'll definitely use that more often.
As usual, Blueberry Cove Beads brings a lot of fun beads I've either never seen before, or never thought of picking up myself. I might have to chase down more of the metallic blue hexagons and the metallic iris triangle to play around a bit more.
What did you think of this month's Blueberry Cove Beads?
Visit Blueberry Cove Beads to subscribe or find out more!
The Subscription
:
Blueberry Cove Beads
The Description
: A monthly bead subscription box. Each box will contain between 9-13 items such as loose beads, bead strings, findings, pendants and more.
The Price
: $27.00 per month