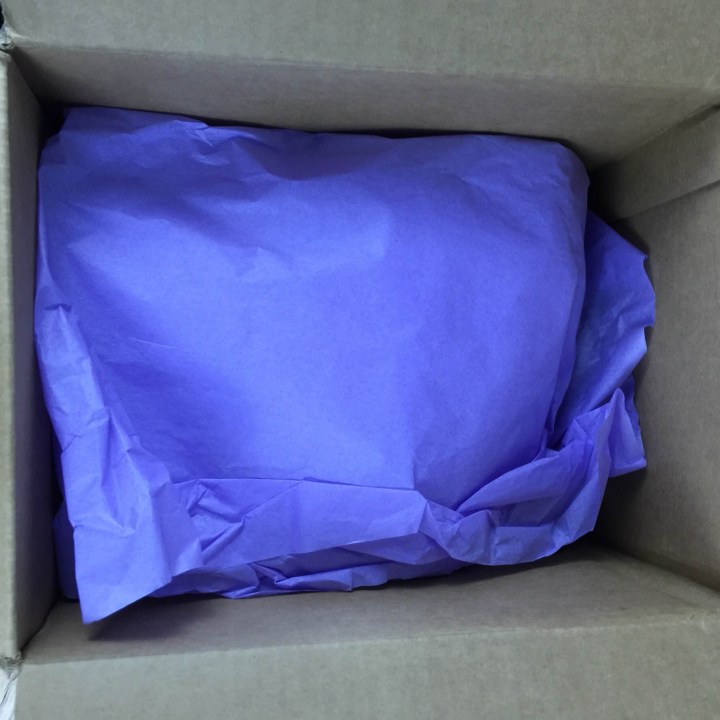 I am super pumped about Pretty Fit! Pretty Fit is a monthly health and fitness subscription for women. Each month you'll get a box of nutritional supplements, healthy snacks, workout gear and more, chosen by top fitness professionals.  With every purchase, Pretty Fit makes a donation to Vitamin Angels that supplies essential vitamins & minerals to at-risk populations.
I got the Summer Protein Pack!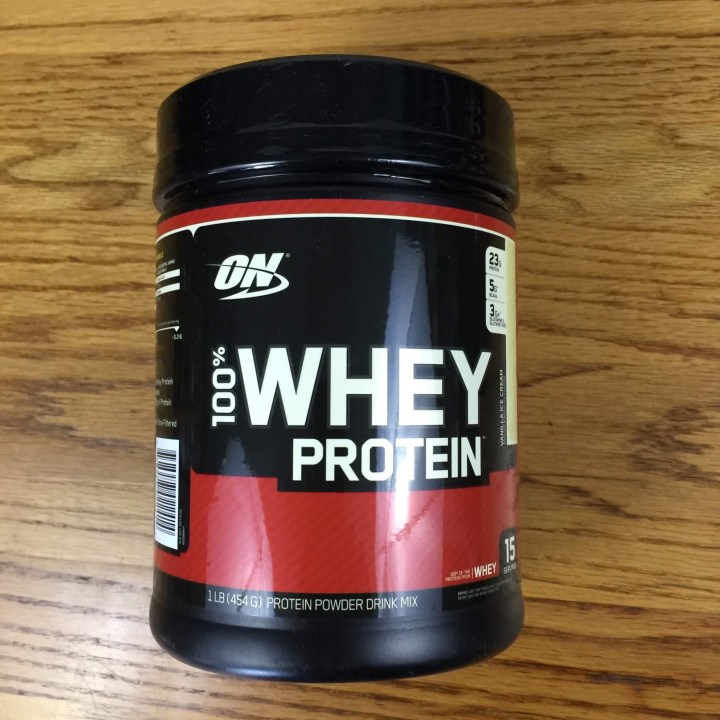 Whey Protein drink in Vanilla Ice Cream.  Only 120 calories for 23 grams of protein with 3 carbs, even though the flavor is not very strong it's still a great product. I will say that I added this powder to almond milk in a hand shaker and blended alright but throwing it into the blender with some fruit for my daughter it was outstanding. I loved that actually blended and didn't stick to the sides of my blender and it really filled us up.
Chicke Powdered Peanut Butter in Chocolate. I didn't mix this up but I did add it to my breakfast smoothie with some fresh banana, it was amazing. I'm not a huge peanut butter fan but this is adds flavor without the sticky clean up of regular peanut butter. And the best thing is it adds another 5 grams of protein with 40 calories, check your peanut butter that's a huge calorie savings. I want to try using it when I make cookies.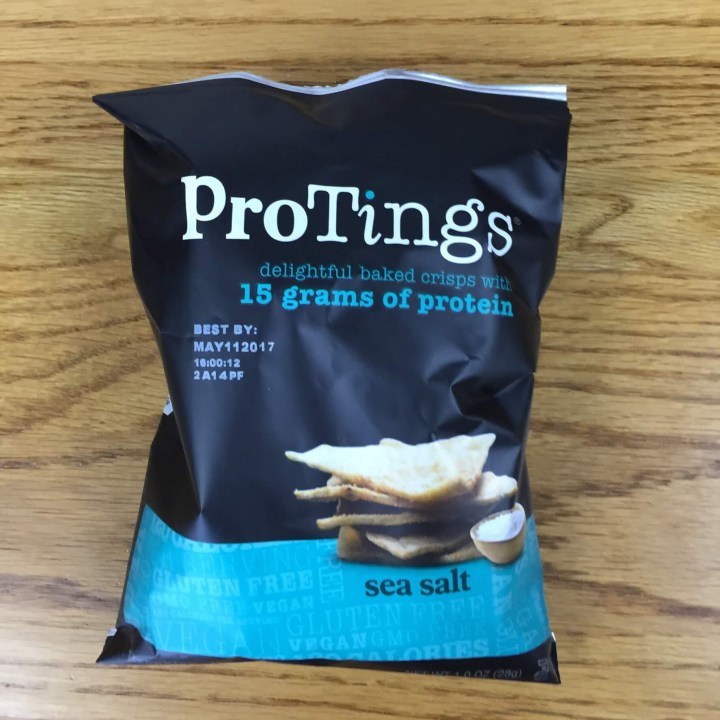 ProThings, sea salt flavor was interesting at best. These baked crisps are shaped like tortilla chips with flax seeds. For me the taste was pleasantly salty but the after taste is bland. I think with a soft cheese these would be much better. I was blown away that there are 15 grams of protein in each bag and they are vegan and gluten free.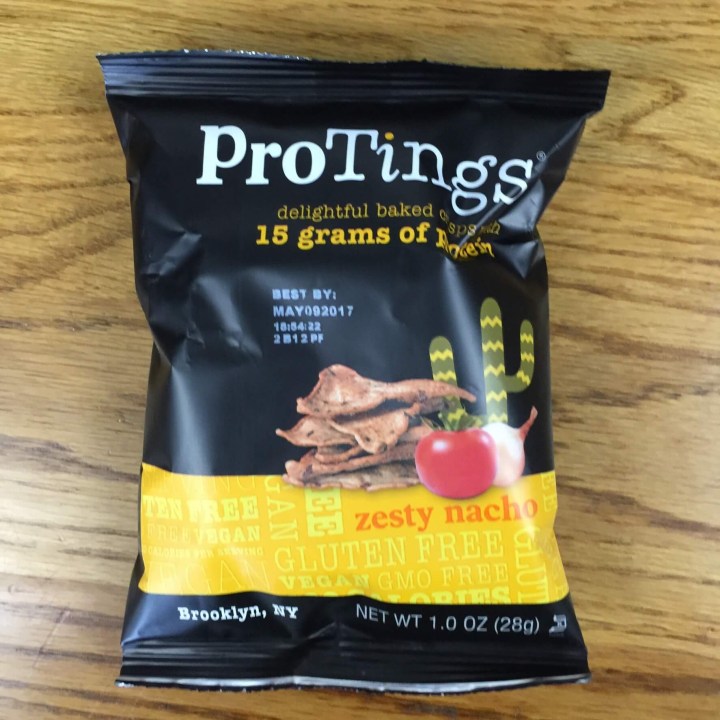 Zesty Nacho was a step up, a bit of spice and a ton of flavor. Unfortunately the after taste is still the most memorable part of this protein packed snack.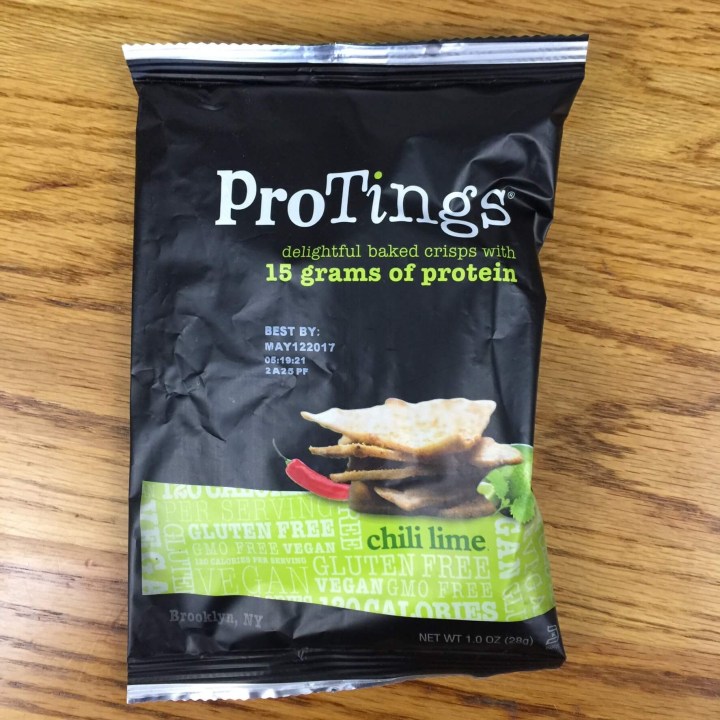 Chili Lime, I detest lime so I didn't try this flavor.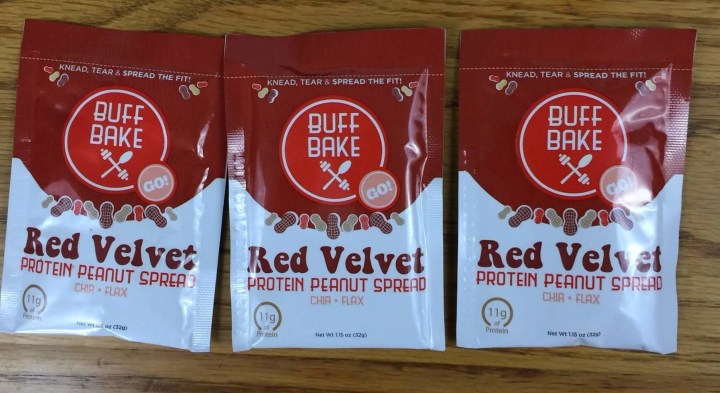 Red Velvet Protein Peanut Butter spread from Buff Bake, amazing! The suggested use is to spread on veggies or fruit or eat it straight up,  I suggest licking the package clean! It's a peanut spread that tastes just like roasted peanuts without the messy shells. I'm in love with this spread and will be keeping it in my purse for a quick pick me up.
Detour Simple in Chocolate Chip Caramel was too sweet for me. I love that it's non gmo and that alone will make me search for other flavors not to mention 20 grams of protein in a bar is fantastic considering that is twice as much as the Cliff bars I normally have on hand.
Chike Mocha iced coffee protein drink was delicious. It tasted like coffee with a hint of almond milk, the only issue I had was that I had to keep shaking it prior to each sip to keep the grittiness at bay.
Protein, protein and more protein! What a wonderful box this was with different forms of high protein snacks that I wouldn't have normally tried. I will be keeping the powdered peanut butter and the red velvet protein peanut spread in my healthy eating arsenal. I was amazed that each product had at least 11 grams of protein. Pretty Fit helped to renew my desire to keep on the right healthy eating track for my body as well as gain a better understanding of the health related foods.
What did you think of Pretty Fit? Take $15 off your first box with coupon code HELLO15.
Visit Pretty Fit to subscribe or find out more!
The Subscription
:
Pretty Fit
The Description
: Get a box of the best nutritional supplements, healthy snacks, workout gear and more, chosen by top fitness professionals. (Hint – the Pretty means its for the ladieeeees!)
The Price
: $45.00 per month