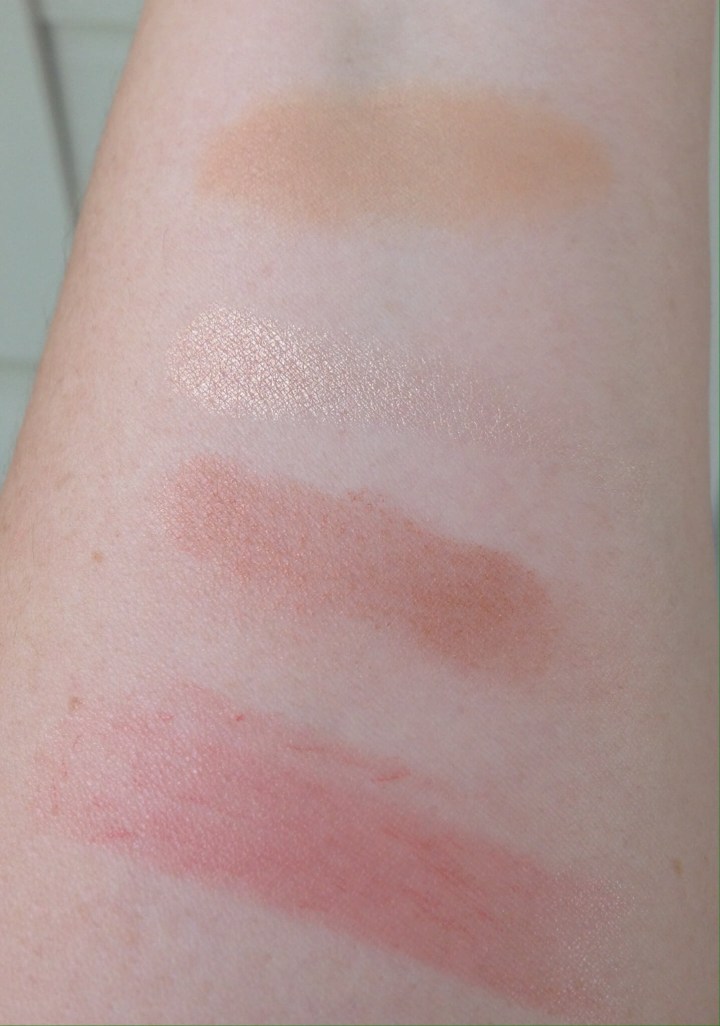 Getting a Boxwalla subscription is the best way to discover artists and artisans from all over the world for $49.95 every two months. There are four boxes to choose from: the Green Beauty Box, Book Box, Food Box and Film box. I went for Boxwalla Book (always for the books) since it gives an opportunity to really branch out and learn about the world.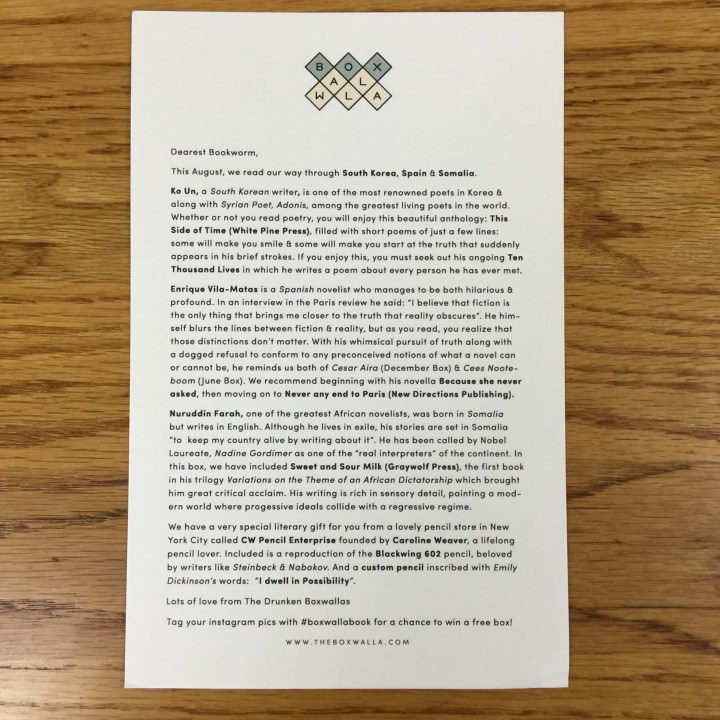 A short letter asking people to stay connected via social media but more importantly a quick glimpse into the each of the featured writers and literary goodies. The August box focused on South Korea, Spain, and Somalia.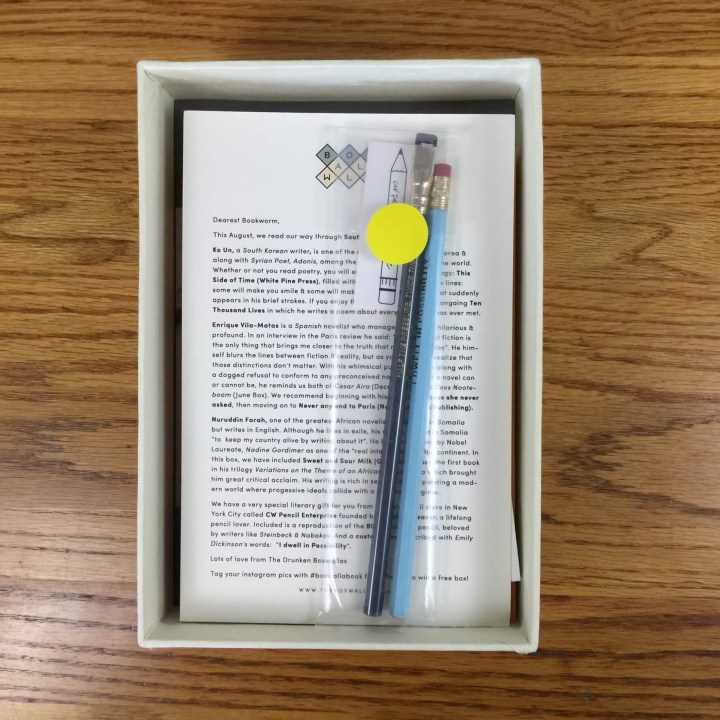 Very neatly packaged in order to keep the precious books from being damaged in any way.
The gray pencil is a reproduction of the Blackwing 602, apparently beloved by writers like Steinbeck and Nabokov. I love the funky shaped eraser on this guy. The blue pencil has a quote by Emily Dickinson, "I dwell in Possibility." A beautiful quote that should remind everyone that they are full of possibility. These pencils are from a store in New York City called CW Pencil Enterprise founded by Caroline Weaver.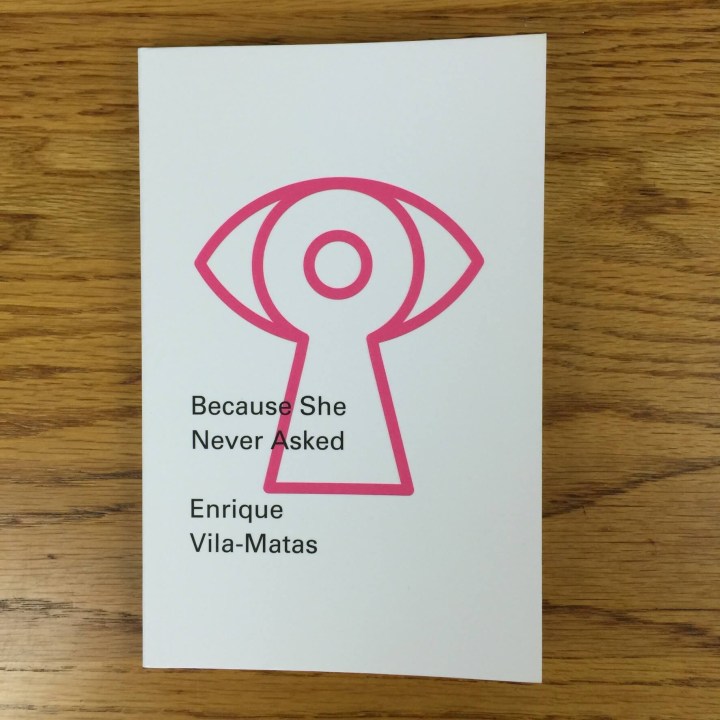 Because She Never Asked by Enrique Vila-Matas ($10.95)
A novella―half joke and half nightmare― by "Spain's most significant contemporary literary figure" (The New Yorker)

Because She Never Asked is a story reminiscent of that reached by the travelers in Patricia Highsmith's Stranger on a Train. The author first writes a piece for the artist Sophie Calle to live out: a young, aspiring, French artist travels to Lisbon and the Azores in pursuit of an older artist whose work she's in love with. The second part of the story tells what happens between the author and Calle. She eludes, him; he becomes blocked, and suffers physical collapse.

"Something strange happened along the way," Vila-Matas wrote. "Normally, writers try to pass a work of fiction off as being real. But in Because She Never Asked, the opposite occurred: in order to give meaning to the story of my life, I found that I needed to present it as fiction."
---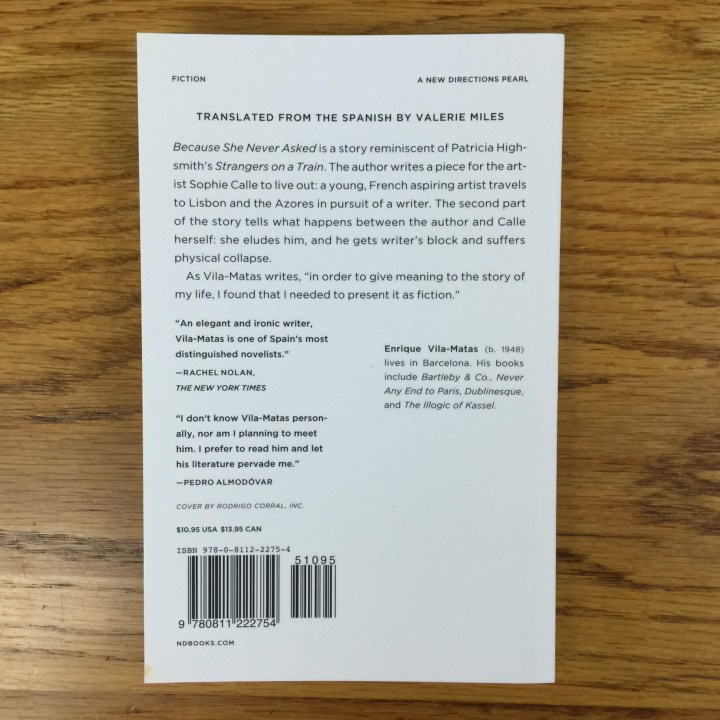 I took the time to read a few pages of this book and it is beautifully written and describes the character in a way that allows you to paint a picture in your mind. I'm looking forward to a lazy afternoon with this book as it flows so well that I can't imagine taking more than a few hours to complete it.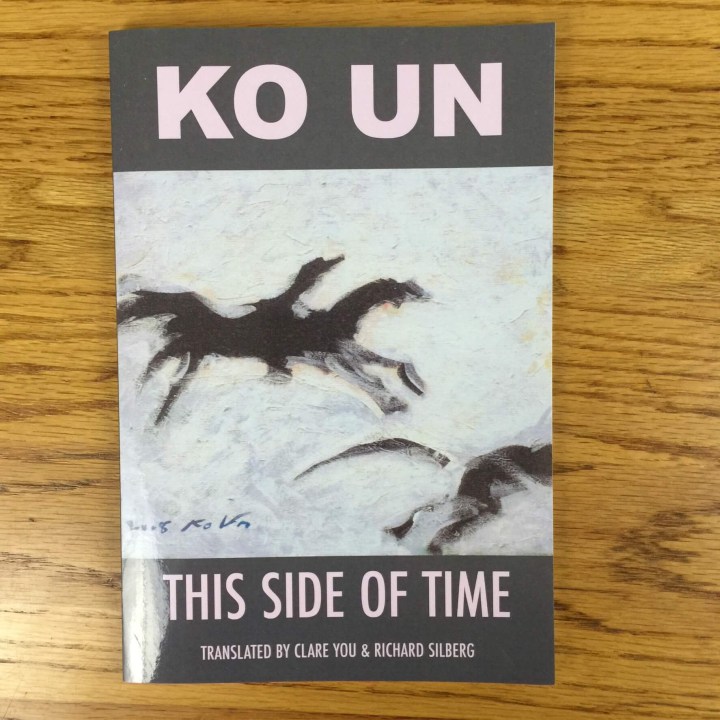 This Side of Time by Ko Un ($16)
"Ko Un's poems evoke the open creativity and fluidity of nature, and funny turns and twists of mind. Mind is sometimes registered in Buddhist terms—Buddhist practice being part of Ko Un's background. Ko Un writes spare, short-line lyrics direct to the point, but often intricate in both wit and meaning. Ko Un has now traveled worldwide and is not only a major spokesman for all Korean culture, but a voice for Planet Earth Watershed as well." —Gary Snyder

Ko Un is one of the most respected poets in Korea and has been nominated several times for the Nobel Prize in Literature.
This Side of Time is a collection of short poems. When I say short I'm talking anywhere from 3 lines to 15 lines. They are simple yet powerful and I was able to complete the entire collection in no time at all. The footnotes are very helpful in explaining the significance of certain places and people.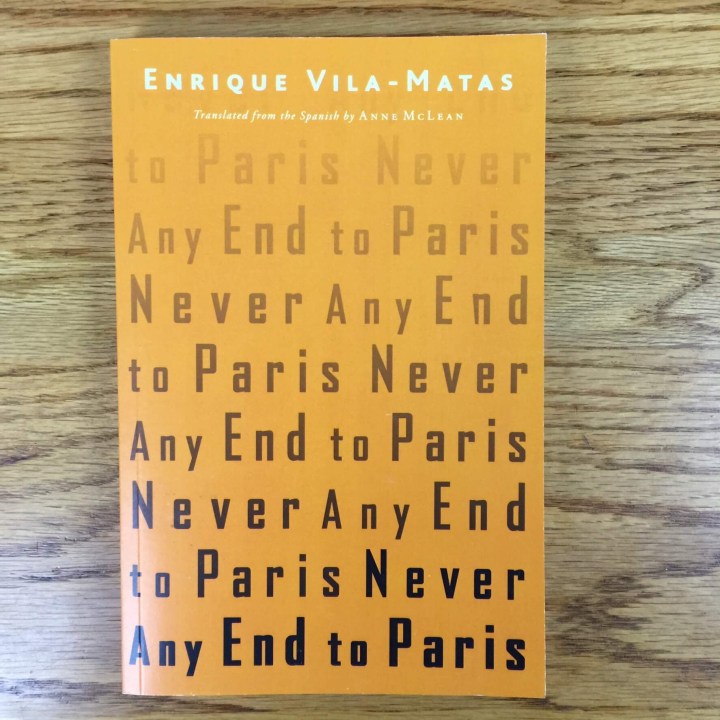 Never Any End to Paris by Enrique Vila-Matas ($11.51)
A splendid ironic portrayal of literary Paris and of a young writer's struggles by one of Spain's most eminent authors.

This brilliantly ironic novel about literature and writing, in Vila-Matas's trademark witty and erudite style, is told in the form of a lecture delivered by a novelist clearly a version of the author himself. The "lecturer" tells of his two-year stint living in Marguerite Duras's garret during the seventies, spending time with writers, intellectuals, and eccentrics, and trying to make it as a creator of literature: "I went to Paris and was very poor and very unhappy." Encountering such luminaries as Duras, Roland Barthes, Georges Perec, Sergio Pitol, Samuel Beckett, and Juan Marsé, our narrator embarks on a novel whose text will "kill" its readers and put him on a footing with his beloved Hemingway. (Never Any End to Paris takes its title from a refrain in A Moveable Feast.) What emerges is a fabulous portrait of intellectual life in Paris that, with humor and penetrating insight, investigates the role of literature in our lives.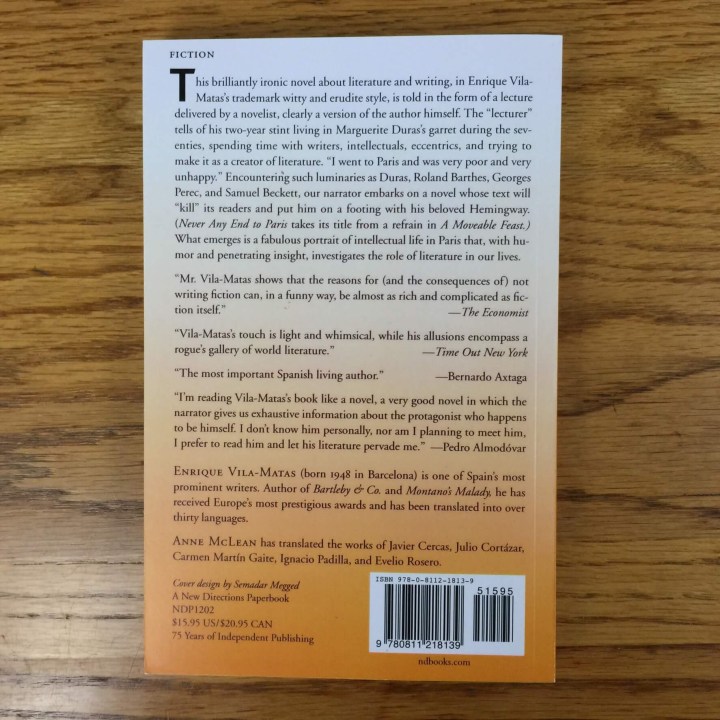 I tried to read  a bit of this book just so I could write about it but found that I needed a little less distraction, television wasn't helping me stay focused.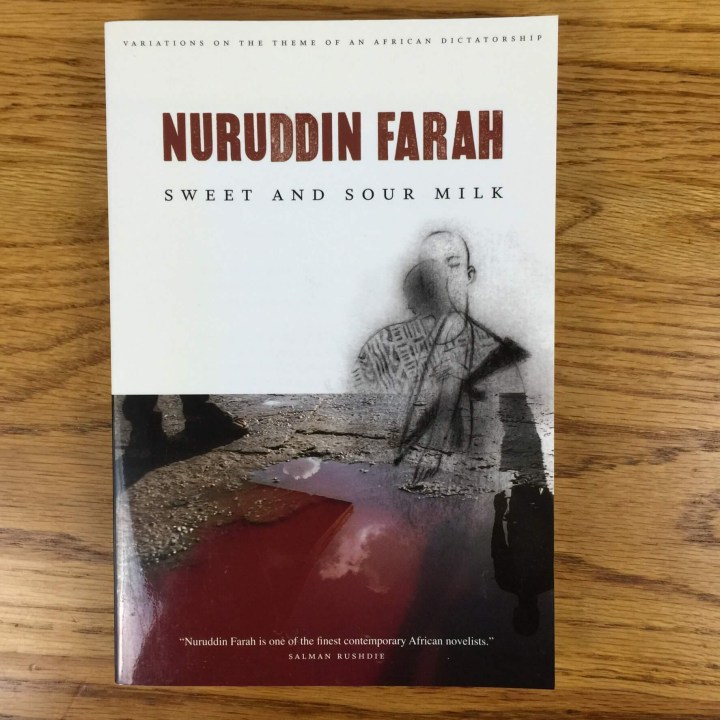 Sweet and Sour Milk by Nuruddin Farah ($14)
Winner of the 1980 English-Speaking Union Literary Award

The first novel in Farah's universally acclaimed Variations on the Theme of an African Dictatorship trilogy, Sweet and Sour Milk chronicles one man's search for the reasons behind his twin brother's violent death during the 1970s. The atmosphere of political tyranny and repression reduces our hero's quest to a passive and fatalistic level; his search for reasons and answers ultimately becomes a search for meaning. The often detective-story-like narrative of this novel thus moves on a primarily interior plane as "Farah takes us deep into territory he has charted and mapped and made uniquely his own" (Chinua Achebe).
This book is the one I'm most looking forward to read. The inside cover is filled with highest praise for the writer as well as the book, part of the reason I didn't give the first few pages a read, I want to give this all the attention it deserves.
Boxwalla is easily one of the more challenging book subscriptions I get because I  don't get to choose a genre. I do like that the selections take me out of my comfort zone and make me learn. I truly love cracking open new books and entering a land that isn't known to me. Boxwalla has a wonderful team that keeps me on my toes and learning the names of authors I may never read otherwise.
Visit Boxwalla Book to subscribe or find out more!
The Subscription
:
Boxwalla Book
The Description
: The first series of book boxes this year, will focus on great, living writers from all over the world. All of them are must-read but not as widely read as they deserve to be. All of them are also prospective Nobel Laureates. But we don't want to wait till they win. We want to (and want you to) read them now!
The Price
: $49.99 every other month