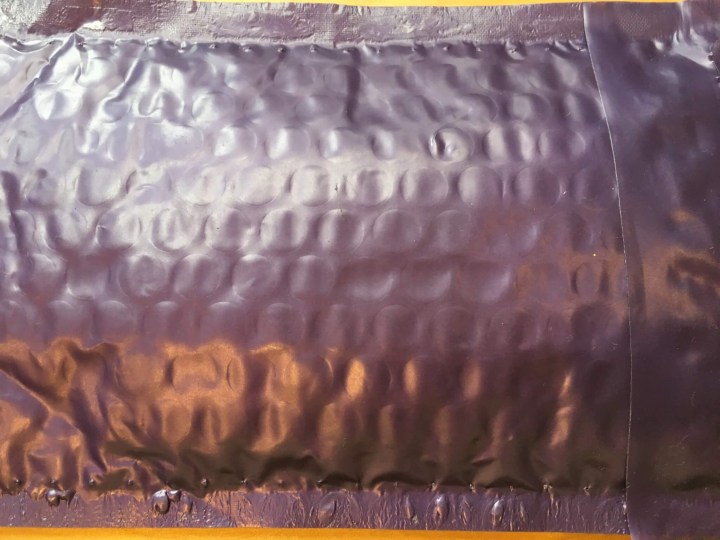 Plum Deluxe is a small, family owned and operated monthly organic, non-GMO, fair trade tea service that delivers loose leaf tea to your doorstep. Teas are hand-blended shortly after an order is placed. They are then shipped out from Portland, Oregon, within 2-4 days via USPS First Class Mail. Although the tea arrives in an otherwise nondescript purple package, when you pick it up, even before you open it, its amazing scent wafts through the air.
Once you become a member, you get to join a special community where members plan meetups, ask each other questions and make suggestions about future limited-edition blends. Members also receive discounts on extra teas and supplies and may receive other specials throughout the year.
When I opened up the box, I was so excited! Tea! And not just any tea–organic, fair trade tea! Hand-crafted in Oregon, the tea of the month club delivers limited-edition handmade teas that you can't even buy in their online store. The only way to get them is to be a member. Monthly subscriptions cost $10 each month for a 1-oz bag of tea plus a sample of another tea or $16 each month for two 1-oz bags of tea plus a sample of a third tea (subscriptions are charged quarterly, so you need to sign up for 3 months at a time). I received one bag plus a sample. Each 1-oz bag makes roughly 15-20 cups of tea.
Although I love most teas, I'm not supposed to have caffeine. I'm delighted that Plum Deluxe offers a caffeine-free subscription for people like me! This month's package contained 1 oz of Plum Deluxe's Pomme Blossom Herbal Tea as well as a sample of their Deluxe Pumpkin Spice Herbal Tea.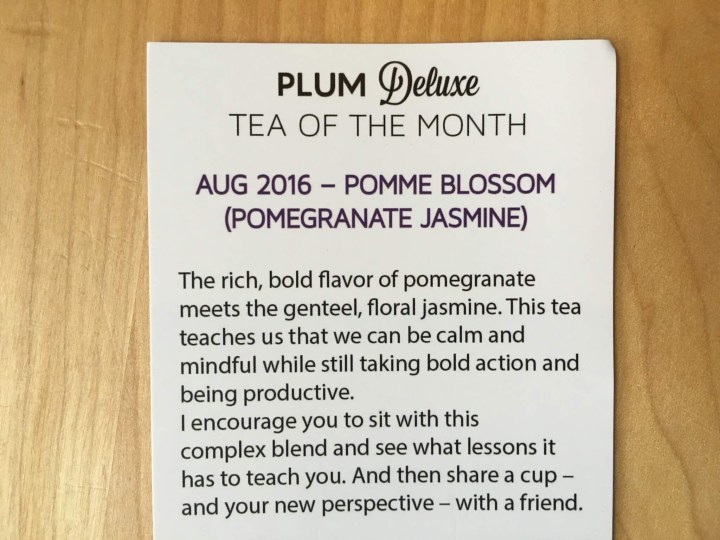 I like how Plum Deluxe sends detailed descriptions of their featured teas along with the tea itself.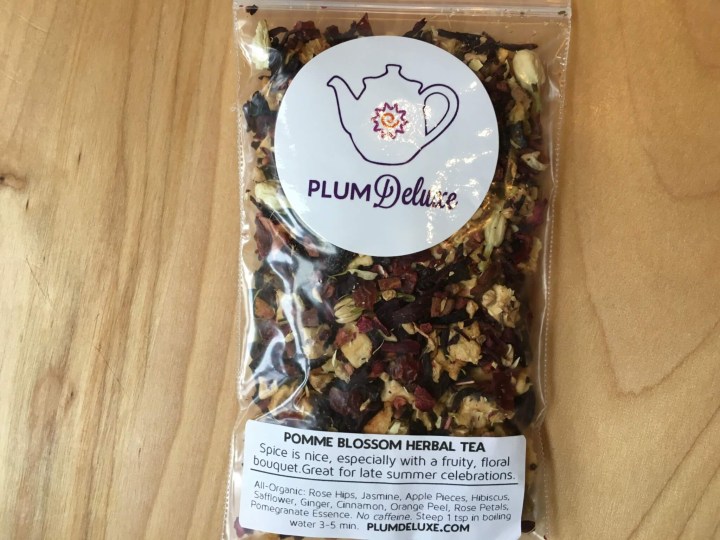 Plum Deluxe's Pomme Blossom Herbal Tea ($7) has a delightfully fruity and floral nose.
In fact, it smelled so great that part of me wanted to eat it!
After restraining myself, I steeped the blend for five minutes. I very much enjoyed this tea. The apples and pomegranate were pronounced, as were the hibiscus and rose notes. The hints of cinnamon and ginger added a wonderful complexity to the tea. Yum!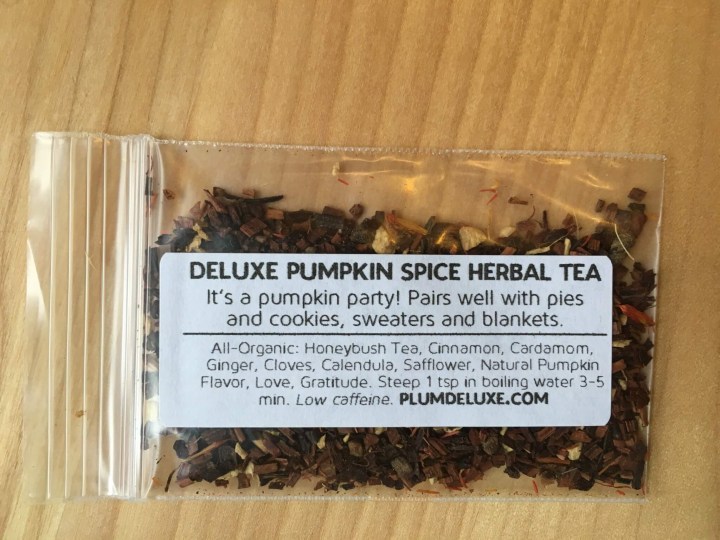 Plum Deluxe's Pumpkin Spice Herbal Tea sample smelled of pumpkin cinnamon potpourri.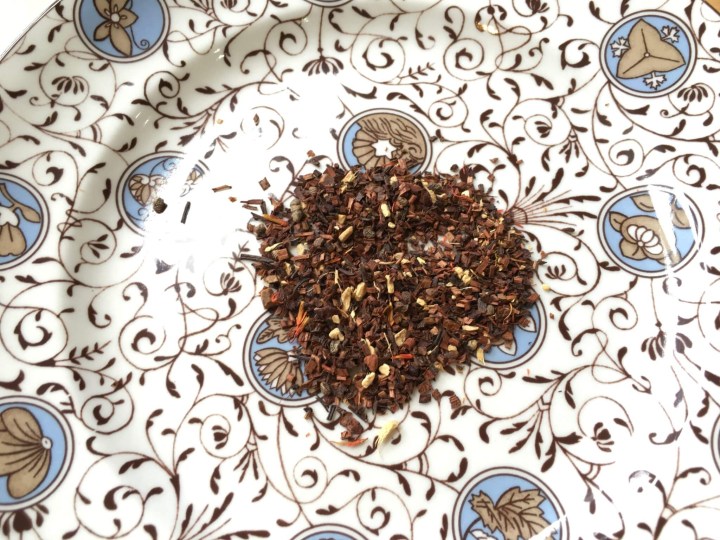 It left me excited for the fall.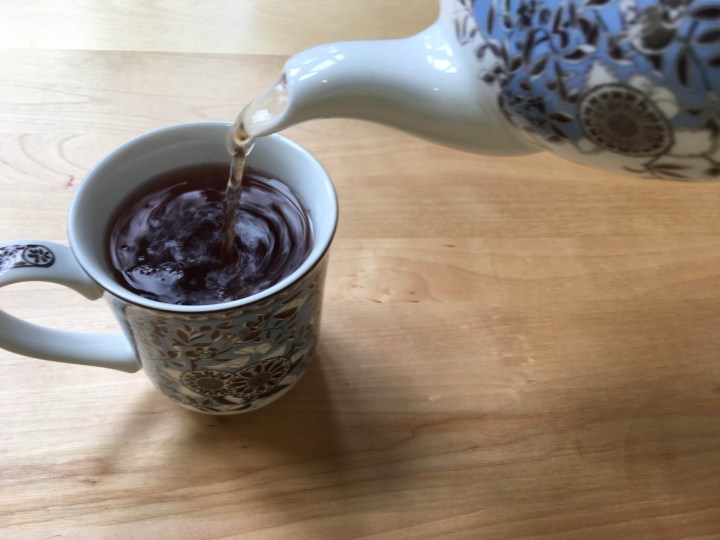 As much as I loved the first tea, I loved this one at least as much! There are few things in this world that I love more than pumpkin spice, and this tea embodies that perfectly. Clearly, I'll need to purchase more .
I had so much fun trying this month's delicious, organic, non-GMO, fair-trade, hand-blended teas from Plum Deluxe! I love that Plum Deluxe produces its teas by hand in Oregon, and I think it's really cool that each month's featured tea is only available to subscribers. I can't wait to see what they come up with next month!
Visit Plum Deluxe to subscribe or find out more!
The Subscription
:
Plum Deluxe
The Description
: Always have a fresh, thoughtfully chosen, seasonal tea on hand. Each month you'll receive your tea along with brewing instructions and tips for peak enjoyment.
The Price
: $10.00 per month