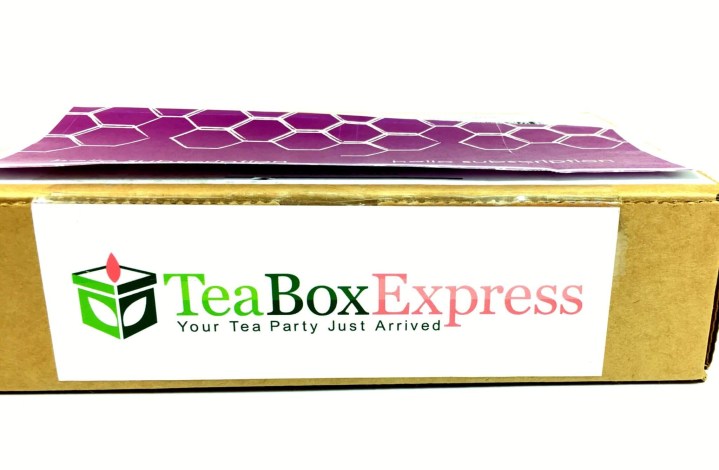 Tea Box Express is a monthly subscription box containing a brand-name, whole-leaf tea (either loose leaf or in a pyramid bag) plus 3-4 other tea related items, which may include infusers, measuring spoons, or food items like chocolate or cookies. It costs $25.50 for a monthly box, plus $6.49 for shipping. They offer 1, 3, or 6 month terms and each will automatically renew (or choose the gift option, which doesn't renew). Save 20% on your first monthly box! Use coupon code  HELLO20.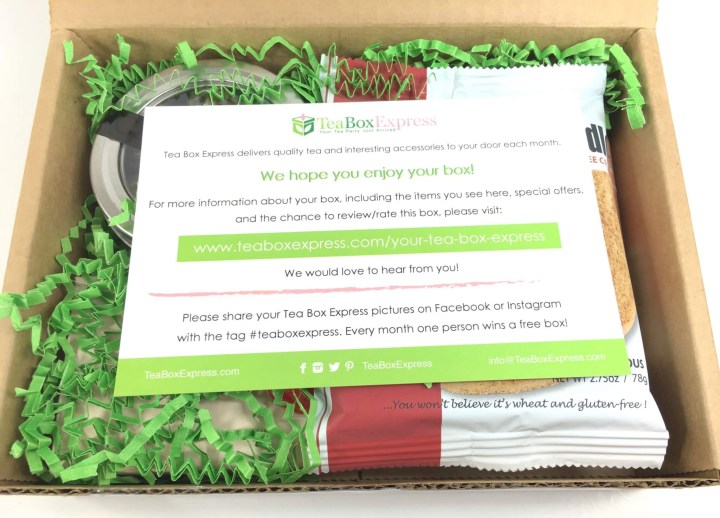 Tea Box Express does a great job at presentation. I received my items in a sturdy cardboard box and everything was cushioned with shredded paper. Tea Box Express aims to "deliver a tea party to your door every month". There was a card inside that gave info on how to share your box on social media for a chance to win a free box. It also listed the website address where you can get more information on your box.

I also received a personalized letter that listed the products in my box.
Everything in my box! I received 2 teas, 2 mints, and a cookie.
I have never tried a blooming tea so I really enjoyed Chai Diaries Blooming Tea Tin in Lychee ($14). I don't have a glass mug big enough to hold 16 ounces of water so I brewed it in my Pyrex dish! I wish that the ingredients were listed, either on the tin or online, but the main ingredient is green tea.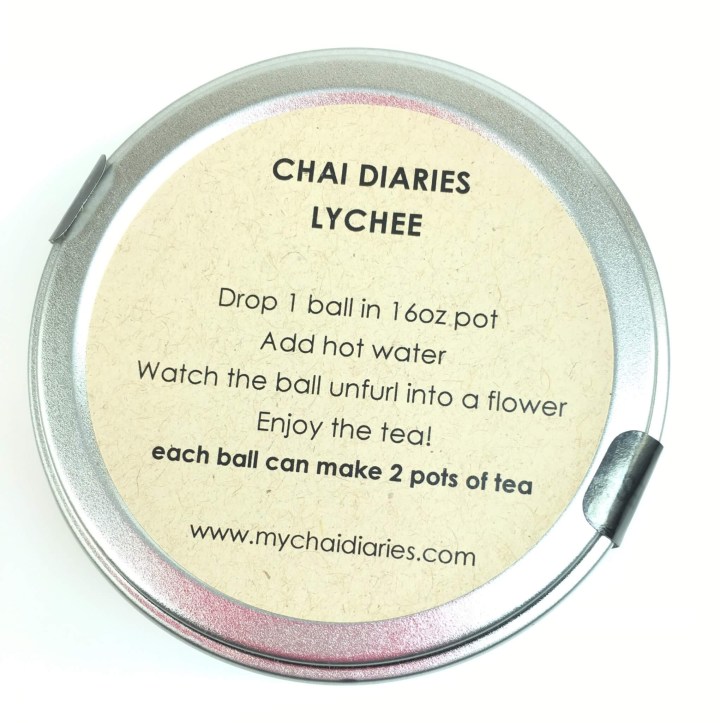 My tea ball unfurled into a blossom and it was fun to watch. I snapped some pictures but the model wasn't cooperating but this would look very pretty in a clear glass teapot. I also enjoyed the flavor of the tea, which was fruity in a tropical sort of way and wasn't bitter at all. Each ball can be brewed twice so this tin will make 14 pots of tea.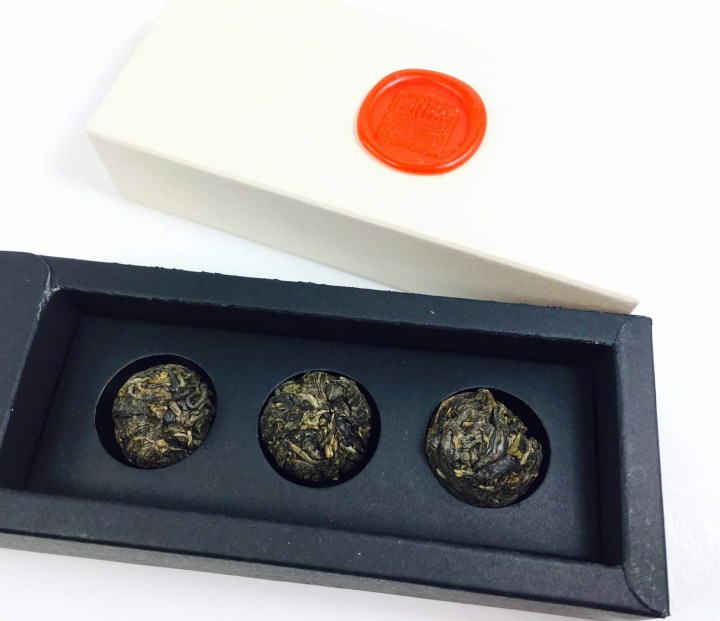 Next up is Misty Peak Teas Rolled Pu'er Tea Balls ($9), another new-to-me tea type. Misty Peak only sells one type of tea: pu'er, a type of fermented tea that is typically brewed for a short amount of time and can subsequently be brewed over and over again. If you don't plan to rebrew right away you should store the wet leaves in the fridge for up to 3 days. The flavor was very light, I didn't detect any bitterness, and it had a slightly smokey scent. I don't plan on drinking 8 cups of tea a day but it was nice to try something new!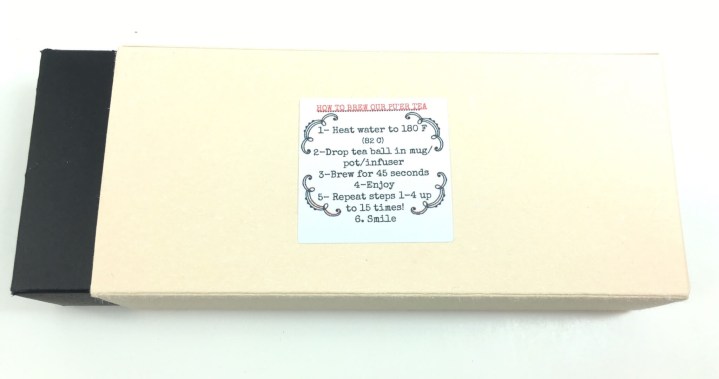 I love the fact that both of these teas included brewing instructions on the underside of the containers.
Sencha Green Tea Mints Eco Tube in Cardamom Cinnamon ($2.52) is sweetened with coconut sugar and is vegan and gluten free. I brought these to work and my co-worker and I couldn't get paste the saccharine-like bitter/sweet taste and spit them out almost immediately. I tried it again and found that eventually I got past the chemical taste and it was better, but not enough for me to try a third time.
Sencha Green Tea Mints Canister in Pink Dragon Fruit ($3.95) are sugar-free and sweetened with sorbitol and are much more palatable to me than the previous offering. They have a sweet fruity flavor and contain a mix of sencha and matcha green teas plus peppermint oil.
Finally, there was a WOW Baking Company Snickerdoodle ($1.99). WOW offers gluten- and wheat-free cookies made with all natural ingredients and snickerdoodle is a classic choice. This reminded me of a sweet, soft, and moist sugar cookie but the cinnamon flavor wasn't very strong.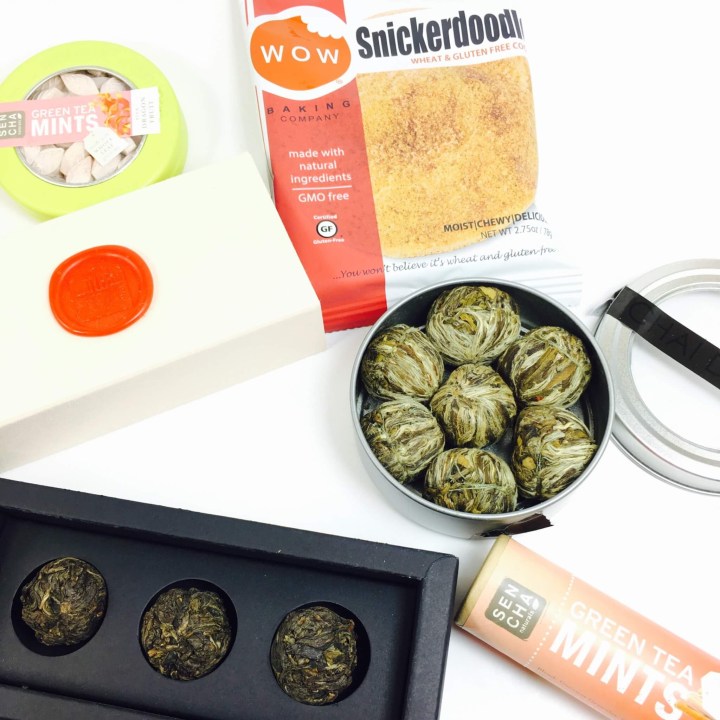 I really enjoyed discovering new tea types in this month's Tea Box Express! I tend to stick to the usual since I have a hard time choosing new types of tea and this way they are chosen for me. This would make a lovely gift for someone special since the presentation was beautiful and I felt like I had received a very upscale box. The August box had a value of $31.46, which is just about the cost of the box plus shipping. My whole experience with Tea Box Express was very impressive!
What do you think of Tea Box Express? Save 20% on your first monthly box! Use coupon code HELLO20.
Visit Tea Box Express to subscribe or find out more!
The Subscription
:
Tea Box Express
The Description
: Tea Box Express is a monthly box of tea and accessories. Each box contains quality brand-name loose leaf tea and three or four fun "tea-things" to enjoy with your tea.
The Price
: $25.50 per month