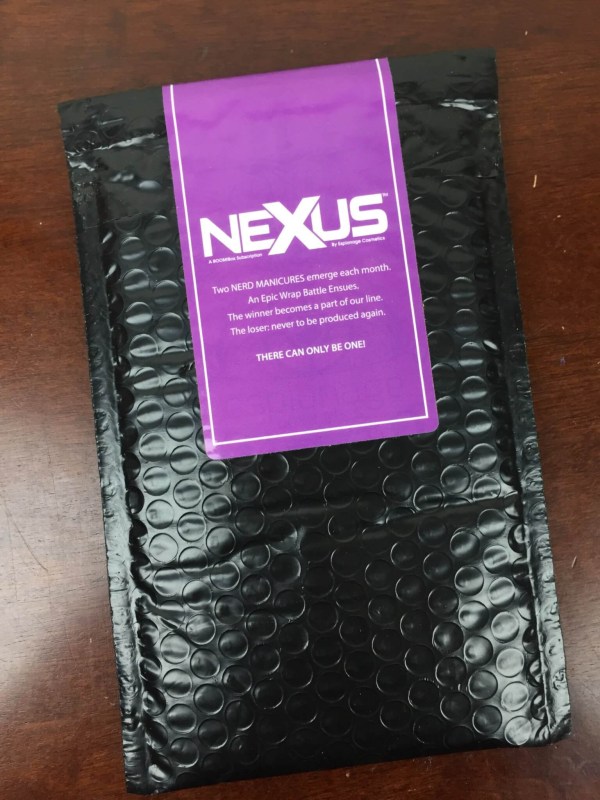 Nexus by Espionage Cosmetics is a monthly nail subscription service for all the nail wrap addicts out there. For only $15 per month, you'll get two brand new "Nailed It!" nail wrap designs, which are uniquely designed and sought-after geeky nail wraps.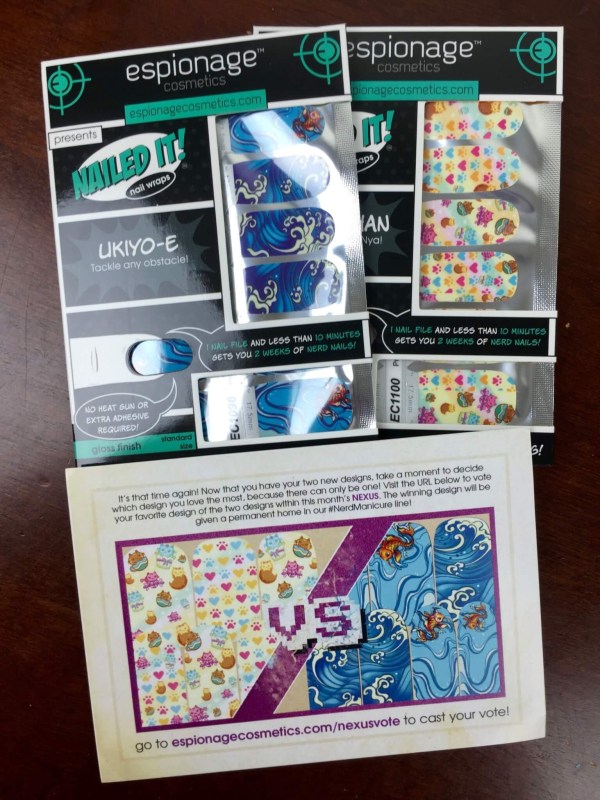 Everything in my July box! I got Ukiyo-E and Neko-Chan in this box. There's also a free nail file included for trimming the design to your nail. You can use your nails themselves to slice off the design, but a file works better.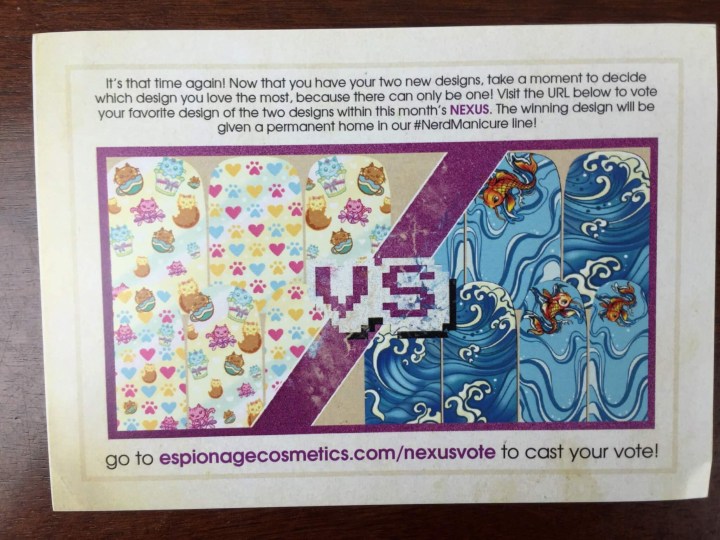 The two designs sent in this box are facing off each other to be permanently included in the Nexus Manicure line. You can cast your vote on Espionage's website.
The information card shows more detail about the two designs. While there's no price listed, EC wraps range from $10-15 depending on the finish.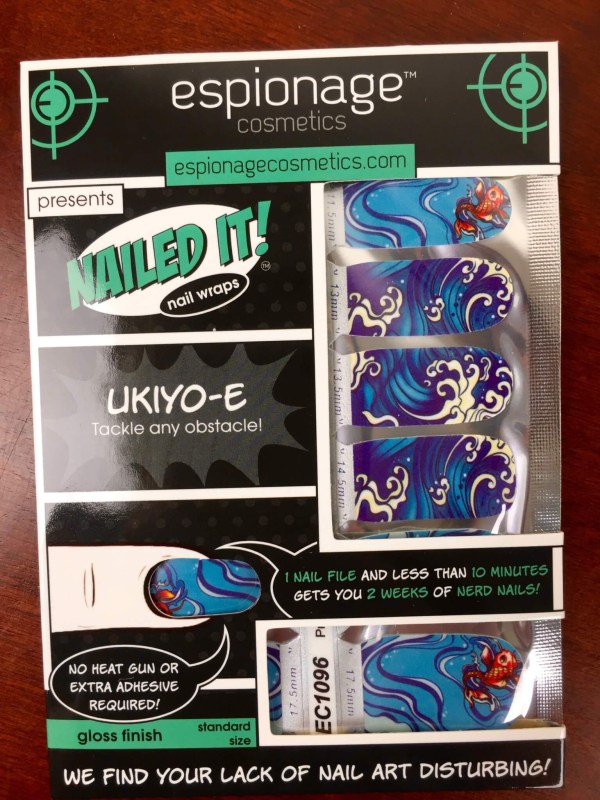 Ukiyo-e is a style of art from Japan. It translates to 'pictures of the floating world.' Ukiyo-e is traditionally created with woodblock prints or painting. This scene is of a koi fish swimming in the ocean, and I really like how it looks!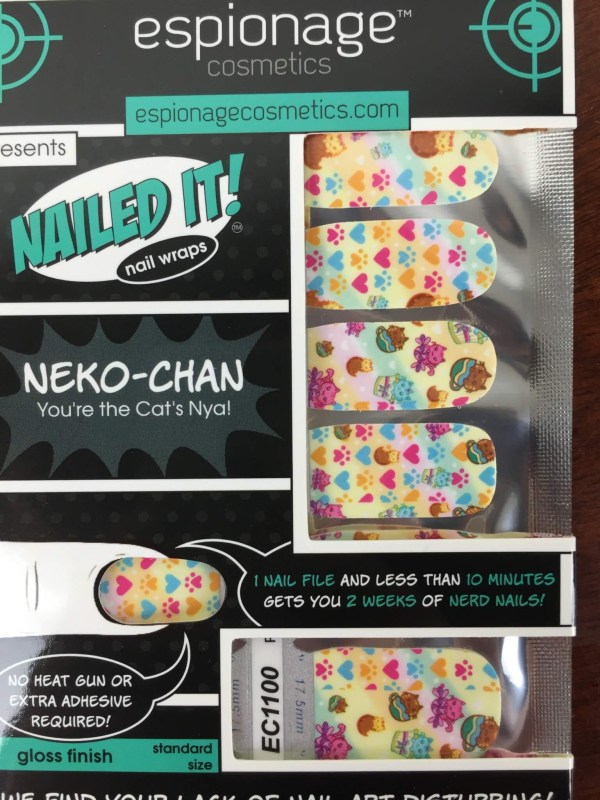 Neko-chan (which means Kitty) is a bright and colourful print featuring hearts, pawprints, and kitties. It's a bit young for me, but it's really cute!
Note from Brandy: Valerie let me keep these. SQUEE! Because shipping is $10 to Canada, we have them sent here, because that's crazy. You'll note that these are actually misprinted. Or maybe not – I didn't. They sent out a code for a $20 credit, which expired pretty quickly, and I forgot to use it. Bummer. Anyways, the big plan was for me to try these on but I'm trying to grow my nails out. So basically this review is a story of a Brandy-fail. Forgive me.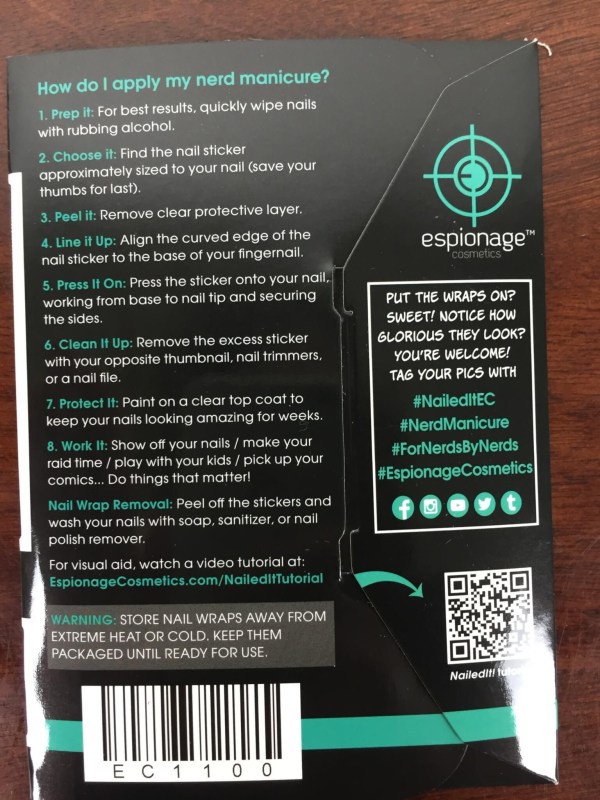 The instructions are written at the back — it's pretty easy, really! There's also a link to view video tutorials on Espionage's website although it's broken – use this one instead.
This box is perfect if you're too impatient for the bi-monthly BOOM! Box and need to keep your nail game strong.
Which design would you choose this month?
Visit Nexus by Espionage Cosmetics to subscribe or find out more!
The Subscription
:
Nexus by Espionage Cosmetics
The Description
: Two BRAND NEW "Nailed It!" nail wrap designs in each Nexus box.
The Price
: $15.00 per month