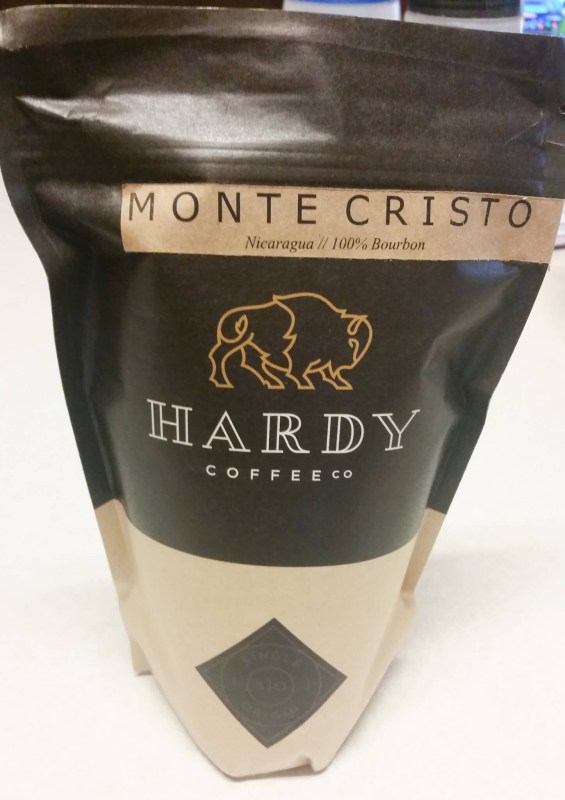 Hardy Coffee Co. promises "excellent, approachable coffee roasted in Omaha Nebraska."  They offer a number of subscription options, including one or two 12-oz bags of either their Benchmark blend, a decaf version of their Benchmark blend, or a Single Origin selection.  Prices start at $16/month for one bag of the Benchmark blends or $18/month for one bag Single Origin; they also offer discounted prices for prepaying for multiple months.
I am reviewing the Single Origin subscription.  This month's offering is Monte Cristo.  I love learning about new beans and new roasts, so I always enjoy reviewing coffee subscription boxes.  I was not familiar with this bean, so I definitely was looking forward to trying it out!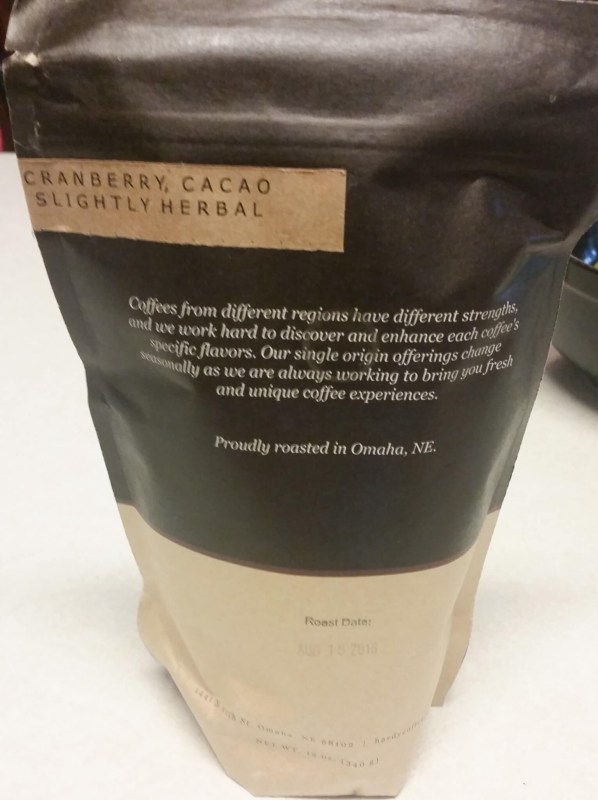 Hardy Coffee Co. promises, on the bag, "fresh and unique coffee experiences." The coffee is definitely fresh – as the bag also displays a roasting date, here August 15.  I received the box a few days after that.  Nothing beats freshly roasted coffee!
The back of the bag also provides some tasting notes – cranberry, cacao, and slightly herbal.  That sounds intriguing!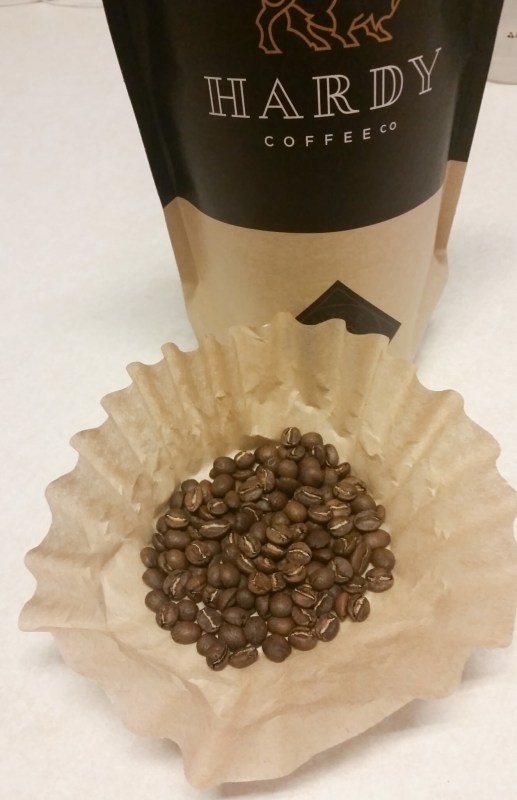 Here's a glamour shot of the beans – aren't they pretty?  (Yes, it's possible that I'm slightly obsessed with coffee.  I admit that.)  There was not much aroma when I opened the bag – a lighter roast again, which is probably good since it's summer.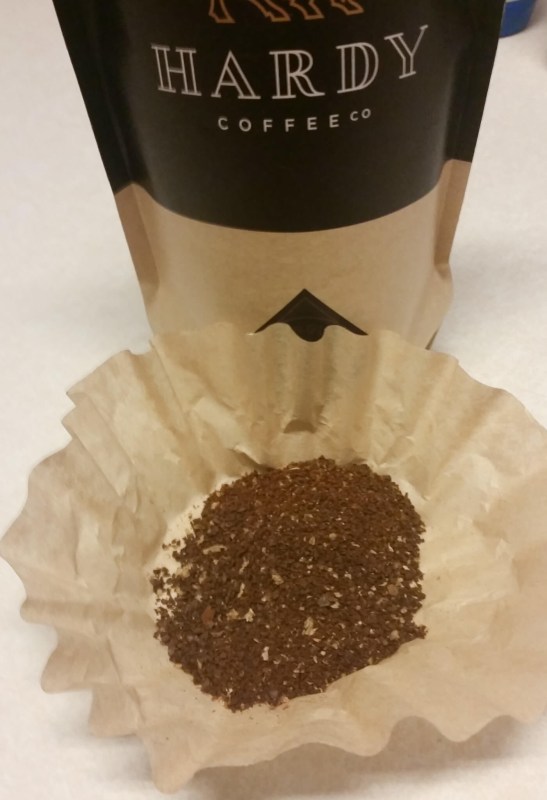 And the ground coffee – again, you can see it's lighter in color.  I used my Black & Decker burr grinder and my mid-level Mr. Coffee maker to prepare my coffee.  As I've mentioned before, I'm not fancy…but I do appreciate my coffee.  Appreciate is probably not strong enough!  I LOVE my coffee.
The taste:  I didn't get the cacao notes that the bag suggests, but there was a definite herbal and tart berry/cranberry taste to this coffee.  Although I generally brew my coffee strong, this roast was still fairly light – maybe a little lighter than I prefer, but still a very nice aroma and flavor.
Bottom line:  Hardy Coffee Co. makes really nice and tasty coffee.  With the Single Origin subscription, I've gotten a nice variety of different beans from a number of coffee regions, which is a lot of fun.  I wish they would provide a little more information, beyond the few phrase tasting notes – but that's because I'm a wanna-be coffee geek, so I want to learn more about the different regions, beans, roasts, etc.  But if you're looking for a good cuppa coffee, which is obviously the point of a coffee subscription, you won't go wrong with Hardy Coffee Co.
Have you tried Hardy Coffee Co.?
Visit Hardy Coffee Co. to subscribe or find out more!
The Subscription
:
Hardy Coffee Co.
The Description
: Learn all about the different brew methods for creating wonderful coffee. Get brilliant coffee delivered directly to your doorstep every month. It's the simplest way to assure you never run out of great coffee.
The Price
: $16.00 per month