ALOHA is a nutritional enhancement company offering subscriptions on their unique supplements that help you maintain a healthy lifestyle. ALOHA products are organic and vegan and are free of gluten, wheat soy, dairy, soy, nuts and peanuts, GMOs and the Top 8 Allergens. ALOHA doesn't include dyes, sweeteners, natural and artificial flavors, artificial colors, maltodextrin or fillers of any kind. I think the easiest thing to say is that if Honest Company made food, this would probably be it.
ALOHA's Product Philosophy:
We believe that the best nutrients come from whole foods, but even the most health conscious among us aren't able to get everything our body needs from food alone. ALOHA provides the nutritional support you need to help maintain your already healthy lifestyle — plus a little extra all-natural oomph just for good measure.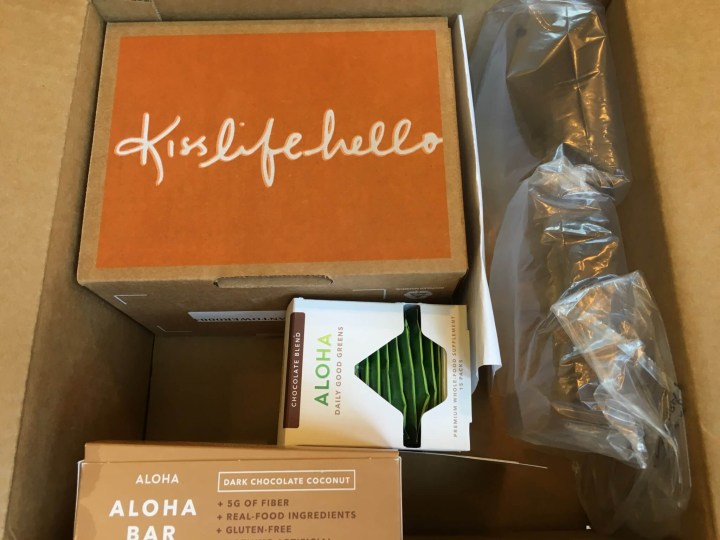 ALOHA currently manufactures: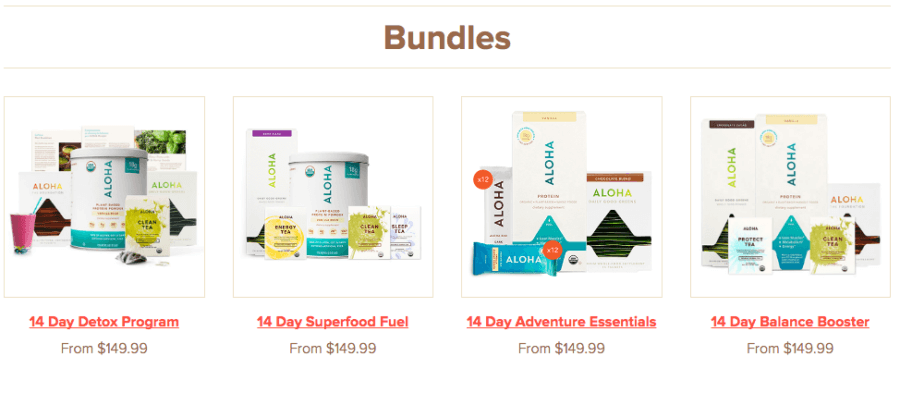 ALOHA recently introduced bundles – easy to buy kits of some of their best products bundled together!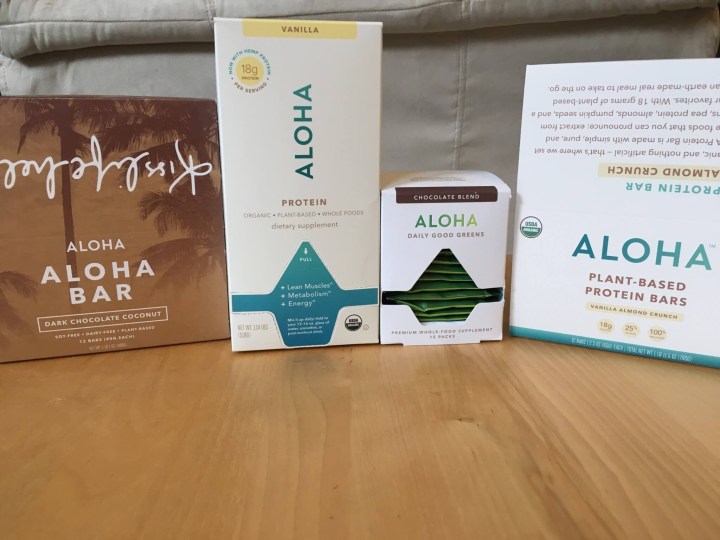 This month, I ordered the
14 Day Adventure Essentials Bundle
for $149.99. This bundle contains 12 vanilla almond crunch protein bars, 12 dark chocolate coconut bars, 14 pouches of vanilla protein powder and 15 pouches of chocolate daily good greens. Ordering the bundle costs about $13 more than the cost of one time purchases of each of the components. If you are interested in the items and want to save even more, you can subscribe to monthly deliveries of the individual components to receive a 10% discount off their cost, lowering your out of pocket expenses even further.
Use coupon code
ALOHA25 to save 25% on a bundle purchase, which makes this bundle actually have a savings!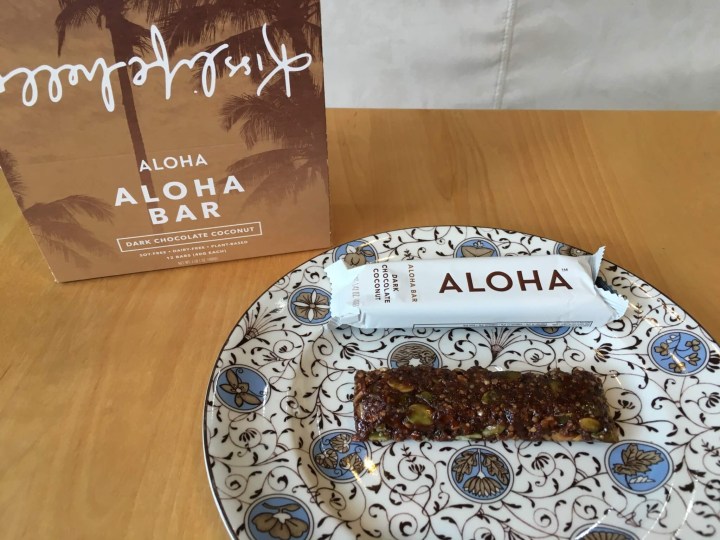 Aloha's Dark Chocolate Coconut Snack Bar ($21.90 for one time purchases; $19.50 with a subscription) is absolutely delicious! My kids and I can't get enough of them! My daughter squirrels these away in her cheeks so she can continue to enjoy the taste for as long as possible. Made from seeds, nuts, fruits, maple syrup and cacao, these whole food treats are a delicious snack for all ages!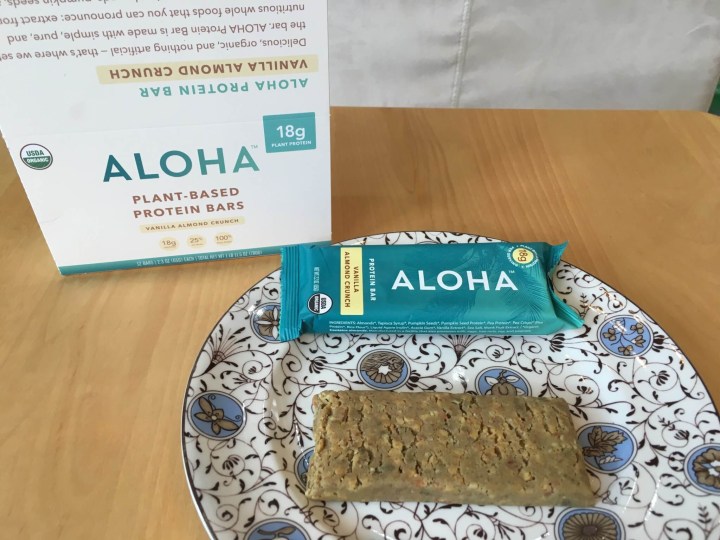 Aloha's Vanilla Almond Crunch Plant-Based Protein Bar ($32.90 for one-time purchases; $29.50 with a subscription) is somewhat dry and bland. It's slightly sweet and has a short-lived bitter aftertaste to it. Were I out on the trails without access to a stove or other kitchen equipment, I would be happy to eat it, and I'd be thrilled to know that I was getting 18 g of plant based protein in each bar. This makes a great meal replacement for active people on the go. As a added bonus, it's organic, gluten-free and vegan, so it would work well for people adhering to a number of different diets.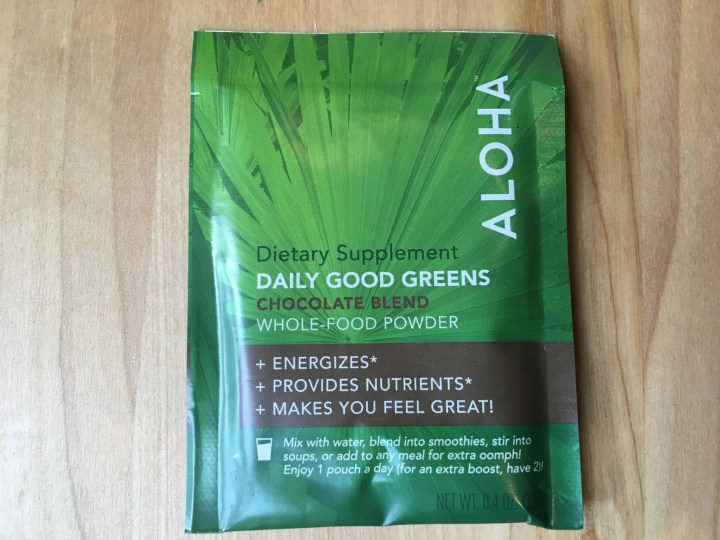 ALOHA's Chocolate Daily Good Greens Whole-Food Powder Dietary Supplement ($75 for one time purchases; $67.50 with a subscription) is the first powdered greens supplement that I have been able to tolerate. The chocolate successfully masks a lot of the greens taste in this supplement.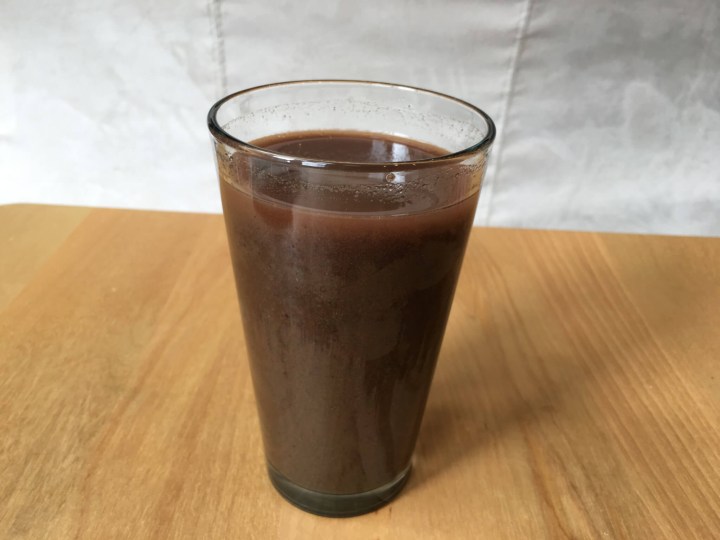 Since this bundle is intended for adventurers who require on-the-go nutrition, I thought it would be best to mix the supplements with water. After all, that's the one thing (I hope!) all adventurers have on them at all times. Knowing that the packet contains a full serving of fruits and vegetables, I would be happy to have this on hand on a long distance trek. Those with dietary restrictions should note that this supplement contains wheat and coconut.
Aloha's Organic Vanilla Plant-Based Protein Powder ($37 for one time purchases; $32.50 with a subscription) is filled with 18g of organic, vegan protein to provide energy and stamina for all of your adventures. When combined with the daily good greens supplement, these two packets provide an ideal meal replacement for people on the go.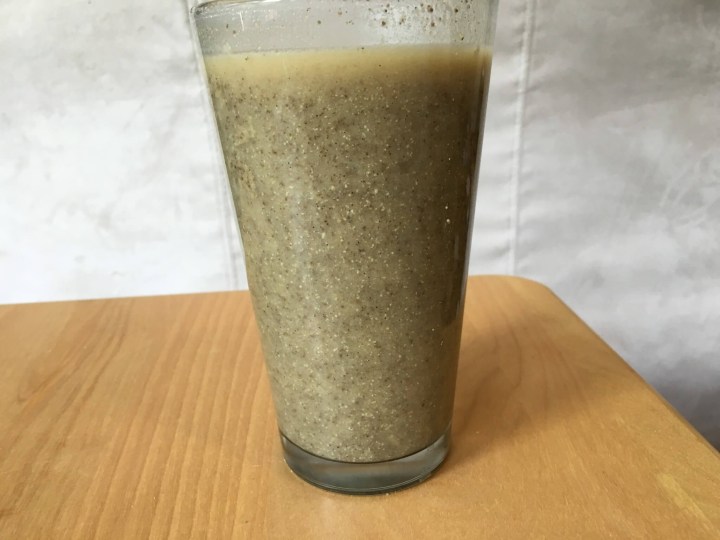 When added to a glass of water, the water turned sweet and creamy. It was surprisingly good! I would drink this happily when backpacking or camping.
I very much enjoyed trying ALOHA's 14 Day Adventure Bundle! I love how all of ALOHA's products are organic, vegan and whole foods based, and I love how they taste! I'm excited to bring these items on my next hiking and camping adventure.
Use coupon code ALOHA25 to save 25% on a bundle purchase!
If you're interested in signing up for a free trial, ALOHA has some special offers available. Be sure to read the terms on the website, as always, as the free trial will enroll you in a subscription, which you can cancel. You can get either Protein, Good Greens, or a Smoothie Kit with this link (+ shipping)!
The Subscription
:
ALOHA
The Description
: Offers a range of super-food based supplements: daily nutrient pack, superfood powder and superfood chocolate bar. No specific diet to follow, can be used to enhance a whole-food based diet that focuses on avoiding artificial sweeteners. New products include superfood snack trail mix, multiple flavors of chocolate, and dried coconut water powder!
The Price
: $49.00 per month