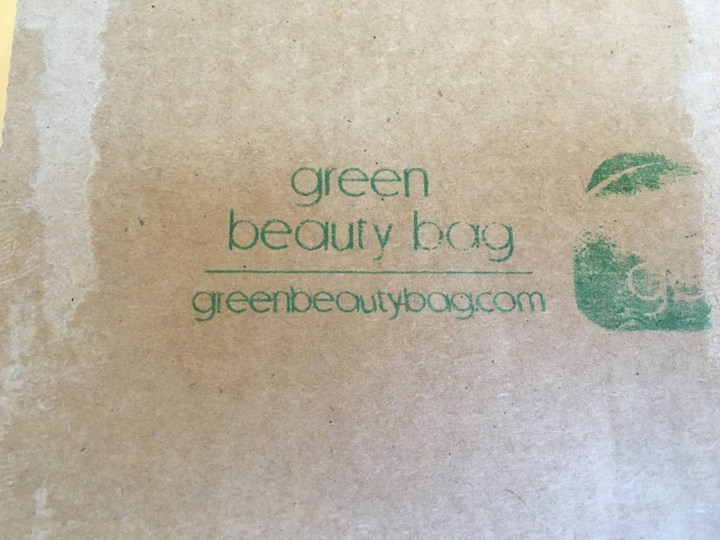 Green Beauty Bag is a quarterly subscription that delivers healthy, green beauty products to your home. To get started, just fill out your personal profile and a licensed esthetician will select appropriate products to include in your box! They have three boxes to choose from, each at a different price point: sage ($49.99), jade ($99.99) and emerald ($149.99) beauty bags.
In addition to their recurring quarterly subscription, they also offer one-time, stand-alone boxes, called Green Horn Bags, for men, babies, teens or anyone who would like to try out one box before committing to a regular subscription. This is a review of the Green Horn Baby Bag ($49.99).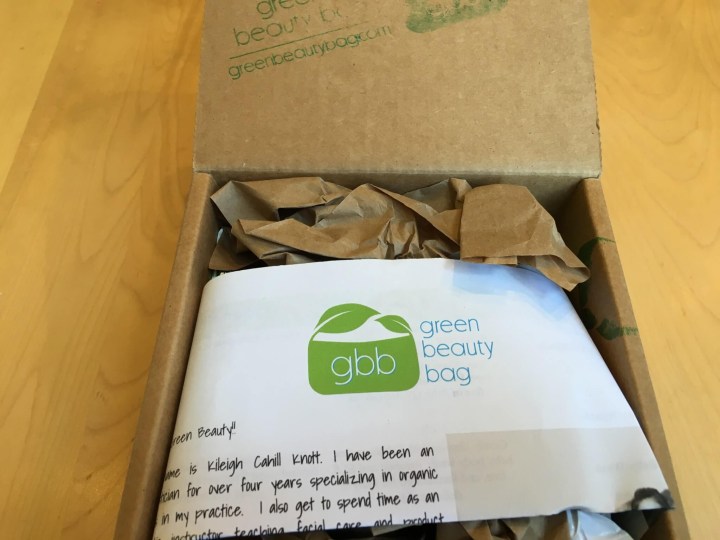 The Green Horn Baby Bag arrived well packaged.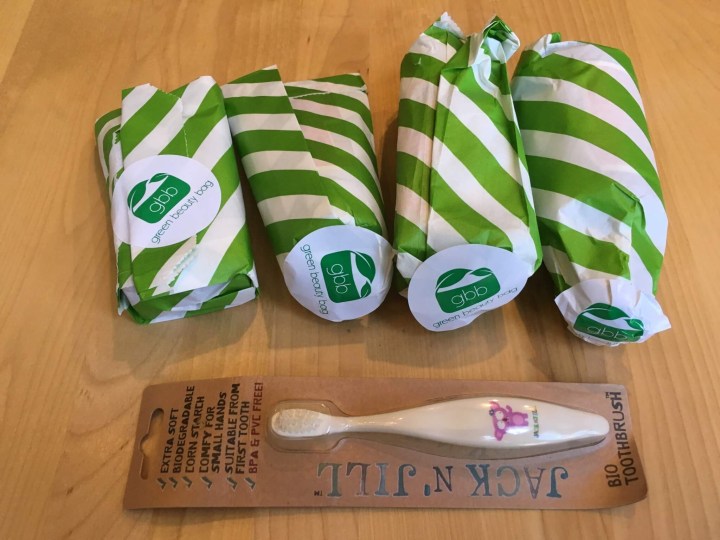 Each product was wrapped individually. All products except for the toothbrush arrived in attractive green and white Green Beauty Bag bags.
Once I laid everything out, I was very impressed with the range of products sent and the personalized directions for use! Based on my answers to the quiz, my daughter's Green Horn Baby Bag included a toothbrush, toothpaste, bar of soap, baby wash, baby lotion and sunscreen. In short, it included all of the different types of beauty supplies my baby uses regularly!
The box arrived with a nice introduction to Green Beauty Bag and its founder's background and mission. The reverse side of the sheet contained a product list along with each product's features and benefits. Because each box is tailored specifically for an individual based on the answers provided to Green Beauty Bag's quiz, each individual's box will contain different items.
We will certainly put Erba Organics' SPF 30 sunscreen ($19.95) to good use! My daughter loves to run around outside, and I appreciate the inclusion of the directions so I'll know how much to use! This is an all-natural, water resistant, physical sunscreen that protects against both UVA and UVB rays.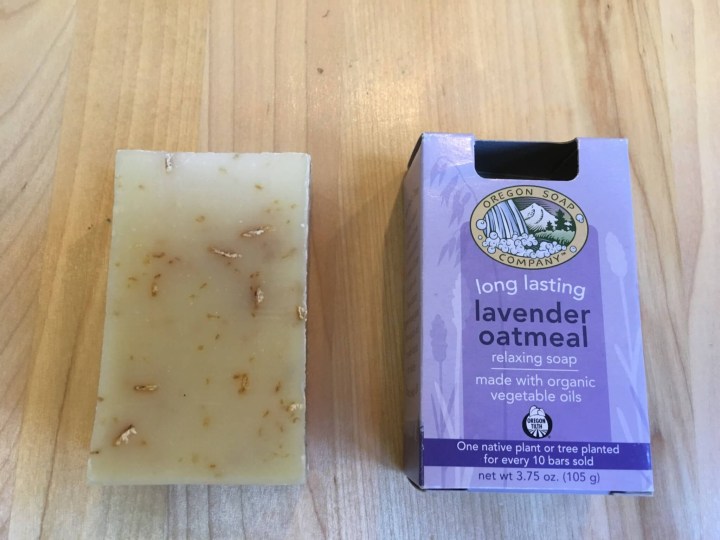 Oregon Soap Company's Lavender Oatmeal Soap ($7) smells amazing. The oatmeal provides the perfect amount of exfoliation. After bathing with this certified organic soap, my daughter's skin felt great!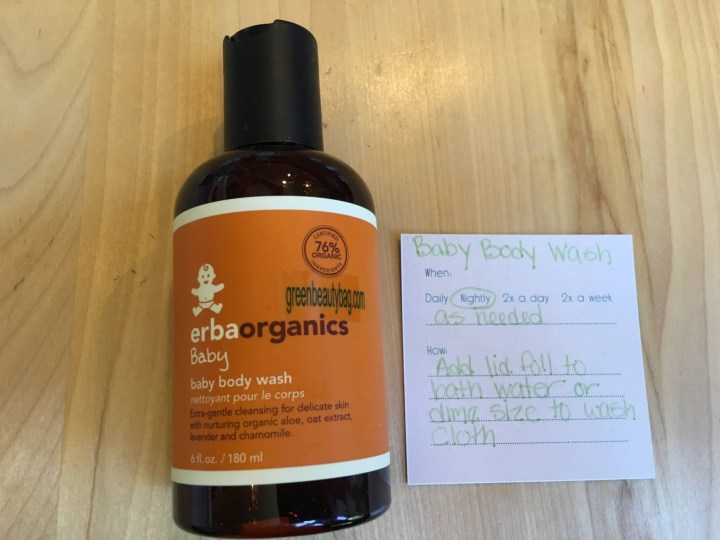 My daughter's skin also responded really well to Erba Organics' Baby Body Wash ($11.03). This body wash contains organic lavender and organic chamomile to calm and soothe stressed skin. It's made without SLS and parabens, and it hasn't been tested on animals.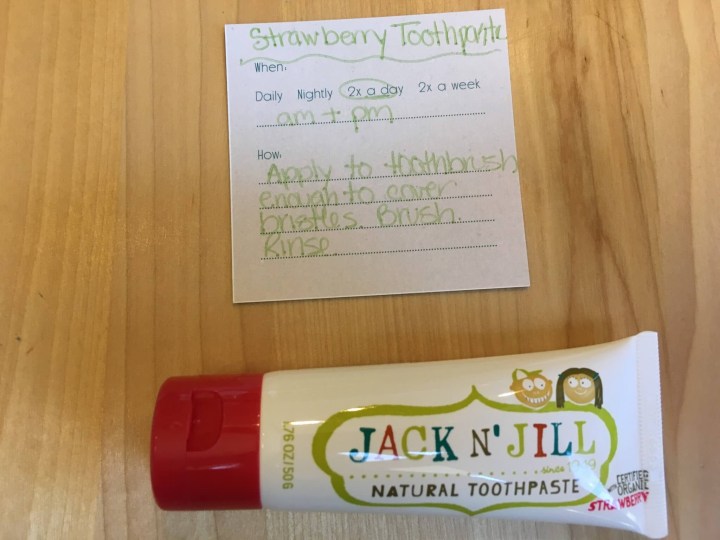 My daughter loves getting her teeth brushed now that we've switched toothpastes to Jack N' Jill's Strawberry Natural Toothpaste ($6.99)! This fluoride-free toothpaste contains xylitol to help fight cavities and organic calendula to help soothe gums. It's sugar free, color free, SLS free and contains no preservatives.
She's also a big fan of Jack N' Jill's koala toothbrush ($4.99)! After we brush her teeth, she loves to go back over her teeth by herself. She's such a big girl, and this extra soft toothbrush makes brushing easy for her. I love that this toothbrush's handle is biodegradable and compostable. Neat!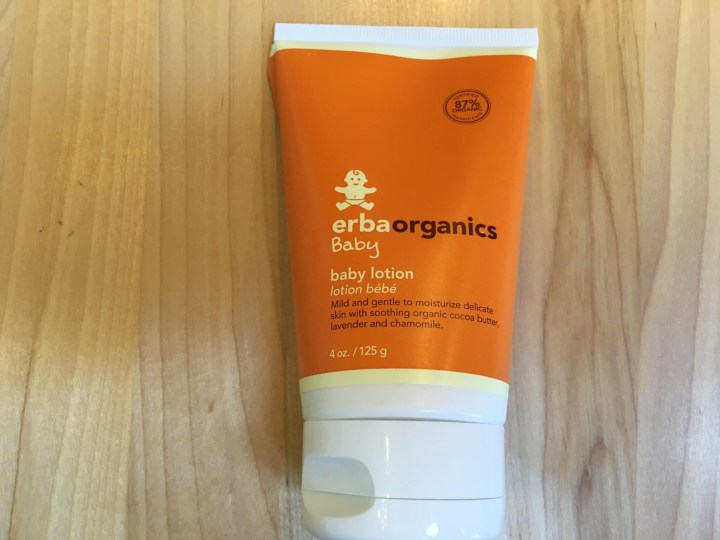 Since we switched to Erba Organics' Baby Lotion ($10.31), my daughter's skin has felt markedly softer! Made with organic aloe, cocoa butter, sunflower oil, chamomile, lavender and rosemary extract, this all natural moisturizer leaves skin soft, supple and well-nourished.
My daughter and I both loved Green Beauty Bag's Green Horn Baby Bag! It's too bad it's a one-time box, because we would love to receive it regularly, although with the personalized service at Green Beauty Bag I am sure they would say yes! The range of products is perfect, and I love that my daughter responded so well to all of them! While I expected the cost of the box to equal the value of the items in the box, I was pleasantly surprised that the value exceeded the cost by about $10. Thanks to Green Beauty Bag, my daughter's skin has never felt better, and brushing her teeth has never been easier. Thanks, Green Beauty Bag!
Have you tried any of Green Beauty Bag's offerings? What did you think about their products?
Visit Green Beauty Bag to subscribe or find out more!
The Subscription
:
Green Beauty Bag
The Description
: Green Beauty Bag offers natural, organic beauty products ranging from toothpaste and shampoo all the way to baby lotion and facial serums. Our licensed estheticians will be adding new products and product lines as they discover them in hopes that you will simply fall in love with them too.
The Price
: $49.99 per quarter