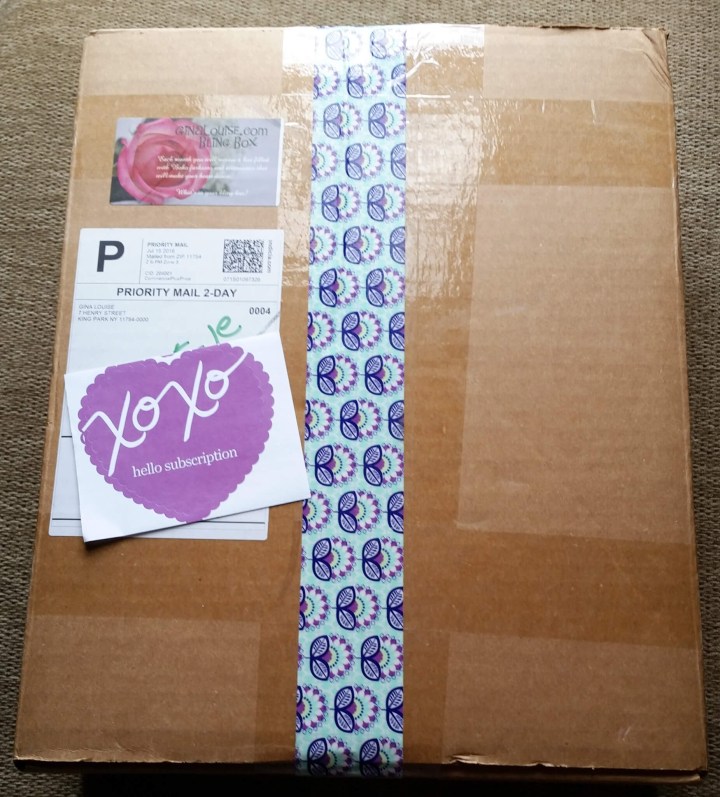 Gina Louise Bling Box is a fashion & accessory brand that handpicks and curates a monthly fashion & accessory Bling Box.  Based on a questionnaire you fill out about your style and size, a Gina Louise stylist will hand pick high end boutique fashions and accessories.  You keep and pay for what you like, return the rest.  The stylist services cost $49/month, and the fee is deducted from the price of any items you choose to keep.  If you keep everything in the Bling Box, you get another 20% off.  Additionally, if you sign up for 3-month membership, you receive VIP prices for each item, saving even more money.  (See below for more details on pricing.)  I've been adding some cute boho pieces to my wardrobe recently, so I was excited to try out this service!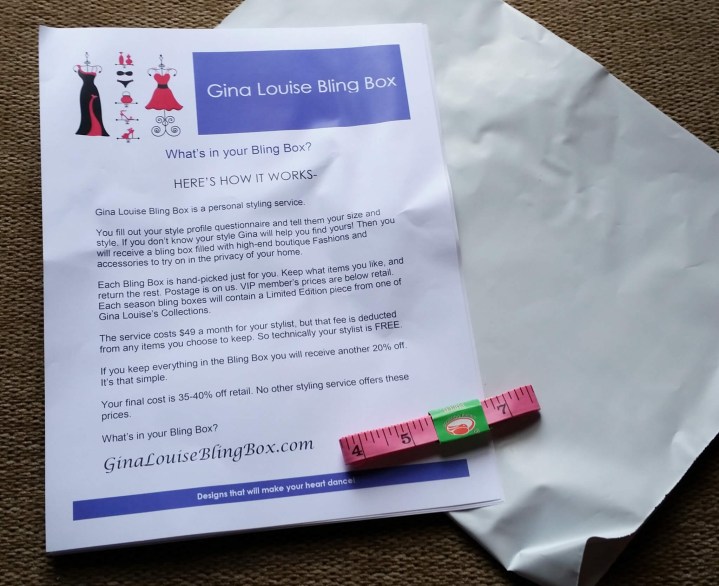 In addition to the clothes in my box, there was an instruction sheet, a prepaid envelope to return the items I didn't keep, and a cute pink tape measure.  Gina Louise has begun including tape measures and measuring instructions for each new customer to help ensure the stylist can select the best size for each person.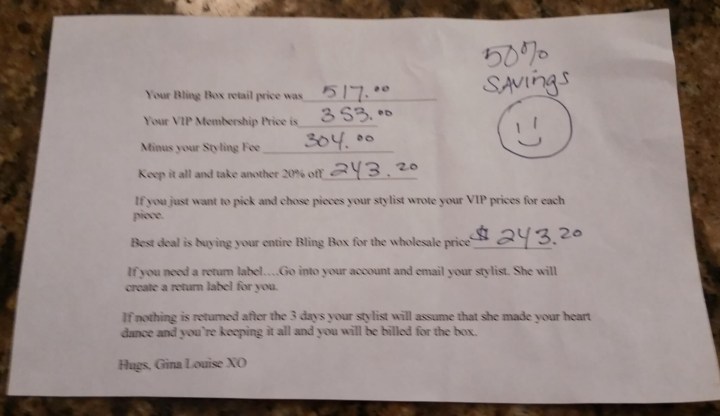 There were also two pricing sheets in the box.  The first pricing sheet provided information about the box as a whole, including retail pricing, VIP pricing (based on a 3-month membership), and the discounted price for keeping the entire box.
The second pricing sheet laid out the retail and VIP pricing information for each item individually.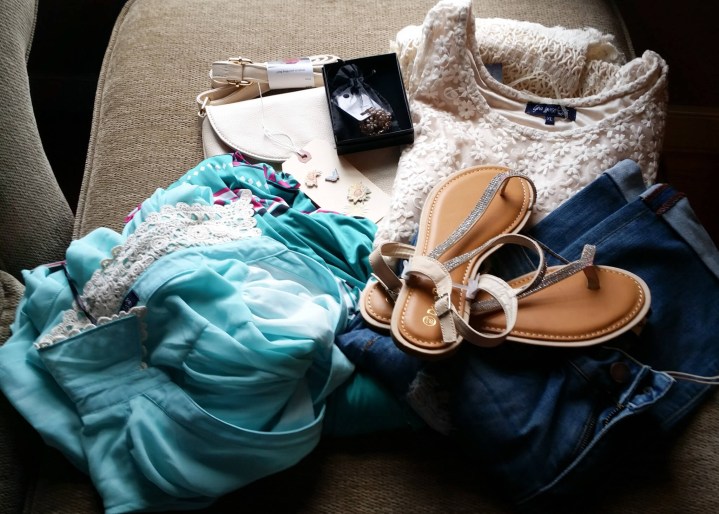 So, I filled out my questionnaire with my preferences, style, and sizes.  Like I said, I'm interested in adding a little more boho style to my wardrobe, so I was super excited when I opened my box and saw all these great things.  Let's see what Gina Louise picked for me!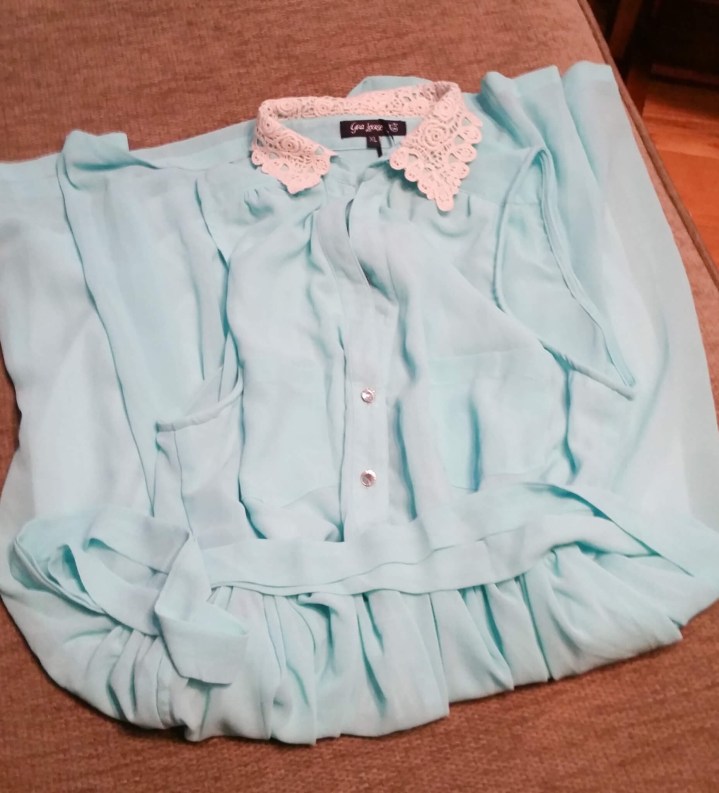 Mint Modcloth Inspired Crochet Collar Dress ($128):  What a cute dress!  It's a nice mint color in a light airy fabric with an adorable crocheted collar – kind of reminiscent of a 1950s shirtdress.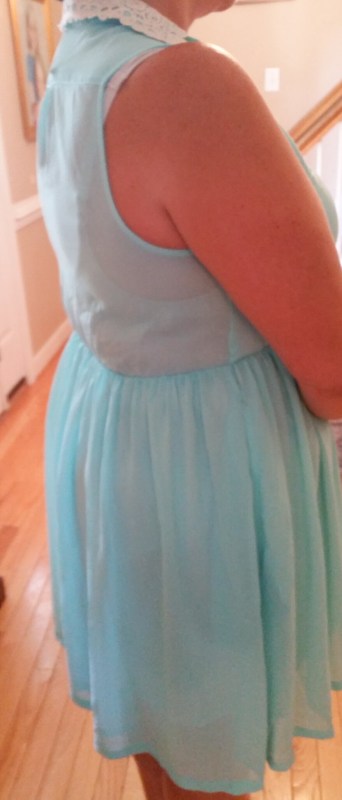 I really liked this dress, but unfortunately, it did not quite fit right (which is also why you don't get an front-of-the-dress picture!).  The buttons in the bodice gapped a little bit.  I can usually wear an XL top, but the cut of this one did not work for my figure…so sad.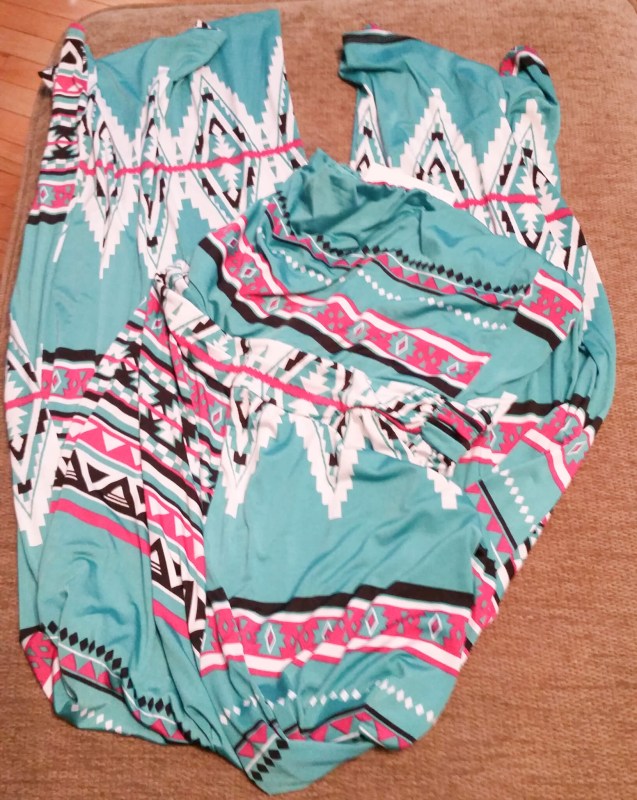 Teal Aztec Palazzo Jumpsuit ($89):  I'll be honest – I wasn't sure to make of this when I took it out of the box…the colors were so bright and the pattern so loud, plus I've never really been a "jumpsuit person".  But hey, the point of using a stylist is to find something new and awesome, right?
Well.  This is not the new and awesome thing I was looking for.  Just too much…too much everything for me.  When my daughter was helping me take pictures, she suggested that maybe I could be a "jumpsuit person" if the jumpsuit were a solid dark color.  Sure, most of my wardrobe is solid dark colors, but maybe a more tame jumpsuit might be a good bridge between my current wardrobe and something more exotic.  I will say, it was very comfortable – I love palazzo pants (even with my short legs) and I could see this out fit being a lot of fun on someone a little more daring than me.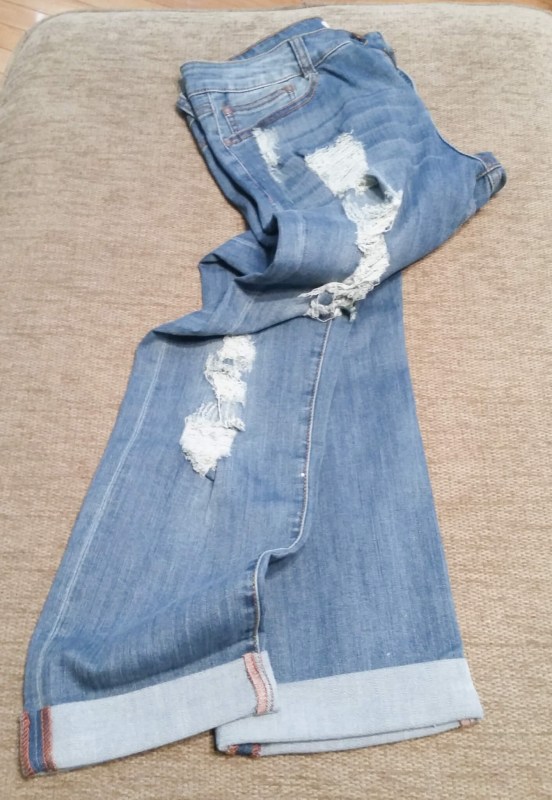 JudyBlue Skinny Jeans 13 ($69):  These are one of the most comfortable pair of jeans I have ever tried on.  They have a nice amount of stretch and are a cute ankle length.  I was a little leery about the extensive distressing, not my normal style, but these jeans ended up being one of my favorite things in the box.
Daisy Lace Tunic in Ivory ($120):  I also really liked this top – the photo above doesn't do it justice… I can't figure out what my camera was focusing on, but with the different lace and fringe, my camera was very confused.  The photo below is much better at showing the details.  Anyway, this is about my current level of boho – I like cute lacy and flowy tops – a lot!  This one definitely fit the bill.  I wouldn't normally spend $120 on a top, though – however, the VIP pricing plan makes it a much more palatable-to-me price.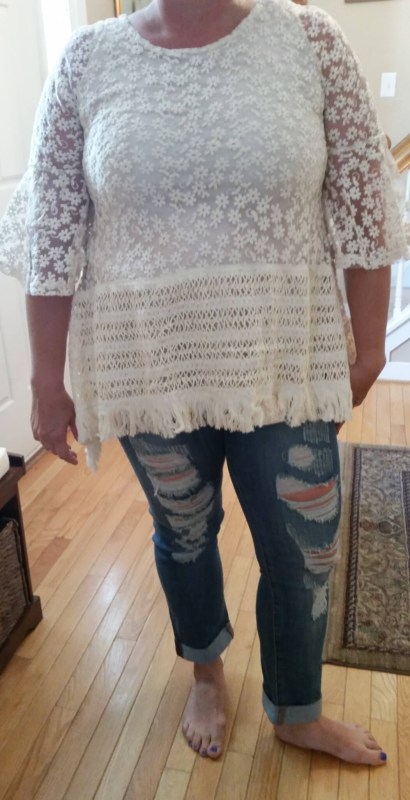 And here I am wearing the lace top and the jeans.  I really like both of these pieces and definitely like them together (although would probably pick jeans that were a little less distressed).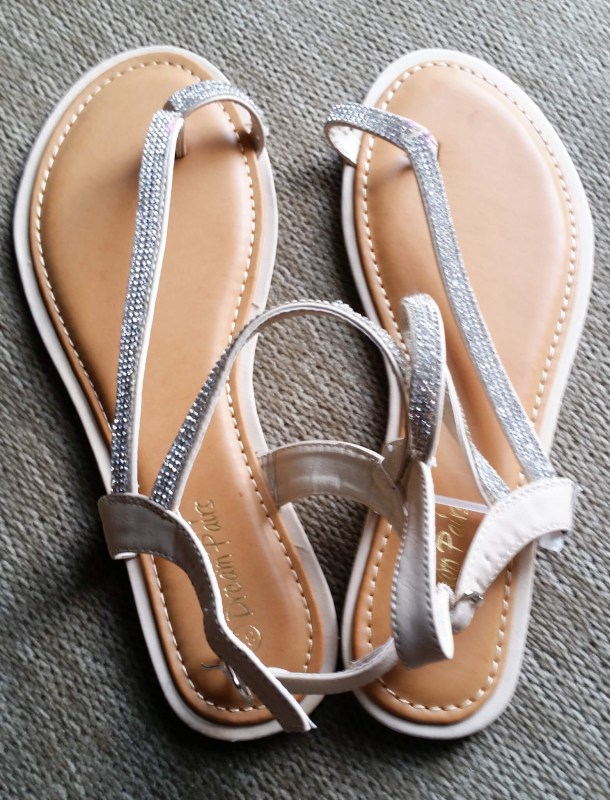 Flat Rhinestone Sandals ($42):  These are super cute sandals and are definitely right up my alley as far as style.  In fact… that's the only problem with them.  I had bought myself a very similar pair at the beginning of summer from a store locally!  I take this as a sign of a great stylist, even if it means that I won't keep the shoes.  She obviously gets me when it comes to footwear!
Cream Crossbody Bag ($49):  OK.  I will admit surprise at this one.  After all the super cute, trendy, and hip items in the box…this bag just felt kind of blah.  And since I'm still dipping my toes into a more free-spirited fashion sense (after years of working at a suit & briefcase job), purses are one of my top go-to items to show a little flair.  But there's no flair with this bag.  Definitely not a keeper.
Blush Color Daisy Bracelet ($20):  This cute little bracelet is a string of daisies (in a very light creamy pink color – hard to tell from the photo) on an elastic band.  Very cute and playful – definitely my style.
And here is my daughter modeling the bracelet.  It is really adorable on, pretty and casual but still a little bit "fancy."  I liked this a lot.
So what did I think of my first experience with Gina Louise Bling Box?  Well – it was definitely a lot of fun.  I think one of the best uses of a stylist is to get clothes that I wouldn't normally pick off a rack… and that was definitely true about some of the items in the box.  (If I dressed myself all the time, I'd wear neutral color jersey skirts and pretty colored tunics – boring, but true.)  Anyway, having a stylist to get me to try new types of clothes is exactly what I'm looking for in boxes like these.  Of course, another thing about stylist boxes is that they usually get better over time, as you give your stylist feedback about cuts, color, etc., that you love or don't love – so usually your second, third, or tenth box from a stylist is much better than your first one.  Given that sort of math, I think that Gina Louise Bling Box is great – because even on the first box, there was a lot I loved about it.
I'm really excited about my next box! If you want to give Gina Louise Bling Box a try you can save 50% on your first box with coupon code INVITE100 OR get the 3-month subscription for $20 per month + free shipping with code ST50.
Visit Gina Louise Bling Box to subscribe or find out more!
The Subscription
:
Gina Louise Bling Box
The Description
: Gina Louise Bling Box is a personal styling service. Fill out your style profile and tell us your size and style. Then receive a bling box filled with discounted boutique Fashions & accessories to try on at home. Each Bling Box is hand-picked just for you. You only pay for what you keep. Minus your styling fee. Get 20% off if you keep it all.
The Price
: $49.00 per month