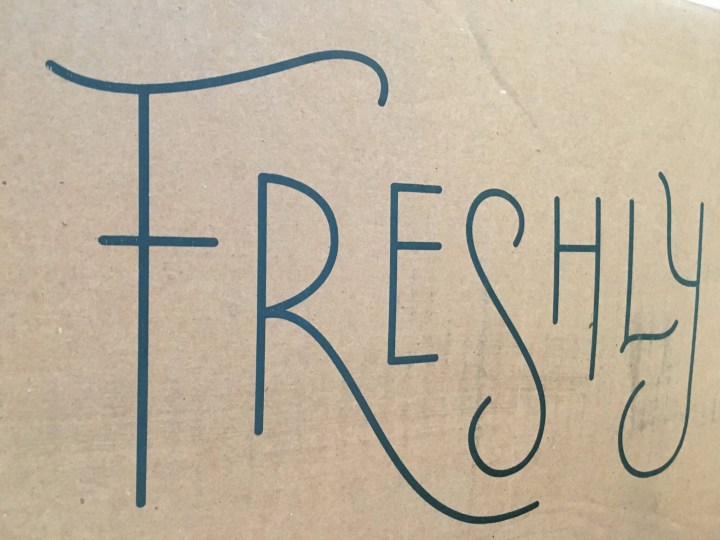 Freshly delivers deliciously healthy food right to your door – premade, prepackaged, and never frozen.  This is a great subscription for people who want to spend less (i.e. no) time cooking but still want healthy foods.  Freshly meals are free of gluten, refined sugars, and artificial ingredients.   When you sign up for Freshly, you'll be able to select the number of meals you want per week plus the exact meals you want.  You're able to skip weeks right from your account.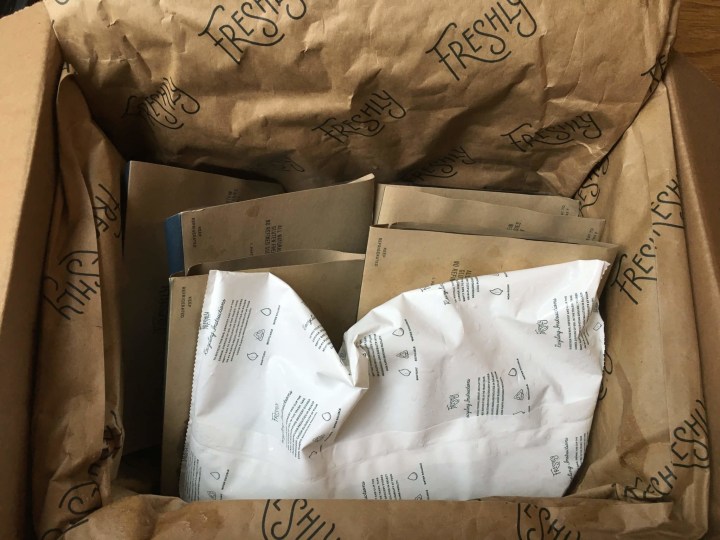 The food comes in a refrigerated box, surrounded by ice packs, and snugged up in an insulated blanket made from recycled denim (!).  The box sat on my front porch for about 5 hours in 90+ degrees, and everything was still nice and cool inside.  Yes, I checked it with my infrared thermometer gun, because #nerd.  The insulation and the rest of the packing is all recyclable.
I ordered 6 meals, two of which were breakfast.  The boxes below look a little damp because of condensation, but everything was in good shape.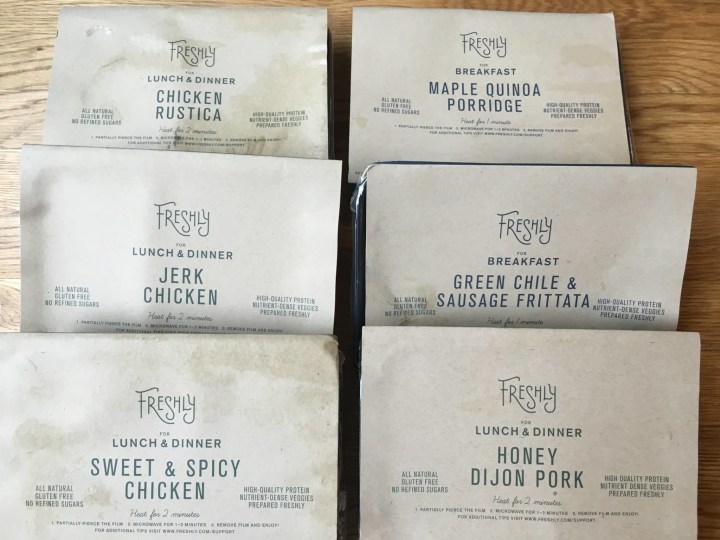 The underside of the wrappers have cute mini-essays on nutrition and wellness.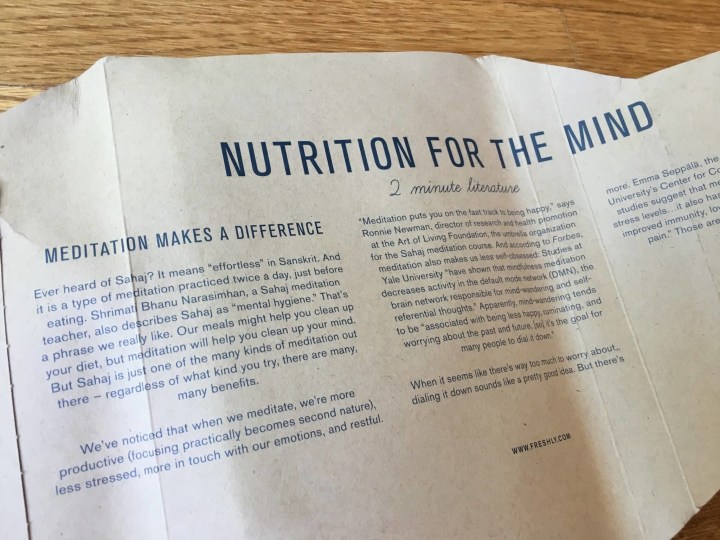 First up, breakfast!  My husband had the Green Chile & Sausage Frittata.  Has he ever made a frittata by himself?  Nope.  But he can poke holes in plastic and microwave for 1 minute.
I was inclined to be dubious about pre-cooked eggs, but I shouldn't have been, because this came up really tasty.  It had a little kick from the sausage, but the chiles were very mild and the cheese rounded everything out.  It needed salt, in my opinion.  Thumbs up from the husband!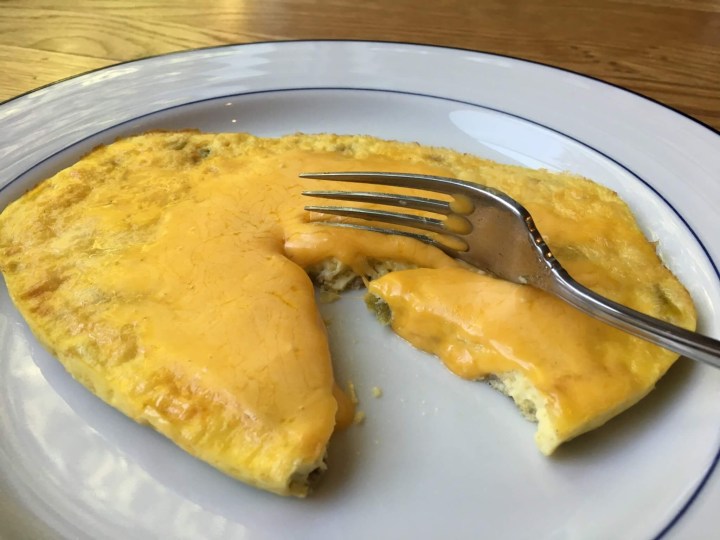 Next up was my breakfast, the Maple Quinoa Porridge with Spiced Butternut and Currants.  "Porridge" sounds quaint and healthy.  As you can see, there's no refined sugar in this breakfast; it's sweetened with maple syrup.
Tthis had lots of butternut squash in it, which was a nice complement to the nuttiness of the quinoa.  This had a strong dairy flavor to it, and a texture similar to Cream of Wheat.  The squash was an interesting addition and cooked perfectly.  This meal was a touch sweet for my taste, but waaaay better for you on that front than instant oatmeal.  And what else can you eat that takes 1 minute to cook?  Seriously–pouring a bowl of cold cereal and milk takes longer than that.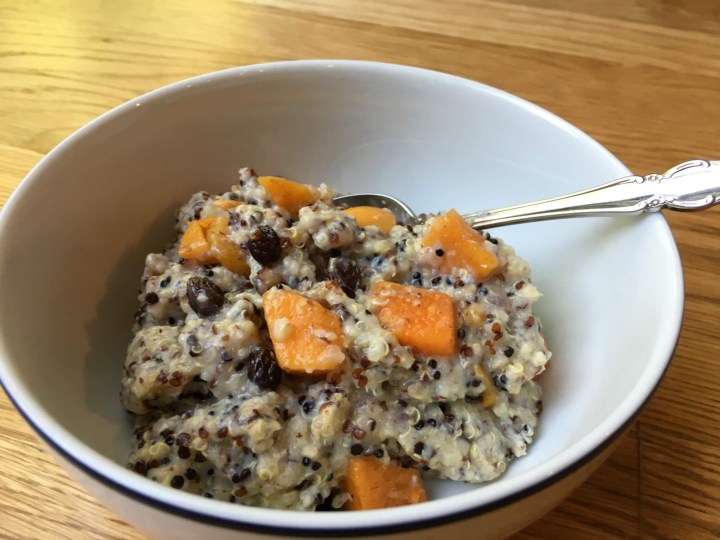 On to the lunch/dinner items!  These are all of the "piece of meat with a sauce and a veggie side" vein of coking.  My husband and I split the first batch.  He had the Chicken Rustica with Roasted Cauliflower.
This took 2 minutes to cook/reheat, and everything was hot and perfectly cooked.  It's absurdly easy to overcook a chicken breast, but this came up perfectly.  They're reasonably tender (for breast) and not rubbery or dry.  The sauce was flavorful, tasting of tomato and garlic. (It would have been great over pasta!).  The cauliflower had a nice roasted flavor, though not the crunch that you get from roasting it yourself.  This dish, as you can see, is salty, with 42% of your sodium for the day.  Another thumbs up from the husband.
I had the Sweet and Spicy Chicken with Brown Jasmine Rice.
The chicken was equally as good as the Chicken Rustica.  The sauce was more sweet than spicy but coated the chicken nicely, with a bit left over to brighten up the broccoli and rice.  Even though it was funny to be eating different chicken meals for dinner, my husband I both thought the food was tasty and filling.  Cleanup, of course, was a snap.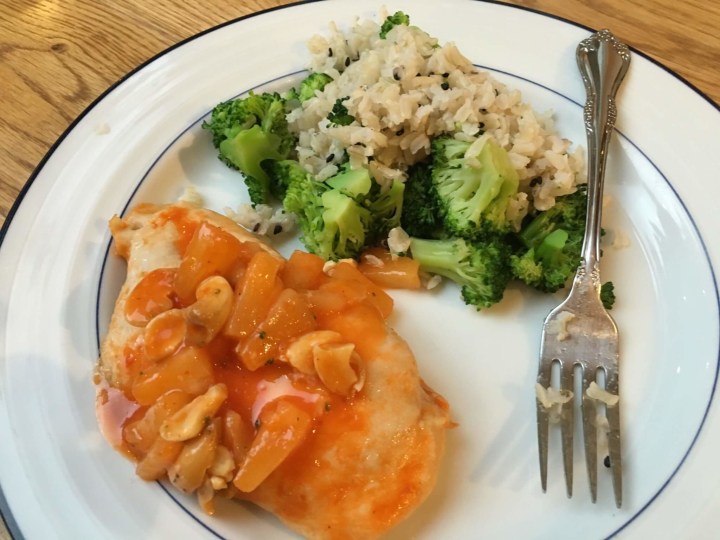 The next day, I had the Honey Dijon Pork Chop with Braised Red Cabbage for lunch.  This is a bit higher of a calorie count than I usually have for lunch, but it was all meat and veg, so I knew it would ward off the 4pm carbohydrate snack urge.
This particular meal, unlike all the rest, had a strong odor from the cabbage and the mustard.  If you share a kitchen at the office, this might not be the meal to bring in for lunch.  The pork chop had a nice roasted flavor, and was just as perfectly cooked as the chicken.  The mustard/currant/leek sauce was a touch spicy and very good on its own or with the pork.  The cabbage was crunchy but a bit overwhelmed by the vinegar dressing.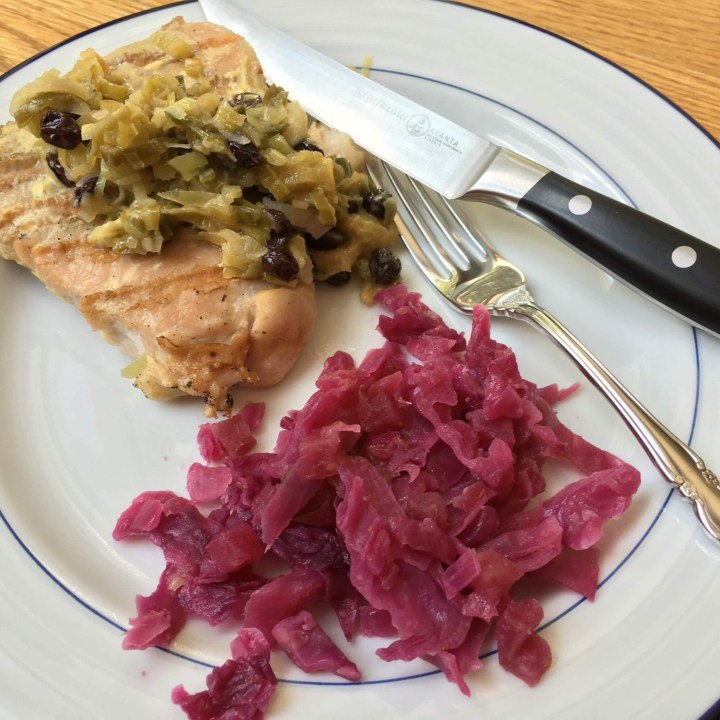 The last meal, which I also ate for lunch, was the Jamaican-Style Jerk Chicken with Mango Salsa and Cauliflower Rice.  Have you noticed that cauliflower is having a moment?  Roasted in giant slabs or chopped into fake rice, it seems to be everywhere!  Fortunately, I am a fan.
This was my favorite meal!  The spice rub for the chicken gave it a bit of a grilled look, and packed a lot of flavor.  The cauliflower rice was equally tasty, and very filling.  The mango salsa was a nice balance of sweet and sour and complimented the chicken and cauliflower really well.  This one was a big win!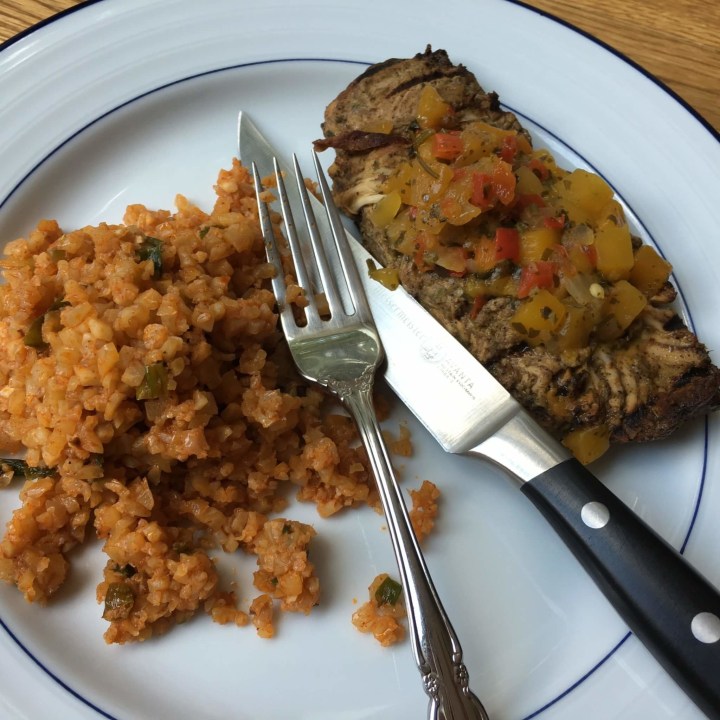 Overall, I was pleased with my Freshly delivery.  The food is high quality, tastes good, and keeps you full.  And, of course, you simply can't beat the convenience of good food perfectly cooked in 2 minutes.  I looked last time I was at the grocery store, and there really is no frozen food you can buy that is a simple and healthy as Freshly's meals.
This would be an awesome subscription for a busy professional who doesn't want to deal with cooking at the end of the day.  (It would have been my dream years ago as a young attorney!)  It also would be great for bringing to the office for lunch!  These meals are designed to last in your fridge for a week.
It's nice to know that healthy choices can be so easy!  Have you tried Freshly?  Which meal did you like best?  Let us know in the comments below!
Use this link to save 35% on your first box of Freshly!.
Visit Freshly to subscribe or find out more!
The Subscription
:
Freshly
The Description
: Making delicious, healthy meals should take time, just not yours! That's why Freshly does all the work for you – choose from their menu of all-natural, gluten-free meals and they ship them straight to your door. No more grocery shopping, cooking, or takeout – all you have to do is heat and eat!
The Price
: $69.00 every week