Foodstirs is a monthly baking subscription box . Every month you'll receive family-oriented baking kits made with premium and real ingredients, free of preservatives, artificial dyes and flavors.
The mixes use organic and non-GMO ingredients when available.  You can also choose to subscribe monthly to their sugar cookie, brownie, or vanilla cupcake mix. You can choose to get the monthly kit or start your subscription with one of the kits in the store.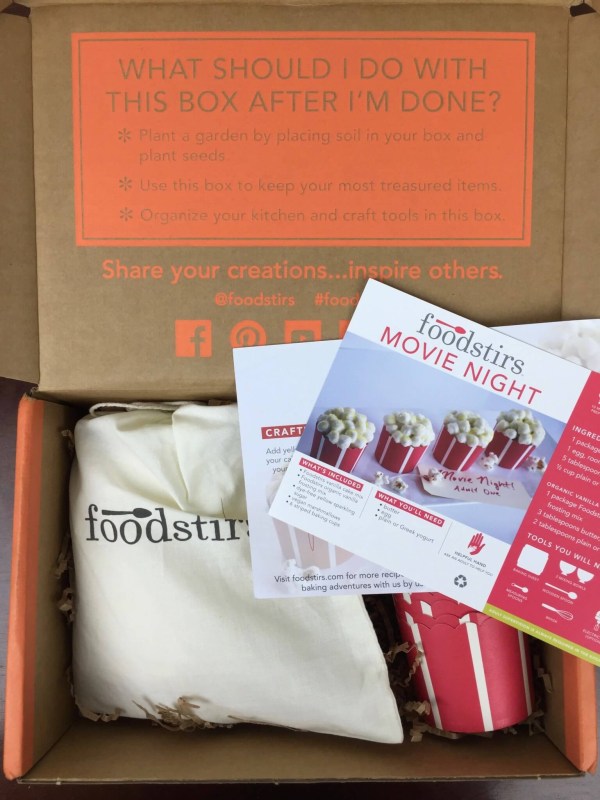 The theme for July was Movie Night.  When the treats have a holiday theme, this subscription comes way in advance of the holiday, so you'll have it not only in time to make for the holiday itself, but also in time for pre-holiday parties, if you like.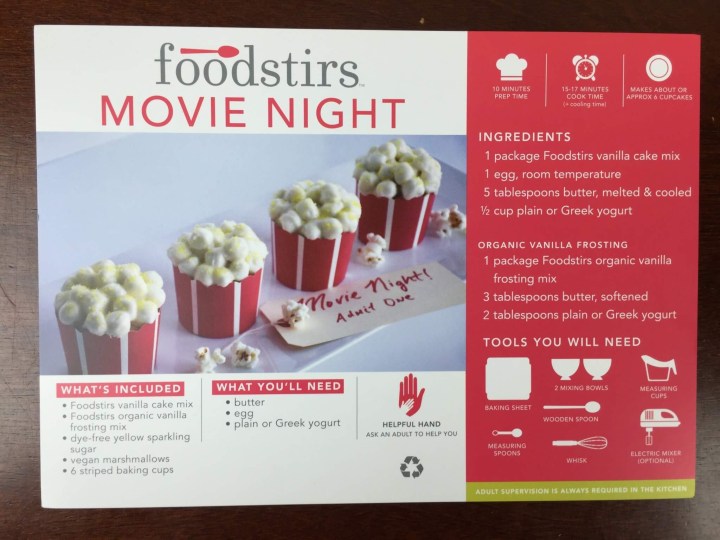 The box includes a card letting you know the ingredients needed, tools, baking time, quantity, etc.
I like that it breaks down the ingredients you need twice (the second time being what you need at home).  The kit includes all dry ingredients and decorative items — you supply eggs, butter, and other dairy when needed.
The information card also has useful tips written on it.

The box includes complete nutritional and ingredients information. You will like the ingredients – never anything artificial, and the ingredients are primarily organic with only natural food dye.
The instructions. They are step by step with a photo for each step.  We've found them to be a bit awkward in the past (having you separate eggs only to recombine them, or chilling butter, making it difficult to blend), but this recipe was better-designed, except for that hand-mixing the butter business.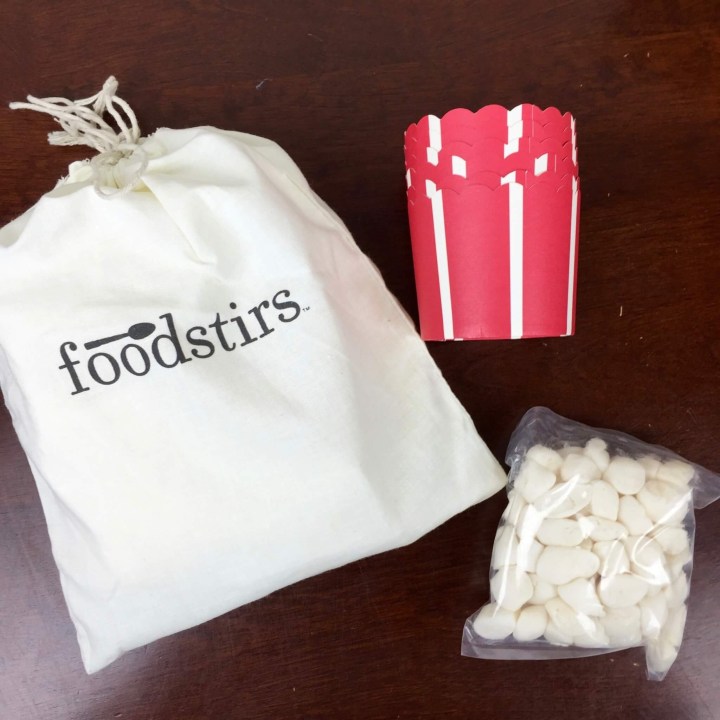 The contents arrive bundled in a Foodstirs cloth sack and nestled in squiggles.  We haven't quite come up with novel way to reuse the bag yet, but is is certainly soundly enough constructed to repurpose.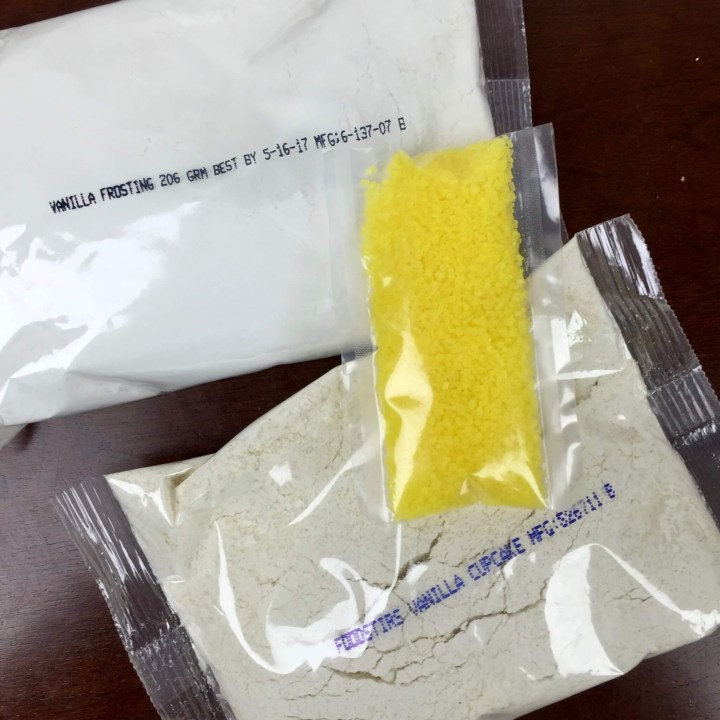 Each bag is labeled, though it's fairly easy to tell what the contents are through the bag.  This project included cupcake mix, organic frosting mix, sprinkles, vegan marshmallows, and decorative cupcake papers.
The vegan marshmallows were silly in this box – it calls for eggs, yogurt, and butter. In addition, they didn't arrive in top form and weren't as puffy as I would have liked in order to achieve a massive popcorn formation, but they did the job.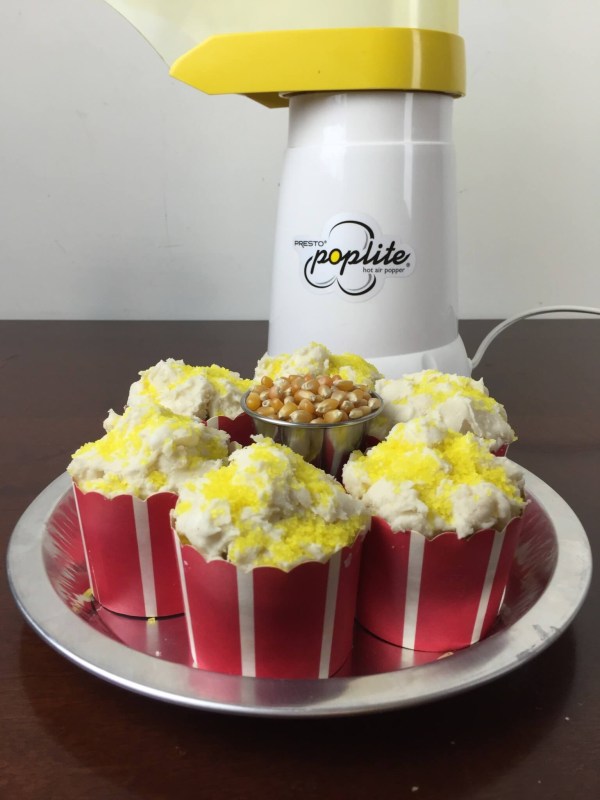 This recipe is simple, but it allows for lots of child engagement if you want to make it as a family.  The marshmallows get stirred into the frosting, creating a lumpy, popcorn textured mound that sits atop the cupcake.  Yellow sprinkles can than be added to mimic a drizzle of movie theatre butter.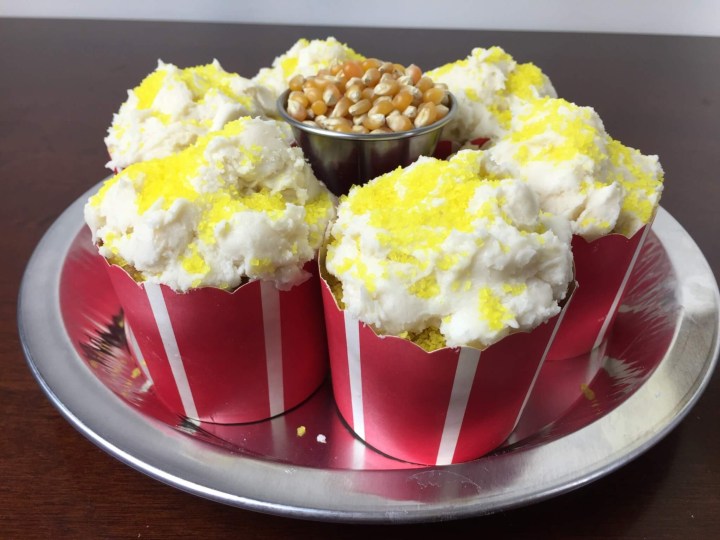 The finished popcorn bowls are quite cute, and we liked that the theme this month wasn't date-certain, so we had more flexibility to make it when we wanted.  The cupcakes were tasty and pretty crumbly, and the yogurt lent the frosting a nice, cream cheese like flavor. We liked that this box really pulled off something that we wouldn't have on hand at home (those cupcake liners!). I should note that the cupcakes were giant – there were only 6 of them and they were the size of 2 cupcakes.
The feedback on this subscription in the comments have been mixed – some people agree with us that the subscription is very pricey, others love it as a fun craft box for their kids.  They have lowered the price recently, settling on a more reasonable price point.  We do love the quality and taste of the mixes that form the base of each project , and you always get to eat the results!
Did you do Foodstirs this month? We were happy with our results (yay!).
Foodstirs coupons no longer need emailed! Better yet, they now offer a free trial!
Just select the link for the trial you want!
DEAL: Use coupon code HSFREE to get your first month for FREE plus $5.99 shipping!
Visit Foodstirs to subscribe or find out more!
The Subscription
:
Foodstirs
The Description
: Get curated themed baking kits delivered straight to your door every month. A convenient, delicious and healthier way to bring families together in the kitchen. Get family-oriented baking kits made with premium and real ingredients, free of preservatives, artificial dyes and flavors. Organic and non-GMO ingredients when available.
The Price
: $19.99