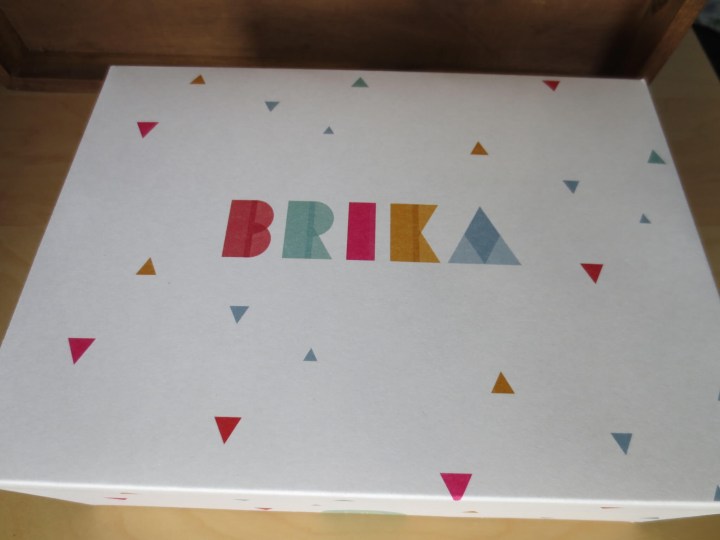 BRIKA subscription gift box delivers handpicked selection of high-quality and well-crafted goods, once a month, for three or six months. When you sign up, you answer a few questions including the hobbies, the favorite things and the passions of the gift recipient as well as the type of person they are (creative, bohemian, classic). So you can either send this gift to a loved one or to yourself. Each box will have a value of at least $30.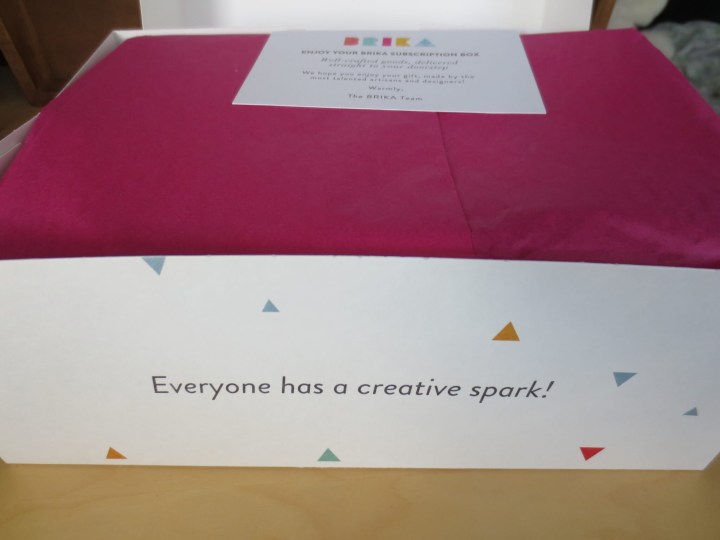 The box is absolutely adorable. It comes inside a sturdy cardboard box to protect it in the mail. I love the simple, yet happy and fun design on the box. "Everyone has a creative spark!"
Inside the box, everything is wrapped in a hot pink tissue paper. A notecard explaining the goal of this subscription box is included. Right there, I can say something has a fragrance, it's delicate and not bad!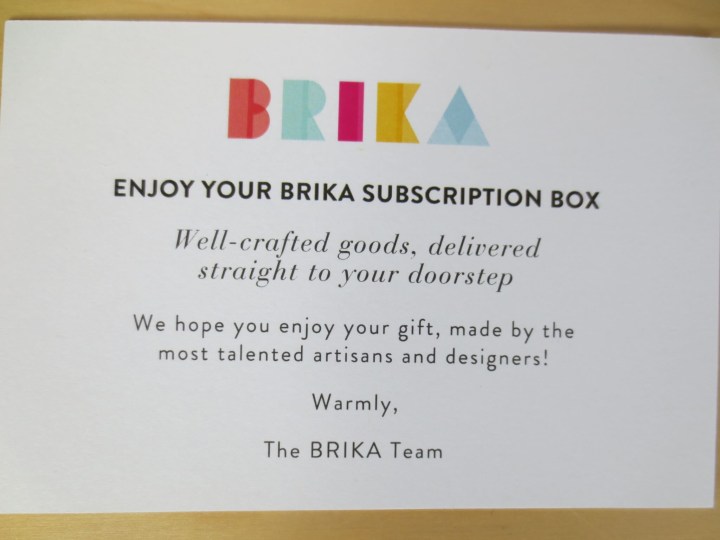 On the backside of the notecard, a nice handwritten note reminds me it is the last box and they hope I enjoyed the goodies!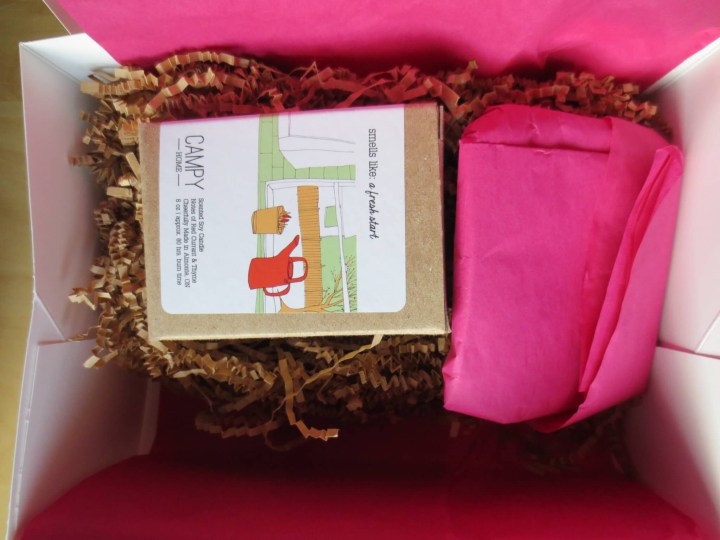 A candle! And one more gift wrapped up in hot pink paper. My camera has a hard time with all that pink, but I like it! More unwrapping!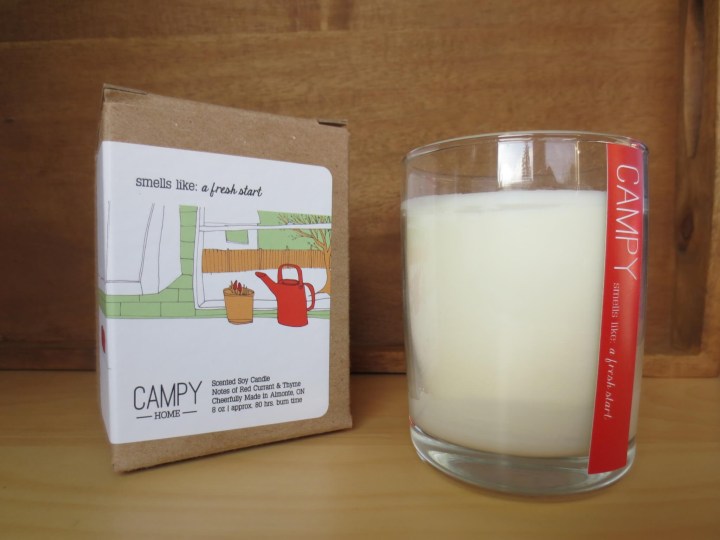 Campy Home Soy Candle (roughly $16.54), A Fresh Start. Scented with red currant and thyme, made in Ontario. It's 8oz and promise 80 hours of burn time. This smells awesome! I woke up my husband from his nap just to make him smell it! He liked it too. It's fresh, delicate, and a tiny bit sweet. But not "candy sweet", just "wine sweet". It's a very simple candle and it will be perfect around the kitchen next time we have guests for dinner. I love it!
Bryce Hand Painted Porcelain Small Dipping Plate With 14K Gold Luster ($56). It is 8.5cm wide and very shallow. At first, I thought it was a jewelry dish, but it's a dipping plate. I don't care, I'll use as a dish for my earrings and necklace I usually just drop on my bed side table before going to bed! It's pretty enough to be with my jewelry! The colours are gorgeous and it was inspired by Bryce Canyon in Utah. It's a deep blue with salmon and a touch of gold. I really love it. No way I'm gonna let anyone put dips in this!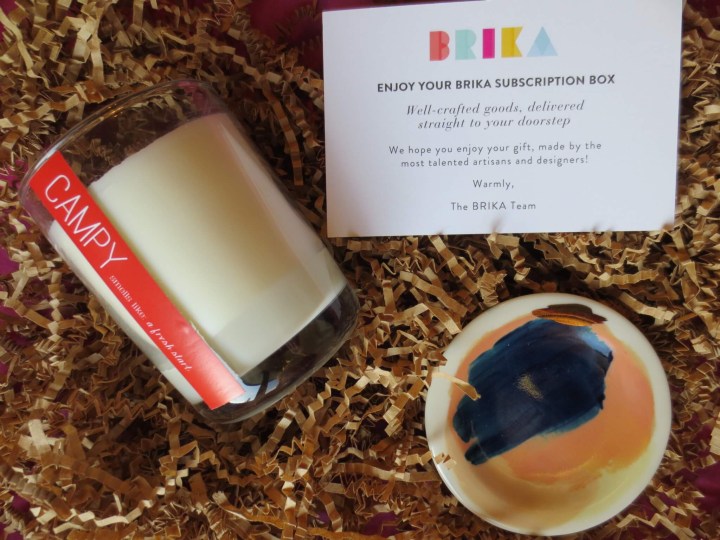 I'm so glad that for this month's box, they went with something more unique than last month. Although last month was perfect for me, it was lacking that handmade/personal touch that I was expecting after the first box. This month felt better grounded with their motto, and also helped me discover new artisans. I enjoyed this box quite a lot! I love the candle for its delicate fragrance and the little dish is perfect for my jewelry needs! Overall, the boxes I received from BRIKA were all well curated based on the information I gave them at the beginning. They made sure to get objects that would fit me and my lifestyle and I was looking forward to this box every month. One thing I would have liked was a bit more information about the object in the boxes. Maybe a link to the store or the name of the designer/studio instead of having to go through pages and pages in BRIKA's online store before finding it. What did you think of my personalized BRIKA gift box? Visit BRIKA to subscribe or find out more!
The Subscription
:
BRIKA
The Description
: Experience the best of BRIKA without leaving your home. Our Subscription Gift Box features a handpicked selection of high-quality, well-crafted goods delivered to your doorstep once a month, 3X or 6X a year. Our Gift Concierge will work with you to design the perfect box for its recipient, whether they're your mom, a new mom, your sister or best friend. Send us your personalized message and we'll handwrite it onto a note to show how much they mean to you…or better yet, send this box to yourself as a special treat each month!
The Price
: $30.00 per month