Barkbox is a monthly subscription box just for dogs. Each box has 4-6 dog products and are customized to the size of your pup, plus it has a cute theme. If you have a big dog, check out our Barkbox reviews for a peek at the big dog boxes!
Every dog knows that you take your bestie and your PUPS Weekly to the beach. Duh.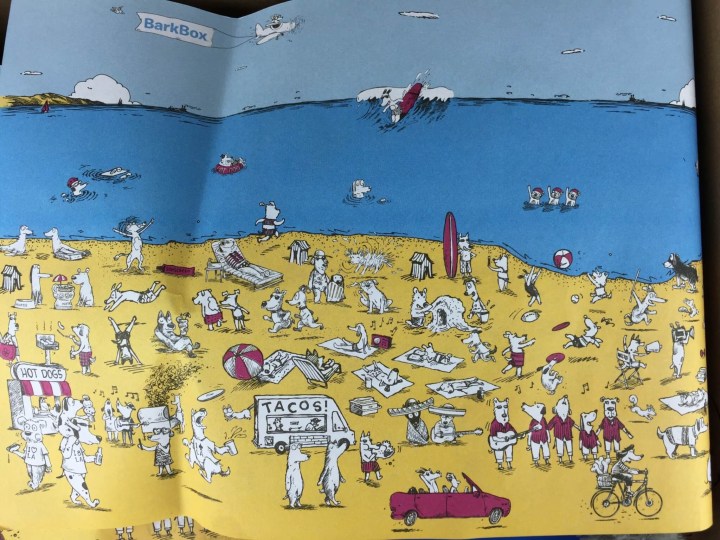 This month's custom paper and box theme is California Droolin'! This Barkbox is for small dogs like our miniature schnauzer, Lindy.

I took a photo of the whole thing if you want to see everything. It's so detailed (click on the picture a couple times and you can zoom in!).
This is so witty and cute and a great play on US Weekly. I admit to more than my fair share of US Weekly addiction.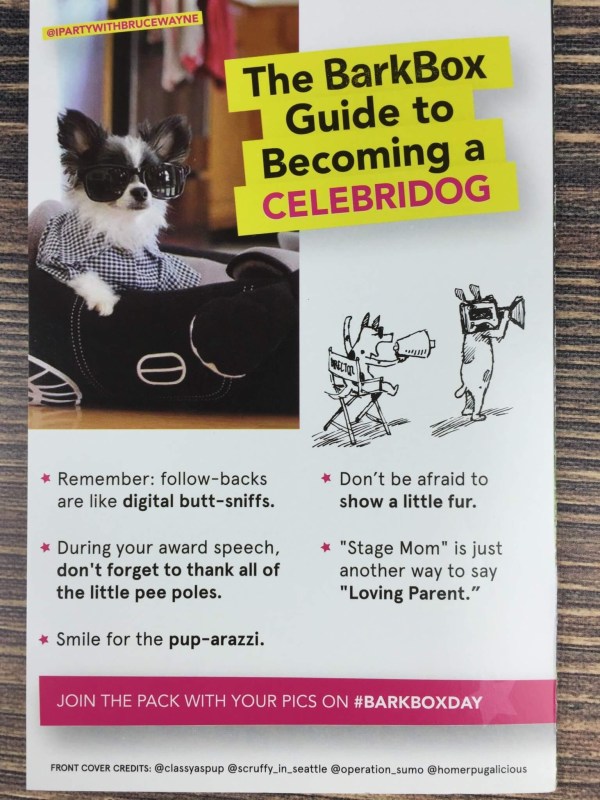 Some social media tips for your favorite pup. I can't get over the digital butt-sniffs.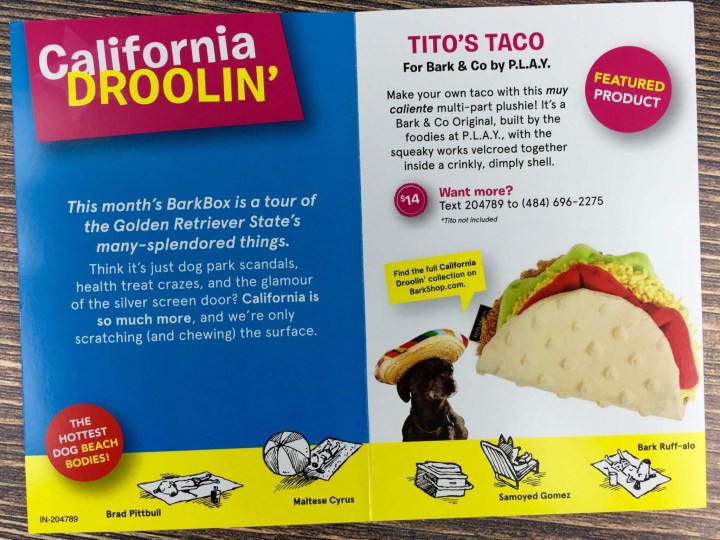 The information card formerly gave brief details and values on each item, plus reorder codes.  However, all the information on the box items is found in the app.

And here are this month's cute dog items! As always, this box is spot on with the theme. I loved it immediately!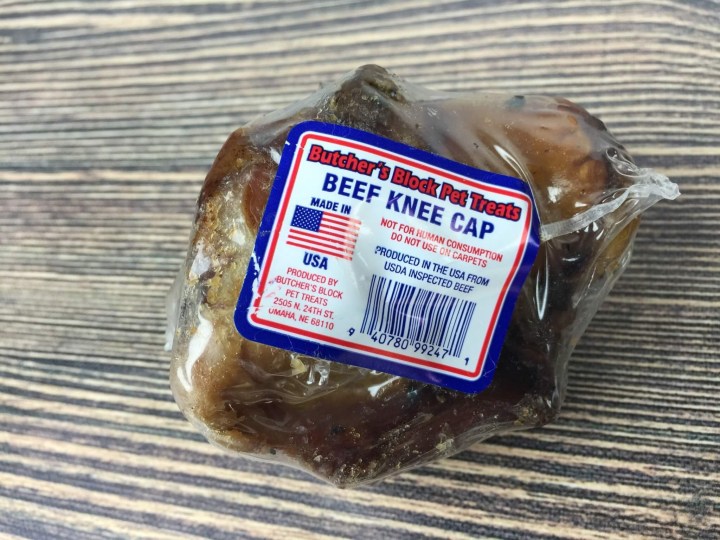 Butcher's Block LLC Beef Knee Cap Chow ($3) Bark Box manages to always send something delightfully disgusting. I appreciated the notice not use on carpets – and am saving this for a doggy delight on a less muggy day so Lindy can take it out to the yard, attack it, and then obsessively bury it for a while before continuing to knaw. It's like the dog version of the turkey leg – if dogs wouldn't eat turkey legs (they would).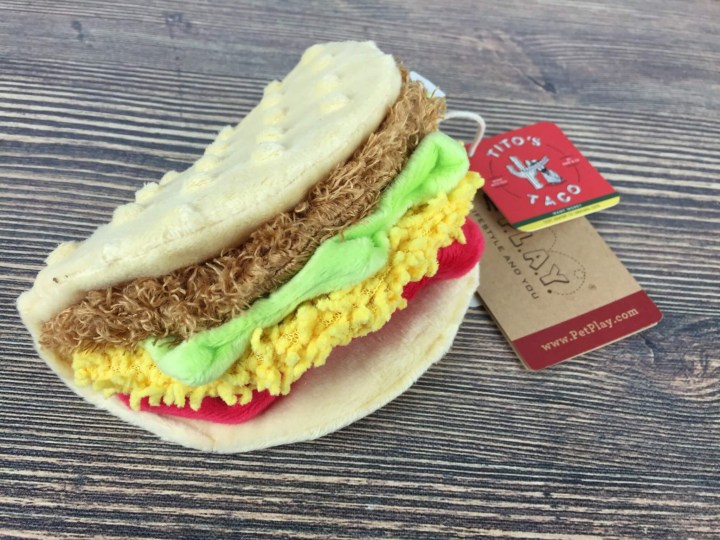 P.L.A.Y. Tito's Taco ($14) This little taco is a-mazing! I'm somewhat obsessed with all the plush food Lindy gets in her toy boxes and have them all collected in one spot so she can play kitchen with Baby F.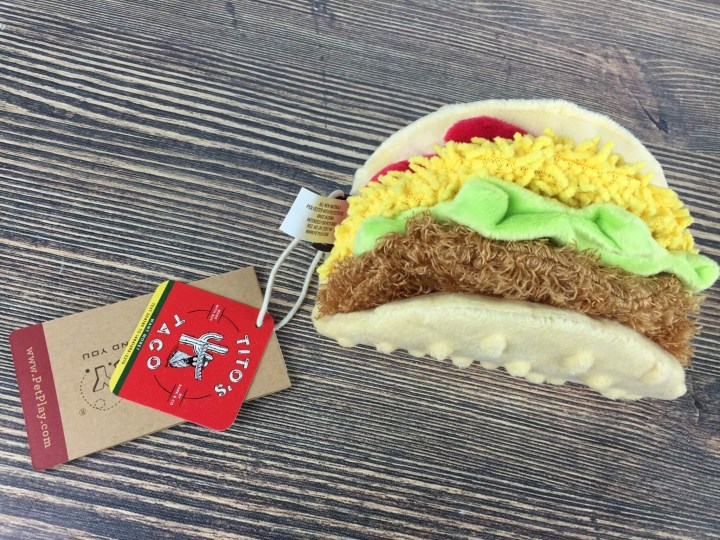 This little guy is a delight and I cannot get over the spot-on fabric for each part of the taco (meat, lettuce, cheese, and taco sauce). It squeaks of course too. It's fantastic!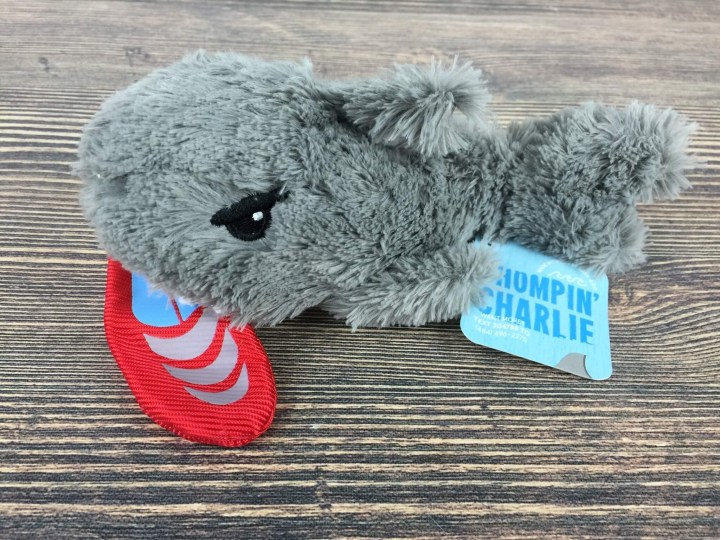 Bark and Co. Chompin Charlie ($9) Surfers watch out, there's a shark on the loose! This toy has a squeaker (my dog's favorite) and supposedly holds up a little better for dogs that destroy toys (mine does not – we have to give them away! – except for Hippo. Hippo is Lindy's baby and I have to re-sew it once a year or so).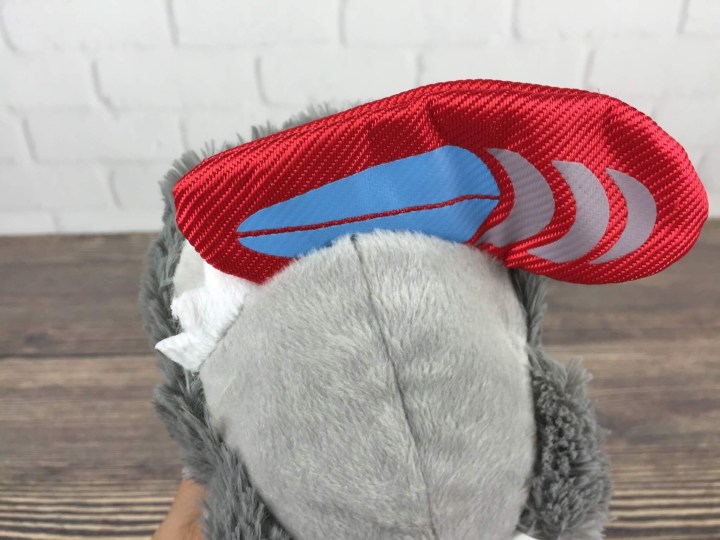 CHOMP!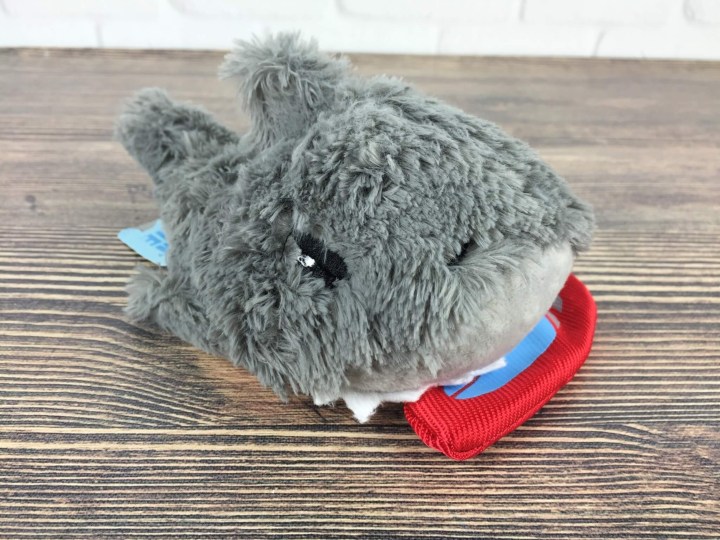 It's so cute!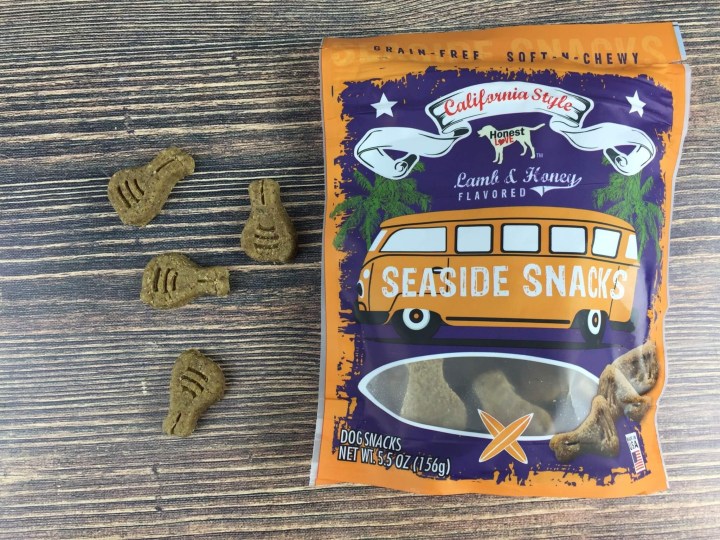 Honest Lowe Seaside Snacks ($6) Both snacks in this month's box were the soft and chewy sort – these grain-free snacks had a lamb & honey flavor.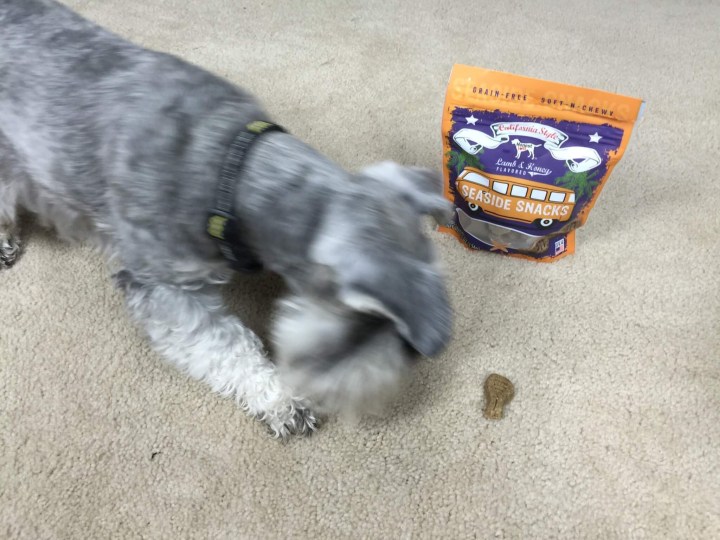 Lindy was nuts about these and has been inventing all sorts of reasons to go outside to finagle another treat.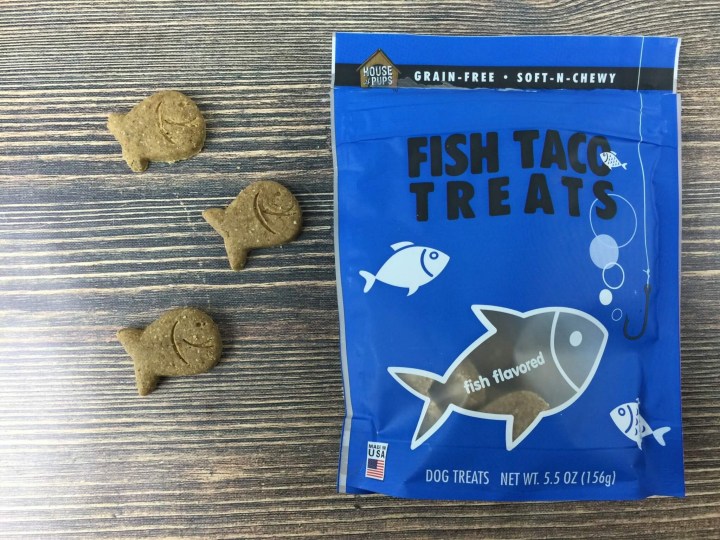 House of Pups Fish Taco Treats ($6) Not nearly as stinky as I'd imagined, these are whitefish flavored bolstered by tomato and cheddar (according to the bag).
She thinks this is great fun, and so did we! This month's box was a hit! Lindy always loves her Barkbox treats and we love enticing her with new toys. The Barkbox themes can't be beat for dog subscription boxes and the total value was about $38!
Was your Barkbox the same this month? Save $10 on your first box with promo code MS10X1213 though it should pop up automatically. Or get a free month with your subscription with code FREEMONTHWITHBARKBOX!
Visit Barkbox to subscribe or find out more!
The Subscription
: 
Barkbox
The Description
: BarkBox is a subscription box for dogs. It ships 4+ products tailored to the size of your dog each month. Items include toys, gadgets, grooming essentials, leashes, and organic treats
The Price
: $29 per month