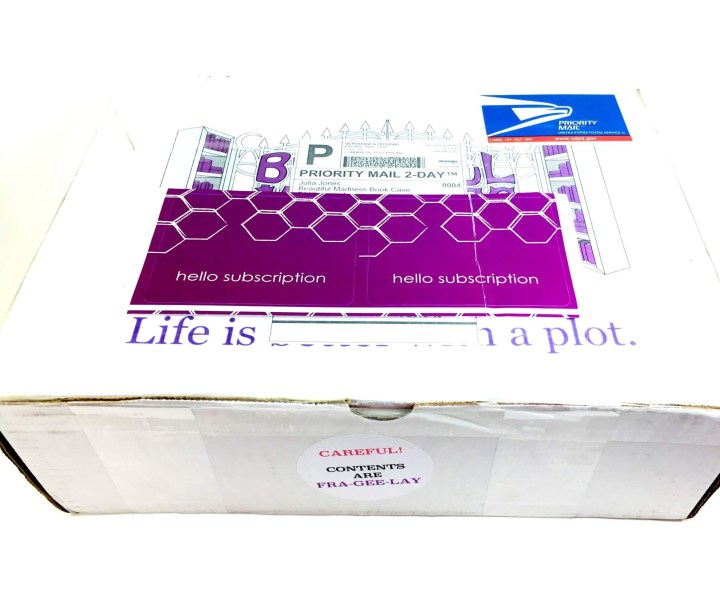 Beautiful Madness Book Case is a themed monthly subscription box from a former bookseller who wanted to offer something different. This box has a care package feel to it and will contain a book, a drink mix of some sort (coffee, tea, hot chocolate), a snack, and 2-3 items to complement that month's plot. It is $46.50 a month and there are discounts for 3, 6, or 12 month plans and all plans auto-renew. This box ships for free and is currently only available in the US. The previous boxes are still available in their online shop as a one-time purchase.
Seeing this warning on the side of the box made my day. It must be Italian!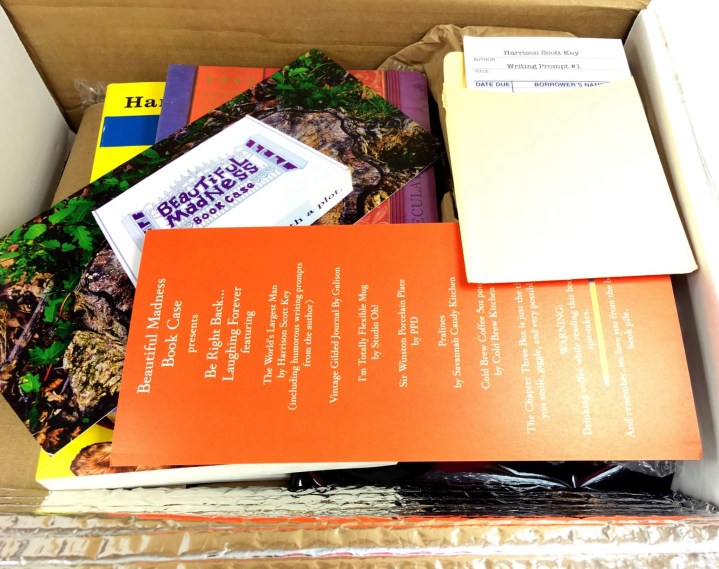 In keeping with the literary theme, this box was called "Chapter Three: Be Right Back…Laughing Forever".
The Chapter Three Box is just the thing to make you smile, giggle, and very possibly guffaw.
Books sent may be fiction, non-fiction, or young adult. In the future they hope to offer either a genre or fiction/nonfiction choice for each box, but the book itself will still be a mystery.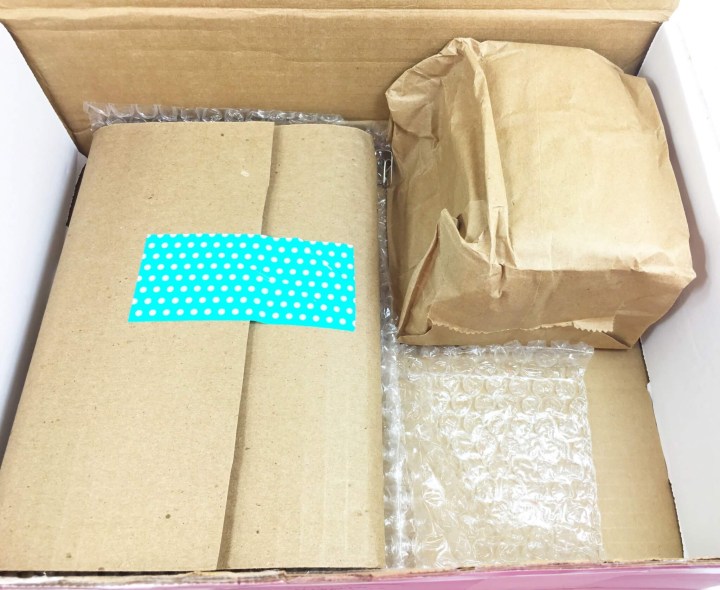 There were 2 fra-gee-lay items this month but luckily they were well wrapped.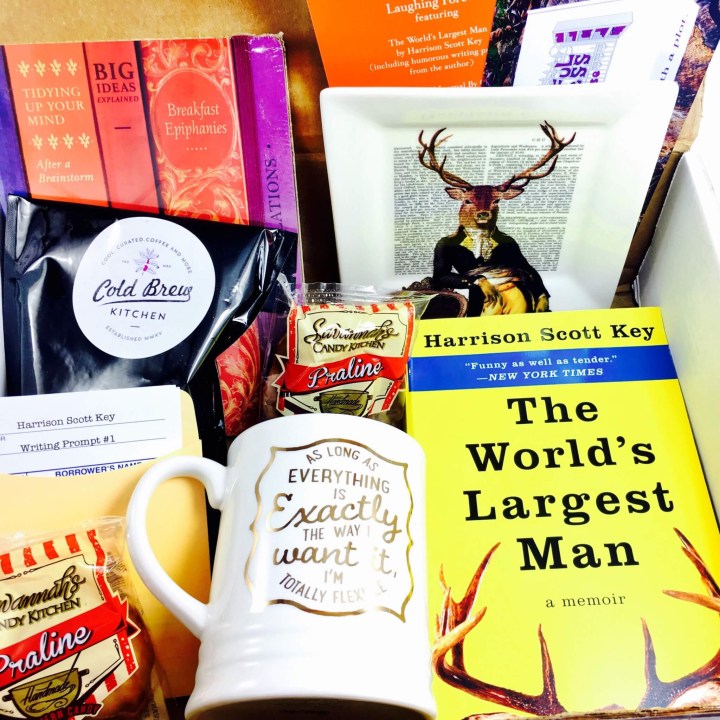 Everything in the box!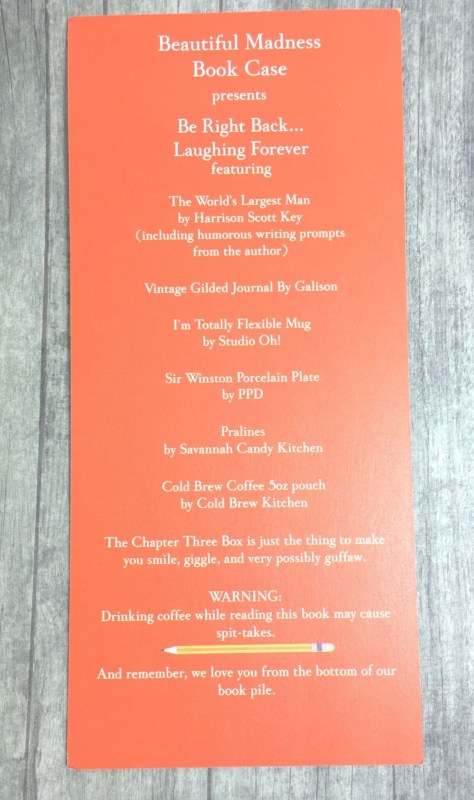 First up is the product information card.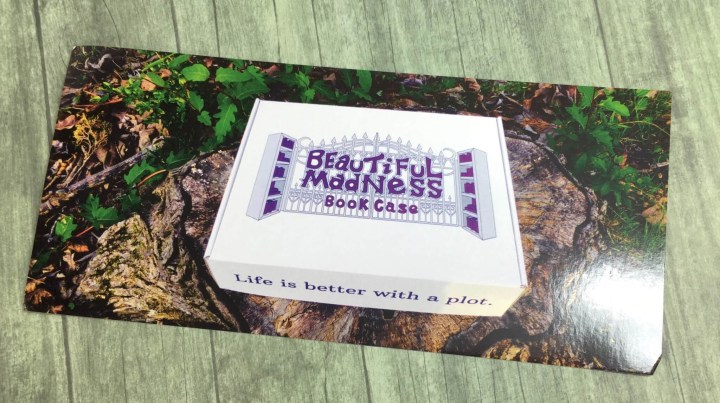 My last bookmark was looking a little ragged so I am happy to get another one!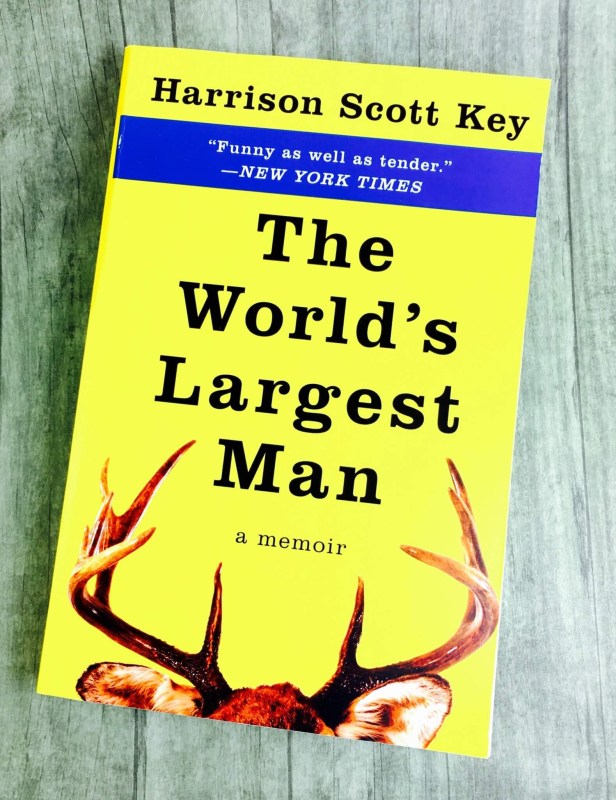 The World's Largest Man: A Memoir by Harrison Scott Key ($15.99) This month's box was curated with the help of author Harrison Scott Key, whose humorous book has high ratings and positive reviews on Amazon. I started reading it randomly in the middle and now I can't wait to start from the beginning! Here is the blurb from Amazon:
The riotous, tender story of a bookish Mississippi boy and his flawed, Bunyanesque father, told with the comic verve of David Sedaris and the deft satire of Mark Twain or Roy Blount, Jr.

Harrison Scott Key was born in Memphis, but he grew up in Mississippi, among pious, Bible-reading women and men who either shot things or got women pregnant. At the center of his world was his larger-than-life father—a hunter, a fighter, a football coach, "a man better suited to living in a remote frontier wilderness of the nineteenth century than contemporary America, with all its progressive ideas, and paved roads, and lack of armed duels. He was a great man, and he taught me many things: How to fight, how to work, how to cheat, how to pray to Jesus about it, how to kill things with guns and knives and, if necessary, with hammers."

Harrison, with his love of books and excessive interest in hugging, couldn't have been less like Pop, and when it became clear that he was not able to kill anything very well or otherwise make his father happy, he resolved to become everything his father was not: an actor, a Presbyterian, and a doctor of philosophy. But when it was time to settle down and start a family of his own, Harrison started to view his father in a new light, and realized—for better and for worse—how much of his old man he'd absorbed.

Sly, heartfelt, and tirelessly hilarious, The World's Largest Man is an unforgettable memoir—the story of a boy's struggle to reconcile himself with an impossibly outsized role model, a grown man's reckoning with the father it took him a lifetime to understand.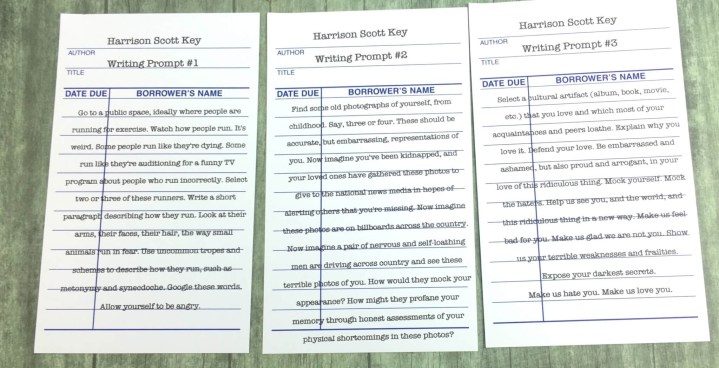 Mr. Key also provided some writing prompts to help you write your own story.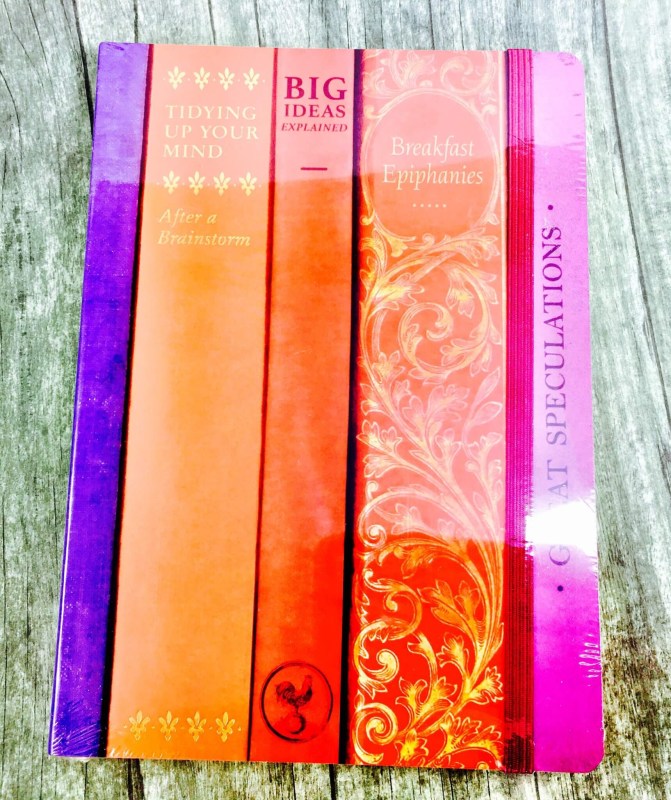 If you want, you can write your upcoming novel in Galison's Vintage Gilded Journal ($14.99) or just jot down a few lines about your day. There are 160 acid-free, lined pages inside and the outside has silly takes on classic titles (Mini Men, 1985, The Great Catsby).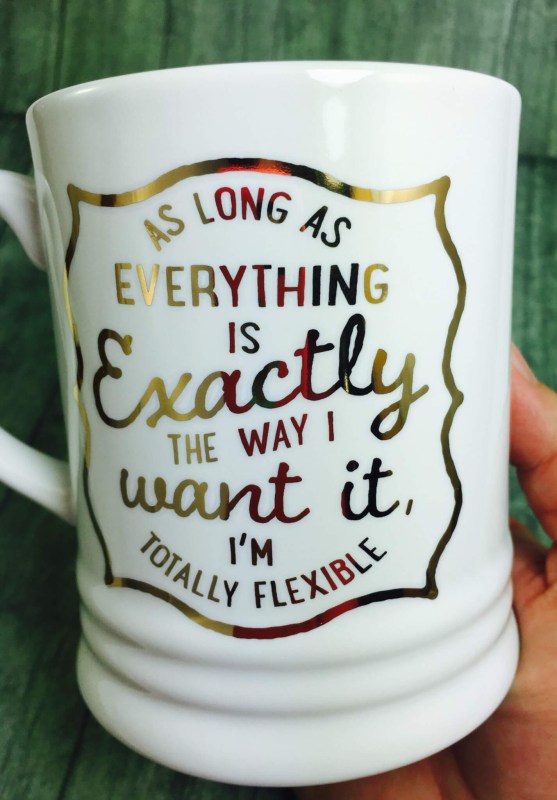 Studio Oh! Witticisms 16 Oz Ceramic Mug ($13.99) has gold foil lettering and the saying is on both sides of the mug so it is suitable for lefties and righties. The inside is a cheery green color and the mug feels hefty and solid.
Cold Brew Kitchen City Blend Ground Coffee ($4.67) I am not a regular coffee drinker and don't feel qualified to judge whether a coffee tastes good or not but this one smells wonderful and bold and I do enjoy the occasional iced coffee with a whole lot of sweetened condensed milk. (I couldn't find this flavor online but there are a couple of others listed on their site).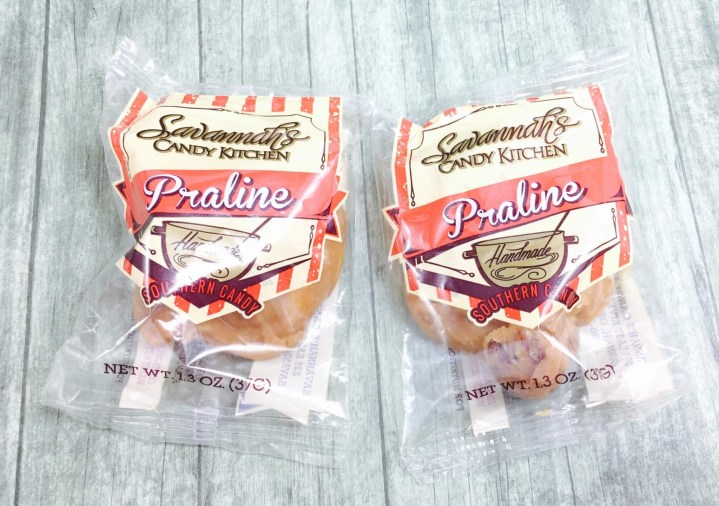 Savannah's Candy Kitchen Pralines ($1.40 each) are a melt-in-your mouth delight made of sugar, butter, and pecans and are the best I have ever tasted. In fact, I wasn't even sure that I liked pecan pralines until I tried this one. Most of the ones I have tried are either super chewy or grainy but this had more of a fudge-like consistency. It is such a decadent treat and disappeared way too fast.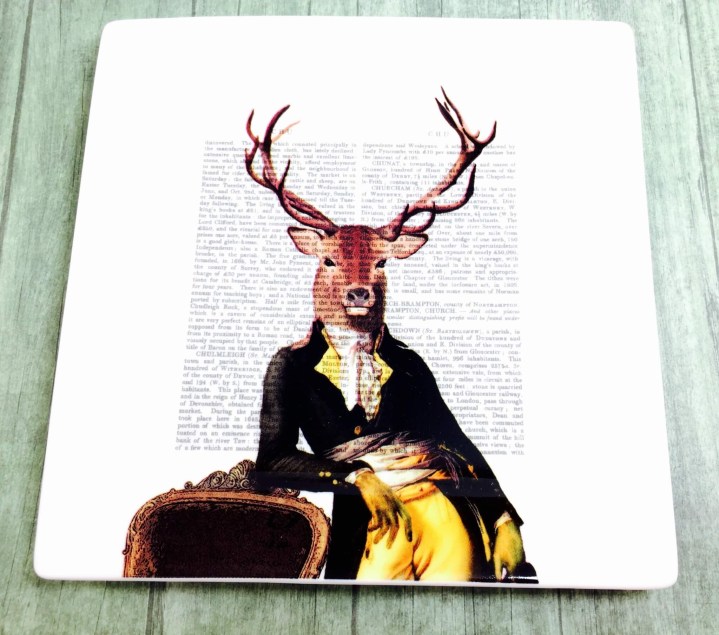 I don't know what it is about this Lord Winston Square Plate from PPD ($9.50) but I can't stop looking at it! I love it! It is sort of weird and yet somehow funny and he's just so handsome. If Mr. Darcy was a deer, this is what he would look like. Mr. Deercy.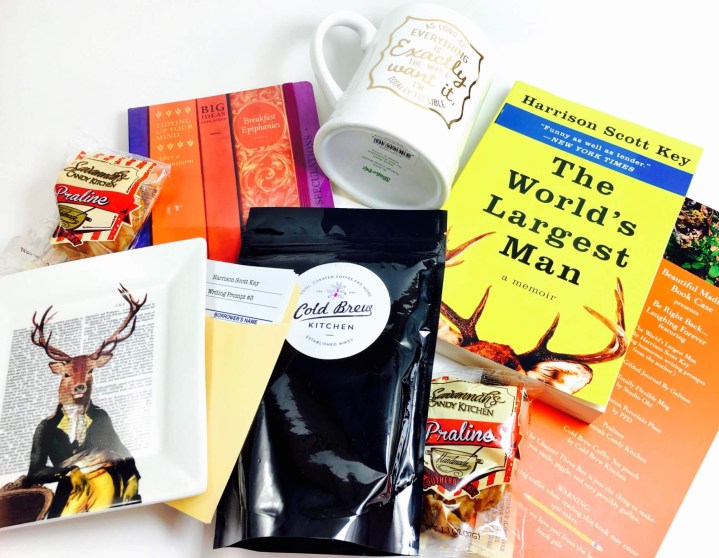 Wow, what a fun (and funny) box! This is one of my favorite subscriptions and I get a kick out of the kookiness of it. I loved the way all of the products fit the theme and the quality of the products were top-notch. This month's value was $61.94! I really look forward to getting this box and can't wait to see what comes next. Where do you think Beautiful Madness Book Case should take us next month?
Save $4.00 off your first box! Use coupon code SIMPLYMAD.
Visit Beautiful Madness Book Case to subscribe or find out more!
The Subscription
:
Beautiful Madness Book Case
The Description
: Beautiful Madness Book Case sends a box of happiness to every subscribers every month. The box will include a handpicked book, a snack, a drink that can be brewed or made, and two to three items that complement the book. All you need to do is find your cozy spot, and get lost in a great book.
The Price
: $46.50 per month