Wantable is a personalizable subscription box for accessories, makeup, or intimates wear (plus they have a personal styling subscription for fitness clothing!). With Wantable you can actually return your box, which is a great and super unusual feature. This month they've changed things around – you can now return all the items in your box, or individual items. Boxes are $40, and if you keep the whole box, you'll get a $4 credit for next month!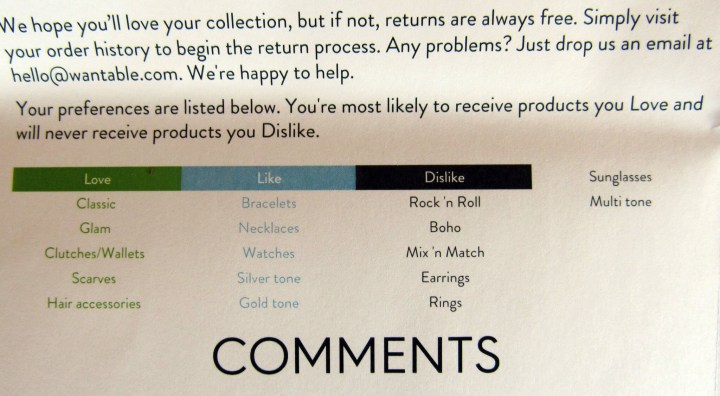 I included my preferences from my May Wantable Accessories Review because I can't find my April information card! I marked Boho as a like for April. Everything else stayed the same. I did have a few questions about my order once I received it.
 Thanks for reaching out. So sorry you did not love this month's Accessories Collection. We currently do not have any headbands in stock, but should be getting some fun ones in for Spring/Summer 🙂 My apologies, but I do not see the note regarding the clutches/wallets-where exactly did you see this?

The scarf was chosen since you loved scarves and classic. The rest of the items were classified as boho and gold, two preferences that you 'like'. I would be happy to update any of your quiz preferences or add notes for your Stylist to get a better idea of what you are looking for. You can absolutely return the whole Collection for a full refund. Please let me know how I can help!
I did order Wantable Accessories for two months in a row requesting hair accessories and wallets/clutches which I never received. I also created a new account instead of using my old account. This means that I was starting over when it came to rating items. I did find in the past that rating the items made a difference in what I received in my box when I was previously subscribed.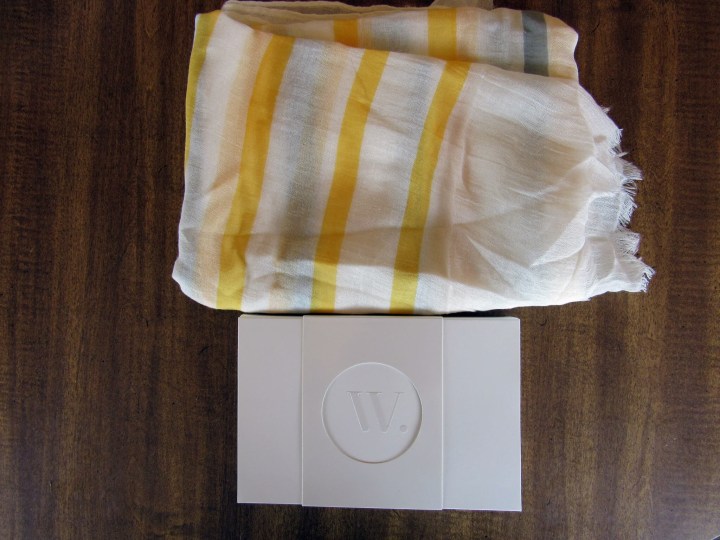 The last time I subscribed to Wantable Accessories was back in February 2015. I noticed that they are no longer using the black bags. I liked the black bags and still use them to store my Wantable jewelry. Now the items come in small boxes.
The items sent were not what I expected. I requested hair accessories and also marked clutches as a love. I was surprised not to receive one because the clutches were being heavily promoted.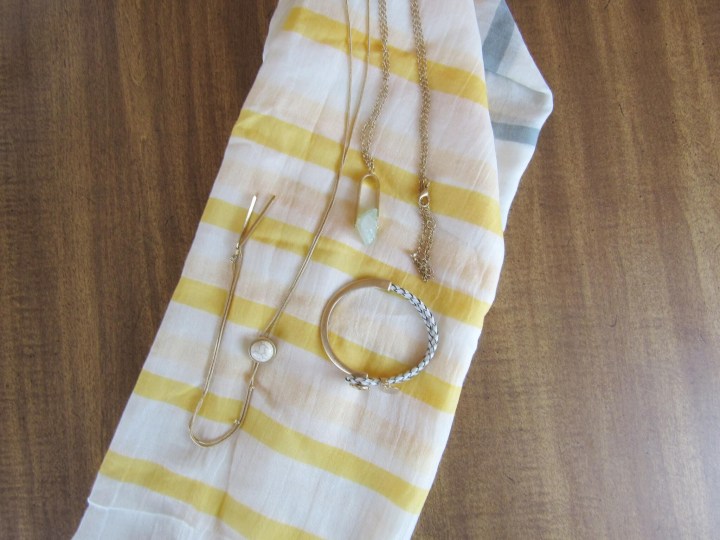 Here are the items from the April 2016 Wantable Accessories Box! It's a classic/bohomian mix.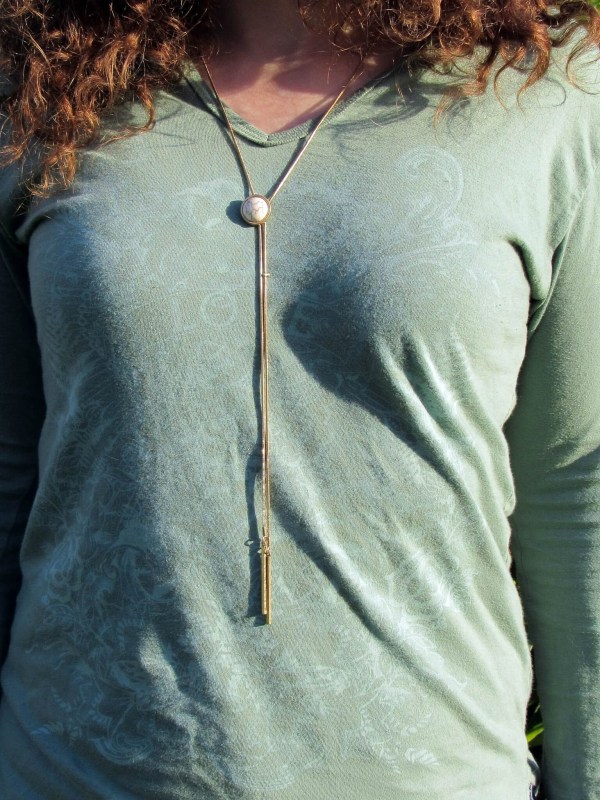 The Marnie Necklace in Gold was selected because I marked bohemian and gold as a like. There are knots in the necklace that prevent the stone from traveling too far down the chain. I like that it can be adjusted. The ends do not offend me the way tassels do. It's a neutral piece that will work well with my wardrobe and keep me on trend.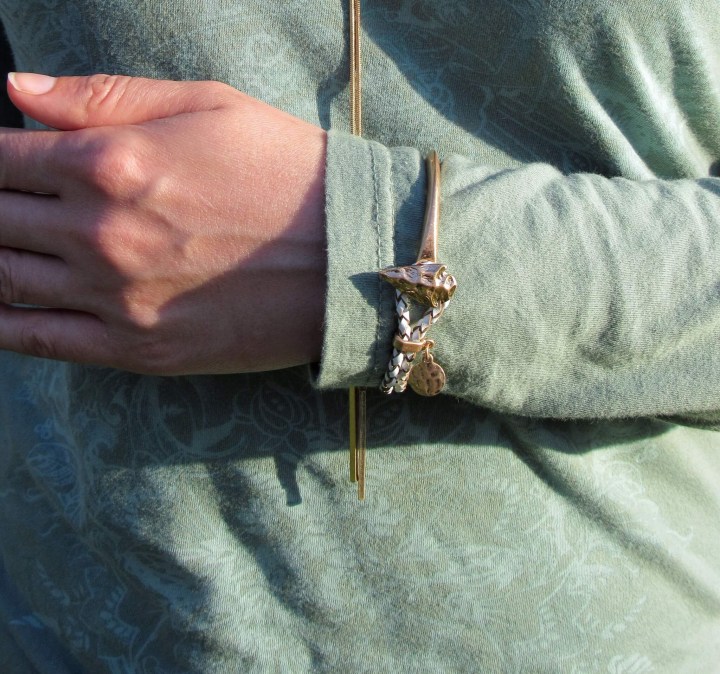 The Helena Bracelet is a mixed leather and gold piece. Put on the bracelet by looping it over the stone. It falls under gold Bohemian according to Wantable. I do think it is mix and match which I marked as a dislike. However, I found it to be a quirky, fun piece. It's comfortable to wear and a bit unusual.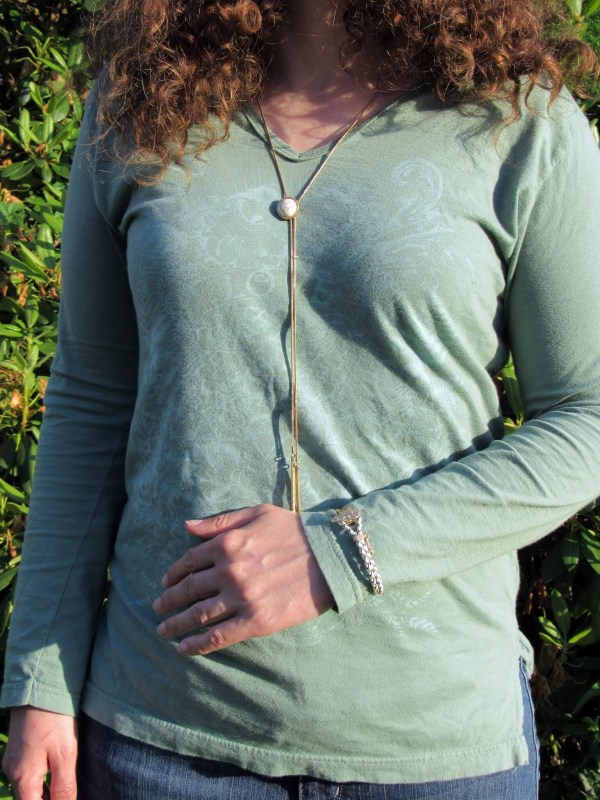 I also like the look of the bracelet and necklace together which played into keeping both pieces. It's a light, laidback look.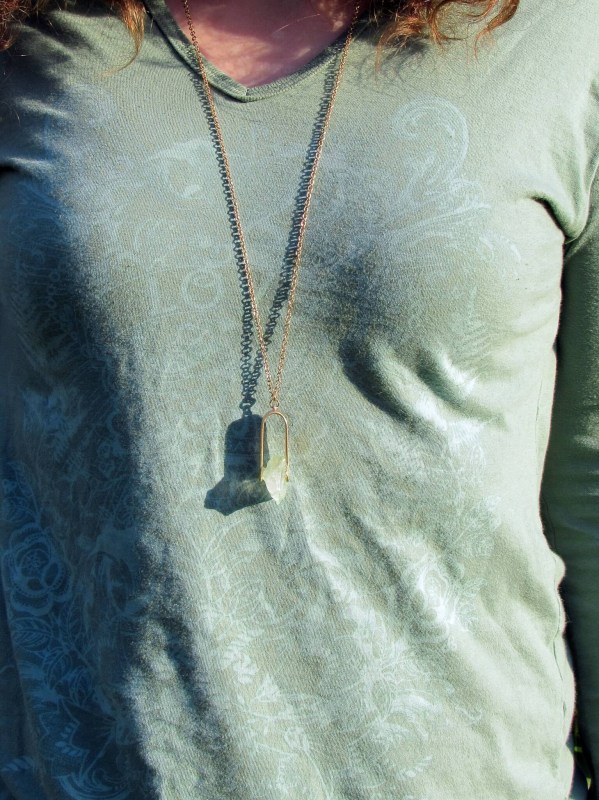 I am amazed by how much the stone on the Leni Necklace matches my sister's shirt. I love the color! The stone is set differently making it an eye catcher. It's a winner!  It falls under the gold bohemian.
I feel like I should be riding in a convertible with the top down when wearing the yellow Brooke Scarf. The middle section is gray striped while the ends are yellow striped. It's light, fun, and airy. My sister absolutely hated it. I loved the classic selection.
I had mixed feelings about my box. I placed my order at the beginning of the month to ensure that there would be stock to fill my likes/loves.  I was surprised not to receive a single jewelry piece from the glam or classic categories which I marked as love. It was disappointing to me because I have a few glam/classic pieces from Wantable that are over a year old that I still wear. I do enjoy adding a few bohemian pieces every year to freshen up my wardrobe which is why I kept my items. It appears that Wantable's strength is the Bohemian style. I would advise looking at their Stream first before ordering if you want classic or glam. The advantage of Wantable Accessories is that you can return the box and receive a refund. It's easy to skip and switch up your preferences. It is a great box for those looking to freshen up or update their look with a selection customized to their surveys.
Visit Wantable to find out more about all their subscriptions or to subscribe. You can save 10% and get your box for $36 when you sign up for a subscription.
The Subscription: Wantable Accessories
The Description: Accessories boxes contain 4-5 jewelry and accessory boutique items and expert accessorizing tips.  Your first Collection is $40 and after your "keep all" credit, every month afterwards is $36. You'll receive 3-5 items and a happiness guarantee. If you love them all, they're yours to keep at no additional cost. If you're not in love, returns are easy and free for domestic customers.
The Price: $40.00 per month