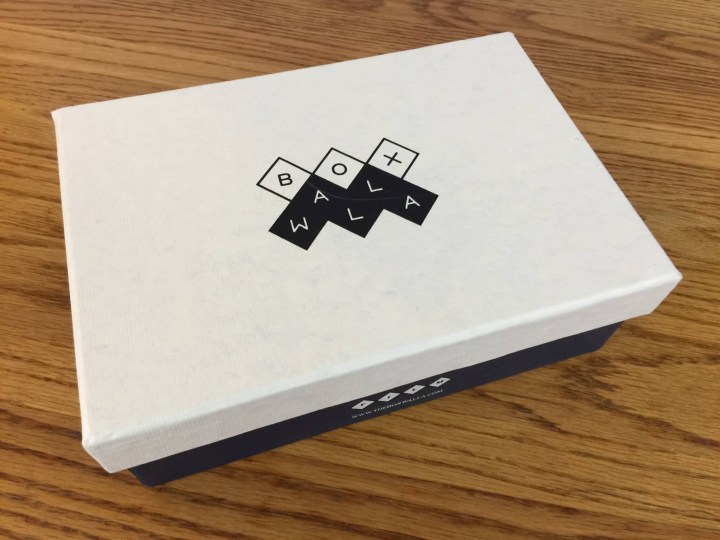 Boxwalla presents the June Film Box Theme is 'Roma'. Each June Film Box will contain two Italian films from The Criterion Collection. One of the featured filmmakers is Italian master, Fellini.
Boxwalla is a bit of an unusual subscription you can select from one of four bimonthly themes – natural beauty, artisanal food, international film, or books! In Boxwalla you'll be able to discover great artisans and artists from across the globe. The box itself is sort of like a luxe cotton rag paper covered box handcrafted by artisans in Rajasthan, India (none of whom are children). The outside indicates which box you received. It's extremely handsome and reusable.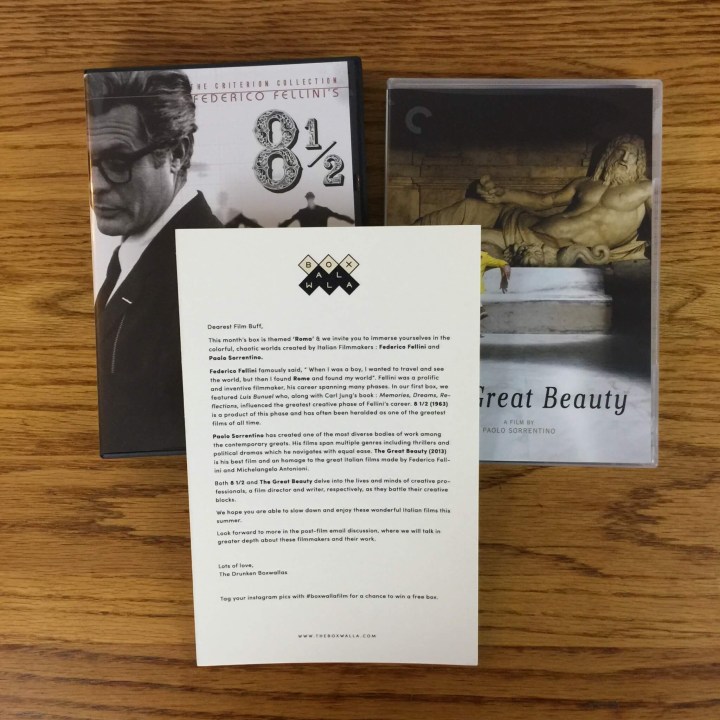 The contents of this wonderful box.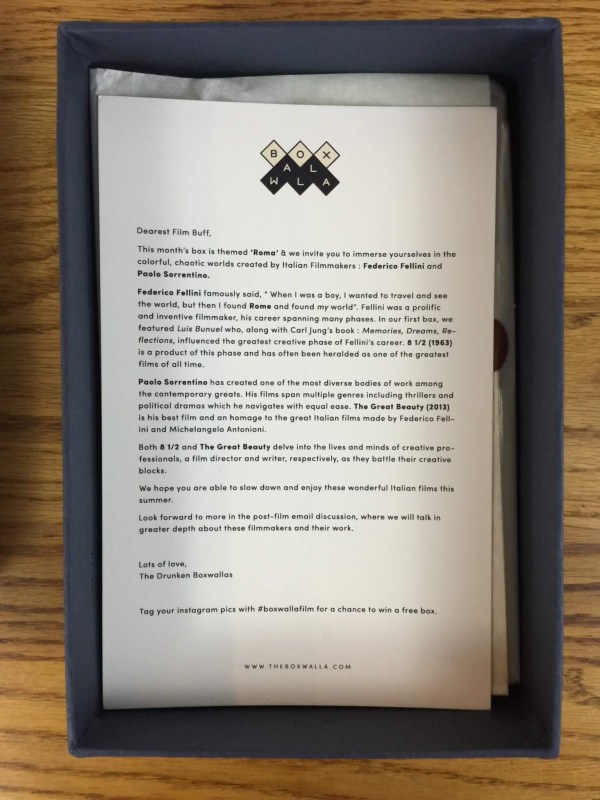 As the box opens you see the description from the folks at Boxwalla.  It's a nice description and explains the film choices.
8 1/2 – The Criterion Collection – $29.99.  It doesn't get more "Italian Film" than a movie directed by Federico Fellini.  
One of the most influential film makers ever.  8 1/2 won the Academy Award for Best Foreign Language Film in 1964.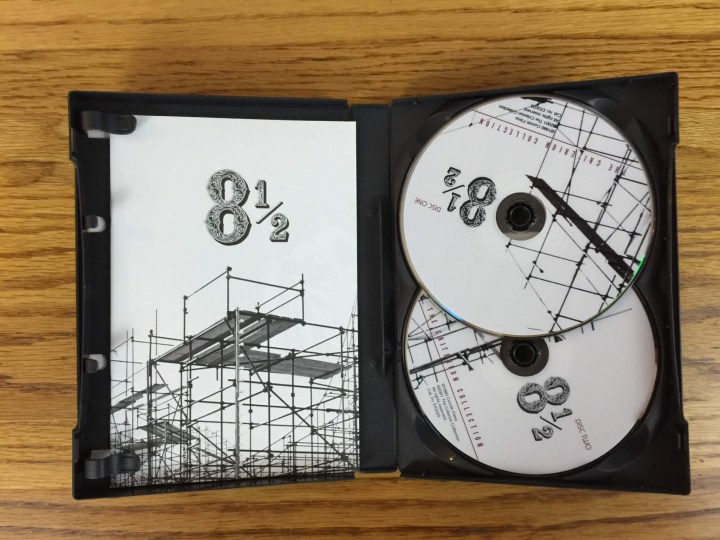 Troubled Italian filmmaker Guido Anselmi (Marcello Mastroianni) struggles with creative stasis as he attempts to get a new movie off the ground. Overwhelmed by his work and personal life, the director retreats into his thoughts, which often focus on his loves, both past and present, and frequently wander into fantastical territory. As he tries to sort out his many entanglements, romantic and otherwise, Anselmi finds his production becoming more and more autobiographical.
I really enjoyed 8 1/2.  I was highly impressed with Fellini's way of focusing on a central character but still able to involve so many others and make them memorable.  The main character goes through so much within this film and seeing the progression was incredible.  You can read my full review here.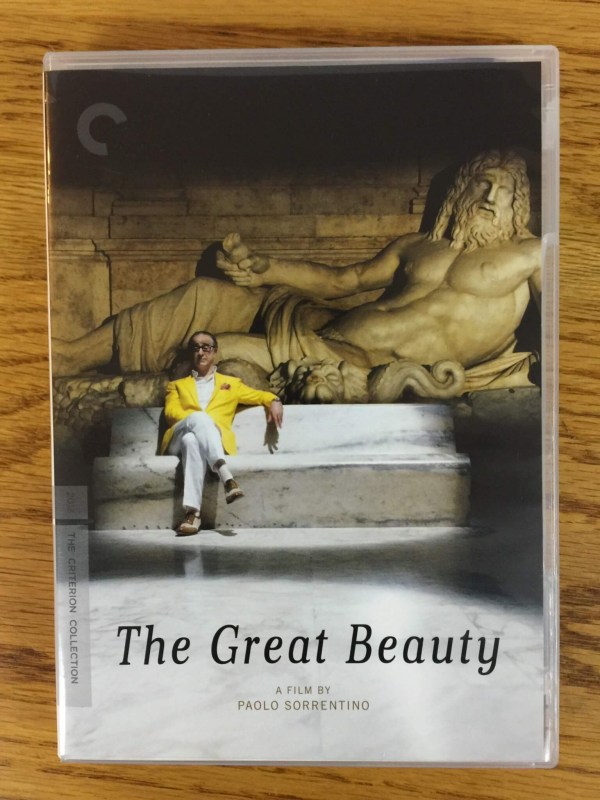 The Great Beauty – Criterion Collection – $19.99.  Boxwalla treats us with two Italian movies and this is a bit more recent than the Fellini film.  The Great Beauty is directed by Paolo Sorrentino who has made movies in multiple genres.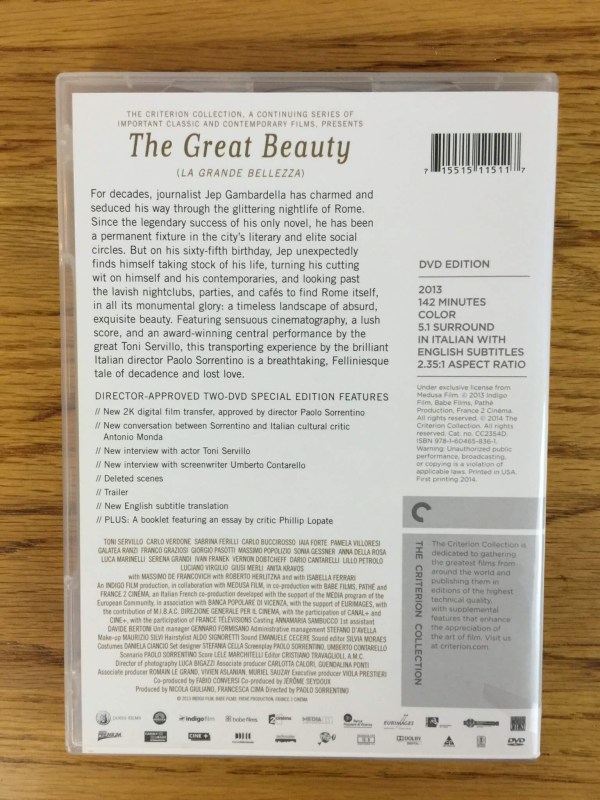 This film from 2013 is an homage to Federico Fellini.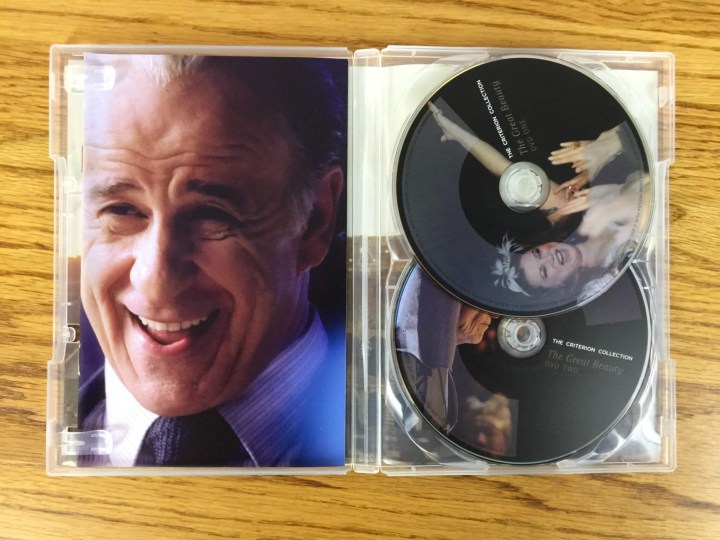 After his 65th birthday, Jep Gambardella, an aging intellectual and one-time writer, decides to dedicate his life to the search of a meaning. On the background of a mysterious and wonderful Rome, our main character slowly rediscovers beauty under the monotonous, empty shell of a lifetime between sinners. Following a boring night spent between the sheets of a boring and egocentric rich woman from Milan, Jep decides to stick on a quieter quality of life, but several, casual, meetings will force him to reconsider his priorities. A stripper on the verge of breakdown, the ex-husband of his first love, a bizarre magician and a living Saint from a far away reality, will soon allow Jep to discover his own, personal, Great Beauty.
The Great Beauty (La Grande Bellazza) is a wonderful homage to Federico Fellini by Paolo Sorrentino.  Much like 8 1/2, the film centers around one character with the city of Rome as the backdrop.  I enjoyed this film as well.  You can read the full review here.
For the movie buff, Boxwalla has you covered.  This month had something a bit older and also a bit newer.  Both from Italy and both from directors who master their craft.  I look forward to seeing what Boxwalla has coming up next!
Visit Boxwalla Film to subscribe or find out more!
The Subscription
:
Boxwalla Film
The Description
: "Art Cinema is Boring". The Film Box challenges this notion by demystifying the work of the best filmmakers, by creating a context within which to view them.The Film Box will contain two films from the Criterion Collection,  along with inserts with detailed information on each film. We will also send subscribers additional material via email, some to be read before, and some after watching the films. If you have any questions or thoughts about these films, feel free to contact us through social media or via email.
The Price
: $49.99 every other month