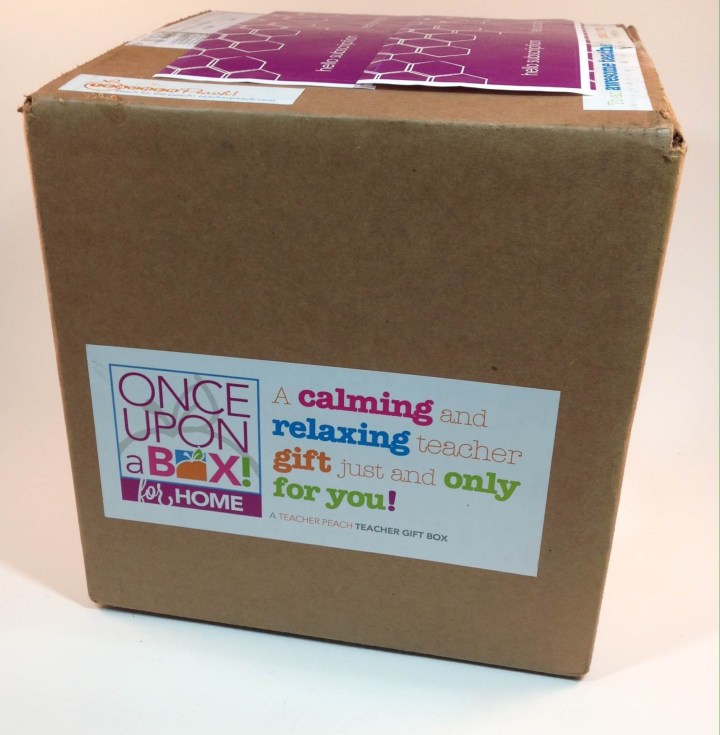 Teacher Peach is a company that aims to support teachers by offering items to help recharge at work or at home. They will be offering a quarterly subscription box in the fall but for now they have two care-package type of boxes: for HOME or for SCHOOL. I am reviewing the box for HOME. Each box is $39.95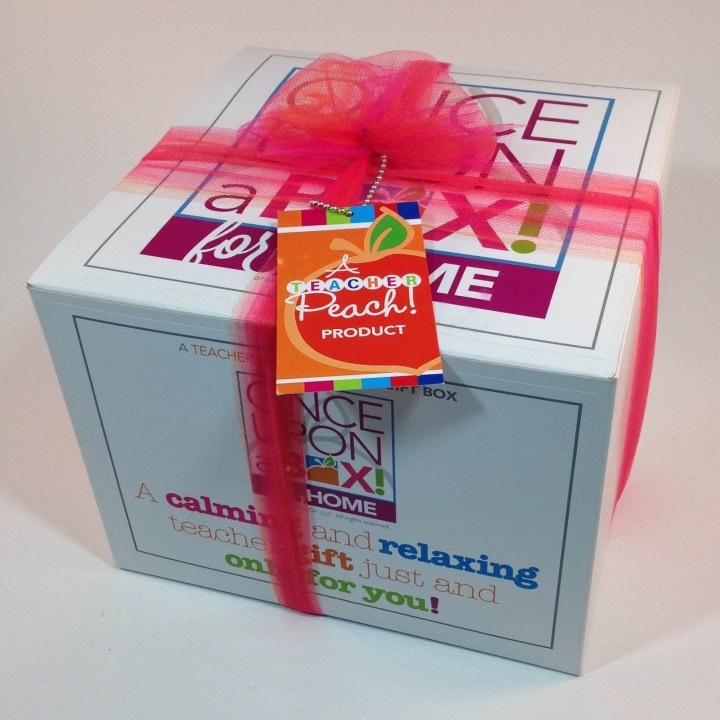 The box was shipped in another box and the presentation was lovely! I loved the bright colors and bow on top.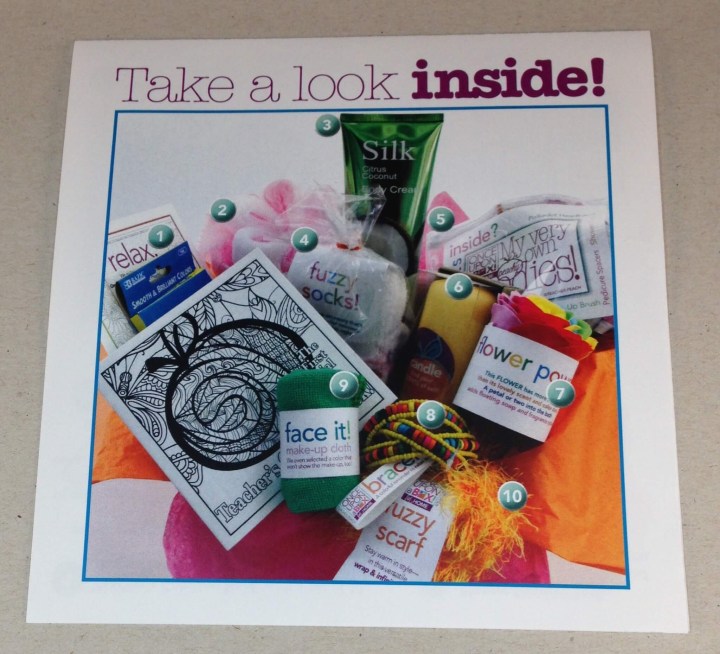 There were 10 different items in this box. There were a lot of inserts but nothing specifically about these items, however, you can refer back to the ordering page for a breakdown.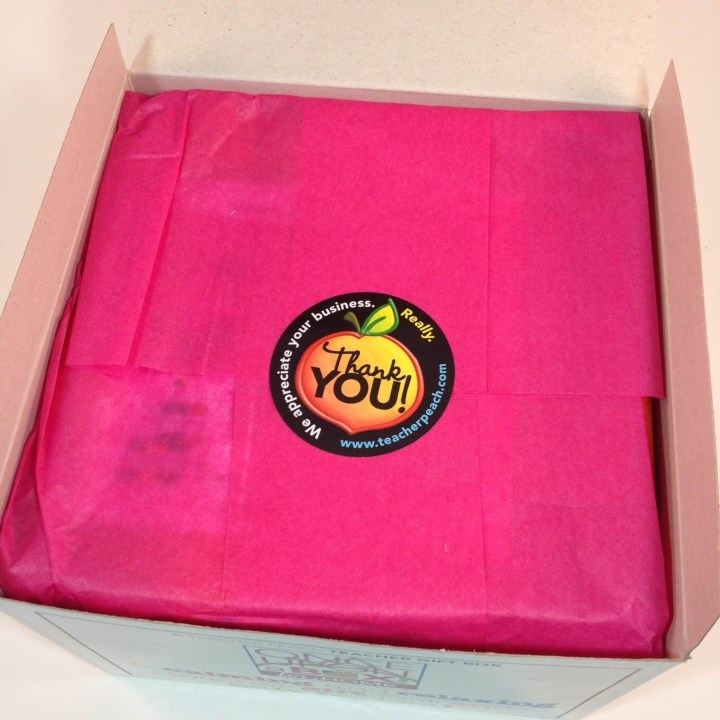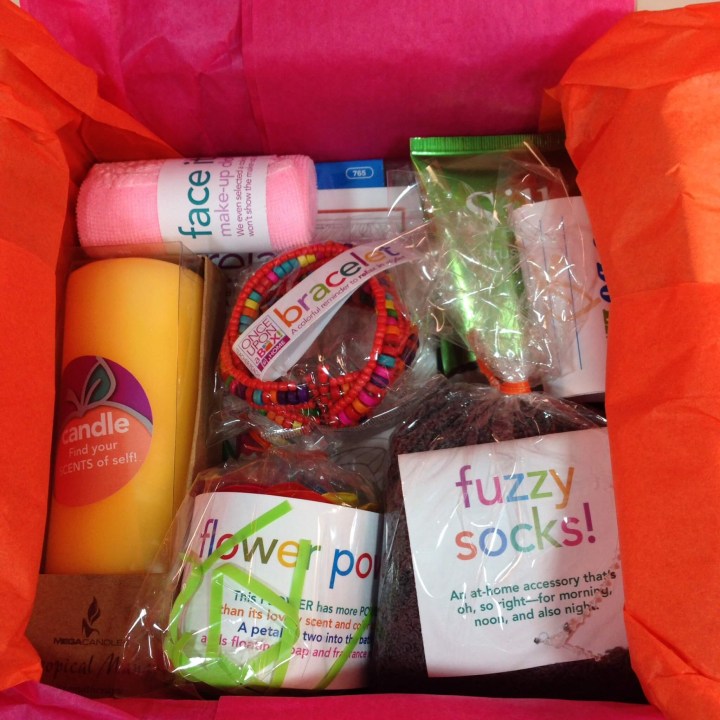 Instead of a product information card there were cute little rhymes on most of the items.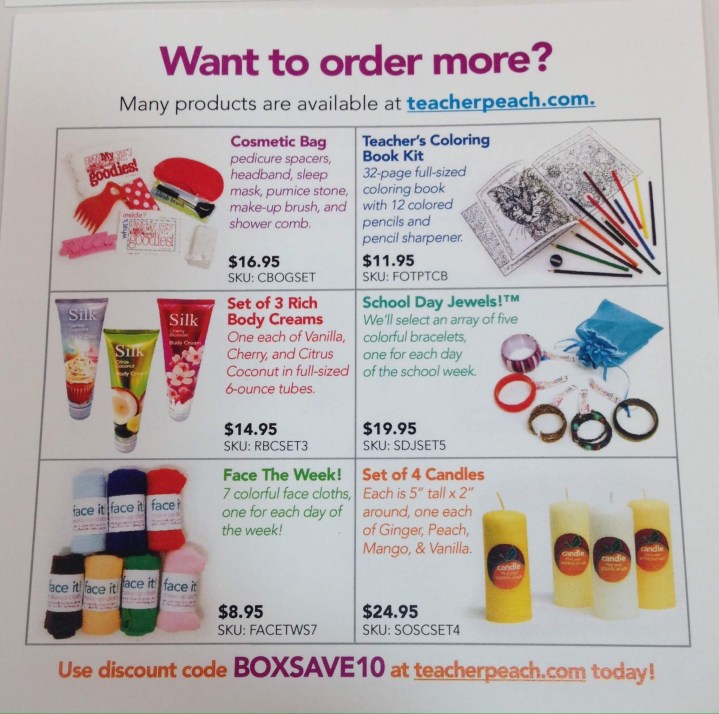 There was a card with some reordering info for some of the products but some of the prices are different on the card and on the website. For instance this says a set of 7 face cloths is $8.95, but on the website it says $14.95. The lotions went from $14.95 to $19.95.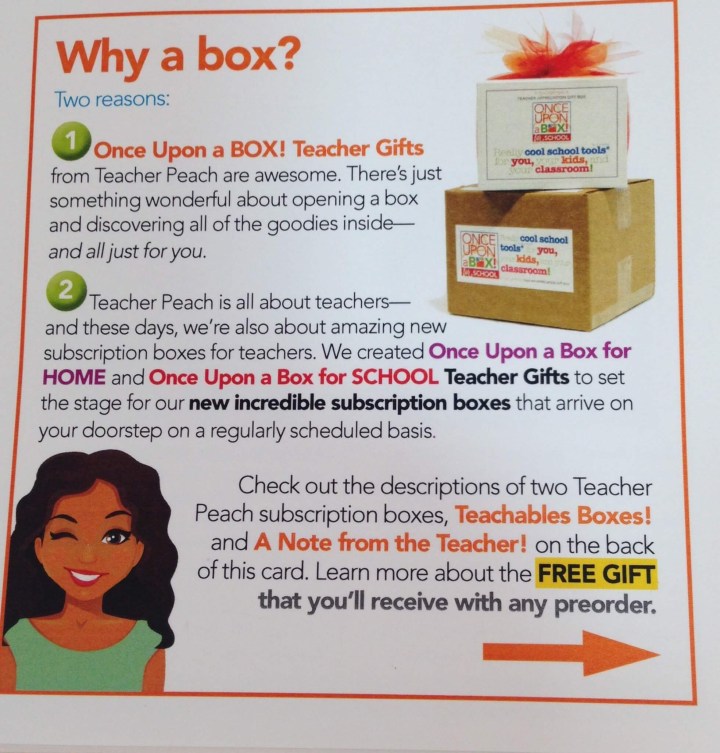 This gives more info on their upcoming subscription box.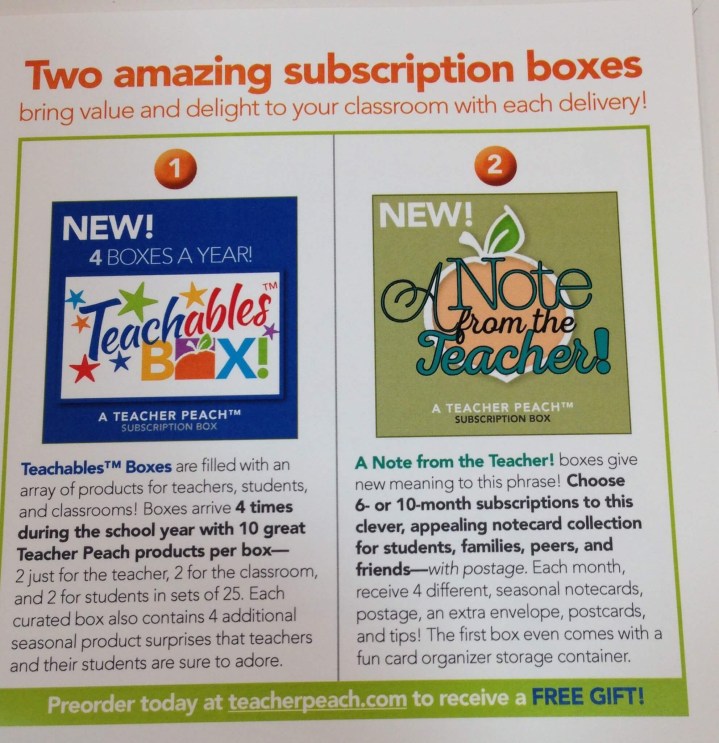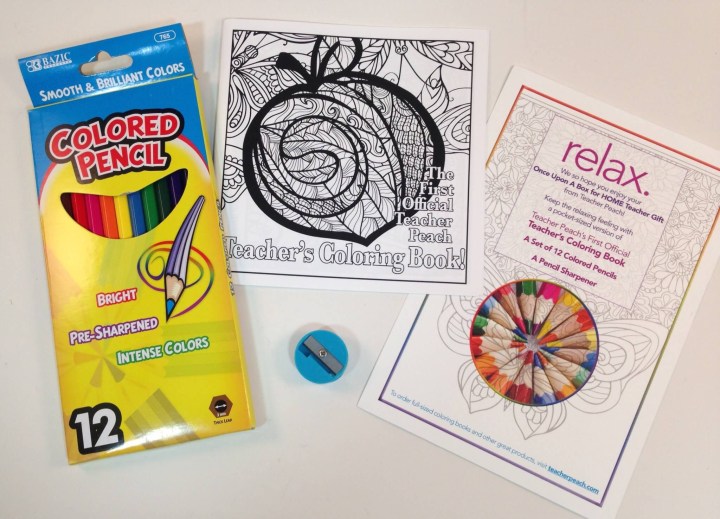 Mini Coloring Book, Colored Pencils, and Sharpener ($5?) These items are meant to help you relax when you get a chance. I thought that the coloring book had lovely, intricate illustrations and nice quotes. This was my favorite item in the box! The pencils and sharpener got the job done.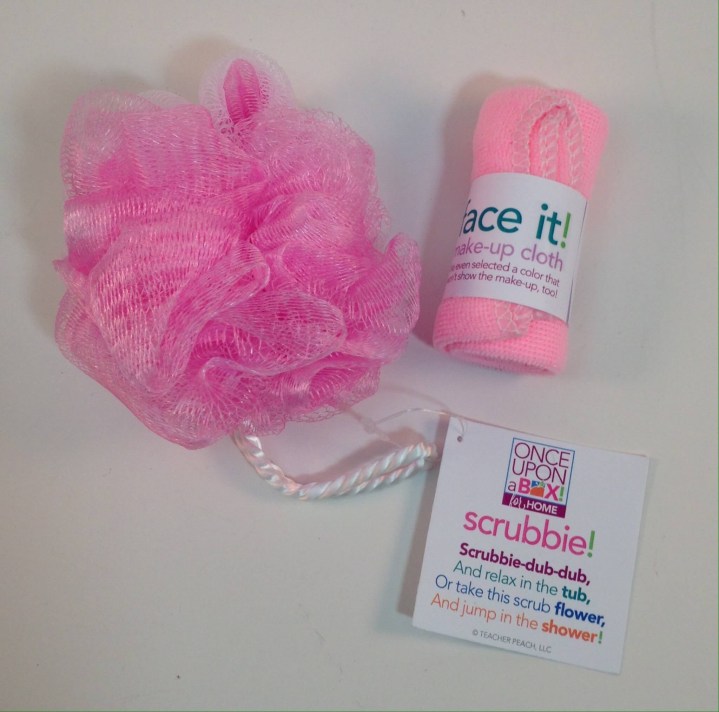 Flower Shaped Shower Pouf ($2?) I  photographed the wrong side but it has a cute flower shape on the other side. Shower poufs should be replaced often so I am always happy to get these in boxes!
Makeup Removing Facial Washcloth ($2) This is very soft, like a microfiber towel. Pretty color too!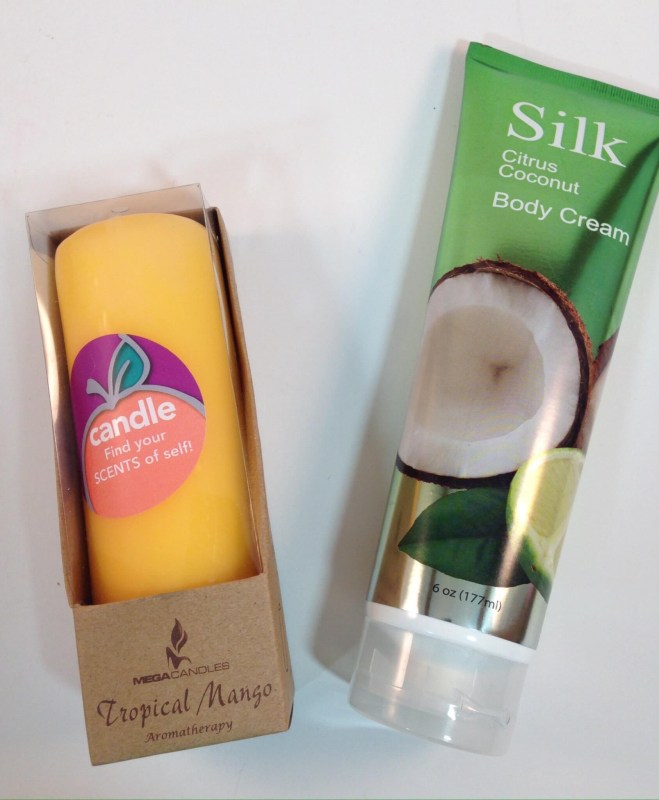 Tropical Mango Mega Candle ($6.24) Lightly scented and very light weight candle. Supposed to last for up to 20 hours. That's a lot of relaxing!
Silk Citrus Coconut Body Cream ($6.65) This lotion reminds me of Bath and Body Works.  I will place this in the teachers' lounge at work.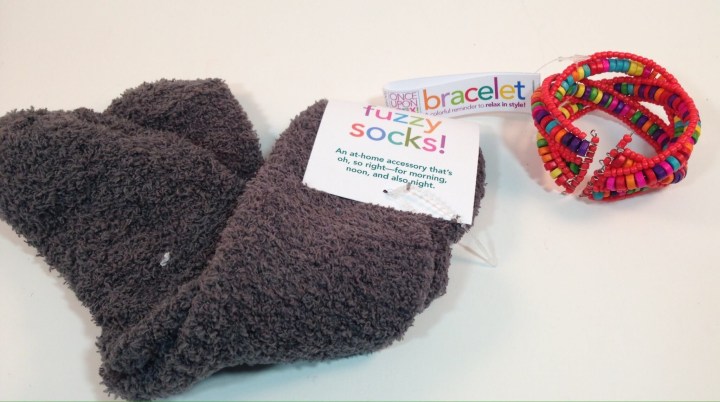 Fuzzy Socks ($5) Fuzzy socks in a color that was not in keeping with the bright colors of this box. It is really hot here in Texas so I will put these away until the winter. Note: these do not have rubber grips on the bottom so please be careful when wearing.
Colorful Bracelet ($3.99) What a pretty wrap bracelet! Just slide this on your wrist and wear with some jeans and a white t-shirt to instantly dress up your look.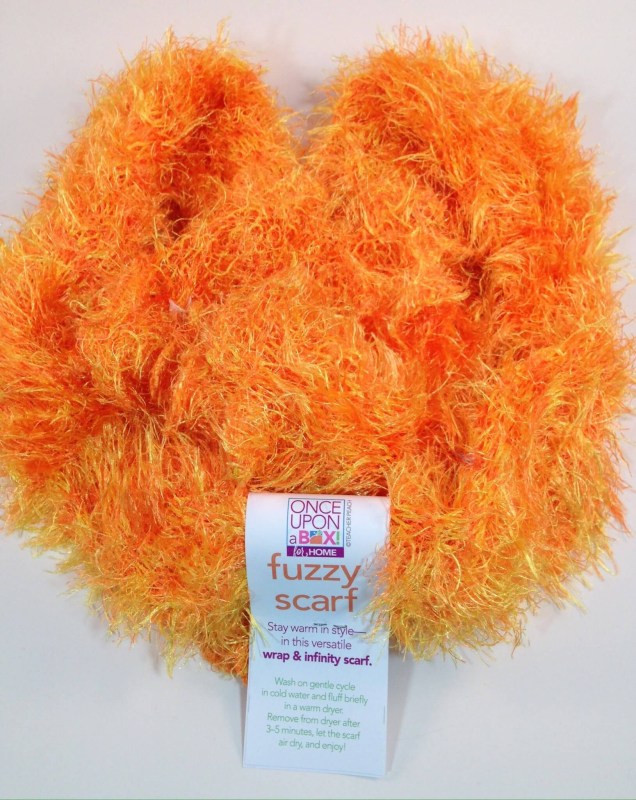 Fuzzy Infinity Scarf  ($5) Soft and fuzzy and it goes great with that bracelet from above!
To-Do List An extra long list since teachers have a million things to remember every day.
Rainbow Flower Soap ($1) I haven't tried this yet to see if the petals actually work because it is just too pretty to tear!
See? Pretty!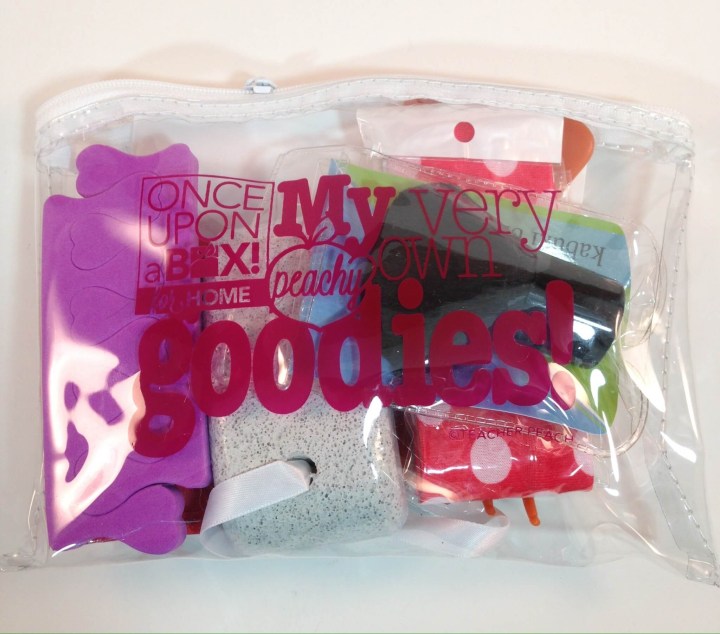 My Very Own Peachy Goodies Cosmetic Bag ($16.95) A bag full of items for pampering yourself after a long workday.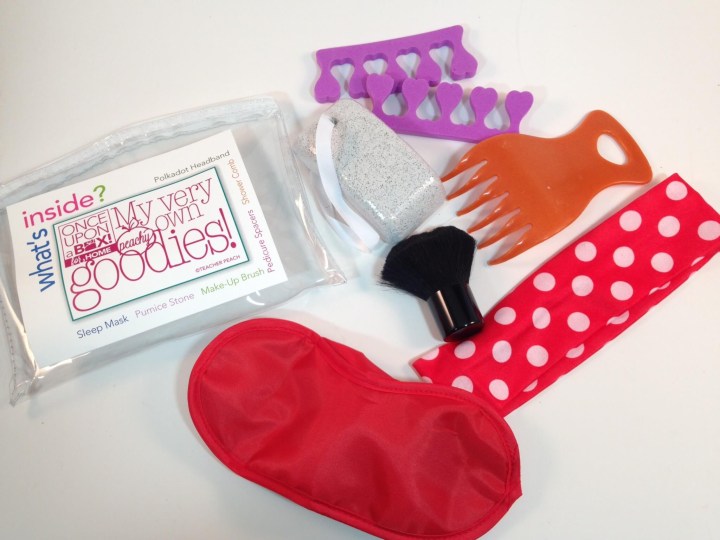 The cosmetics bag included an eye-mask, kabuki brush, headband, comb, toe separators, and pumice stone.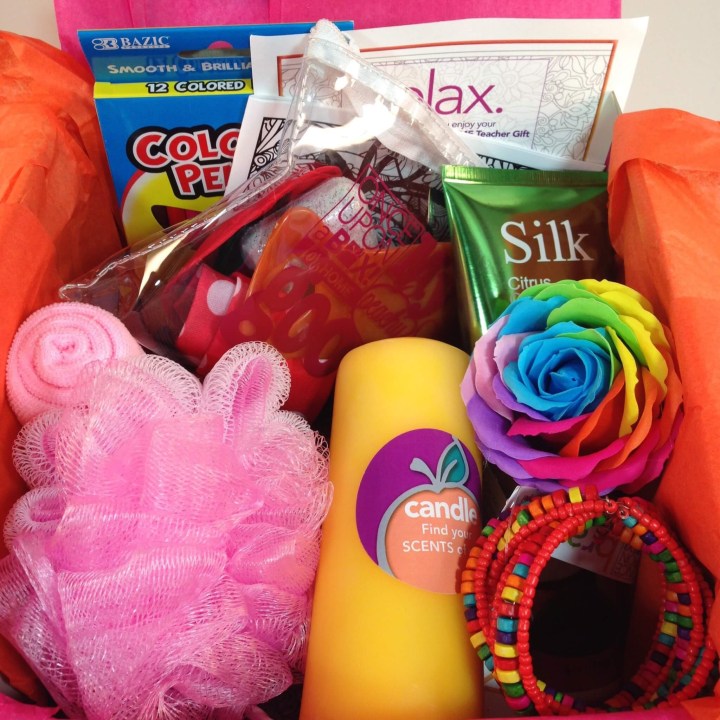 I really liked the presentation and thought that went in to this box! If you are looking for a gift for your child's teacher (but don't have time to put one together yourself) then this is a quick way to get a bunch of different items into their hands. The box value (based on prices from the Teacher Peach website) is about $54 but I think that is rather high since most of these items seem like they are from a low-price store and are not name brands. The savings comes from having everything ready to go on a moment's notice and the items are quite cute. The presentation is top-notch! I am interested in seeing what the new subscription looks like when it debuts!
What do you think of Teacher Peach?
Visit Teacher Peach: Once Upon A Box to gift this box or find out more!
The Subscription
:
Teacher Peach: Once Upon A Box
The Description
: A teacher gift box that's brimming with delightful items for teachers and their students. Available in SCHOOL and HOME variations!
The Price
: $34.95 per box