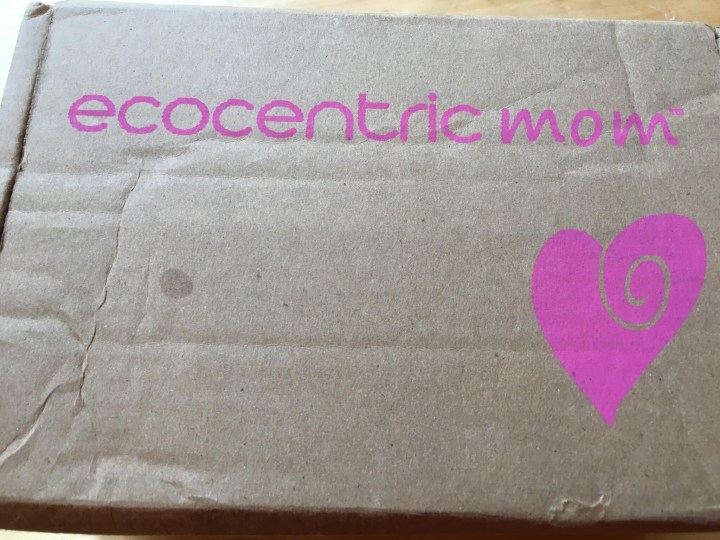 Ecocentric Mom is a monthly subscription box that delivers goodies for moms-to-be and moms at any stage of motherhood (Pregnancy, Mom and Baby, Mom). During the sign-up process, you get to specify where you are in the journey of motherhood and the folks behind Ecocentric Mom curate a box specifically for you! Thus, moms-to-be may receive different products than I did, as my daughter is about one and a half years old. All selected products will be ecoconscious. They may include products for one's home, health, beauty and baby. You can also choose bimonthly deliveries!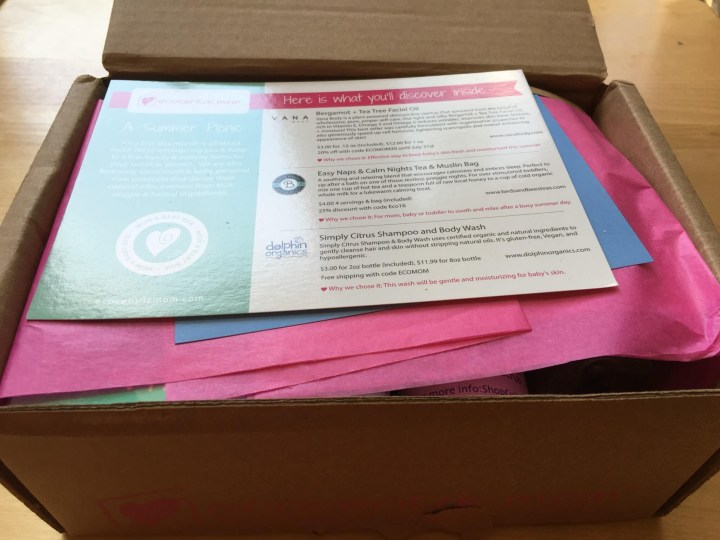 My box arrived well-packaged. The tissue paper was very attractive.
When I opened up the tissue paper, I was really pleased with the range of products: beauty supplies for moms and babies, baby feeding gear, tea, a spice blend and a soy-based stand-in for peanut butter.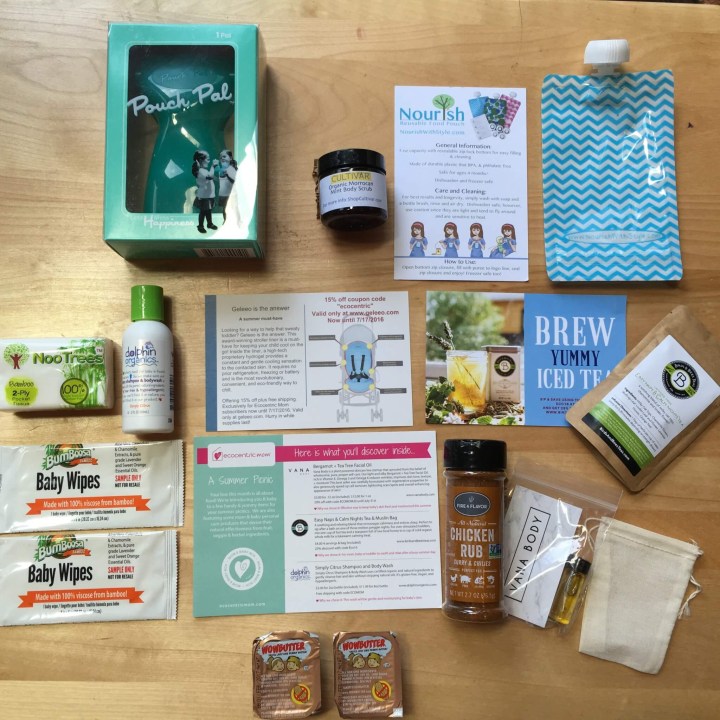 I like that Ecocentric Mom doesn't hesitate to include samples in addition to their main offerings each month.
All of the main products come listed on a nice large notecard. Ecocentric Mom's Mom & Baby Box's June's theme is A Summer Picnic!
Your box this month is all about food! We're introducing you & baby to a few handy & yummy items for your summer picnics. We are also featuring some mom & baby personal care products that derive their natural effectiveness from fruit, veggie &herbal ingredients."
I very much enjoyed using Vana Body's Bergamot and Tea Tree Facial Oil ($3)! It left my skin feeling soft and smooth. Formulated to lighten spots and increase skin elasticity, this lovely oil has a soft floral and woodsy scent dominated by notes of bergamot, mint, rosemary and lavender.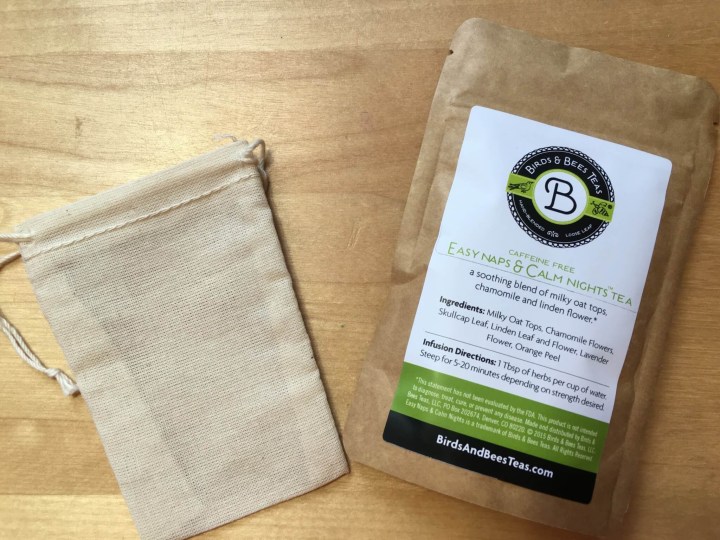 The Easy Naps and Calm Nights Tea and Muslin Bag by Birds and Bees Tea ($4) contains chamomile blossoms for soothing and relaxing. Ecocentric mom recommends combining this with honey and whole milk to help soothe overstimulated toddlers.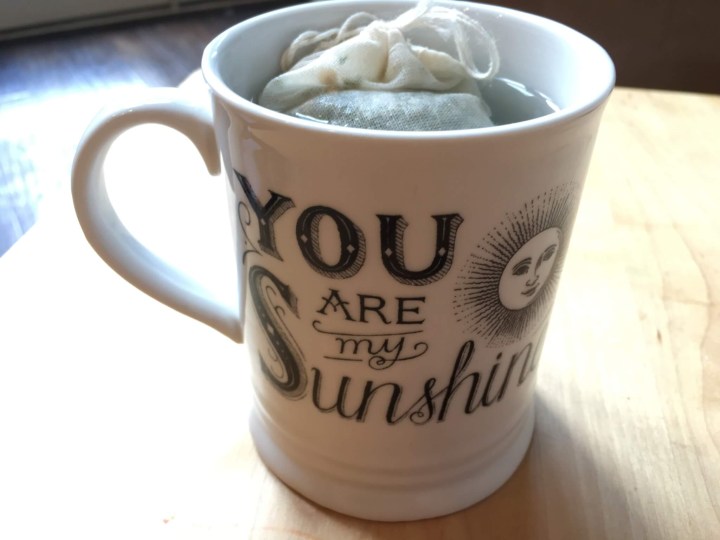 This was the first time I had ever used a muslin bag to seep my tea, and it worked very well. Neat!
Dolphin Organics's Simply Citrus Shampoo and Body Wash ($3) combines organic and all-natural ingredients to produce a gentle tearfree, hypoallergenic cleanser with a soft, lovely citrus scent. It's gluten-free and vegan as well. My skin felt great after using it.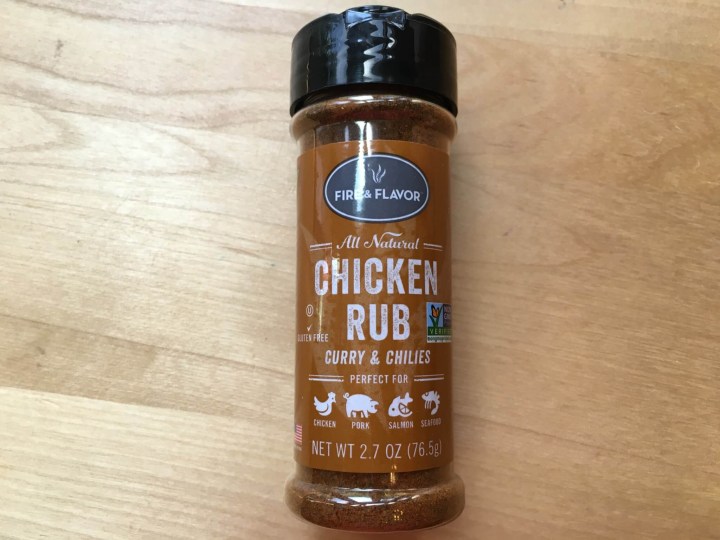 Fire and Flavor's All-Natural Chicken Rub ($4.99) is produced in the Classic City, Athens, GA! This blend of chilies and spices lends chicken a chili and curry flavor. Fire and Flavor recommends serving this with basmati rice.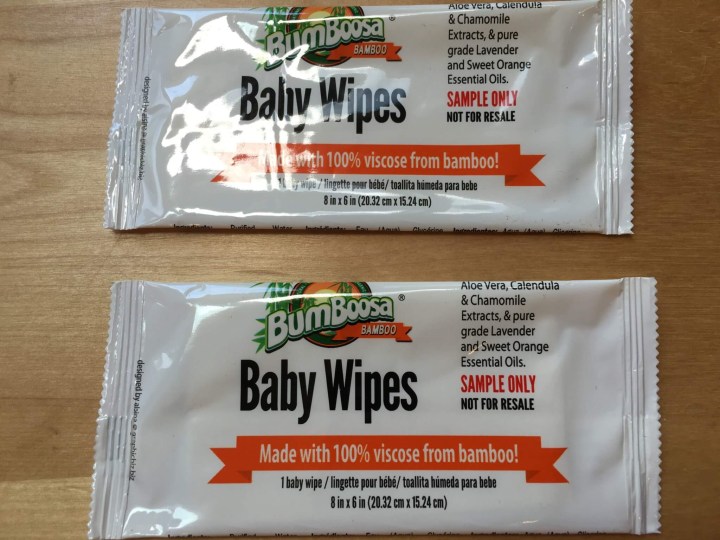 Bumboosa's Baby Wipes (sample included) are made with viscose from bamboo, which I think is really cool! The real downside here is the sample size. For each diaper change, I use a lot of wipes, and I just don't have the time or coordination to open a new package every time I want to use a wipe (we all know that I'll be trying to do that holding baby's legs up with one hand at the same time)! Needless to say, I wish each sample had included at least five wipes.
Noo Trees Tissues (sample included), like Bumboosa Wipes, are made from bamboo, which is very cool. They don't feel as soft as some of our other tissues, but they work well.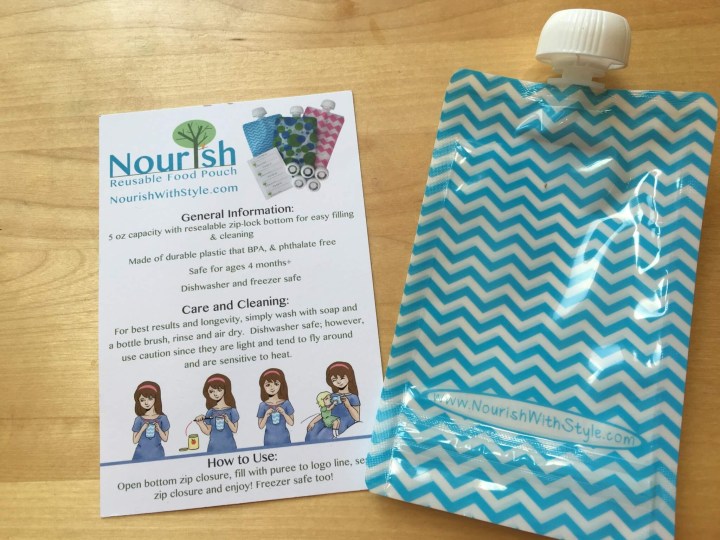 Nourish's reusable food pouch ($3) is great for those parents who want to make their own purees and serve them to their child on the go. Although I'm not one of those parents, I appreciate the pouch's inclusion in this box. I'll be regifting this.
The Pouch Pal ($10) is touted as the perfect solution for kids who enjoy reusable pouches but sometimes squeeze them too hard, resulting in spills.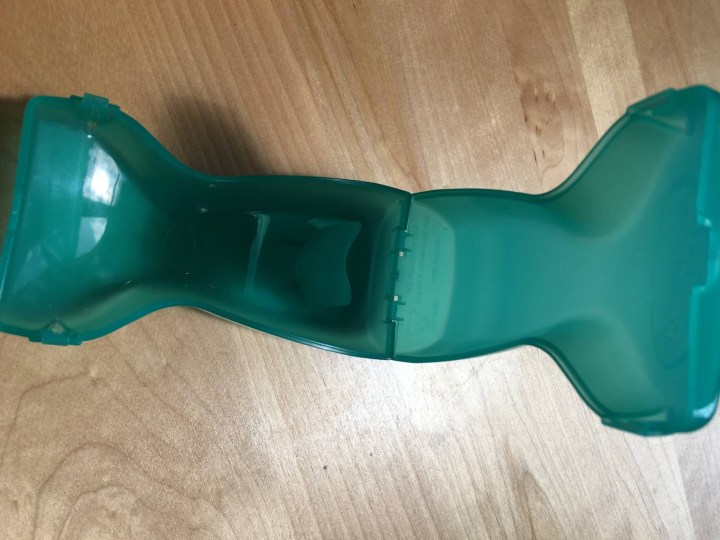 To operate, open the Pouch Pal, insert the pouch, click and give to your child.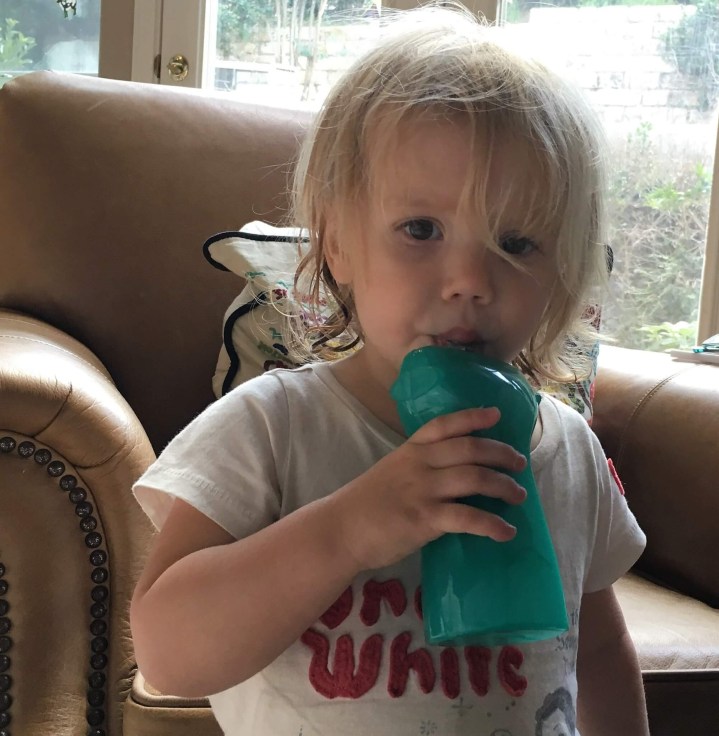 Try as I might, I could not get the Pouch Pal to lock around a Sprout reusable pouch. Neither could my husband. Still, it seemed sturdy enough to give to my daughter who thought it was pretty nifty. She ate her pouch from it happily until she declared the pouch empty. When we opened up the Pouch Pal, we realized at least half of the pouch remained. For us, this was better in principle than in practice.
Come to think of it, though, this product would probably work pretty well with Nourish's food pouch above. The Nourish pouch has a narrower neck than the Sprout pouch did, which was the real root of our problem. Also, pairing the Nourish pouch with the Pouch Pal is probably a good idea to prevent messes from either end of the pouch!
Cultivar's Organic Moroccan Mint Body Scrub ($10) is produced from certified organic ingredients. It has a strong mint scent that I find refreshing. This left my skin feeling better than it has in weeks. Cultivar's line of products is free from parabens, sulfates, synthetics, petroleum-based ingredients, perfumes and harsh preservatives.
Eccocentric Mom included some samples and discount coupons in this month's box that might be appealing to some subscribers. Geleeo produces a stroller insert designed to cool baby off. It looks pretty neat. We've managed to avoid using our stroller anywhere outside of Disney World with my daughter, though, so I'll be passing this along to a friend who might be interested.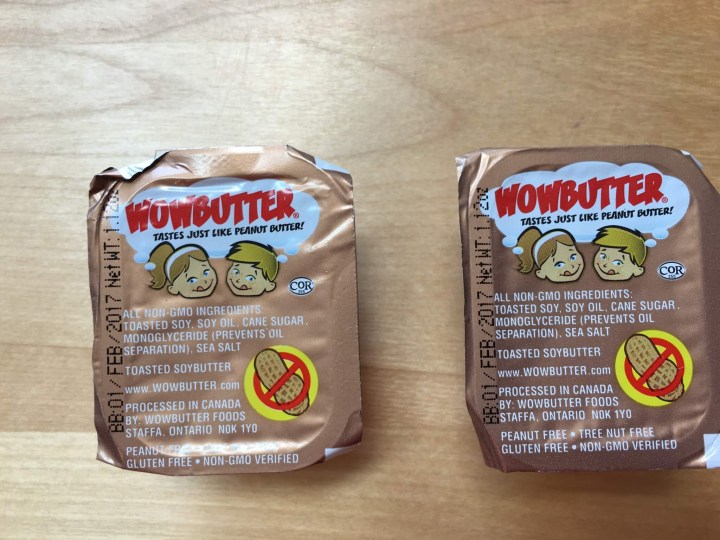 Wowbutter's Peanut Butter Substitute (sample included) was not my favorite peanut butter substitute. While I think it's great that there are substitute products out there for those who suffer from peanut allergies and tree nut allergies more generally, I didn't find the taste of this equivalent to the real thing. It tasted like toasted soy to me. It also had a very strong aftertaste. Still, I'm sure others would appreciate it more than I did.
This was my second month receiving Ecocentric Mom, and I enjoyed it! I've chatted with Brandy, and she's moved me to the Mom Box for next time, which will be fun to try. My baby is growing up too quickly! I look forward to seeing what they send out in two months!
Have you tried Ecocentric Mom?
Visit Ecocentric Mom to subscribe or find out more! Save $5 off first monthly box. Use coupon code HELLO5.
The Subscription
:
Ecocentric Mom
The Description
: Discover conscious brands and products for home, health, beauty and baby delivered to your door every two months. Whether you're a mom-to-be, a new mom, or have kids of any age, your baby box will contain goodies selected for your stage of motherhood. As your family grows, update your box choice so it always fits your needs.
The Price
: $24.00 every other month