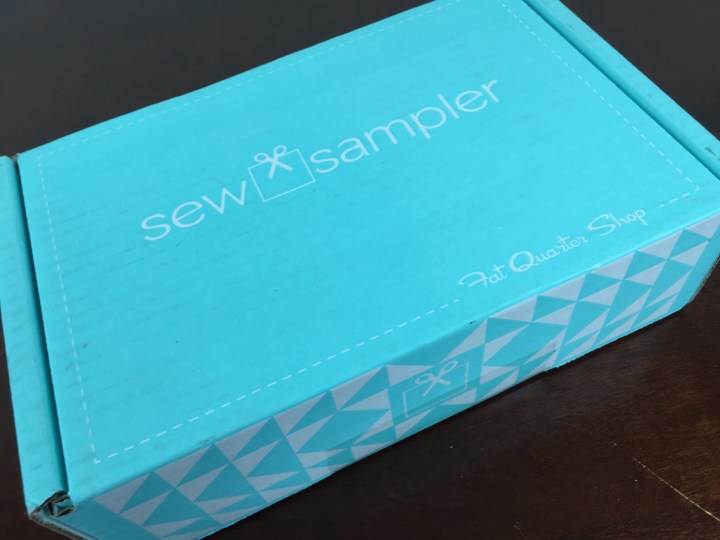 Sew Sampler Box is a quilting subscription box from Fat Quarter Shop that brings quilting goodies!  Signing up is a bit odd for this subscription – you pay a 99¢ membership fee and then you'll be charged monthly when the subscription ships ($24.95 plus shipping – $4.95 US, $12 Canada, $16 everywhere else).
The items are wrapped in beautiful royal blue tissue. The box contains at least 5 curated items, like fabrics, threads, patterns, etc, which you'll need when quilting.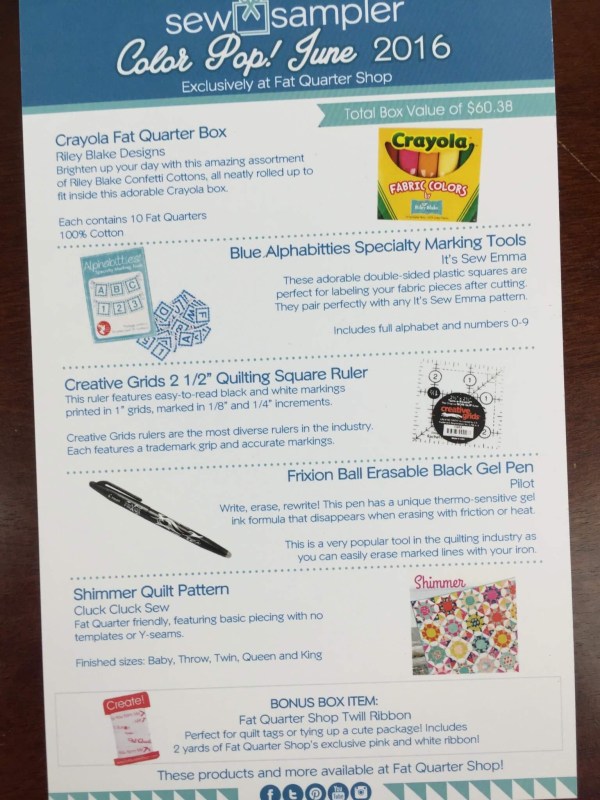 The information card provides more details about the items in the box. Since not all sewing subscriptions provide a great information card, I am happy to see this!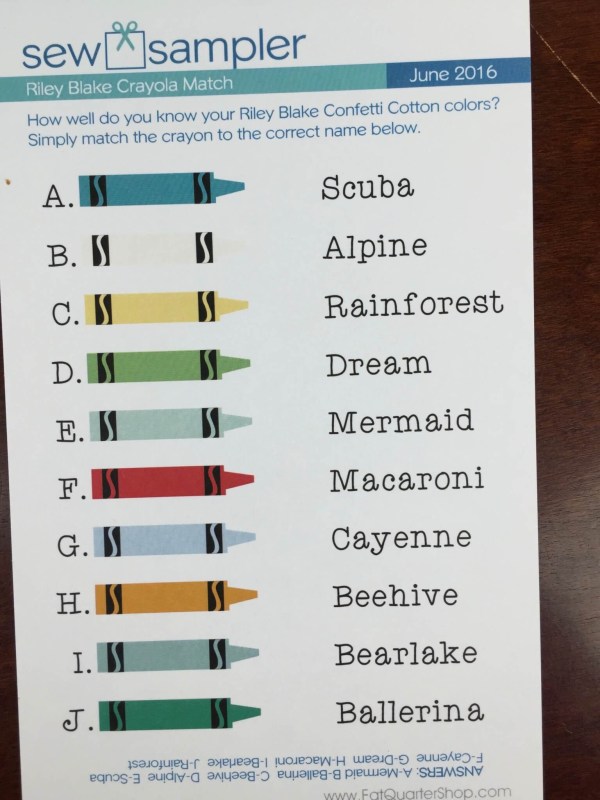 The back of the card features fun activities each month. This month, it's a matching type activity!
There are also instruction and recipe cards, coupon code, and sticker included in this box.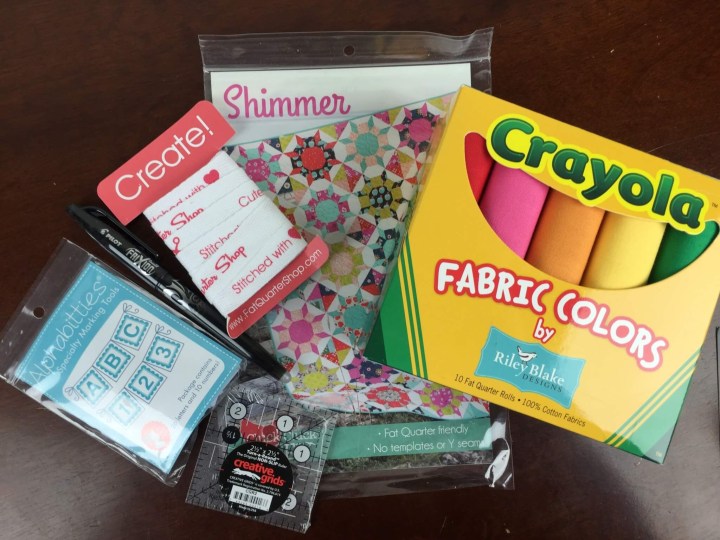 Everything in this month's box!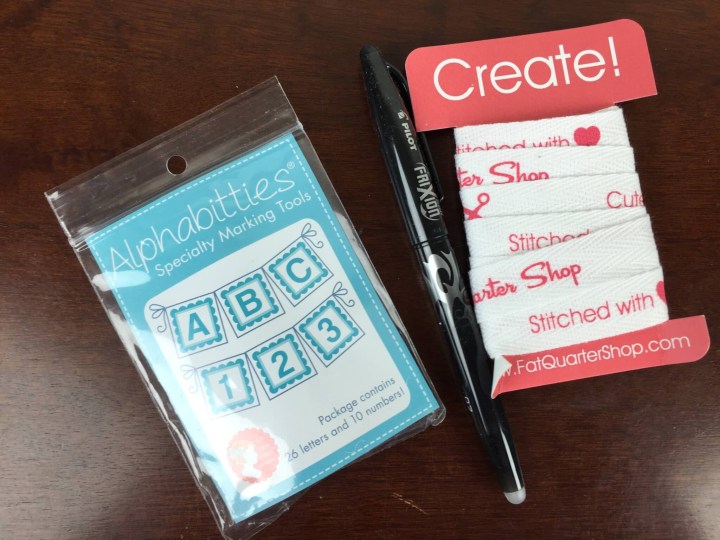 It's Sew Emma Blue Alphabitties Specialty Marking Tools ($7.99) These numeral and alphabet markers are for placing on your stacks so you don't lose track!
Pilot Frixion Ball Erasable Black Gel Pen ($1.63) This is perfect for quilting because the ink magically erases when it's heated (like when you iron it!).
Bonus Box Item! Fat Quarter Shop Twill Ribbon ($9.98) Oh this is cute for adding an accent or maybe a quilt loop in the back of your work.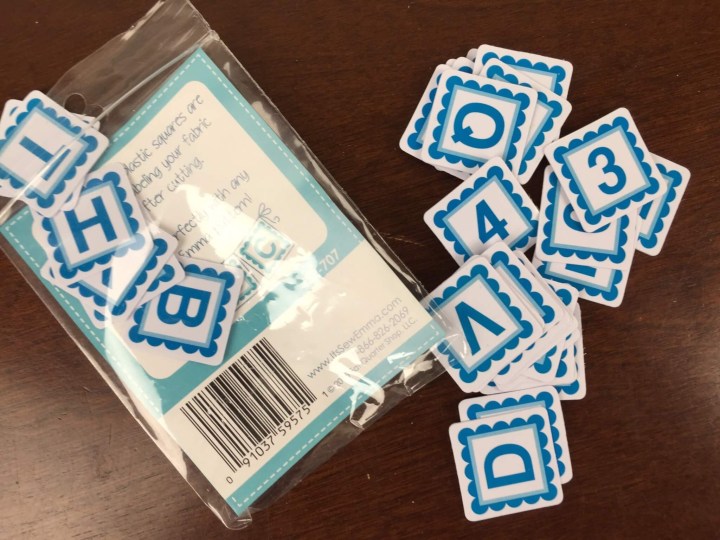 Here's the numbers and letter markers.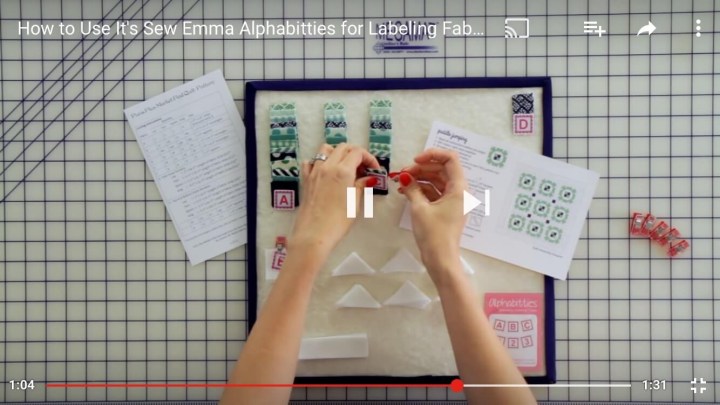 And here's how you use them! Just stick them on top of your cuts!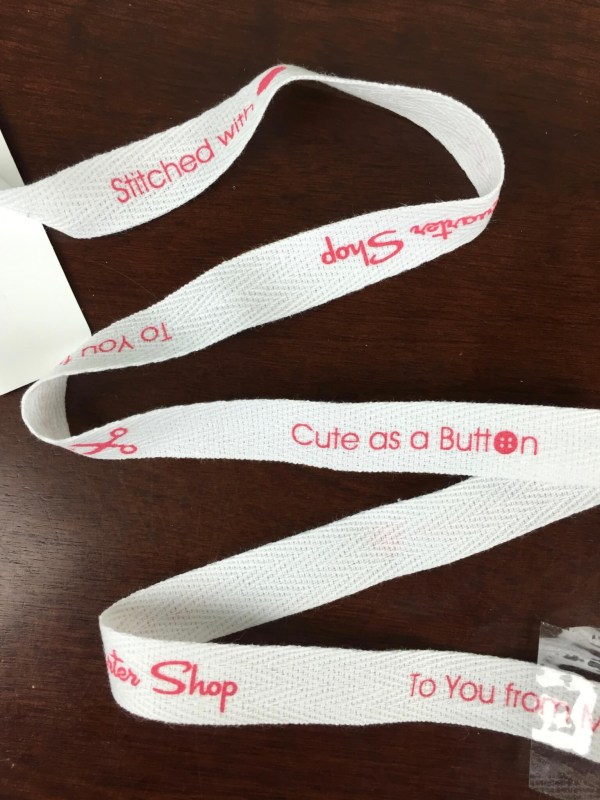 And the ribbon. You would just sew a piece of this diagonally on the back under the binding.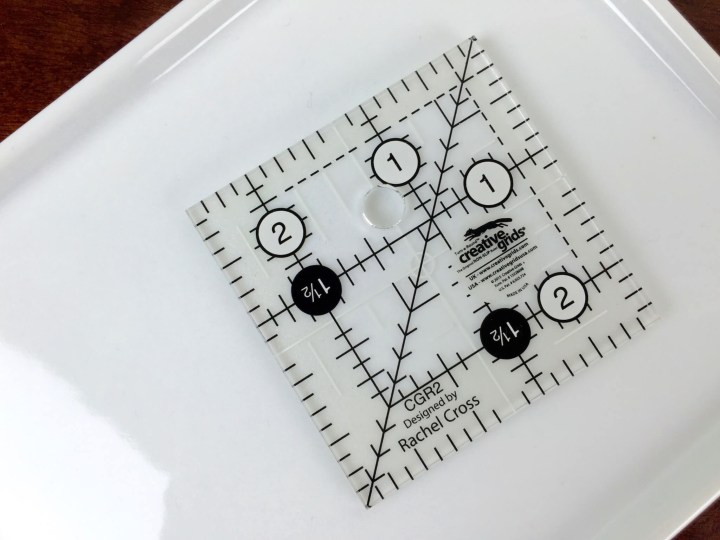 Rachel Cross' Creative Grids 2 1/2″ Quilting Square Ruler ($7.45) I love getting these in boxes. They are expensive and ALWAYS useful!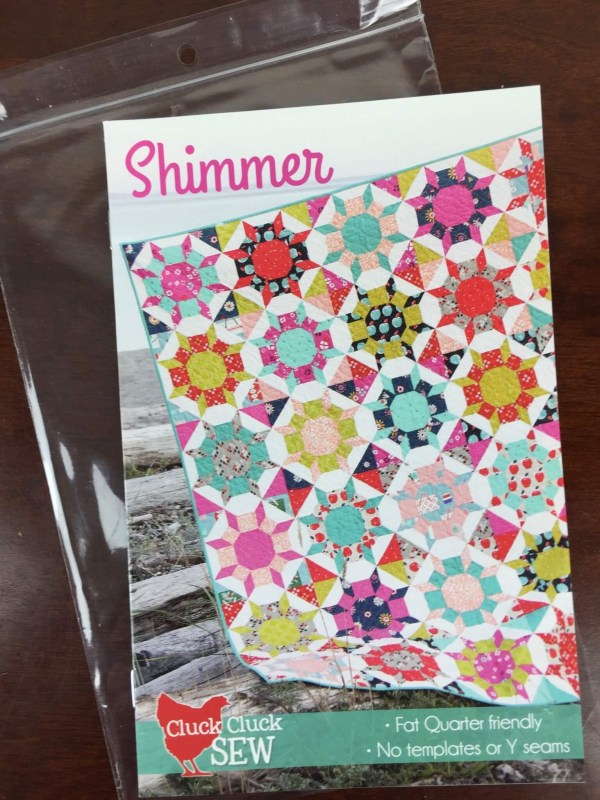 Cluck Cluck Sew Shimmer Quilt Pattern ($8.95) I absolutely love this pattern! You could choose to make it with super coordinated prints or more of a mix-match as shown here!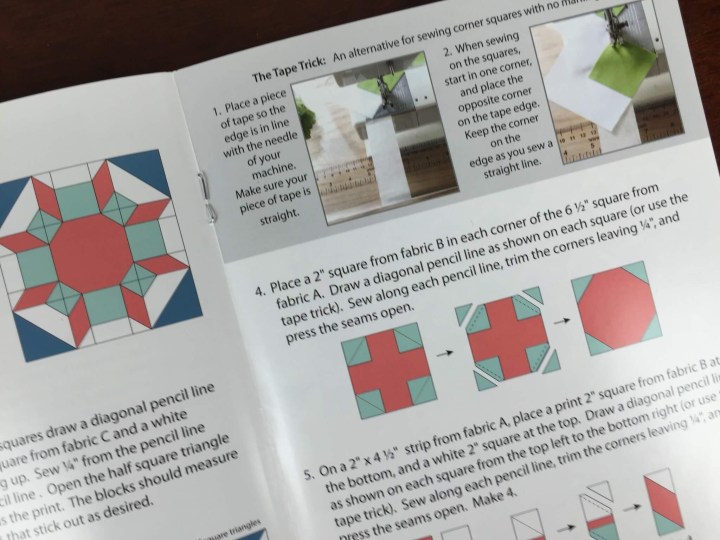 The pattern is nicely printed and easy to follow.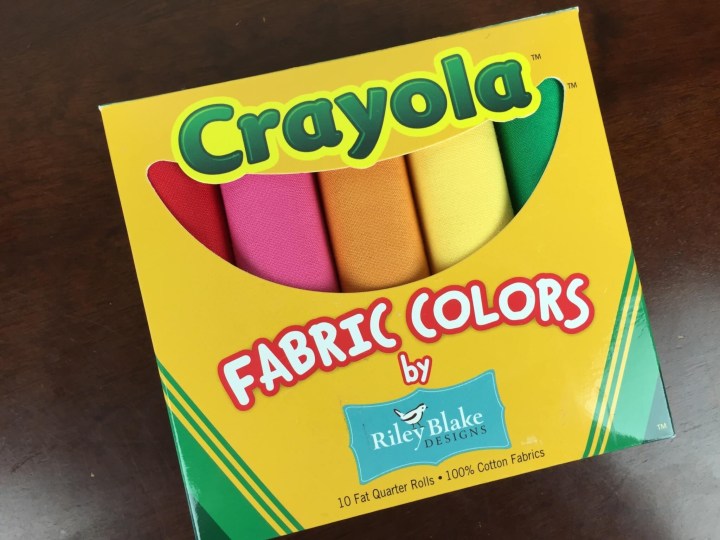 Riley Blake Designs Crayola Fat Quarter Box ($28.98) A cute (licensed!) set of 10 FQs.
There's a free downloadable crayon quilt pattern you can download.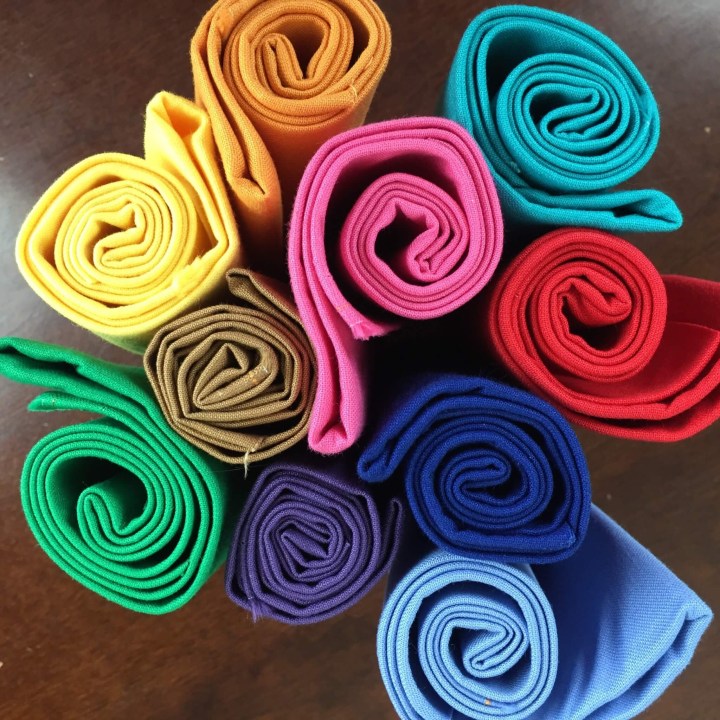 And the colors! Great basics!
Thank you for being a member of our Sew Sampler Program. We just mailed the June Sew Sampler Box and have started to hear about issues with the fabric in some of the Crayola boxes. We quickly recognized this issue and contacted Riley Blake Fabrics. The tape used to wrap the fat quarters is leaving a mark and discoloration on some of the rolls. This is not affecting all rolls or all boxes but a lot of them. (We apologize if this is partly spoiling the surprise of opening the box for some of you!)

We, along with Riley Blake, want to apologize and make sure you are 100% happy with your fabric and the Sew Sampler box. We have worked out a solution so anyone with damaged fabric will get a new, pre-checked Crayola box.

Please open your Crayola box and check to see if the tape has damaged the fabric.

If yes, please contact Riley Blake directly and they will promptly send you a new, pre-checked box. You can email Matt at the email address below or call their customer support number.

Matt Goeckeritz
[email protected]
1-888-768-8454
FYI – I received an email about possible issues with tape on the fabric, but mine didn't have any tape.
I thought this was a nice mix of basics and new doodads! At the same time I think a new pattern every single month is almost an inflation of the value – not many people can realistically make a new quilt every single month. However I really like the new specialty quilting finds in this box!
Have you tried Fat Quarter Shop's Sew Sampler?
Visit Sew Sampler to subscribe or find out more!
The Subscription
:
Sew Sampler
The Description
: The Sew Sampler Box is a monthly subscription quilting box that automatically delivers surprise quilting goodies to your door every month! Each month will feature a specific theme sure to surprise and inspire you! At least 5 specially chosen items which may include fabric, notions, patterns, thread and anything in between. The retail value of your items will always be more than your monthly cost! Don't be surprised if you receive exclusive or first-look items. Plus, as a member you will receive special discounts, exclusive deals and BONUS GOODIES!
The Price
: $29.90 per month