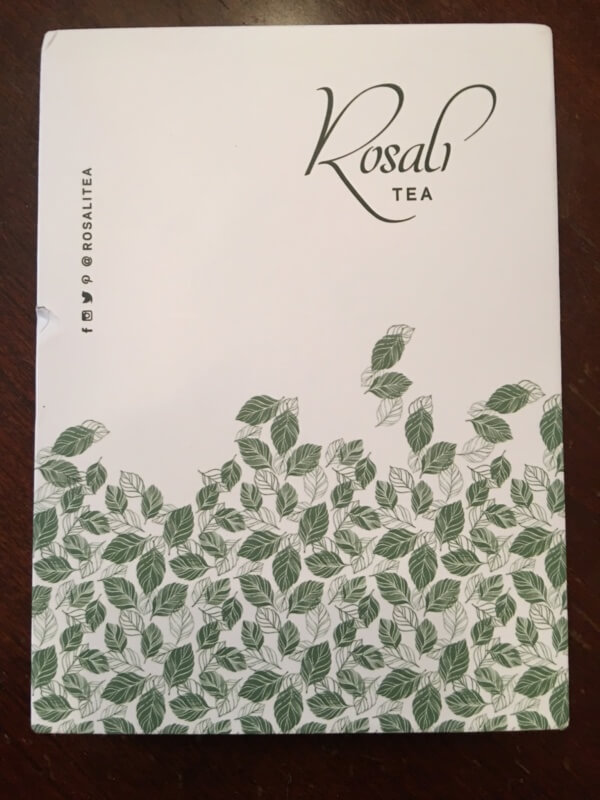 This month brings another three teas in the Rosali Tea each with unique characteristics, but each a very high-quality, great tea experience.
Rosali does allow you to tailor boxes to your likes and dislikes, to sign up, you visit the Rosalitea.com site and take a survey in order to get started. The result is a lovely box of teas, picked specifically for you!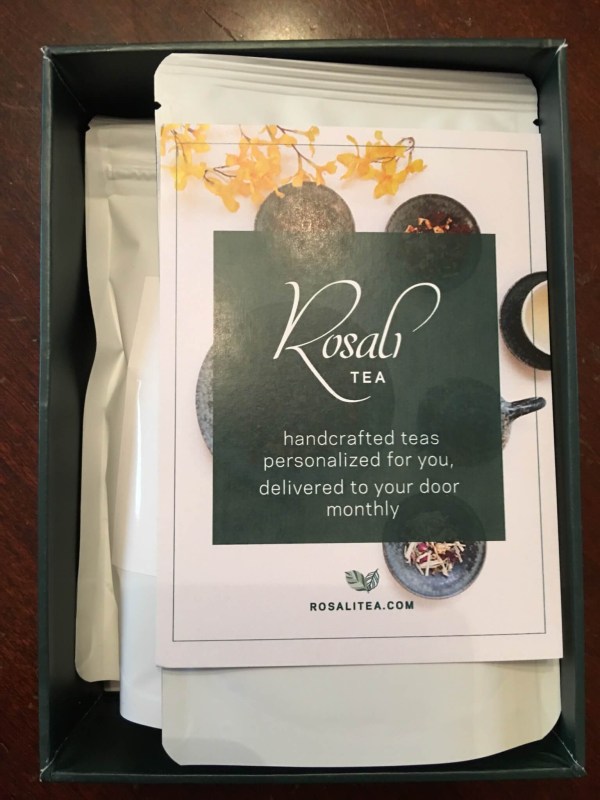 The Rosali box is as lovely as the teas that come inside. Not a lot of superfluous extras, but some nice things.

An envelope of quality tea bags. Although, I suspect if you are a big tea drinker, you already have your own.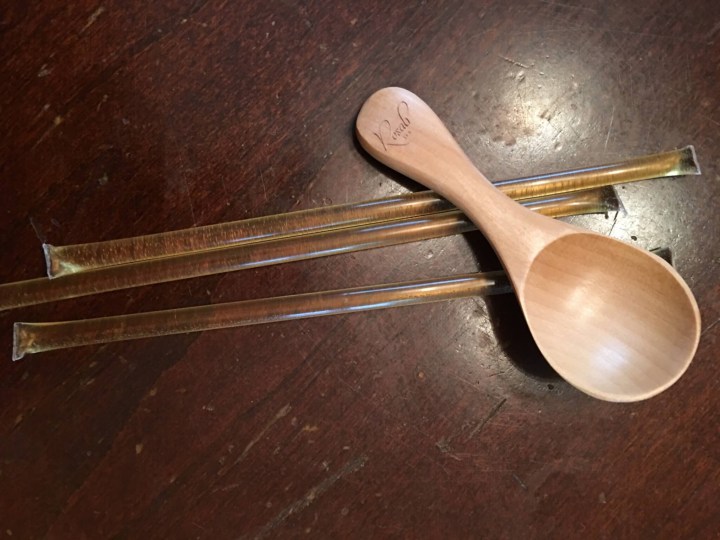 This month included a lovely wooden spoon and a couple of sticks of honey–which were great in the oolong.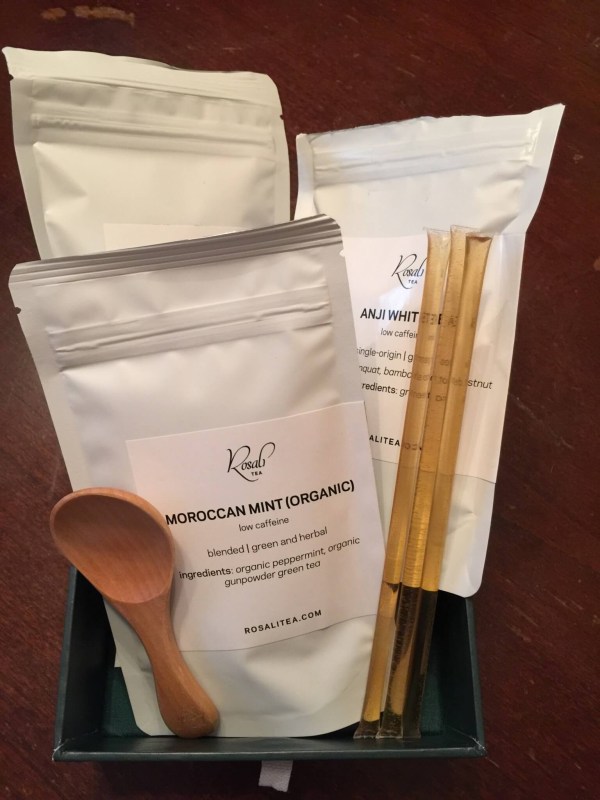 A very nice, well designed box. And now, on to the teas!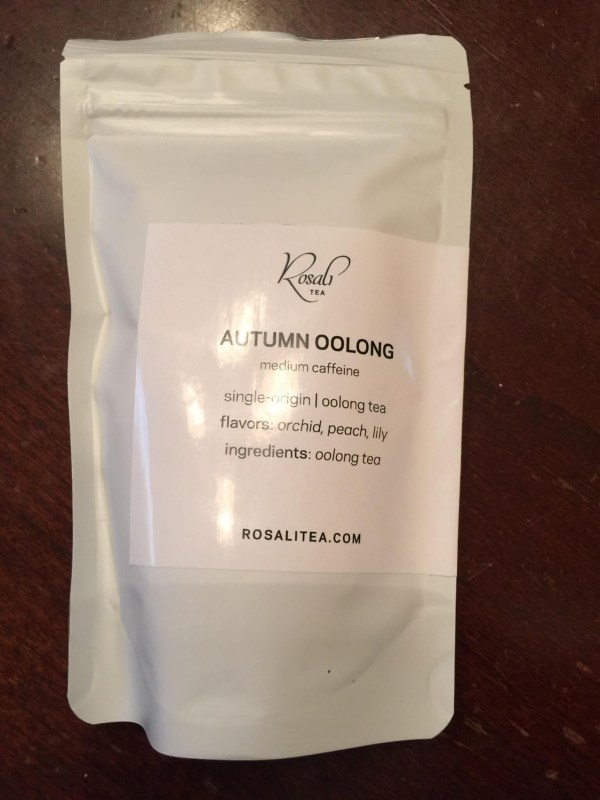 First up was the Autumn Oolong. I'm a fan of oolongs in general, so I was looking forward to this.
What Rosali Says: Tea has the highest level of aromatic oils in the fall. This is especially important for oolongs to bring out its rich fragrance.
What I Say: It definitely has a nice aroma. I can pick up the hints of peach and lilly. That's true in the flavor as well. The peach is upfront and lingers a bit on the tongue. I didn't really get the orchid, but there is a floral note that is not overly perfume-y, but just really pleasant. This is an excellent sipping tea–and if you add the honey to it as a sweetener, it really is delicious. A really great oolong.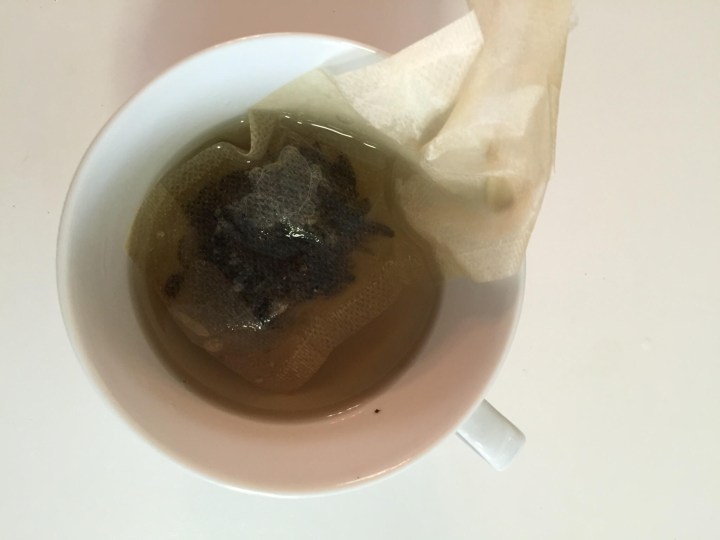 Up next was the Anji White Tea. If you've not had a white tea before, it's picked very early (some at the bud stage) and simply dried–not fermented. The result is a tea that looks more like simple leaves. It's called a white tea because it's harvested so early–but it's still a green tea, from the same plant as green and black tea, just not processed the same way.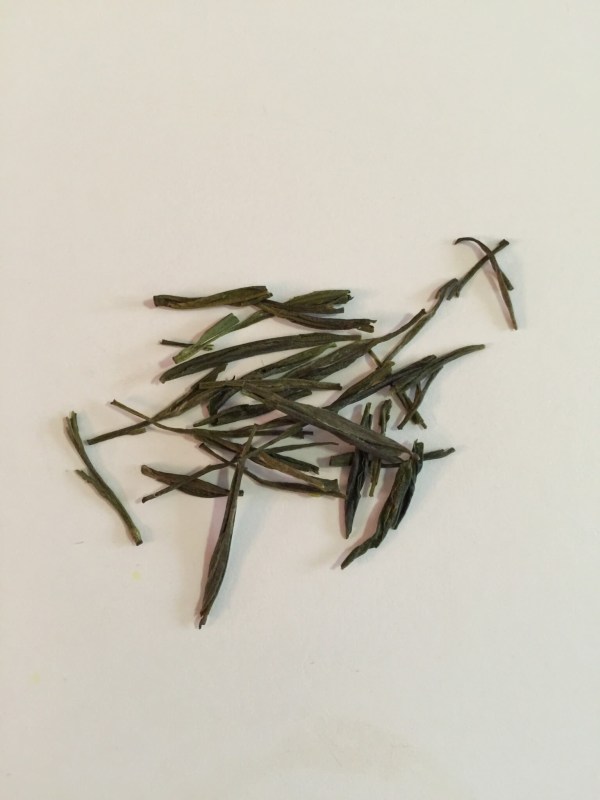 What Rosali Says: Anji White Tea is a rare tea highly esteemed for being one of the healthiest teas. Although it is called "white" tea, it is actually a green tea. The large long narrow leaves are yellow in color and have a recognizable fold along the length of the leaf.
What I Say: This is a very delicate tea. The aroma is faint. Still vegetal, but extremely subtle. It does not have the in-yer-face full on grassy or vegetal notes of many green teas, but a very subtle nuttiness combined with a fresh, light savory taste. It feels so light, a sweetener like honey would completely overpower this gentle tea. It finishes quickly, with very low astringency, and feels soft and lush in your mouth. Very relaxing.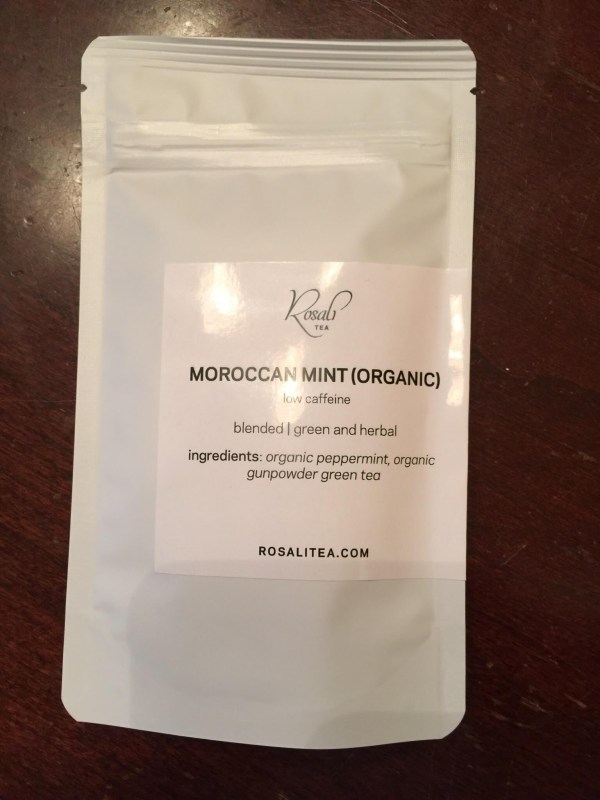 Finally, we have the Moroccan Mint, a blend of green and herbal teas.
What Rosali Says: Tea reached Moroccan shores via European traders in the 18th century, where it gained a foothold specifically in the form of Gunpowder Green tea from China, an assertive-tasting green that holds up well against even the strong flavors of mint. Traditionally enjoyed with sugar, it can be enjoyed hot or cold with or without sugar.
What I Say: With sugar, please. Overall, this isn't a bad tea. I'm not confident that the Gunpowder Green is all that assertive, and I don't think it held up well against the mint here. I found the mint to be very much the dominant flavor here, lingering for a very, very long time on my palate. That isn't to say it's unpleasant–it's not bad. And I think with sugar, it's actually pretty good. But I didn't get any flavor notes from the tea–just mint. Not overpowering or super strong, but definitely mint and not much else.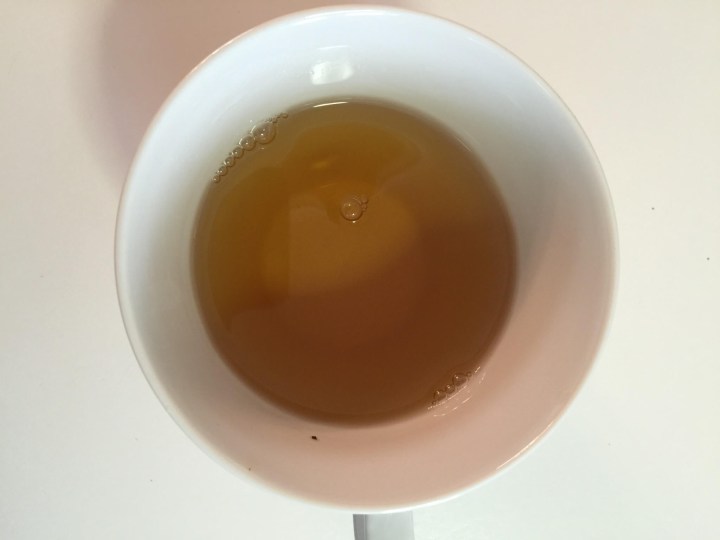 Once again, an outstanding box from Rosali Tea. All three teas were solid, interesting, and high-quality. While the Moroccan Mint wasn't my favorite, it was still a likable tea–and if you like mint teas, I think it'd be very enjoyable. But the Autumn Oolong and the Anji White were both really excellent teas and could easily become go-to staples in any tea lover's house.
Visit Rosali Tea to subscribe or find out more! Save 20% off the first month. Use coupon code  HS20.
The Subscription
:
Rosali Tea
The Description
: Rosali Tea is a fun way to discover exclusive teas from around the world that you can't find in grocery stores. Our tea expert personalizes your tea box based on your preferences, and we source from artisans who handcraft and blend their teas in small batches. We offer different price points to fit your budget and daily needs and deliver monthly. Shipping is free, we deliver to your door, and you can cancel anytime.
The Price
: $14.95 per month