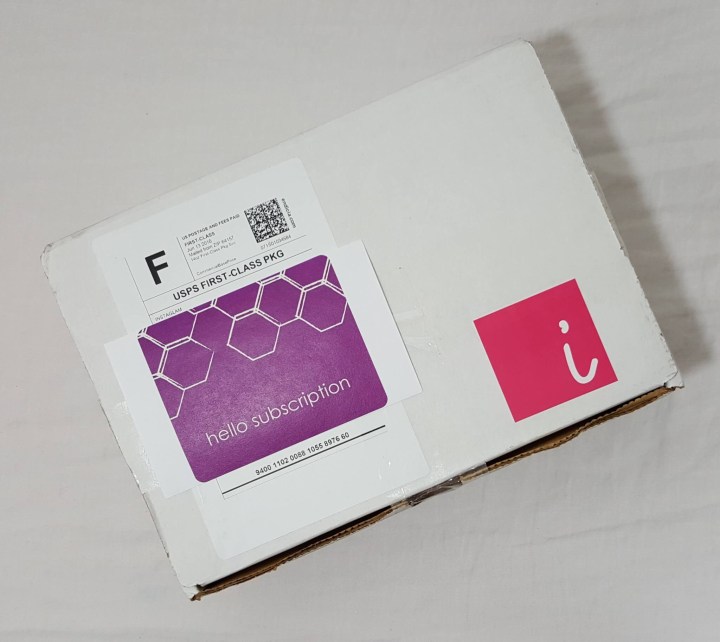 Instaglam is a new accessory and clothing subscription box that creates perfectly styled outfits and sends them straight to your door! For $59 per month, each box includes a top  and three accessories such as a scarf, earrings, bracelet, and sunglasses.  Pre-paid subscribers with an extended plan will receive a survey each month to select the top style, unless it was selected at time of purchase.  The 3 accessories will coordinate with the theme.   Add-ons such as pants, wallets, purses, shoes, etc. are available at an additional cost.  Sizes XS-3X are available.  The theme for May was A Coral Summer Collection.  (Note:  The details of the subscription have changed some since my last review.  The number of included accessories has dropped from 5 to 3.  Prepaid subscriptions are significantly less than purchasing a single box – get 3 months for $95 and 6 months for $180!)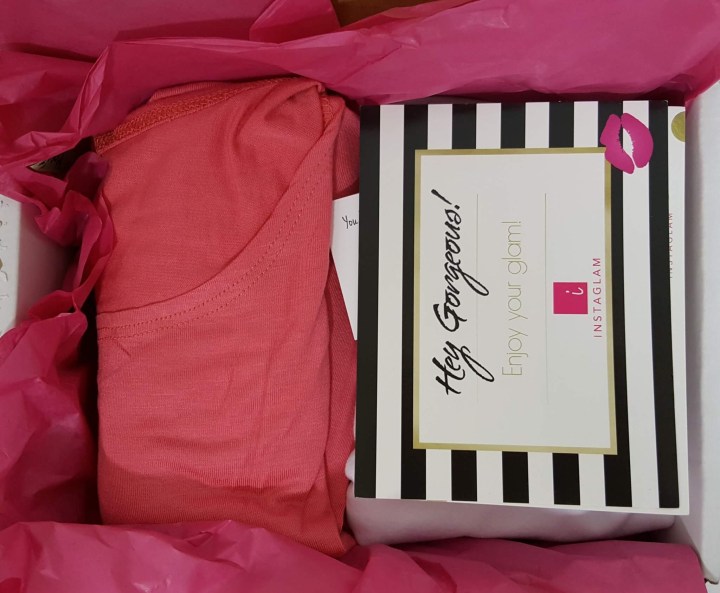 Everything is neatly packed and wrapped in tissue paper.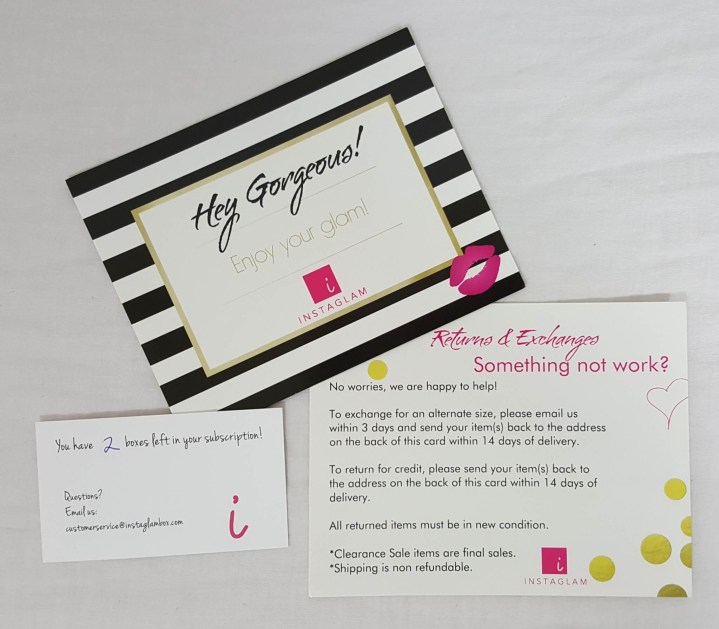 The box didn't come with an information sheet.  There was card to let me know how many shipments I had left, and another that provided details for completing a return.
Items in the May box.  I did not choose any add-ons with this order, but I did make an apparel substitution.  Also, I chose to have Instaglam surprise me with the jewelry selections.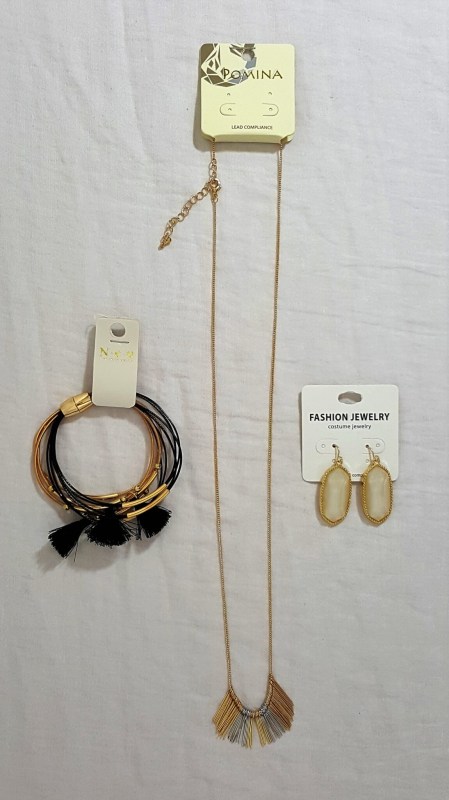 n.e.u. Multi-Strand Magnetic Clasp Bangle Bracelet with Tassels ($19.99):  The link doesn't contain an exact match, but it is the same bracelet and brand.  This is a very pretty bracelet, but a little small for me.  The strands and tassels are completely on trend.  I also like the magnetic clasp – I'm not coordinated enough to get most bracelets on by myself.
Pomina Gold/Silver Fringe Necklace ($10-$15?):  Sorry about the bad lighting in the picture.  This is yellow gold-tone and silver-tone fringe on a 24″ chain.  I love how delicate the chain is, and then there's a bit of edge or boho chic with the fringe (depending on how you style it).
Fashion Jewelry/Costume Jewelry Drop Earrings ($5-10?):  These are a faux quartz stone in a gold-tone setting.  I like the ivory color of the stone, and it has a hint of shimmer.  The style is very classic, and these can be worn with a variety of styles.
Bozzolo Cami in white ($6.50-$9.25):  I received this exact cami in last month's box, but in jade.   Very happy with the longer length of this, and it is a great layering piece.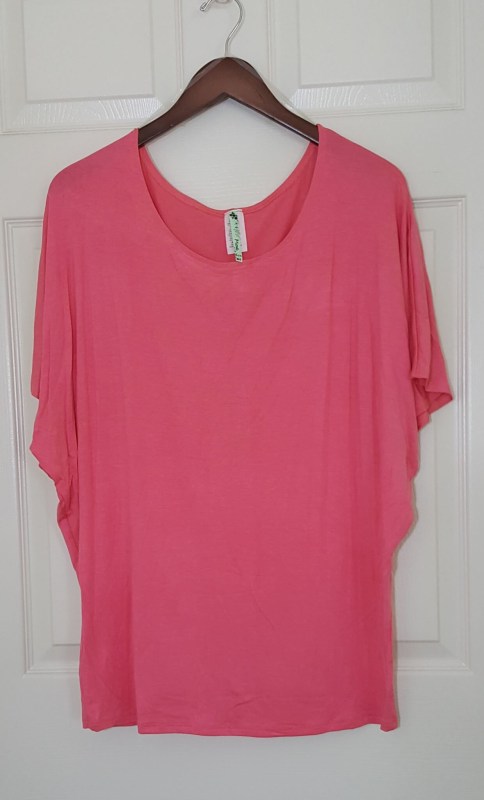 MOA Dolman Sleeve Tunic Top ($22.99 Overstock.com):  I liked the kimono style top that I received last month, so I opted to swap for this instead of the featured top.  This is a rayon/spandex blend, so it has some stretch and is lightweight.  The flowy fit means it won't cling to me too much, which is great considering the extreme weather we've been having in Florida.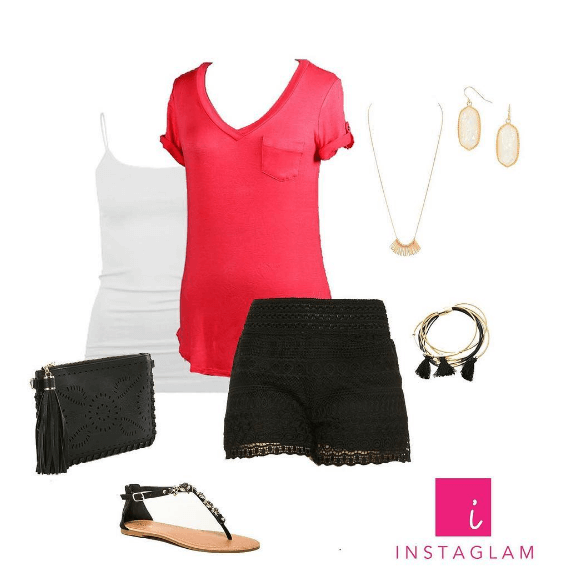 This is the Full Box for May, which includes the add-on items for the month.  The featured top was a tab-sleeved V-neck pocket tee.  Which do you prefer – my swap or the featured shirt?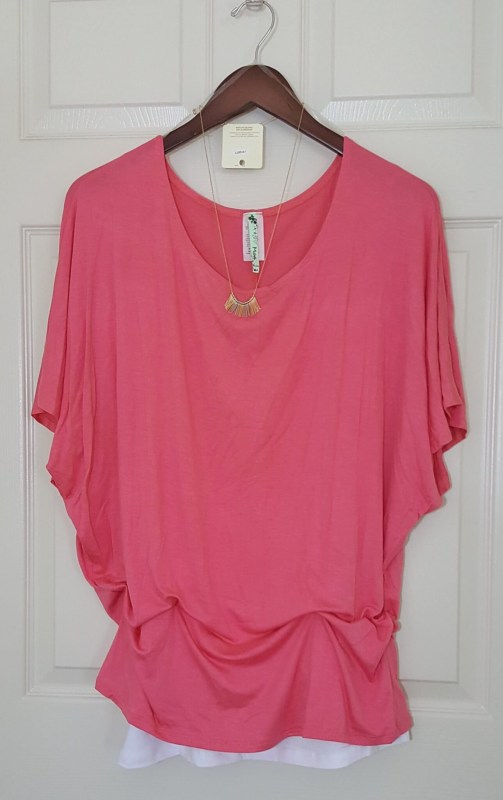 This is kind of the look you're going for with the pieces.  The cami should be visible, so ruche the top around your waist/hips.  The look works well with leggings or skinny jeans and some cute shoes.
I wasn't able to get actual retails for the necklace and earrings, but my estimates put the value of this box between $64-$77.  These are more than the cost of a single Basic Box.  Instaglam is a nice way to add some on-trend basics to your wardrobe and jewelry.  The pieces work well for an overall coordinated look, but they can also be integrated with items already in your closet.  The dolman top is definitely my favorite piece, with the necklace a close second.  Next month's theme is A Pop of Pink.
Visit Instaglam to subscribe or find out more!
The Subscription
:
Instaglam
The Description
: Instaglam is a new accessory and clothing subscription box. Each box includes a Top & 5 Accessories such as Scarf, Earrings x 2, Bracelet, and Sunglasses. Sizes XS-3X.
The Price
: $59.00 per month