Hive Box is a monthly subscription for people who love bees! After signing up, each month you'll receive 4-5 bee related products, each of which is selected based on quality and responsible production. The Hive Box loves to include products produced by small local businesses and artisans in their boxes. Featured products can run the gamut from honey and other foods to candles, soaps and stationery. The box costs $24.95 plus $4.99 shipping. For those who are interested, Hive Box also produces a mini version of their box that includes 3 products for $15.95 plus shipping.
My first box arrived in a priority mail envelope that was surrounded by peanuts and enclosed within a larger priority mail box. This note was included among the peanuts. I thought it was lovely!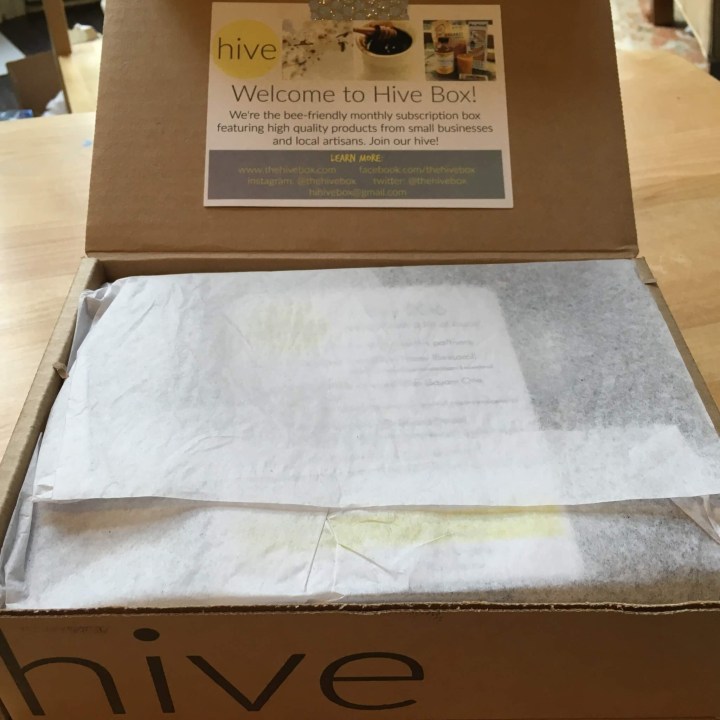 The Hive Box itself was very attractive. All products arrived packaged with squiggles and contained within tissue paper.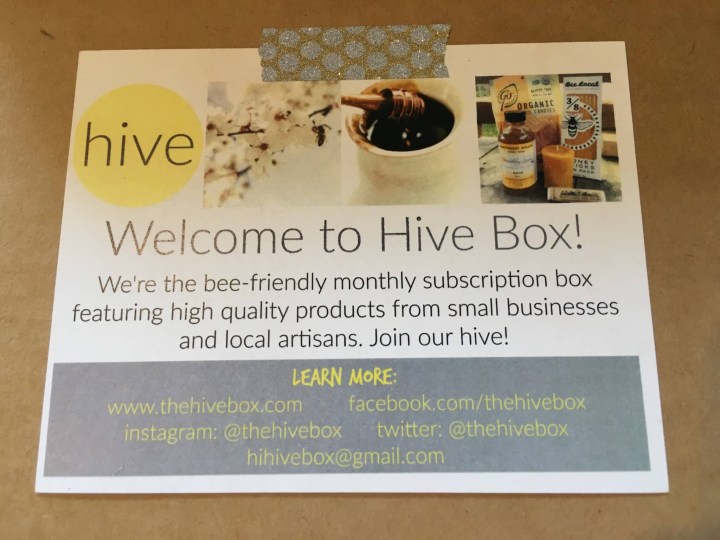 Their introductory card sums it up well. I couldn't wait to dive in!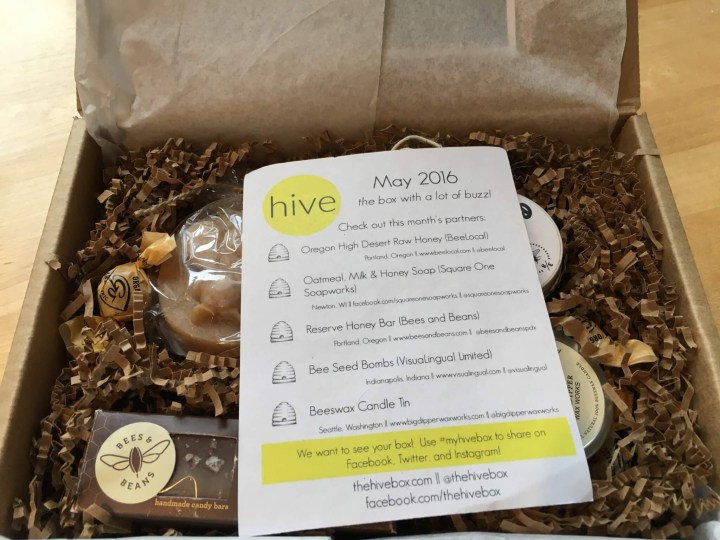 How attractive! It certainly looks buzz worthy to me!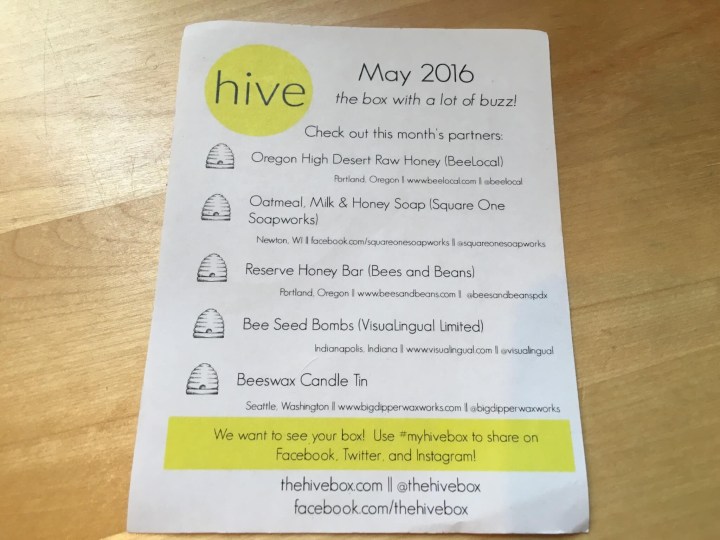 The items in this box appear to be curated from the midwest as well as the Pacific northwest.
I love what I'm seeing! I can't wait to try everything!
The May box contains honey, soap, a candy bar, seed bombs, a candle and some hard candies.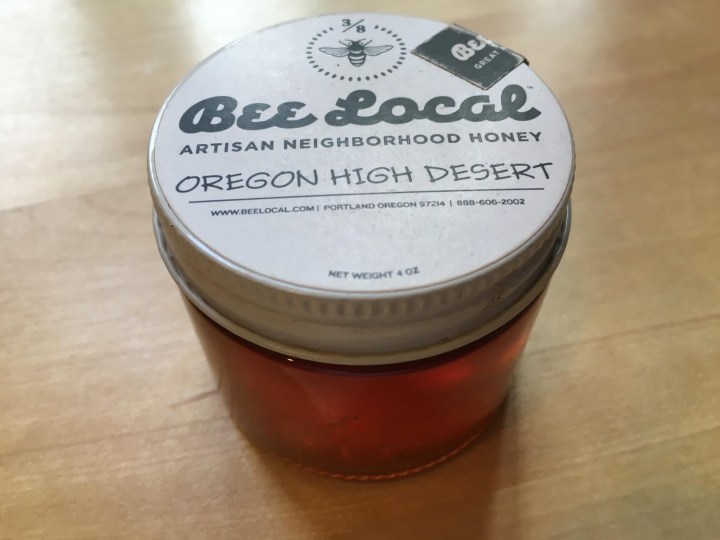 Bee Local's Oregon High Desert Raw Honey (about $7) is so good! It's a raw, single origin honey that has been filtered, but still retains some pollen. The bees from eastern Oregon who produce this honey thrive on nectar from the following plants: sage, rabbit brush, larkspur, buckwheat, phlox and other high desert wildflowers.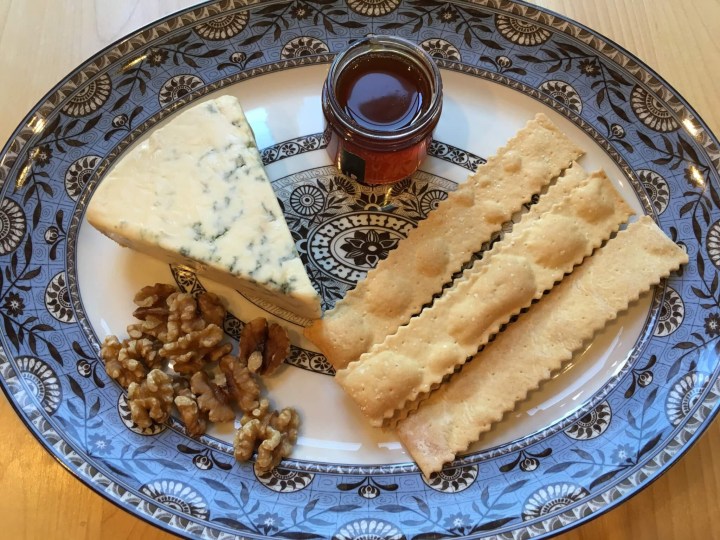 I decided to serve it with some Stilton and crackers.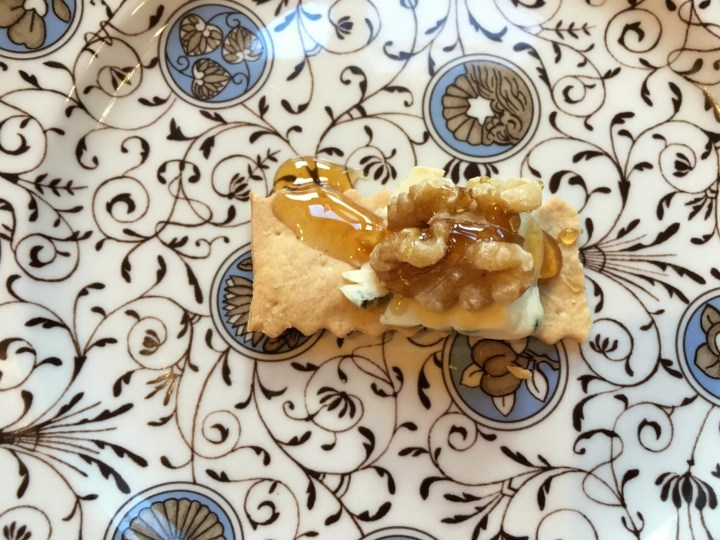 It was so good that, after eating my cracker, I succumbed to eating it directly from a spoon. I could literally eat this stuff all day every day. Divine!
I love this Square One Soapworks Oatmeal, Milk And Honey Soap Bar (roughly $6)! It boasts a soft, pleasant scent and cleans effectively, leaving skin soft and smooth. The oatmeal acts as a natural exfoliant. The bee shaped mold is an added bonus.
This Bees and Beans Reserve Honey Bar ($6) is delicious! Coated in dark chocolate and lots of sea salt, you may prefer to enjoy this with a glass of water. Inside, you'll find a light, delicate hazelnut nougat with the consistency of a super soft marshmallow coupled with a sweet, soft honey caramel. Delicious!
I'm very excited to receive these five Toadflax, Echinacea And Black-Eyed Susan Seed Bombs ($8)! I'm in the midst of expanding the pollinator garden in my backyard, and I hope that these will help me attract even more bees!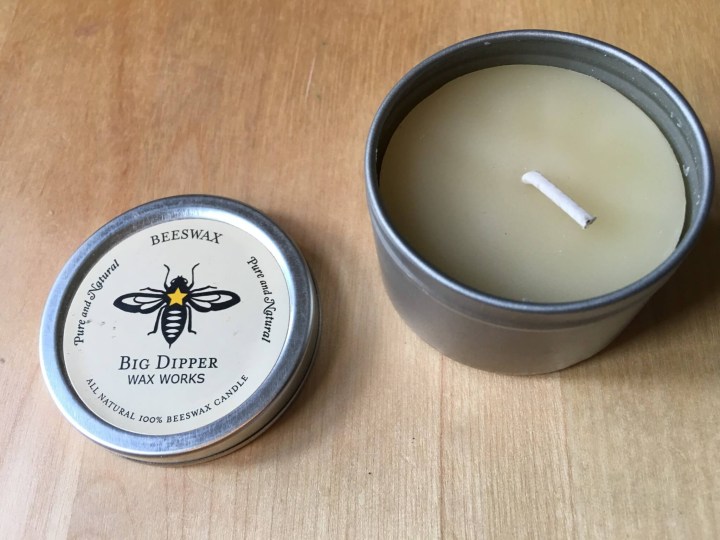 This small candle by Big Dipper Wax Works ($5) has a pleasant, soft honey aroma. Made from 100% beeswax, it promises to burn for over 12 hours.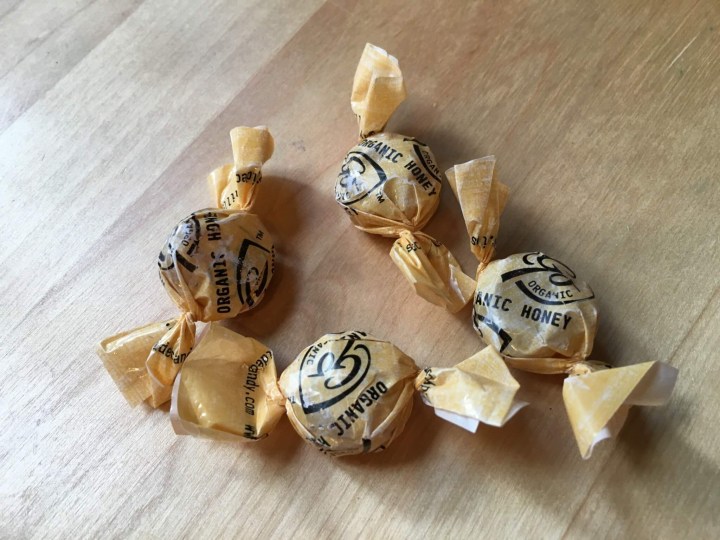 These Go Organic Honey Flavored Hard Candies (about $0.50) were an added bonus! After seeing me suck on one for a long time, my son asked if he could have one too. We were both fans of these.
I loved my first Hive Box! I thought the curators did an excellent job selecting products of great scope that would appeal to a range of bee enthusiasts. I personally loved every item in my box and look forward to continuing to enjoy the honey, soap and candle in the future. If my flowers take root, they'll be a lovely reminder of what fun I had receiving this box!
What do you think about Hive Box?
Visit Hive Box to subscribe or find out more!
The Subscription
:
Hive Box
The Description
: Each month, Hive Box subscribers will receive a selection of natural bee-friendly products, like honey samples, beeswax and beauty products, bee-themed paper goods and decor. Each box features 3-5 natural bee products! All products are carefully chosen for quality and responsible production. Hive Box supports small business and local artisans! Save the Bees!
The Price
: $25.95 per month