Daisy-Care focuses on the bonding experience between you and your dog with Everyday Subscription Care Packages which include delicious treats for your doggy! Daisy-Care boxes have two options. Option one is a Treats Subscription available in Small, Medium, and Large sized dogs. Option two is a Treats & Toy Subscription available for Small, Medium, and Large size dogs. The Treats & Toys Subscription is further customized with a Gentle or Ruff Toy. All dog treats are made in the USA. There is a toy sizing chart if you are unsure what size to order.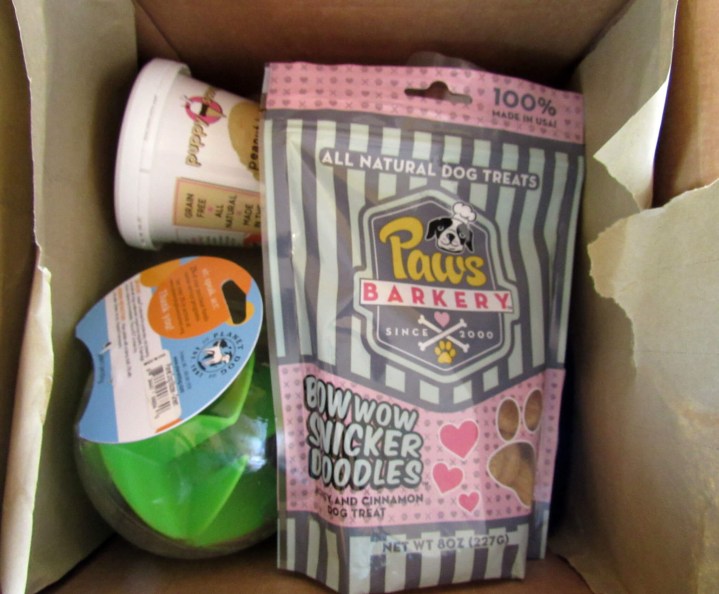 The doggies were ready to check out the box!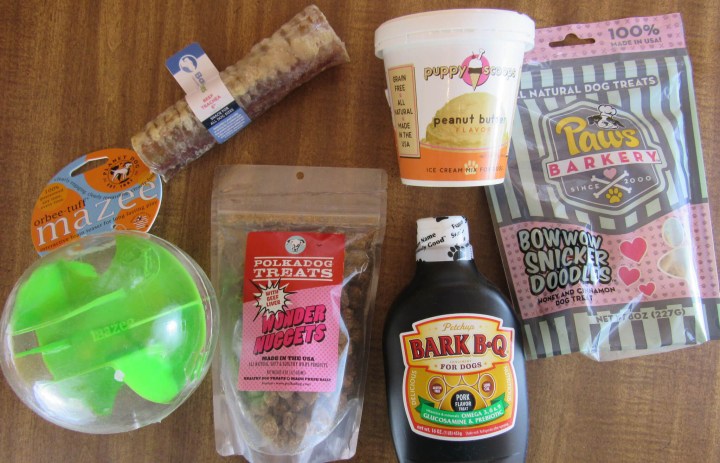 Here are the items for the July Daisy-Care Box. An information card was not included in the box, as the box is customized! This review is for the Everyday Treats and Toy Subscription Care Package – Ruff Toy Option. Daisy the English Shepherd and Odie the Borader will be our reviewers.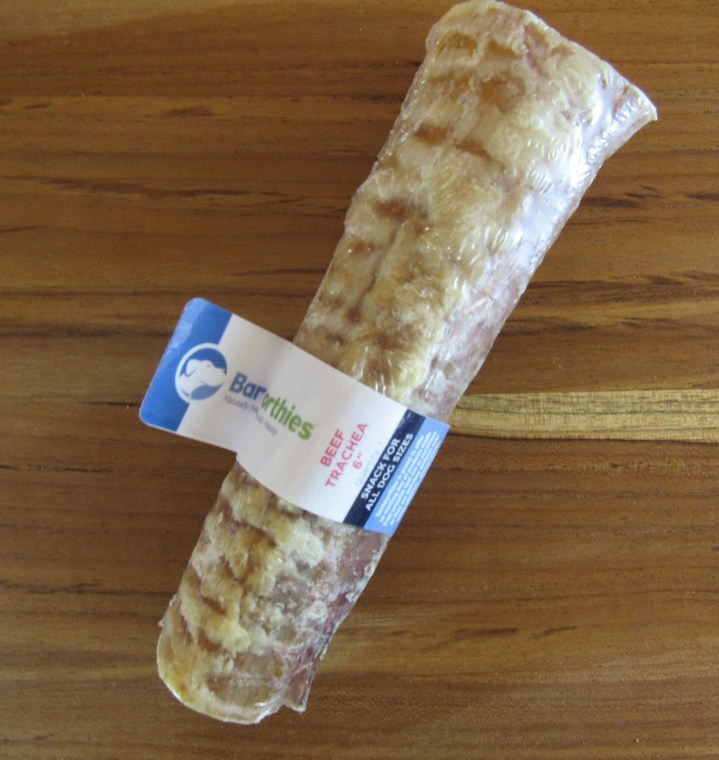 The Barkworthies Beef Trachea 6″  ($1.74) is made from free-range, grass-fed cattle. It is free of additives, chemicals, and preservatives. The 6 " is for small and medium dogs while the 12″ is for large dogs. It made no difference to Odie who relished chewing on it.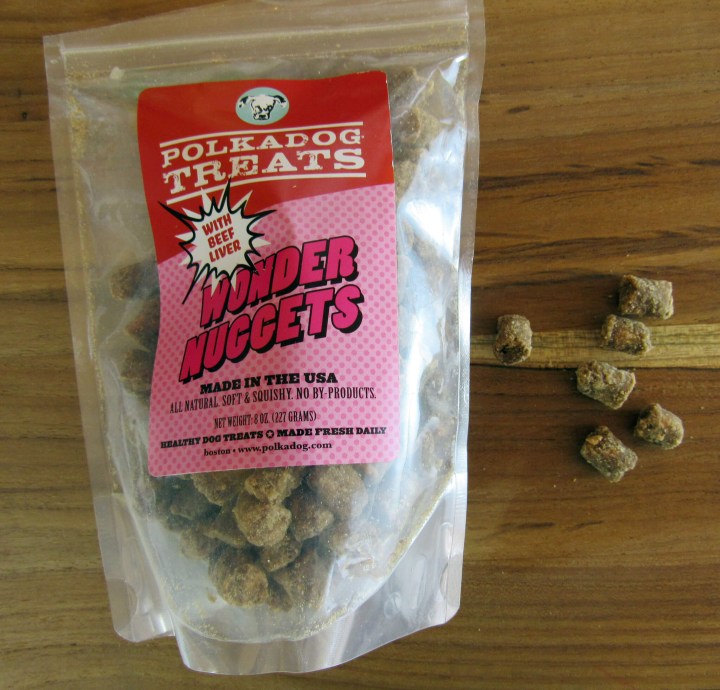 Daisy and Odie loved the Made in the USA Polkadog Treats Wonder Nuggets with Beef Liver (8 oz, $7.95).  The treats are made with local ingredients in small batches. They are a soft, training size treat with five recognizable ingredients – rolled oats, vegetable glycerin, barley flour, apples, and beef liver. I am using the treats for the maze toy that you will see further down in the review.
Daisy loves the Paws Barkery BowWow Snickerdoodles (8 oz, $6.99). The treats are made from simple ingredients commonly found in kitchens and are soft enough that I can break the cookie into small pieces for Bella, our Rat Terrier.  The cookies smell amazing! The cookie scent takes me back to the time when I opened the snickerdoodles from the Love with Food Gluten-Free Box. Odie likes the cookies, but Daisy is obsessed with them as in, "Mom, we are almost out. Buy more now!"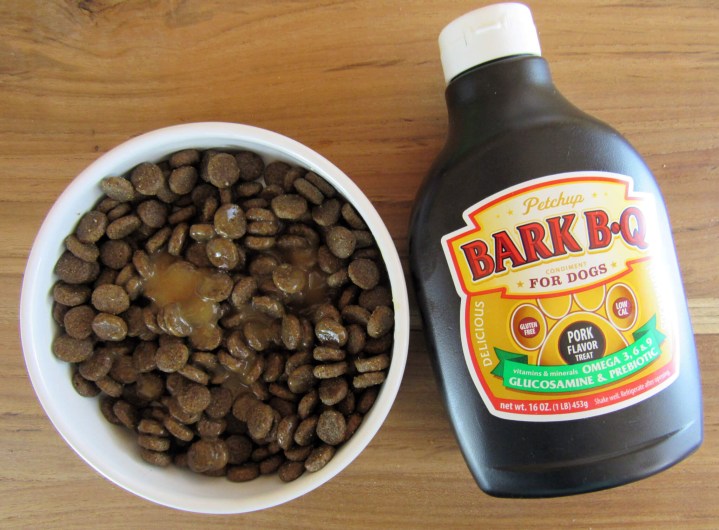 Who is hungry for Bark B-Q?  The doggies feel the Petchup Bark B-Q (16 oz, $7.95) should be added to every meal. The gluten-free formula made-in-USA formula is made with natural food grade ingredients. It has Glucosamine, Omega 3, 6, and 9, and contains no artificial colors or flavors. Odie selected this item as his favorite item from the box. 
J, age 7, and I were excited to see this included in the box because we saw it in our local pet store! The made-in-USA Puppy Scoops Peanut Butter Ice Cream Mix (6 oz, $6.99) was super easy to make. Put the powder mix in the container, add 2/3 cups of hot water, mix well, and freeze for 5 hours. The dogs love it! I hope to see the Puppy Cake Cake Mix and Frosting in a future box!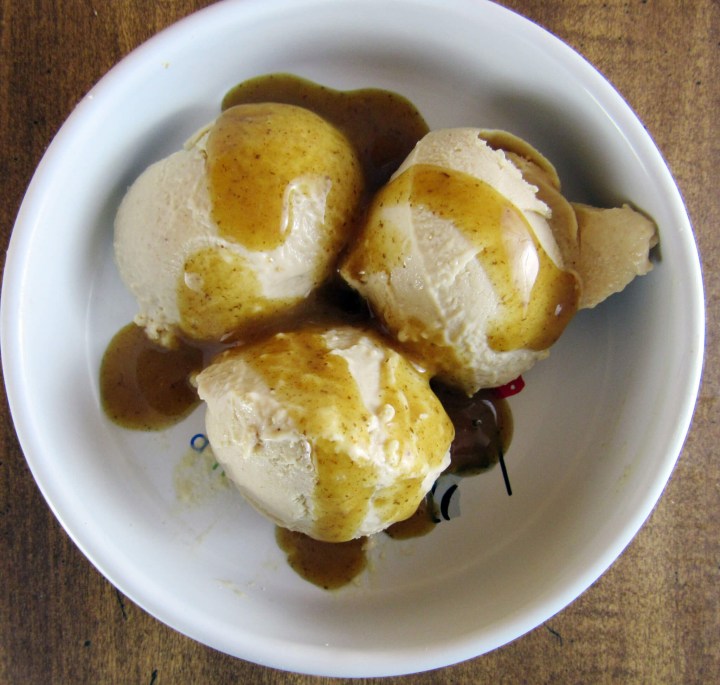 Who's hungry for Ice Cream? I am serving up Puppy Scoops Peanut Butter Ice Cream with Bark B-Q Sauce. I served Odie and Daisy 3 scoops each. There's enough ice cream left over for Bella to enjoy when she is back in a couple of days. The dogs were a little unsure in the beginning. They gobbled it down once they realized it was something yummy.
The Orbee-Tuff Mazee – Large Size ($16.90) is an interactive brain teaser puzzle. It is a huge ball! It can be cleaned by pouring hot water into the ball and shaking it. Daisy was eager to play with the ball. Odie saw the large opening and wanted peanut butter.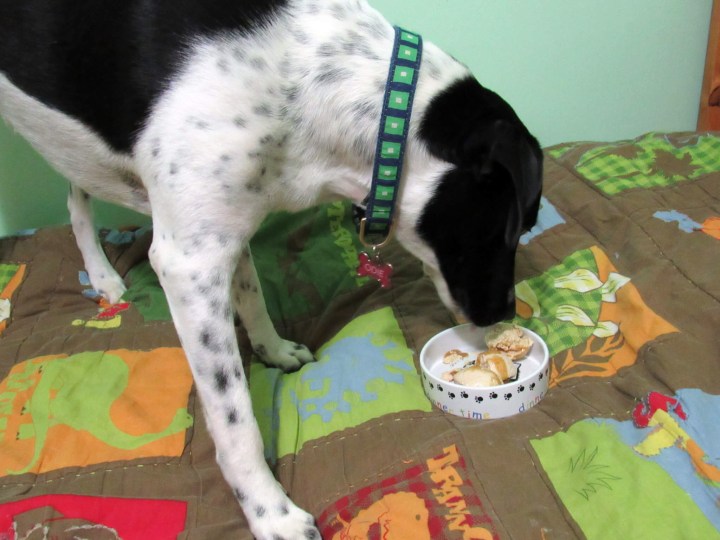 Odie was unsure what to think. He licked the ice cream in the beginning. Then he decided that it was wooflicious!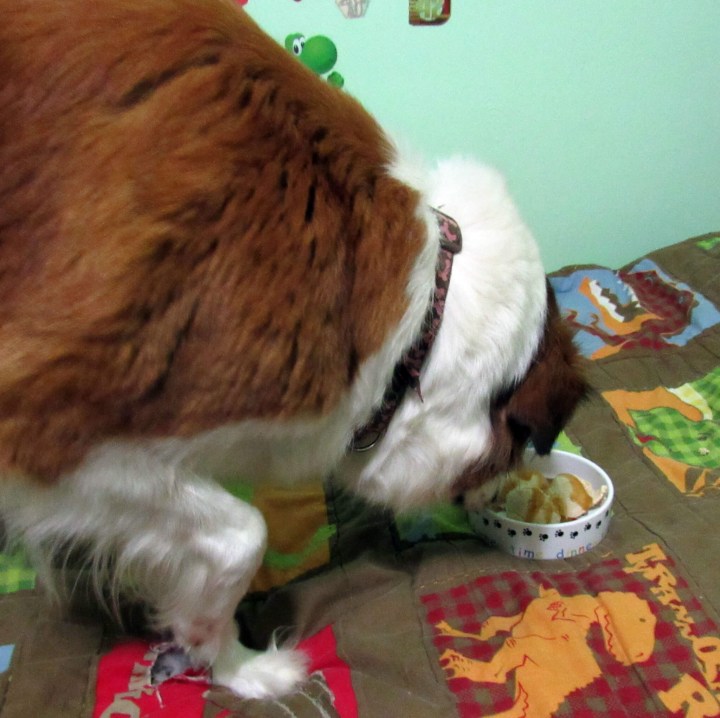 Daisy has one paw up because she is unsure as she sniffs over the ice cream.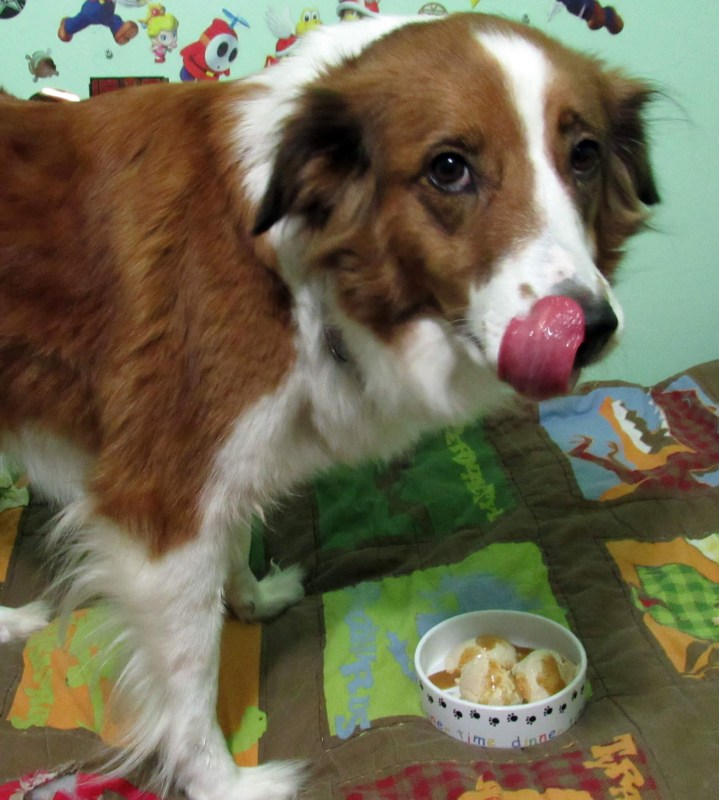 She decided it was yummy. She is still a little unsure about eating on the bed in this picture. She grabbed big mouthfuls after a few more licks Both dogs loved the ice cream once they realized cold food tastes good.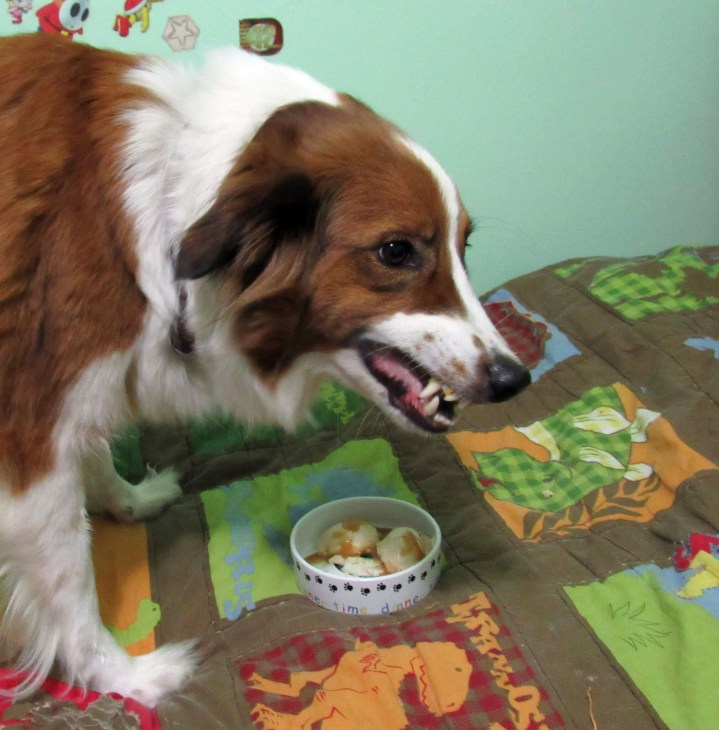 Daisy decided to eat half a scoop of ice cream all at once. I did leave the ice cream out for 10 minutes as recommended before dishing it to the doggies.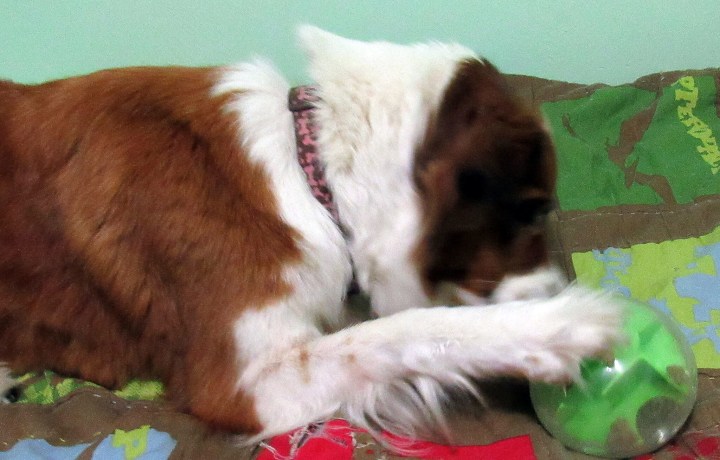 Daisy is proud of herself. She knew it was a treat ball right away. This treat ball is her favorite.
Odie is eyeing up the treat ball. He is usually all about treat balls. The large opening has him convinced that there should be peanut butter in it.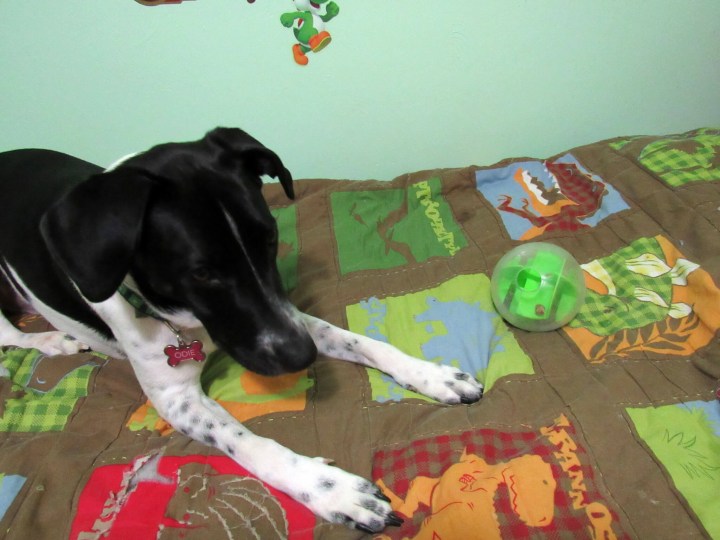 Poor Odie! He is waiting for the peanut butter. I ended up giving him a peanut butter filled toy.
Daisy is a working farm dog. She loves to help out everywhere and has great instincts. It's fun to watch her play with the toys and become excited about the treats included in Daisy-Care because she is not treat-motivated. Daisy-Care is her fun box which shows that Daisy-Care lives up to their mission of creating a positive bonding experience for every human and their dog.
Odie loves Daisy-Care too. The toys and treats are an excellent size for him. All the toys have held up well to his chewing and playing. He loves playing with Nuts the Squirrel and Go Dog Chameleon, which have not been destroyed. Nuts the Squirrel is missing his tail which did not put a hole in the toy. He knows when the box arrives and will nudge it until I open it. Bella, the 12 pound Mini Rat Terrier, enjoys the treats and toys too. Her small size does not hold her back from carrying toys larger than her! Daisy-Care comes through with a fantastic care package for people to enjoy with their dogs!
Have you tried Daisy-Care yet? What do you think of this month's box? Save 10% on any purchase with coupon code WELCOME.
Visit Daisy-Care to subscribe or find out more!
The Subscription
:
Daisy-Care
The Description
: Create Everyday Moments with your dog through a care package of paw-picked toys & USA-made treats. Daisy-Care is always there for you and your dog; from every day moments, to special occasions and everything in-between. We are committed to changing the way people think about their lives with their pets by helping create a safe and positive bonding experience between every human and their dog.
The Price
: $37.95 per month