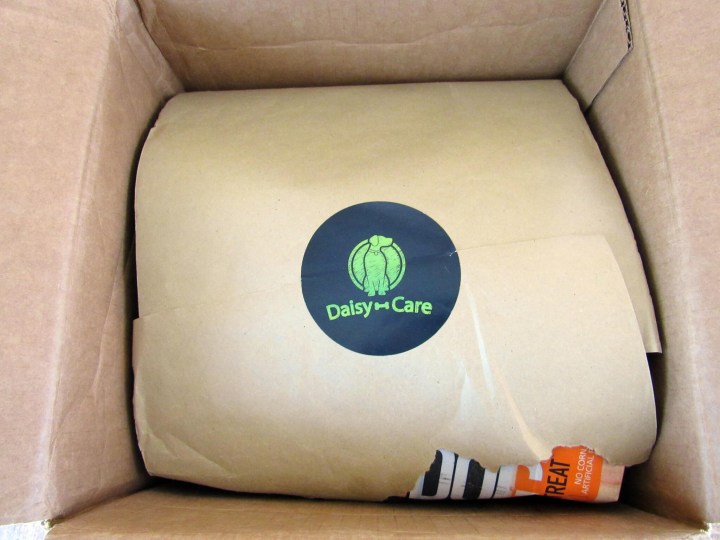 Daisy-Care focuses on the bonding experience between you and your dog with Everyday Subscription Care Packages which include delicious treats for your doggy! Daisy-Care boxes have two options. Option one is a Treats Subscription available in Small, Medium, and Large sized dogs. Option two is a Treats & Toy Subscription available for Small, Medium, and Large size dogs. The Treats & Toys Subscription is further customized with a Gentle or Ruff Toy. All dog treats are made in the USA. There is a toy sizing chart if you are unsure what size to order.
The doggies can't wait to see what is in their Daisy-Care box! They kept sniffing around the box.
Here are the items for the June Daisy-Care Box. An information card was not included in the box, as the box is customized! This review is for the Everyday Treats and Toy Subscription Care Package – Ruff Toy Option. Daisy the English Shepherd, Bella the Mini Rat Terrier, and Odie the Borader will be our reviewers.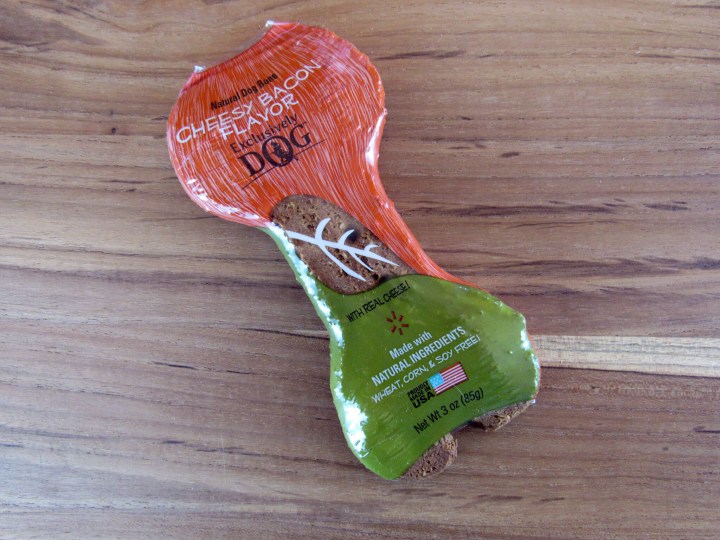 Daisy finished off the Exclusively Dog Cheesy Bacon Flavor (3oz, $2.71) as I started to write the review. Both Bella and Daisy enjoyed the 100% sourced and made in USA treat. It's free of wheat, corn, soy, and chicken which made Daisy happy. She has a chicken allergy.  I found it easy to break the bone into smaller pieces for Bella.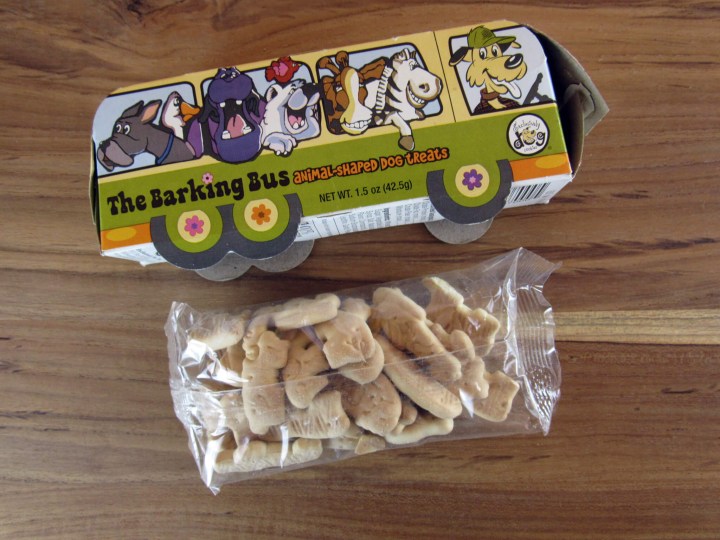 Don't they remind you of animal crackers? They reminded my husband of animal crackers too! He tried The Barking Bus Animal-Shaped Dog Treats (1.5 oz, $2.09) which tasted like animal crackers with garlic in it. All three dogs loved the crackers which come with a 100% satisfaction guarantee. The crackers are kosher certified and made in the USA.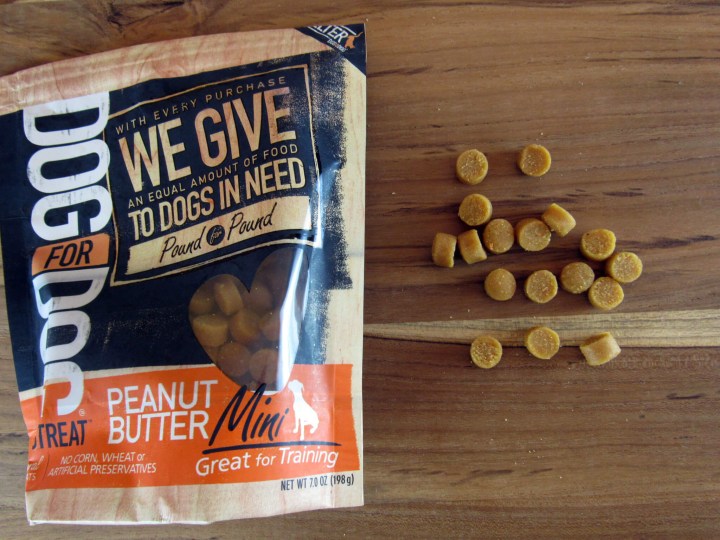 Did you say peanut butter? There was no question in my mind that the doggies would love the  Dog for Dog Mini Peanut Butter Treats (7 oz, $7.99).  Dog for Dog donates an equal amount of food to a dog in need for every item you purchase. The made in the USA soft training treats have become a favorite. Daisy is eating a few because the treats are free of corn wheat, artificial preservatives, and chicken. She is a happy dog and a smart dog. She figured out that she could receive a few more treats by sitting next to me while I am writing dog subscription box reviews.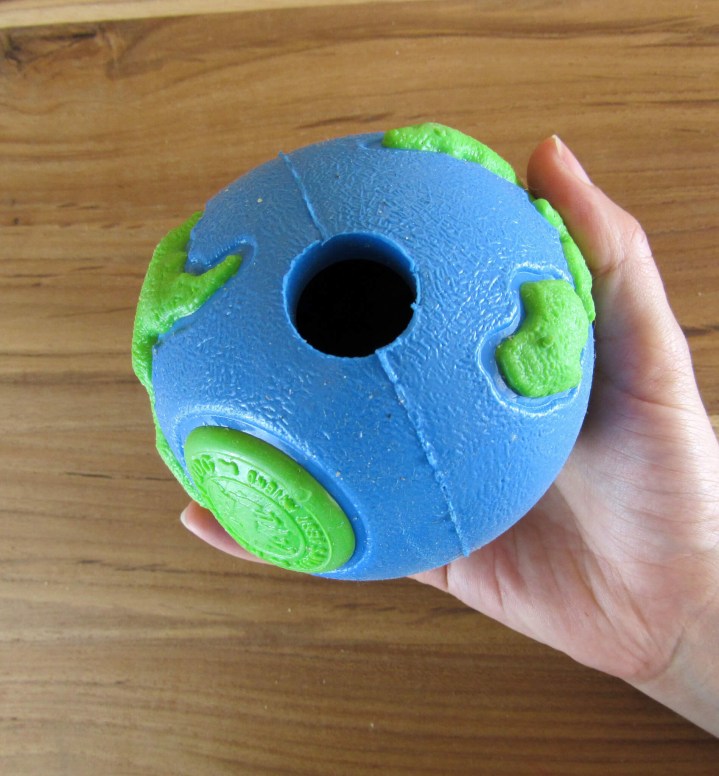 The Planet Dog Orbee-Tuff Orbee Ball in Large ($16.95) is a durable made in the USA bouncy ball. It can also hold treats which is what Odie prefers. Daisy ignored the toy.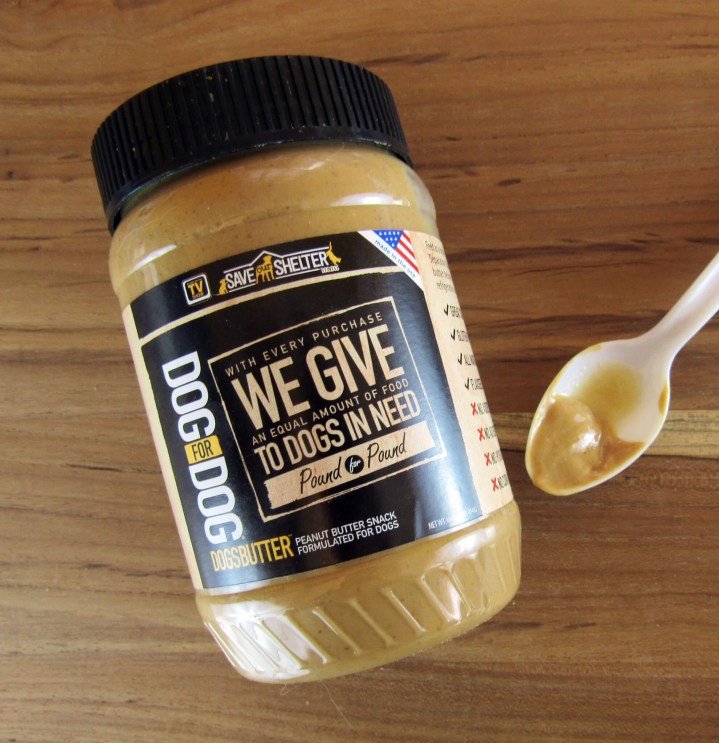 Odie also approves of the Dog for Dog Dogsbutter (16 oz, $9.99).  Dogsbutter is peanut butter, golden flaxseed, and vegetable oil mixed together. It is recommended to put in the fridge after opening and stir if separation occurs.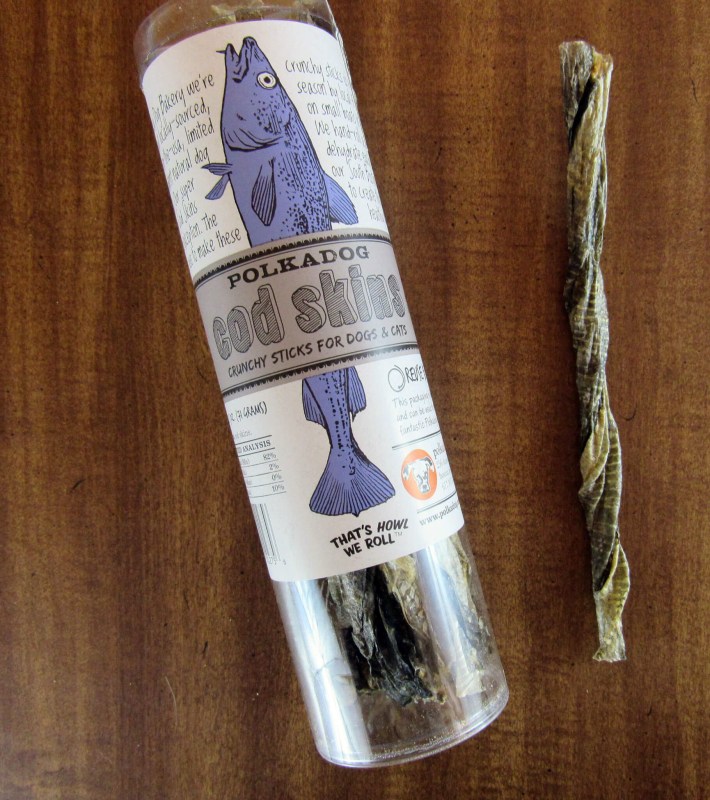 Four paws up from each dog! That is what the Polkadog Cod Skins (2.5 oz, $10.99) rated with each dog. The cod is caught by local fisherman in Alaska. Then the cod skins are hand-roll and dehydrated in South Boston. The packaging can be reused and recycled. What can I say? That is howl Polk A Dog Bakery rolls.
Bramble was eager to test out the claim that the treats were for cats too. He agrees that they are purrfect for cats.
Time for the doggie photos. I laid an old comforter on the bed for better photo taking.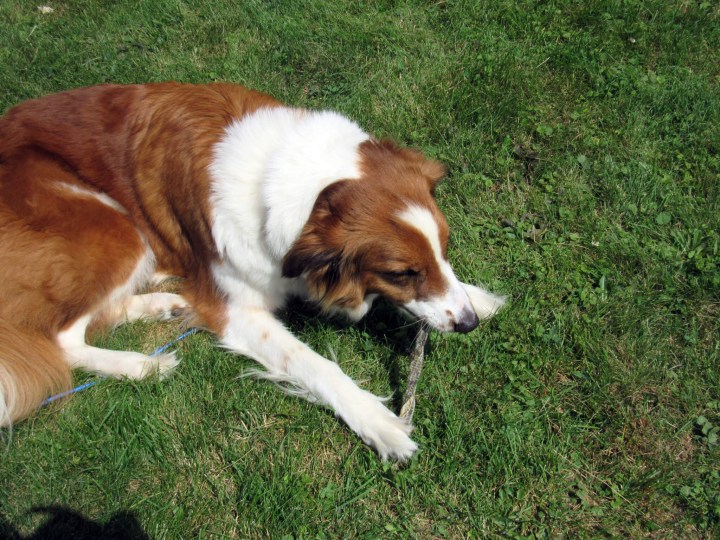 Daisy loved her cod stick. She ate it daintily.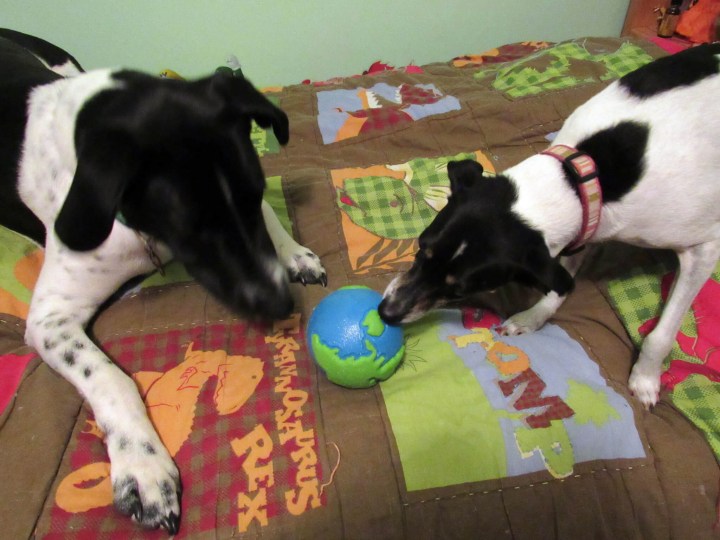 Odie and Bella checked out the Orbee-Tuff Orbee toy. Bella lost interest in it quickly.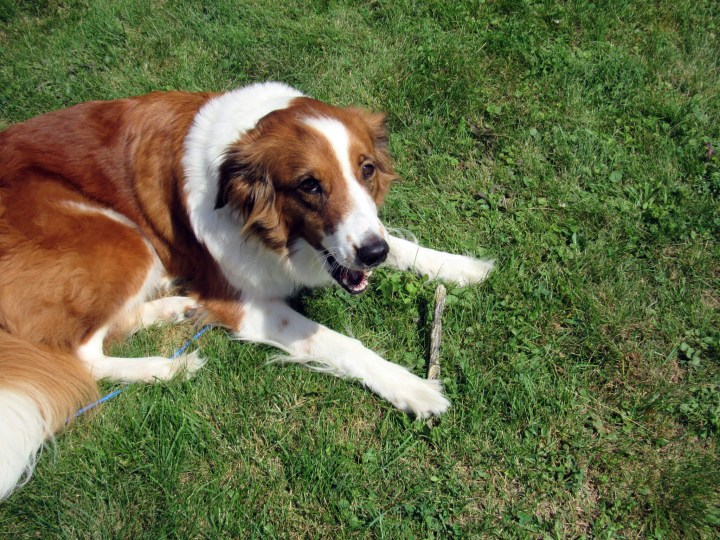 Daisy is telling the world that you need to buy the sticks for your doggies. It's good stuff.
Odie loves these types of toys. He is busy licking out the Dogsbutter.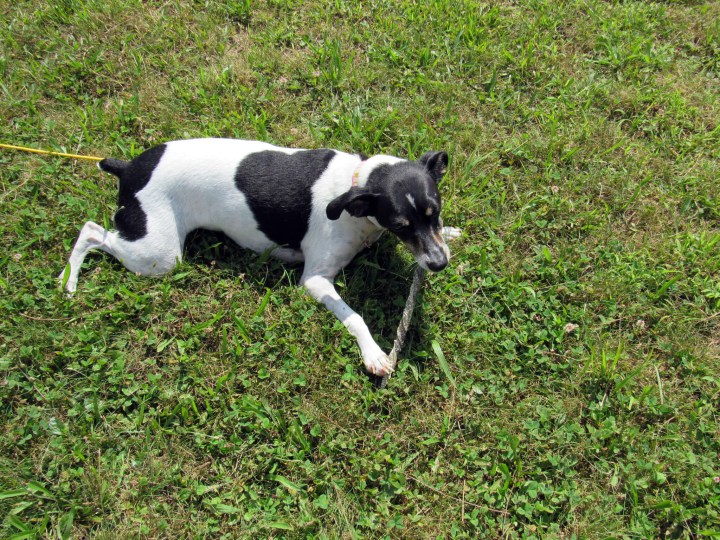 Bella ripped the cod skin stick apart piece by piece. She would bite a piece off, shake it, and then eat it.
She is getting ready to rip a piece off. She ate half a stick.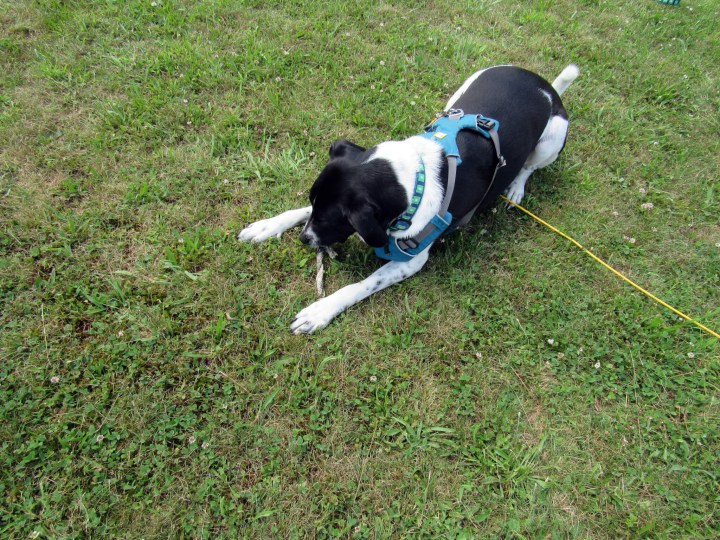 Odie gobbled his Polkadog Cod Skin in about three bites. Nothing dainty about the way he eats.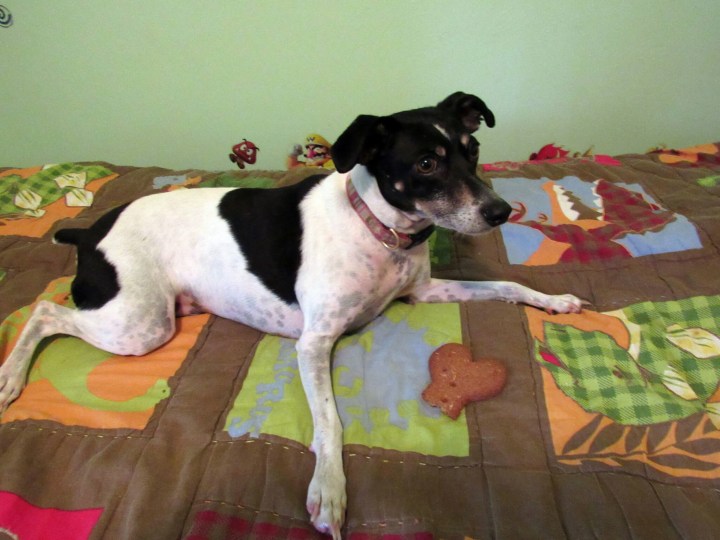 Bella is waiting for my helper to break apart the Exclusively Dog Cheesy Bacon Flavor Biscuit into even smaller pieces.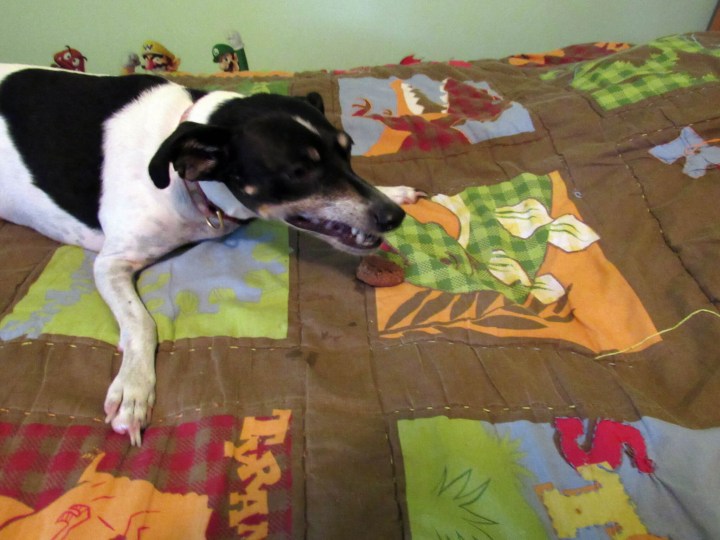 Here's why I don't usually include photos of them eating. She's all teeth! We are working on cutting those nails. She's not a fan of having her nails trim.
I think Daisy votes that the June Daisy Care Box as the best box ever because of the Polkadog Cod Skins. The treats are appropriate for Odie and can be enjoyed by the other dogs. Daisy is a happy girl because there is no chicken in any of the treats, and it included her beloved cod skins. Bella loves the treats!  Odie loves his ball and dogsbutter. Daisy Care did an excellent job curated a box that is loved by all our dogs and meets my large dog needs.
Have you tried Daisy-Care yet? What do you think of this month's box? Save 10% on any purchase with coupon code WELCOME.
Visit Daisy-Care to subscribe or find out more!
The Subscription
:
Daisy-Care
The Description
: Create Everyday Moments with your dog through a care package of paw-picked toys & USA-made treats. Daisy-Care is always there for you and your dog; from every day moments, to special occasions and everything in-between. We are committed to changing the way people think about their lives with their pets by helping create a safe and positive bonding experience between every human and their dog.
The Price
: $37.95 per month