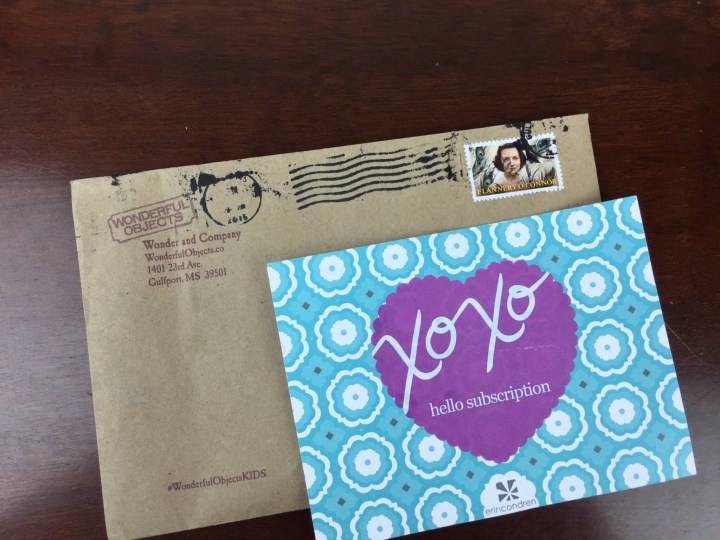 Wonderful Objects Kids Box by Wonder and Company is a quarterly subscription service that lets your kids explore the magic of story-making. For only $72.00 per quarter, you'll get a mystery box that invites children to ask "What ifs…?" and encourages them to find answers through an imaginative and magical way.
Everything in this box! This month is the second part of a 2-part story in collaboration with Cricket Magazine.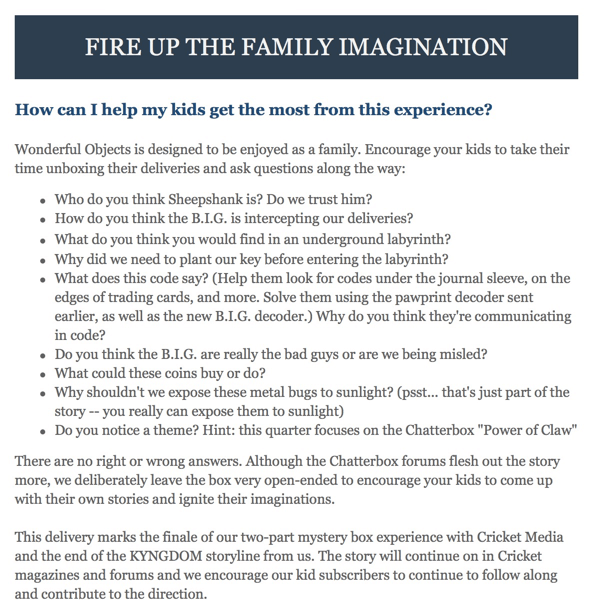 Although we received this mailing a few weeks ago we're still waiting on the main box. We received a lengthy email with ideas and tips about the box!
Starting next quarter, our kids box returns to all-new stand-alone adventures!

As with our adult box, some characters and places will reappear in future quarters (creating a rewarding through-thread for long-term subscribers!), though each quarter is designed as a fully stand-alone experience.
When I subscribed I didn't realize we'd be getting the second part of a 2-part story, so I'm happy to hear about this change.
Good to know:
New orders placed before July 22 will receive a very limited edition free bonus delivery in July. All new orders will begin receiving teasers the end of August/ beginning of September ahead of the September box.

Generally, we close orders once we ship teasers. So far, we sell out well before then. 

Due to that, we're introducing free bonus deliveries (not part of the upcoming theme) for customers that order after a quarter sells out or at the very beginning of a new quarter. It's not unusual to have to wait 90+ days for the first delivery of a quarterly subscription but that free mini-delivery will tide new customers over a bit.
The box includes a labyrinth key that contains flower seeds you can plant. Daisies, zinnia, poppies, cosmos, marigold, and more are encapsulated within the fibers of the paper key.  There's also instructions on how to plant and take care of your new flower garden.
This box invited the kids to the Bog & Burrow Inn, a  magical underground club inhabited by all manner of critters.  The venue features live music and a menu sure to please the most discerning varmint.  The tricky part is getting to the club…
The flip side of the flyer has what looks like a labyrinth, as well as a coded message.
This handy device is your decoder.
When you slide the card within the sleeve, you see that each letter of the alphabet corresponds to a distinct paw print symbol.  Each symbol comprises a portion of a box and a paw print in either a left, middle, or center position.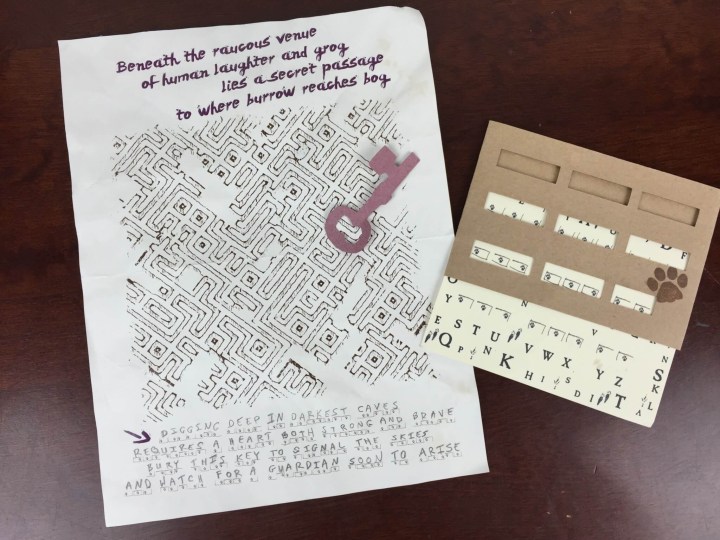 Solving the puzzle was one thing, but figuring out the labyrinth was another.  The labyrinth looks like a maze, but there is no clear entrance or exit, and I'm unsure which parts are even pathway versus wall.  I decoded the riddle, and it spoke of planting the key in the ground to reveal the guardian.
Digging Deep In Darkest Caves Requires a Heart Both Strong and Brave. Bury yThis Key to Signal the Skies and Watch For a Guardian Soon To Arise.
I took this to mean that, along with there being literal seeds within the paper key, it might also fit within the labyrinth, revealing a hidden picture of some sort.  No such luck.  I tried magic eyeing it, and also folding it a la the Mad Magazine back cover.   I just couldn't seem to get any picture to emerge from the labyrinth (based on the riddle, I assumed a heart might appear if I manipulated the page properly — or possibly a picture of the mollusk trio).  Either I'm reading way too much into the puzzle, or I'm just not clever enough to solve the labyrinth.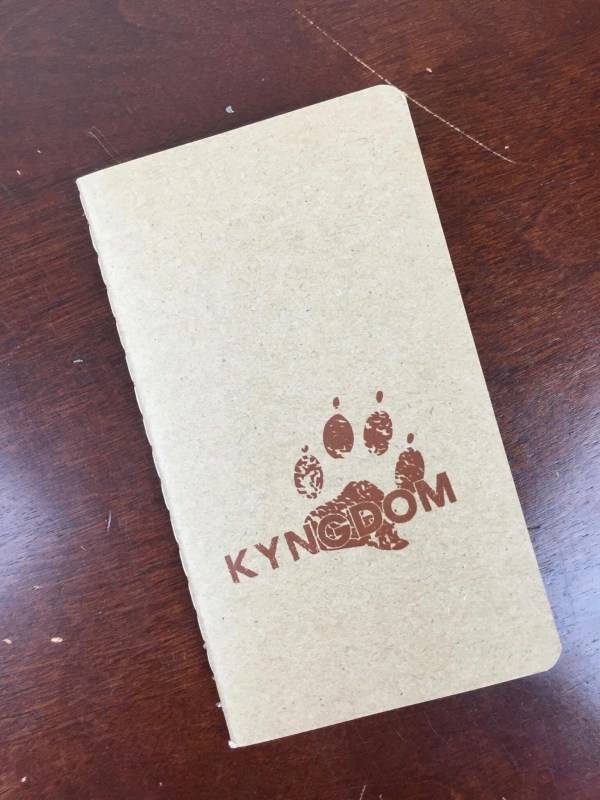 Kyngdom Notebook:  A nice little pocket sized notebook for jotting down your inspirations or clues to your current mystery.
The notebook is lined and appears to be made of recycled materials.
This was fun little teaser kit.  It certainly encourages you to embrace your imagination and put on your puzzling hat.  I think it may be a little advanced for very young kids, but it would certainly be a fun challenge for kids that like codes, riddles, and flights of fancy.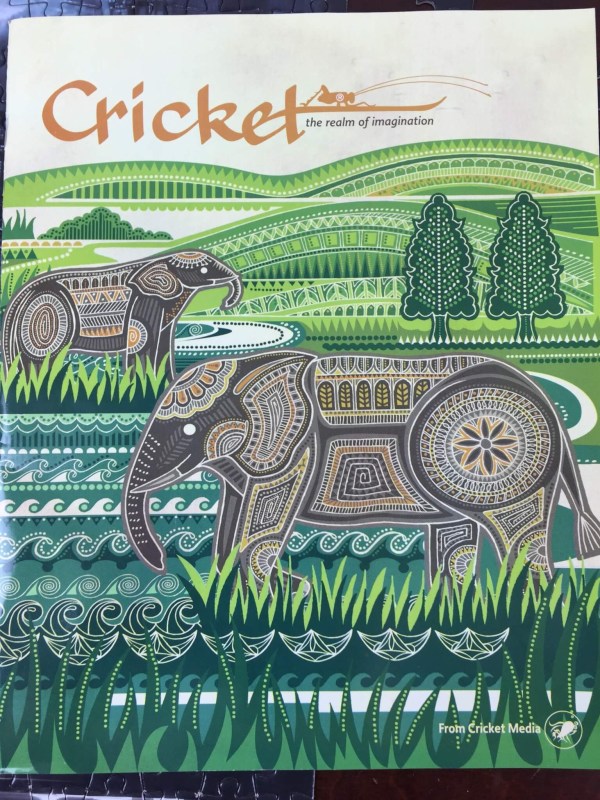 When we subscribed you could also add on a subscription to Cricket Magazine.  This grade school periodical is loaded with serial articles, informative pieces, and imaginative stories.  The magazine has been around for several decades (I remember reading it in elementary school), and it remains popular because it is age appropriate and full of interesting content.
This magazine isn't available, but based on the website linked from the Bog & Burrow flyer, we think it would be an excellent add-on to this subscription experience.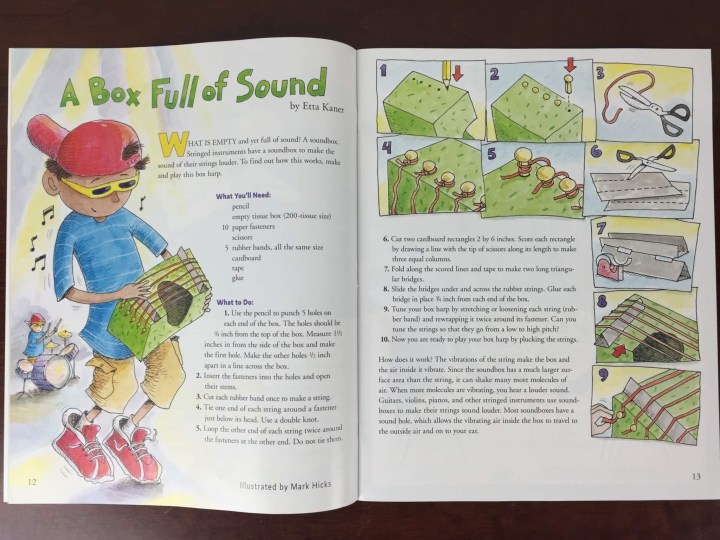 Cricket has a little bit of everything.  This issue had instructions for making a "soundbox" out of a tissue box and rubber bands.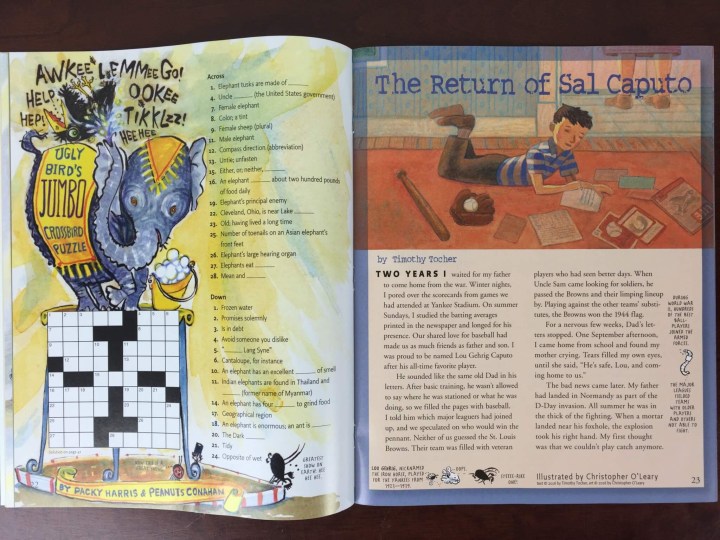 There is also a crossword and several stories.  The stories treat serious topics in a way relatable to kids.   The Return of Sal Caputo tells the tale of  a WWII soldier returning home wounded, as seen through the eyes of his son.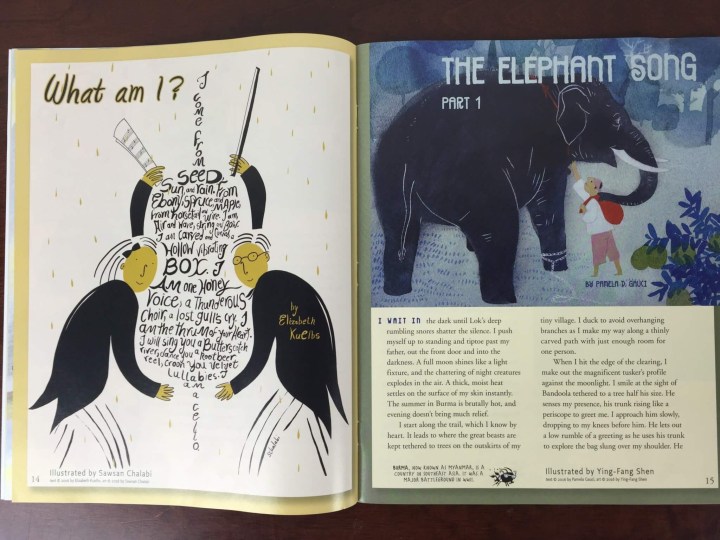 Cricket also still maintains the all but lost tradition of the serial, a story told one chapter at a time through multiple issues of a periodical.

This mag is perfect for grade school kids with a handle on reading.  It is kid friendly, but it also provides a gentle introduction to less childish themes, paving the way for broader literary exploration.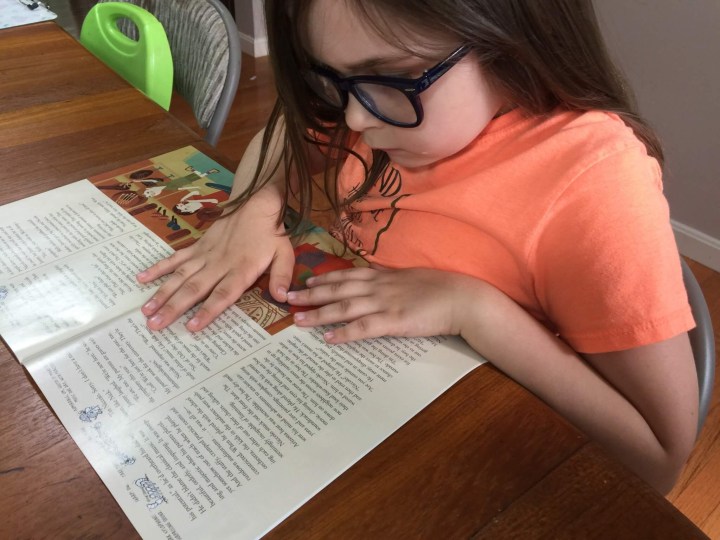 My daughter was really engaged with it.  Each feature is a good length to provide immersive reading without monopolizing your child's time and attention.
This looks to be a very fun subscription.  It is a pleasant combination of fantasy, puzzles, and engaging stories and we are really excited to receive the first full box!
Save $10 on any plan with code HELLOWONDER10!
Visit Wonderful Objects Kids Box by Wonder and Company to subscribe or find out more!
The Subscription
:
Wonderful Objects Kids Box by Wonder and Company
The Description
: The Wonderful Objects Kids Box is a story-making experience directed by your child. Unfolding across quarterly mystery boxes, unexpected deliveries, and exciting clues, Wonderful Objects encourages children to ask "What if…?" and invites them to turn their answers into something magical.
The Price
: $72.00 per quarter