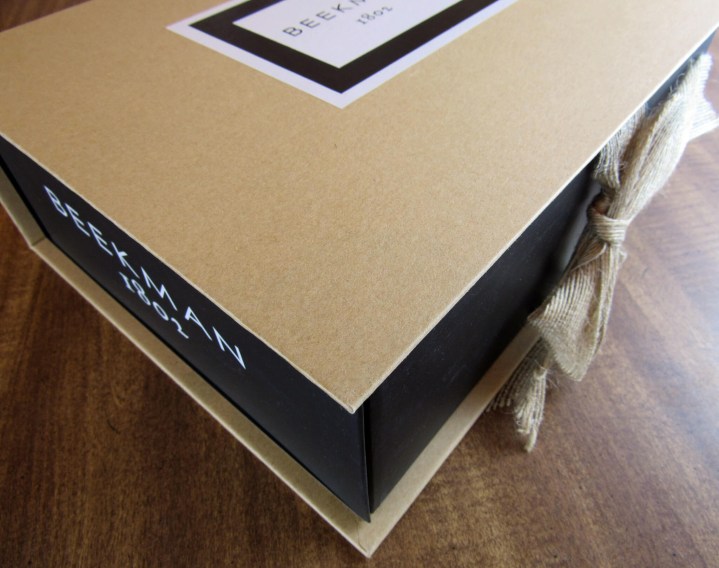 Beekman 1802, a brand that I discovered through Little Lace Box/Serendipity, has begun their own subscription service.  The Beekman 1802 Farm is located in upstate New York and is owned by Josh and Brent. They have the most adorable goat herd! They combined their business savvy with the farm to create an amazing lifestyle brand. Among other enterprises, they now offer four different subscription boxes –  a monthly cheese subscription, a quarterly Beekman Beauty Box, a monthly specialty food club, and a scent of the month candle subscription box. Check each subscription here for more information.
The reusable box came packaged inside a larger box with brown paper to protect it in its shipping travels. The bow gives it an upscale country look. It is attached to the box and is used to close the box. The lid will close without tying the bow, but it is not a magnetic seal.  The presentation is beautiful. You can gift this subscription knowing the recipient will feel special and impressed. The Beekman 1802 Beauty Surprise Box Winter Review has additional pictures including a few with a measuring tape to get a more complete feel of the box.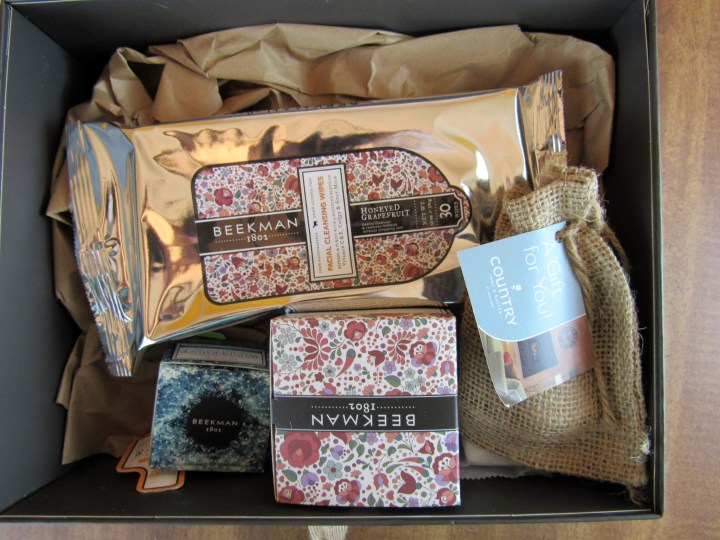 The items are cushioned on the top and bottom with heavy brown paper. I see more than one scent this month!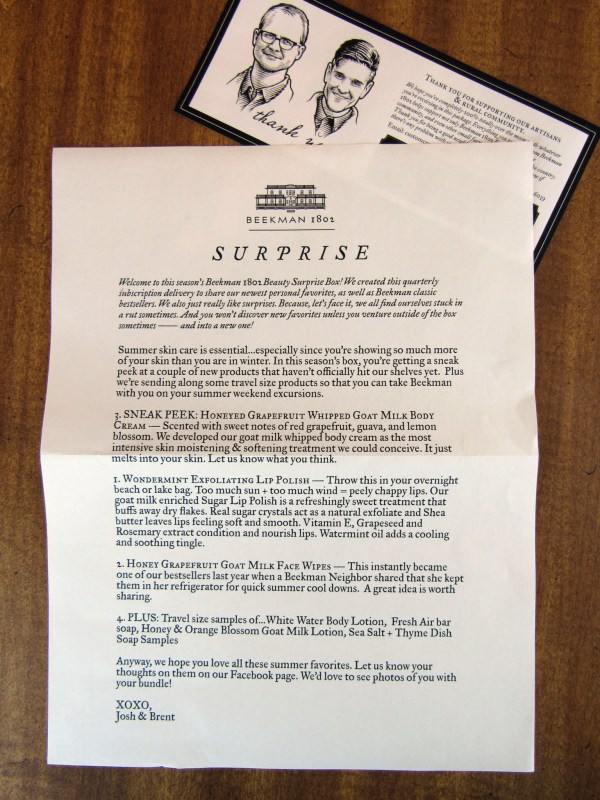 The Curator Letter explains the theme and why the items were selected. The theme is "Summer Favorites." Will I discover a new favorite? New this quarter is a thank you discount code which is a nice touch.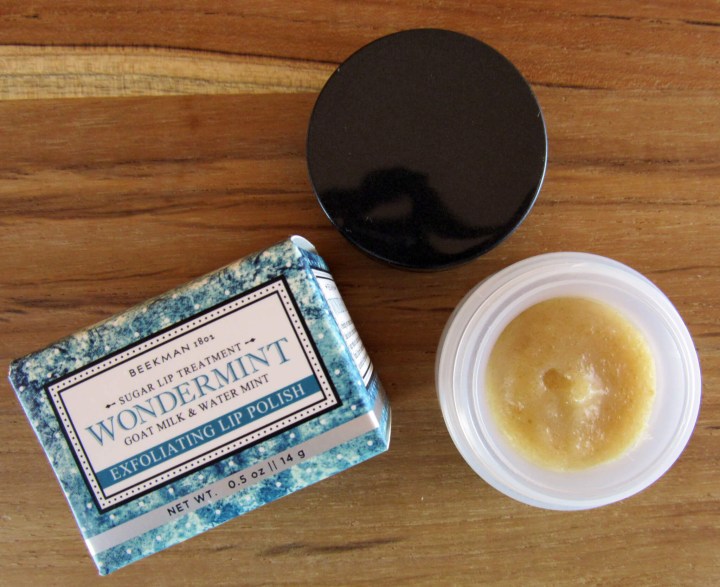 The Wondermint Exfoliating Lip Polish (.5 oz, $24.00) has a great minty scent. The lip polish exfoliates leaving your lips soft and kissable. It has shea butter which moisturizes the lips.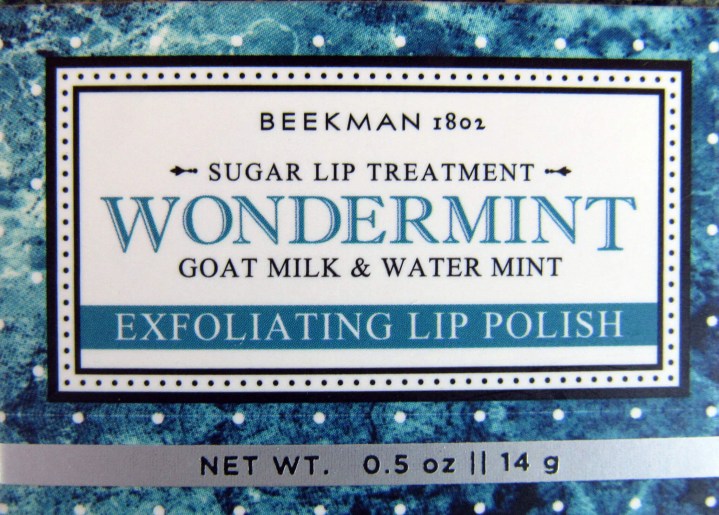 The Beekman 1801 Beauty Products are known for having goat milk in it. It is what makes it distinctive from other product lines. You can watch the goats on a live cam.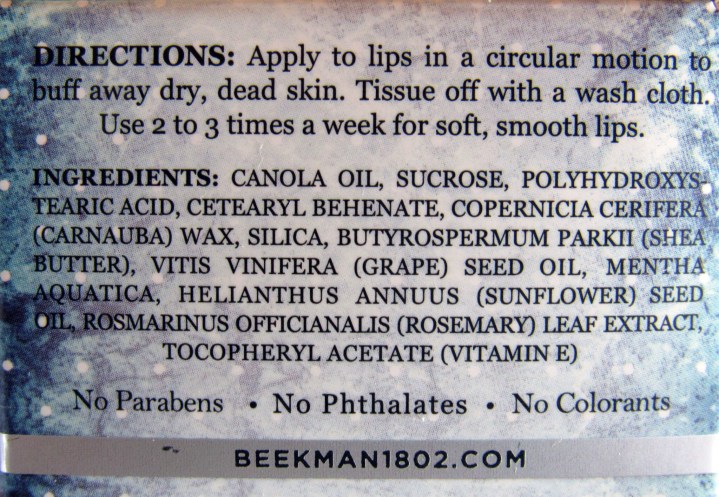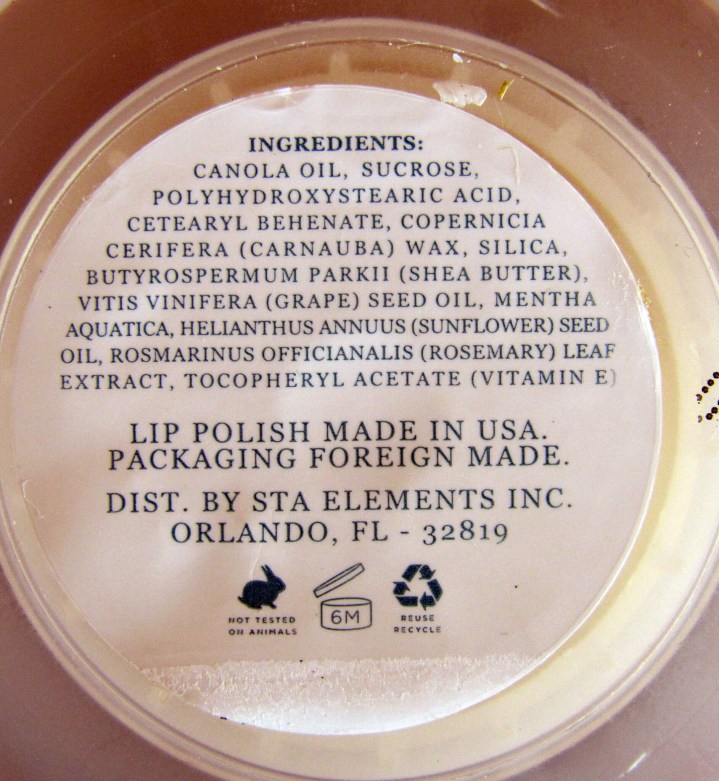 However, goat milk is missing from the box and container list. A Beekman 1802 representative confirmed that the formula contains goat milk.
Thanks for being such a great Neighbor!

I am so sorry but there was a mistake made when the ingredient list was printed for the Lip Polish. The Lip Polish does contain goat milk. I am sending you the full ingredient list:

INGREDIENTS: Canola Oil, Sucrose, Polyhydroxystearic Acid, Cetearyl Behenate, Copernicia Cerifera (Carnauba) Wax, Silica, Whole Goat Milk, Butyrospermum Parkii, Vitis Vinifera (Grape) Seed Oil, Mentha Aquatica, Helianthus Annuus (Sunflower) Seed Oil, Rosmarinus Officianalis (Rosemary) Leaf Extract, Tocopheryl Acetate.

Please let me know if you have any other questions or concerns.
I don't understand how goat milk was missed when designing the label.  Hopefully, the next batch will have the ingredient listed!
Gently remove makeup with the Honeyed Grapefruit Facial Cleansing Wipes (30 ct, $7.00). The alcohol and oil free wipes are paraben and sulfate free. They are lighted scented with a blend of red grapefruit, guava, and lemon blossom. No rinsing necessary to use the wipes! I use the wipes to freshen up after working outside. The seal really works! I never had them dry out on me.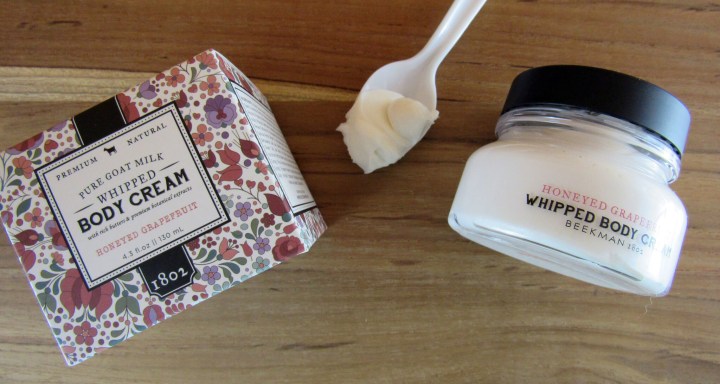 The Honeyed Grapefruit Whipped Body Cream (4.3 oz, $32.00) melts into your skin. The paraben and sulfate formula has shea butter, cocoa butter, argan oil, goat milk, rose hip seed oil making it an intensive formula. The scent is too strong for me and smelled artificial. I am sure my sister will love it.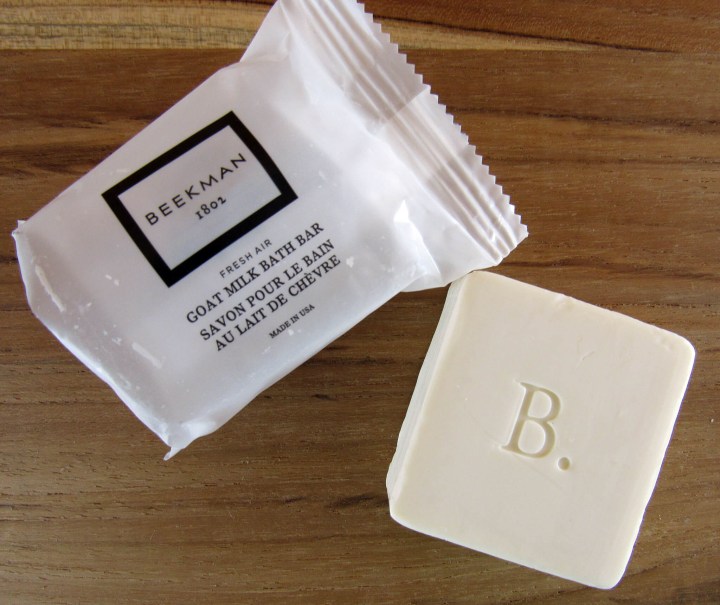 The Goat Milk Bath Bar (appx 1 ounce???, appx $1.66) is much welcomed by T, age 17. He's always brushing up against plants during cross country practice that makes his skin itchy. The goat milk soap helps alleviates the itchiness.
A couple of one-use samples were included.  The Honey & Orange Blossom Goat Milk Lotion has an uplifting citrus scent that I love. The Sea Salt & Thyme Dish Soap had a light, pleasant soap and did its job well. No goat milk but it does have aloe in it.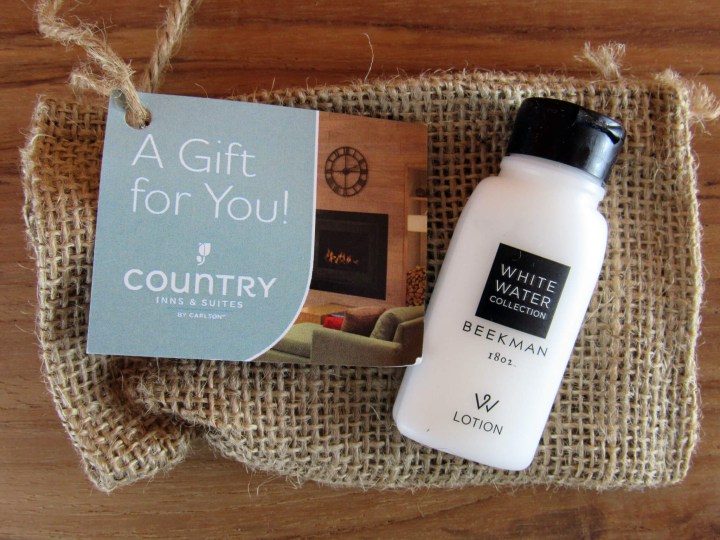 The White Water Goat Milk Body Lotion is my favorite scent from the summer box. The scent is bergamot, sea mist, eucalyptus, clary sage, with a touch of cypress wood. It's a pleasant, clean scent that rubs in easily into the skin. The back of the lotion states it is made for Country Inn and Suites. There is also a note about it.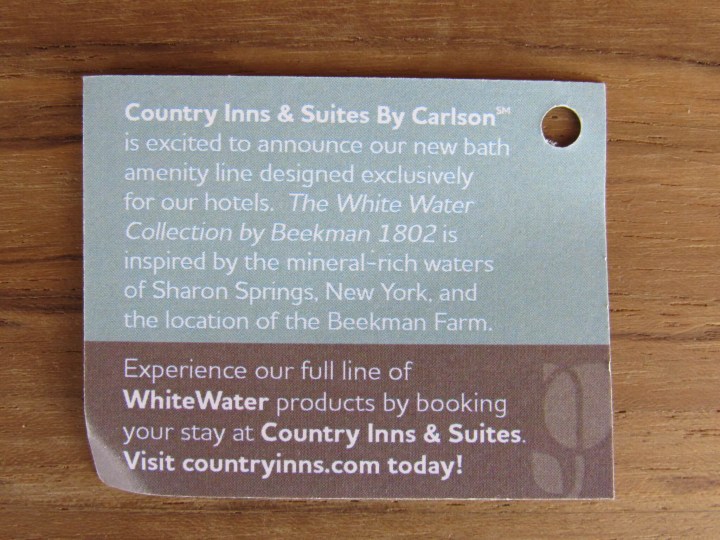 How exciting for Beekman 1802 to be featured in Country Inns & Suites. I've always enjoyed my stays there.
The Beekman 1802 Summer Beauty Surprise Box hit all the right notes. I enjoyed opening the package and learning about their summer favorites. The box presentation is beautiful. The packaging is gorgeous. The items will be used throughout the summer.   It was a pleasure to experience the Beekman 1802 Summer Beauty Favorites. This box had $63 in full-size products plus additional samples!
Visit Beekman 1802 Beauty Box to subscribe or find out more!
The Subscription
:
Beekman 1802 Beauty Box
The Description
: With the Beekman 1802 beauty box, you'll receive a surprise box of their newest and bestselling soaps and skin care products every 3 months.
The Price
: $50.00 per quarter