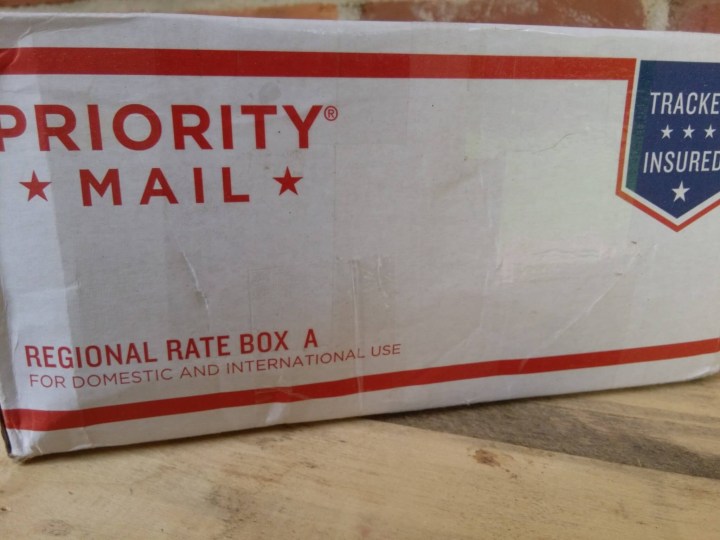 Amish Mart has been marketing Amish made products since 1999.  They are located at the Moose Lake Christian Craft Village in Laotto, Indiana, in the heart of the Amish community of Northeastern Indiana. This review is for the Popcorn of the Month Club by Amish Mart.
Nothing fancy about the packaging.  (It IS Amish.) The popcorn arrived in this USPS priority shipping box.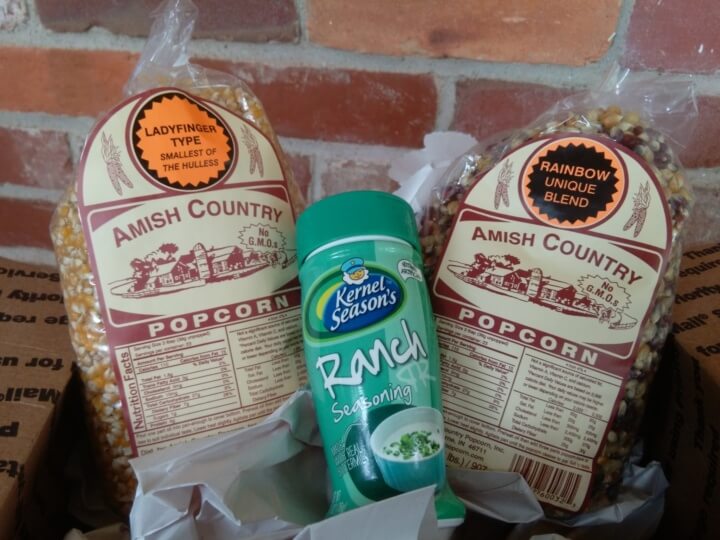 For $24.00 a month you will receive two – 2lb bags of popcorn from Amish County (no G.M.O.s!) and one popcorn seasoning.  If you want all hull-less varieties it is $27.00 a month.  You can prepay for up to 6 consecutive months and you only pay shipping on the first month that you order.
This Ranch Seasoning from Kernel Season's was the popcorn seasoning in this month's box.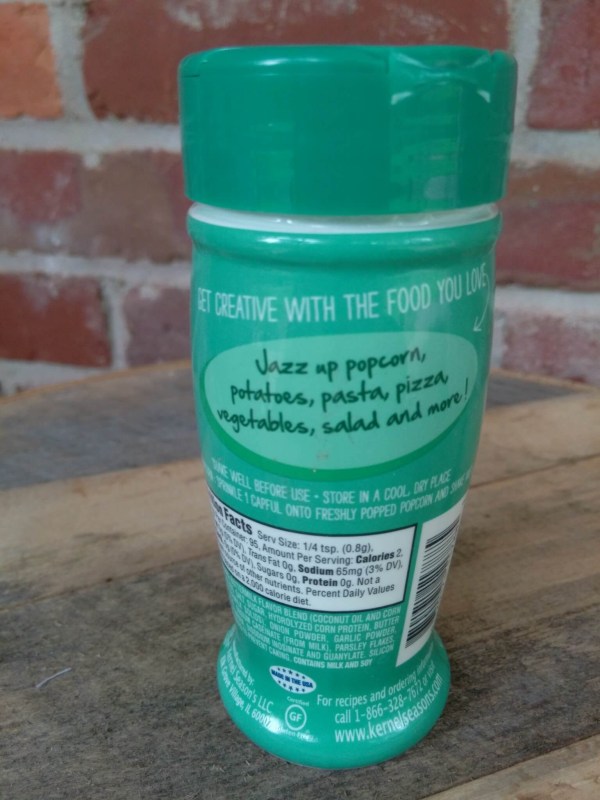 I enjoyed it, but be warned a little goes a long way.  Seriously, use less than you would if you were shaking salt.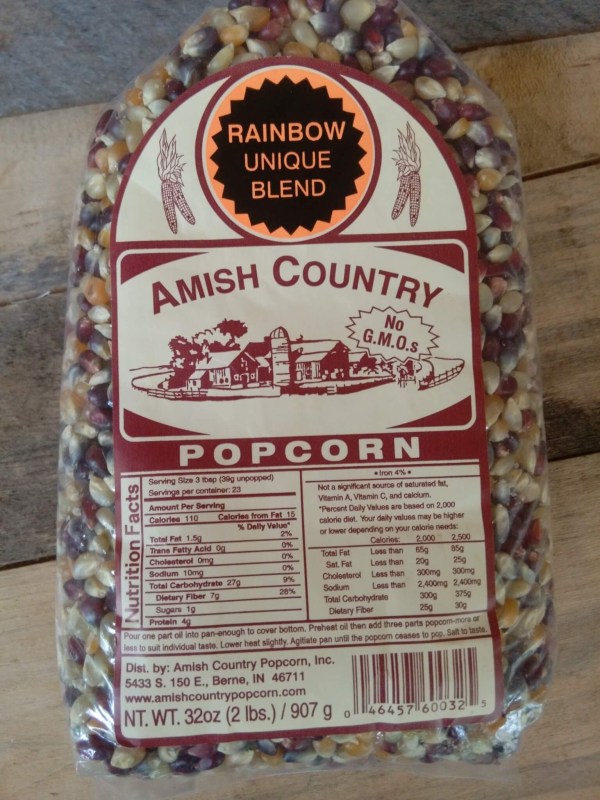 The first bag was 2lbs of Amish Country's Rainbow Unique Blend.  "This is a fun popcorn for people who can't make up their minds. This is a unique blend of the various colors of popcorn. It is not only great for eating, but can also be used in many decorating schemes. It is the unpopped kernels only that appear the different colors. When popped, all kernels pop a shade of white."
Isn't it pretty?   There are beautiful kernels in multiple shades of yellow, white, red and purple.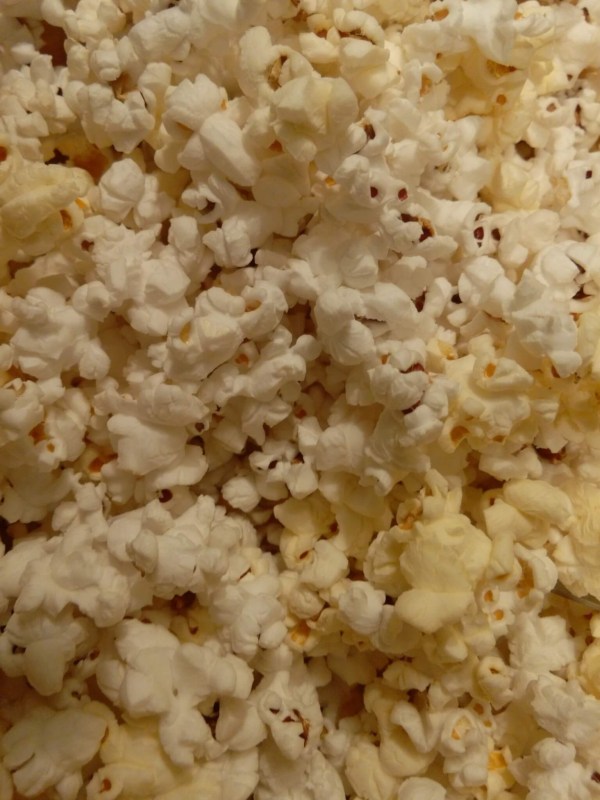 It popped up beautifully with very few unpopped kernels.  I used an air-popper and added a half tablespoon of real butter.  It was delicious.  You can see small bits of the color peaking out of the popped kernels.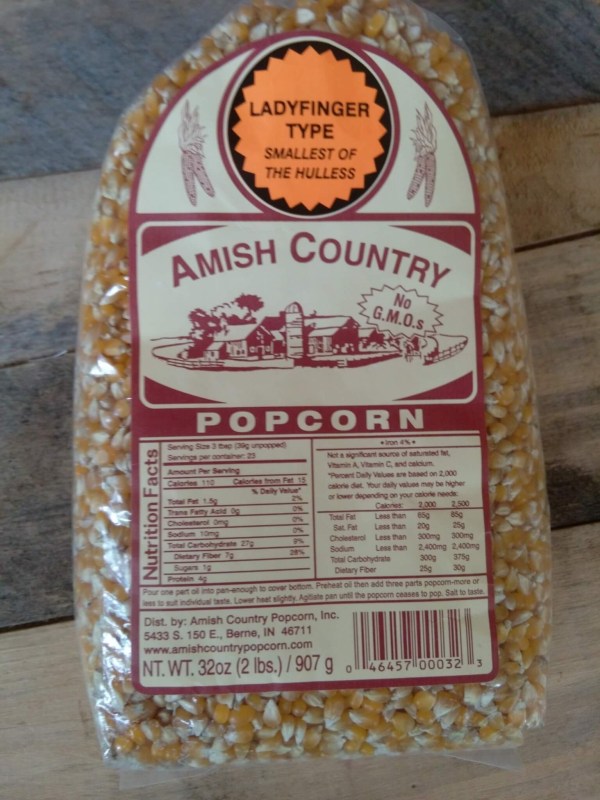 The second 2lb bag was Ladyfinger Type Popcorn – smallest of the hull-less.  It is sometimes referred to as Tom Thumb popcorn.  "This is a very small, tender popcorn that has very few hulls, with a very unique flavor. This one is a family favorite!"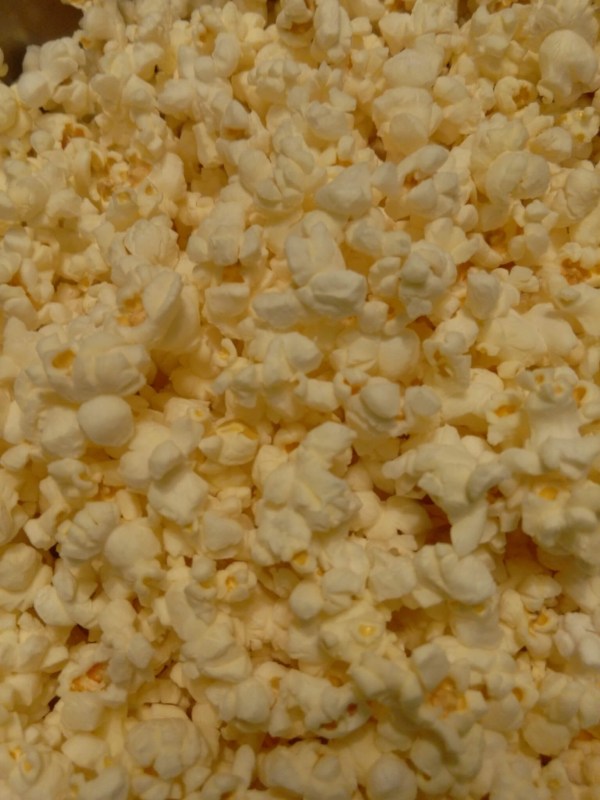 This popcorn popped up the cutest dainty little kernels!  Each kernel is about half the size of traditional popcorn.  It was just darling!  I also air-popped this batch and added a little real butter and salt.  I nearly died, it was so delicious!!  The little kernels were tender and perfect.
Is it wrong to pop Amish popcorn and watch a movie?  Cause I just did.  (That's about as rebellious as I get if you were wondering.)
Popcorn of the Month Club by Amish Mart is for the popcorn lover in you.  I have eaten tons (probably literally) of popcorn in my life and I never knew of this tiny popcorn cuteness that was in this month's box.  Fresh popped popcorn is the best.  I'm going to pop some in my stove top popper with a little butter and bacon grease mixed next…..  Oh, the deliciousness!!!
Visit Popcorn of the Month Club by Amish Mart to subscribe or find out more!
The Subscription
:
Popcorn of the Month Club by Amish Mart
The Description
: Try a different type of popcorn from Amish Country each month. You will receive two – 2 lb. bags of popcorn and 1 – popcorn seasoning each month.
The Price
: $24.00 per month