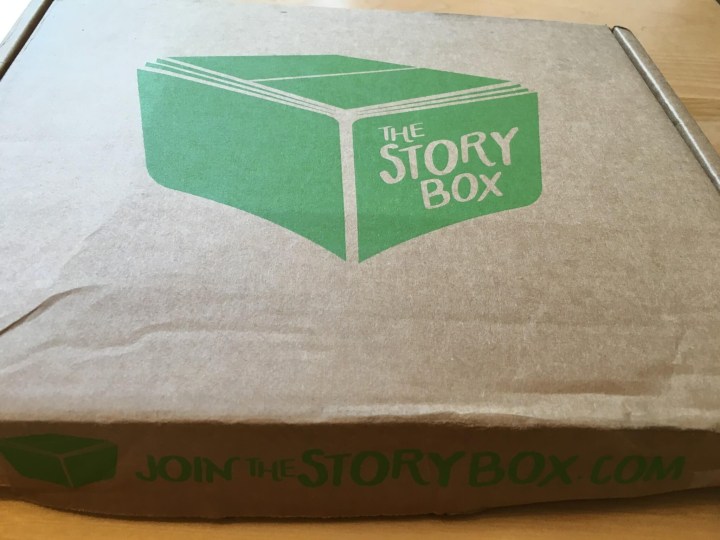 The Story Box is a subscription box that sends two children's books to your home each month. The subscription is curated by a speech language pathologist, and notes are included with each shipment that offer suggestions for extending learning at home. There are three subscriptions available: board books for children younger than 2 1/2 ($14.99); picture books for children 2 1/2 through 6 years of age ($19.99); and a family subscription for families with one child in each age group that includes one board book and one picture book ($17.99). Since I have a toddler and a preschooler at home, I signed up for the $17.99 family subscription. Shipping is free, and there are no discounts for longer-term memberships.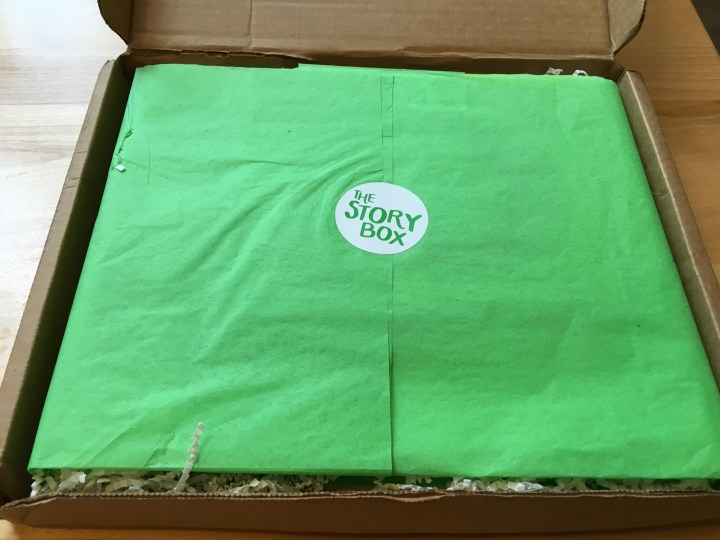 The curator of Story Box donates a portion of the proceeds of each box to purchase books and other educational materials for children with disabilities and as well as children from low income households.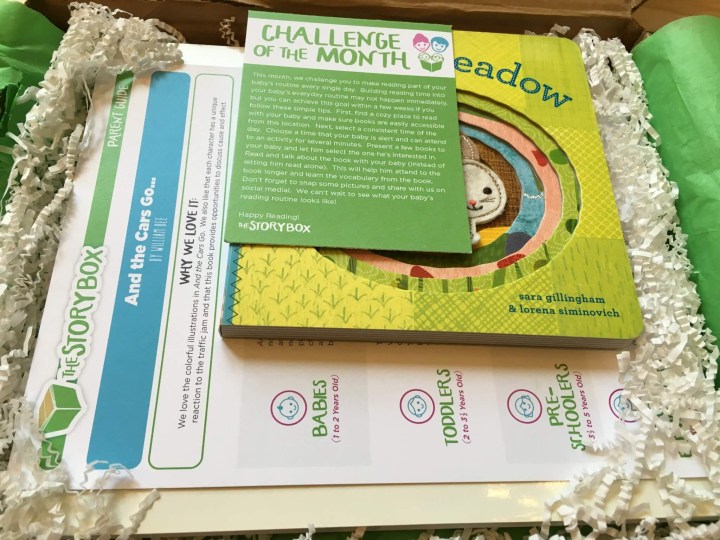 Each shipment arrives well-packaged with squiggles and tissue paper. My kids couldn't wait to dig in!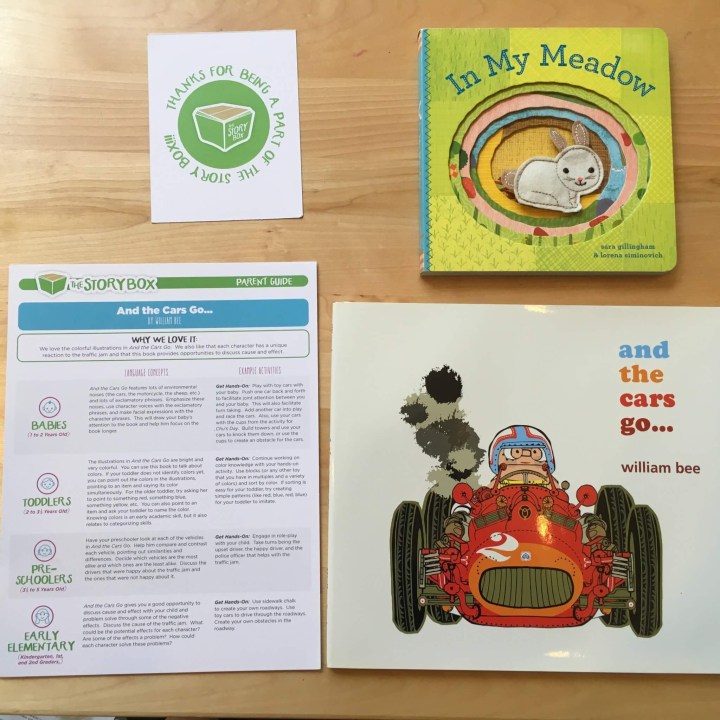 This month's family box included a cute board book with built-in finger puppet, a book about cars and instructions for parents.
While I appreciate the inclusion of this note challenging parents to make time to read to their kids each day, it's not a challenge we struggle with. When my son was little, I eventually had to limit his reading to 60 books/day. I just couldn't take any more than that. While my daughter didn't take to reading right away or to the same extent as my son,  we still read about 20 books/day to her. Whenever she wants to read, my daughter brings us a book and says "ead dat," or "read that," to signify she wants to be read to. (For our own sanity, I'm happy to report that my son currently reads about 5 books/day with us outside of school time.) Needless to say, we LOVE children's book subscriptions at our house! We are always looking for new finds!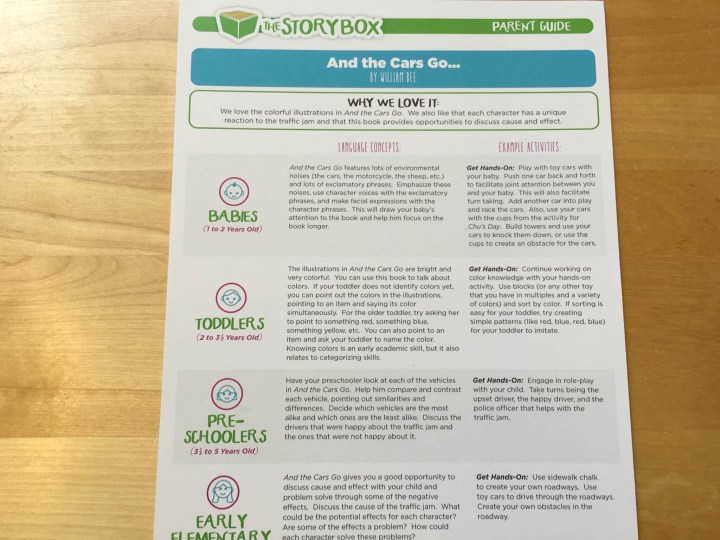 I love how this subscription comes with suggestions for age appropriate language concepts to focus on with your children! My only question has to do with one of the example activities in the babies section–what is Chu's Day? I don't know what car and cup activity the curator is referring to here.
"And the Cars Go" by William Bee ($14.42) is a delightful story of different people and cars that get caught up in a traffic jam when a farmer's prized sheep decide to hang out in the middle of the street. Although it's written in British English, U.S. kids will still be able to relate to a lot of what's said. The multiple examples of onomatopoeia are a lot of fun for kids, and the different characters will be easily recognizable to preschoolers. My son enjoyed this book very much!
"In the Meadow" by Sara Gillingham and Lorena Siminovich ($6.63) is a story of a rabbit who lives in a meadow and eventually returns home to his family. The rabbit is a finger puppet. This is one in a series of books about different animals and their habitats, and my daughter loves it as well as the others she has at home. We were delighted to receive a book that's new to us in a series we know and love! I only wish our box had included the curator's notes on language concepts and activities for this book!
We really enjoyed our first month subscribing to Story Box! I thought the curator's notes for the picture book were very helpful, and the two books were fantastic! The value of the box exceeded the cost by about $3. While not a lot, when you add in the curator's notes, I think this becomes a very worthwhile subscription. We can't wait to see what they send out next month!
Visit The Story Box to subscribe or find out more!
The Subscription
:
The Story Box
The Description
: A monthly box that is curated by a nationally certified speech-language pathologist contains 2 children's books and a guide for parents. Use the books and guide to make the most of your family reading time, enhance your child's language skills, and improve your child's chances of becoming a successful reader.
The Price
: $21.99 per month