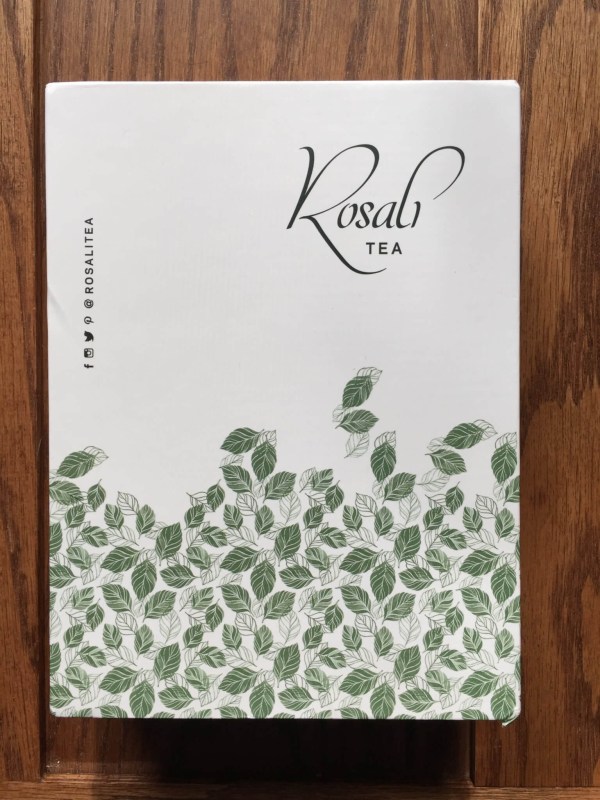 It's no secret that I was a huge fan of the first Rosali Tea box I encountered. So when I received this one, I had very high expectations. But that first box was no fluke, this was another fantastic box.
Rosali does allow you to tailor boxes to your likes and dislikes, to sign up, you visit the Rosalitea.com site and take a survey in order to get started. The result is a lovely box of teas, picked specifically for you!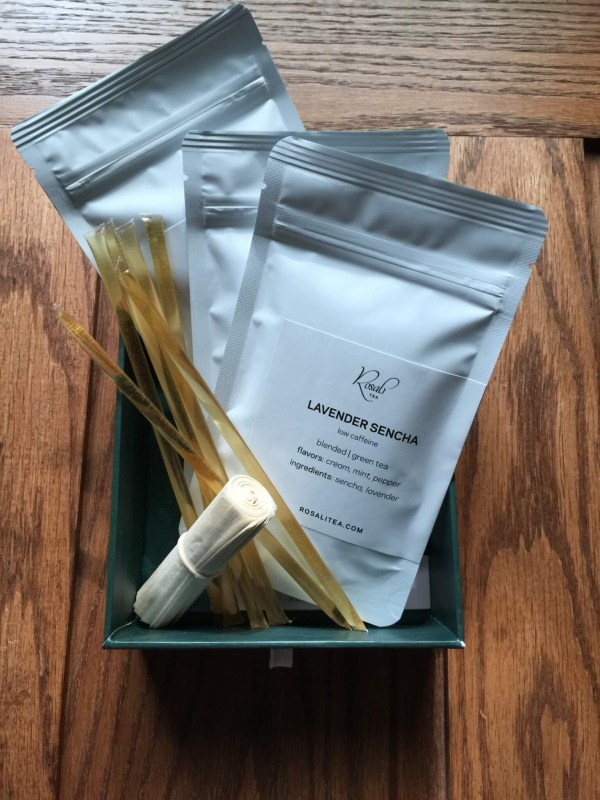 All of the packaging is very high-quality and the "extras" are thoughtful. It's a box that just says, "here are some luxurious high-quality teas for you to enjoy.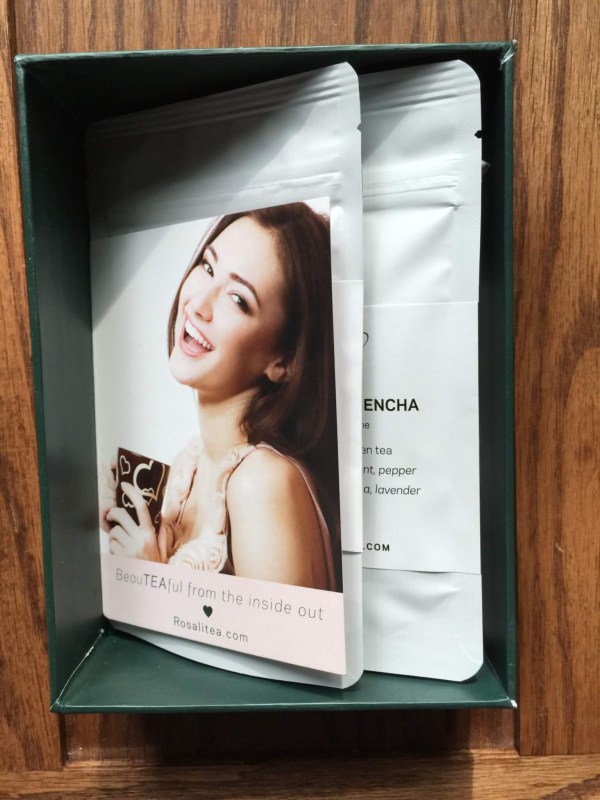 As always, the box included some biodegradable tea bags.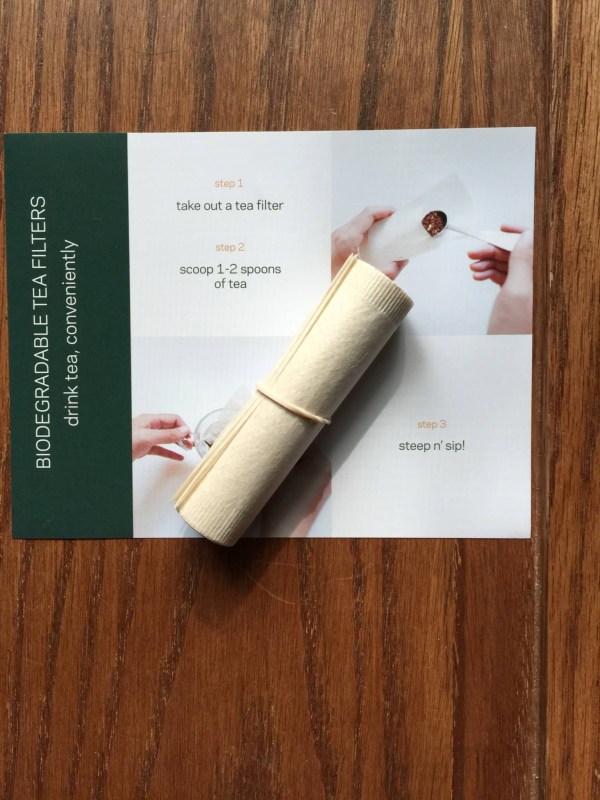 And this month, they included some honey to enjoy with the teas, more on that later.
The packaging on each of the selected teas is nice, too. It contains a description of the tea, along with information about the caffeine content of the tea, health benefits, and brewing instructions. So, on to the teas!
First up is the Biluochun.
What Rosali Says: According to the Qing Dynasty chronicle Ye Shi Da Guan, the Kangxi Emperor visited Lake Tai. At that time, because of its rich aroma, local people called it, "Scary Fragrance". The Kangxi Emperor decided to give it a more elegant name "Green Snail Spring". It is so called because it is a green tea that is rolled into a tight spiral, resembling snail meat, and is cropped early sprint.
What I Say: It's a great green tea. It does have a very earthy, vegetal smell that you might expect from a green snail tea. It's got a nice, transparent liquor and what I would call "mellow" vegetal tones–I taste seaweed, maybe bok choy or other leafy green notes. It's smooth though, with a fairly quick finish and very mild astringency. A very lovely green tea.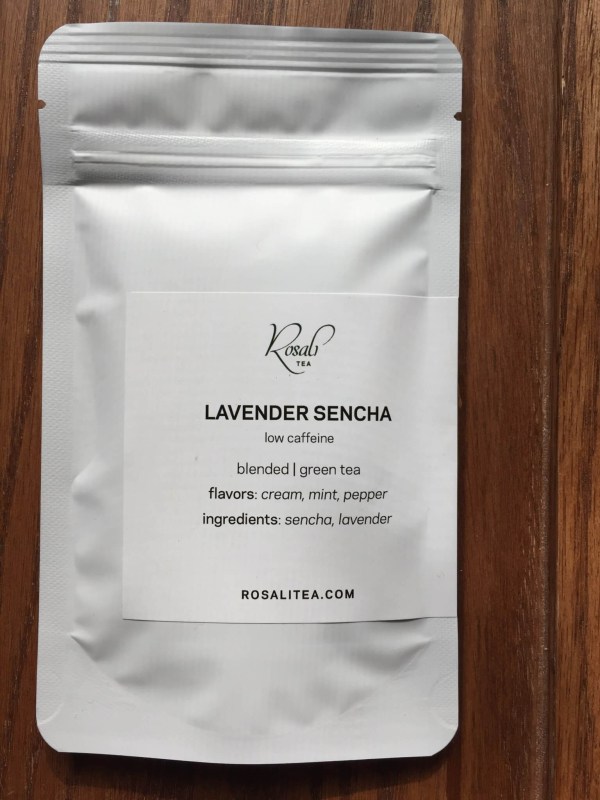 Next was the Lavender Sencha.
What Rosali Says: French lavender scents this delectable sencha. Take and aromatic holiday and imagine yourself sipping tea in your Provence farm house.
What I Say: Now, as much as I would like a farm house in Provence, I have to say I'm not wild about lavender. It does smell wonderful, but I've never been super keen on the flavor. This blend does smell wonderful–I could sit and sniff it all afternoon. But here's the surprise (for me): it tastes really great, too. It's not overly floral and the lavender is subtle, but still present, a really nice mellow hint of mint. I don't know if the folks at Rosali blend it, or just seek out the best blends, but this is a hit. The lavender adds just the right amount of light, floral sweetness and the sencha balances it with a very mild earthiness that just wins. There's virtually no bitterness, and just a smooth, lingering finish that left me wanting more.
Finally, we have the Sticky Rice Pu-erh. This was a really new experience for me. The tea itself came not as a loose leaf or bagged, but in these individually wrapped "tea cakes".
I had not encountered that before. The instructions from Rosali didn't say to do anything special with it, so I didn't. I did find some instructions online that said to rinse the cake? But that didn't really seem to make any difference in the brew to me.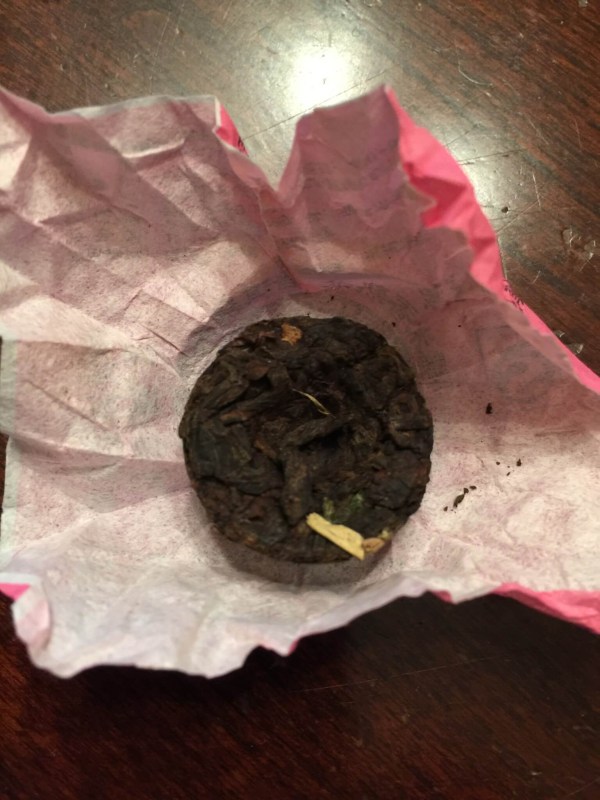 But from the moment you open the package on this one, you know this is going to be a special tea!
What Rosali Says: Our sticky rice scent mini tuo cha ("Nuo Mi Xiang") offers a robust and rich flavor. The "rice scent herb" Semnostachya menglaensi, grows wild in Yunnan Province and is blended with the small ripe Pu-erh leaf to create a tea with a sweet and glutinous taste. Goes well with food!
What I Say: Wow. This stuff is totally cool. When they say it has a rice scent, that's no joke. It smells exactly like a hot steaming bowl of rice, which is pretty amazing. The Pu-erh is great here, too. It tastes exactly as if you poured a cup of great tea over a bowl of rice. I have never encountered Semnostachya menglaensi, but it's pretty cool! I will say, if you add honey to this, it takes it to a next level blend. The honey that Rosali provided is pretty good, but I'm a total local honey snob, and this blend was really excellent with some Prairie Flower honey from Wisconsin.
Well, I don't mean to gush, but this is an outstanding tea box. If you love tea, you won't be disappointed. If you just like tea, their blends may make you love tea. And if you think you don't like tea–let Rosali build you a box, and I suspect you will change your tune. Another great month from Rosali!
Visit Rosali Tea to take the survey to get your customized teas on the way! Save 20% off the first month. Use coupon code  HS20.
The Subscription
:
Rosali Tea
The Description
: Rosali Tea is a fun way to discover exclusive teas from around the world that you can't find in grocery stores. Our tea expert personalizes your tea box based on your preferences, and we source from artisans who handcraft and blend their teas in small batches. We offer different price points to fit your budget and daily needs and deliver monthly. Shipping is free, we deliver to your door, and you can cancel anytime.
The Price
: $14.95 per month