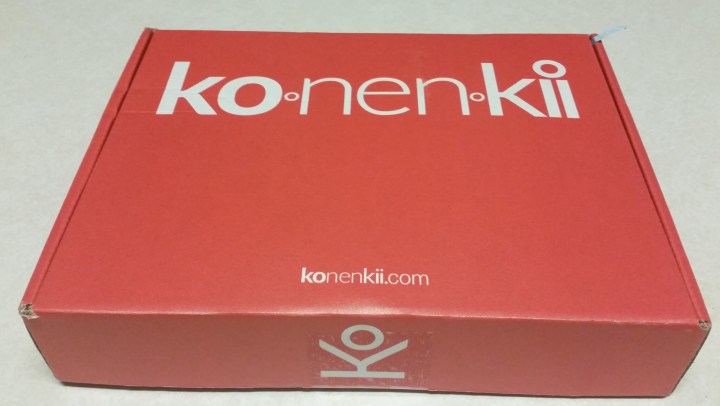 Konenkii is a quarterly "discovery" subscription box for modern women — north of 40.  According to the website, "Each quarter we find some intriguing items to share.  Some you can use right away and some are to savor.  But it's really about giving yourself a little treat.  Something to look forward to.  Just for you."   Although the contents of the box are a surprise, Konenkii promises that "you can always count on finding something fabulous to eat, to wear, to read, or share."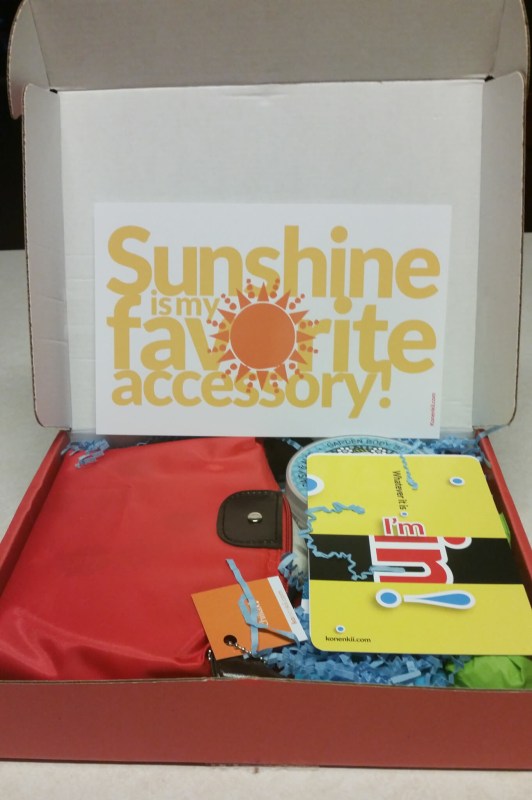 I have loved both Konenkii boxes that I've received so far – I was super excited to see the distinctive red box in my mail!  The quarterly subscription is $49 every three months, with a discount for purchasing a full year (four boxes) at a time.  Opening the box, lots of bright summery colors (red, yellow, orange) – plus the theme card "Sunshine is my favorite accessory."  Yep!  I can't wait to dig in.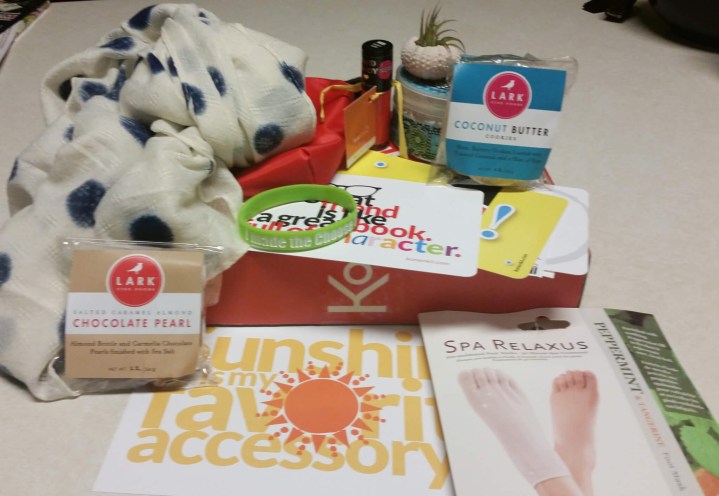 Look at all this fun stuff!  Just like with previous boxes, I was excited with most everything I pulled out of this box.  Konenkii has definitely figured out women of a certain age — or at least this woman north of 40!  Let me show you what they sent for summer.
Here's a closer look at the theme card.
And the back of the theme card provides information about the items in the box.  Again, I'm loving the descriptions — encouraging me to rock the Casbah in the scarf and to open the cookies RIGHT NOW!  (I haven't yet rocked the Casbah, but I did follow the instructions to open the cookies immediately…because cookies.)  I seriously laugh when I read the card and I feel like the Konenkii curators are my friends.
Polka Dot Scarf:  First up, the scarf in which I am supposed to rock the Casbah (and not Clash…hahaha).  Anyway, I love scarves, especially in the summer – this is a nice light-weight cotton/linen blend and it's big enough to wrap around my shoulders as I go in and out of air conditioning.  Plus, joking aside, the simple cream and navy color means I can use this scarf without clashing with most of my wardrobe – another bonus.  And who doesn't love polka dots!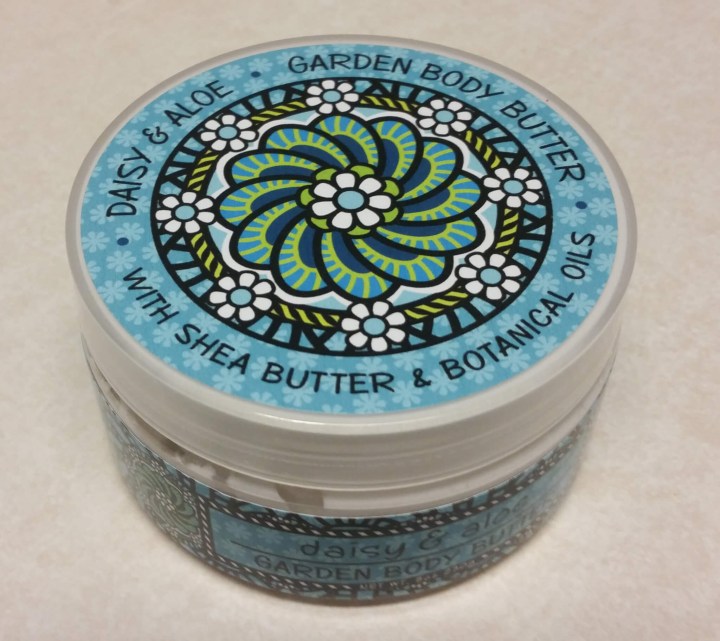 Daisy & Aloe Body Butter: Ooooh.  So lovely.  This is a nice body butter/lotion, made with shea butter and botanical oils, with a fresh garden-y scent.  The butter is creamy and luxurious, while the scent is clean and not overpowering.  It made my skin feel super smooth & I look forward to using the rest of it.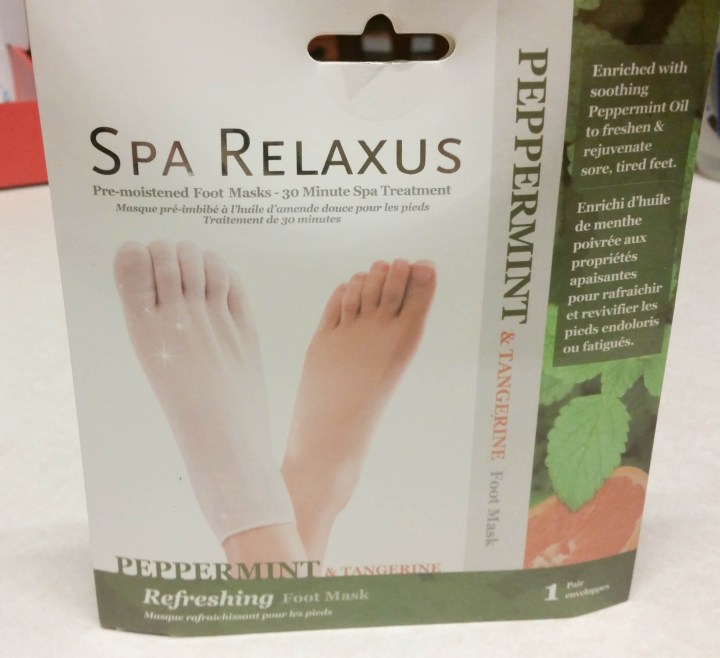 Spa Relaxus Peppermint Tangerine Foot Mask:  OK, I'll admit it – this was a new one on me.  I have never tried a foot mask.  The package includes a pair of pre-moistened socks that you put on and then chill out and let do their magic.  These are supposed to revitalize dry, overworked feet; this one in particular is enriched with peppermint oil to fresh and rejuvenate tired feet.  I'm not sure my feet were rejuvenated, but the product smelled amazing (I love citrus and peppermint) and it was rather decadent to sit and let my feet relax for a half hour.  I felt like I was at the spa, in my family room.  Awesome!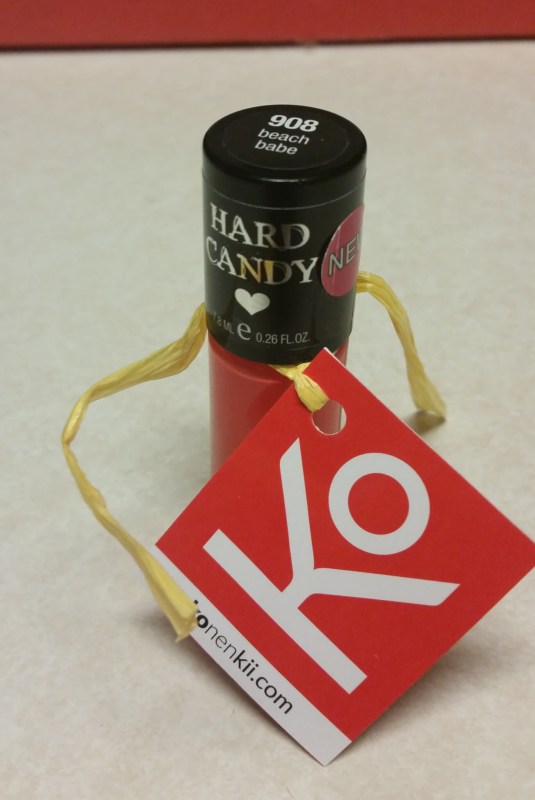 Hard Candy Toenail Polish (in Beach Babe, naturally):  After I gave my feet the spa treatment, I might as well get my pedi on, too – right?  I've mentioned before how much I love red nails.  And I love that Konenkii knows that about me (and other ladies like me).  A good quality nail polish in a gorgeous, summer-ready red.  Perfect for beach toe nails!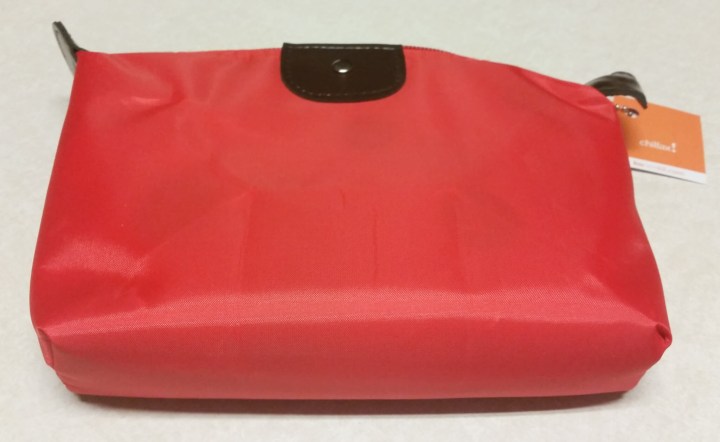 Konenkii Kit:  This is a nice little foldable, water-resistant, zippered bag.  The scarf came in it when the box was shipped.  It's just the right size for some personal items (makeup, lotion, etc.) to take to the beach or on a summer weekend, and it's easy to store since it folds up tiny.  Plus it's a great shade of red.  (I like red, can you tell?)
Lark Cookies:  Cookies for grown-ups, as the company slogan says.  I guess I would have to agree, because I certainly didn't share these with my kids!  Lark makes cookies with sophisticated flavors — the two in the box are actually pretty tame compared to some of their other offerings…burnt sugar and fennel or salted rosemary?  I'd try them, for sure.  As to the ones in my box, though…these were delicious!  I thought I'd love the chocolate pearl more, because I'm a sucker for salted caramel, but as good as that one was, the coconut butter cookies were divine.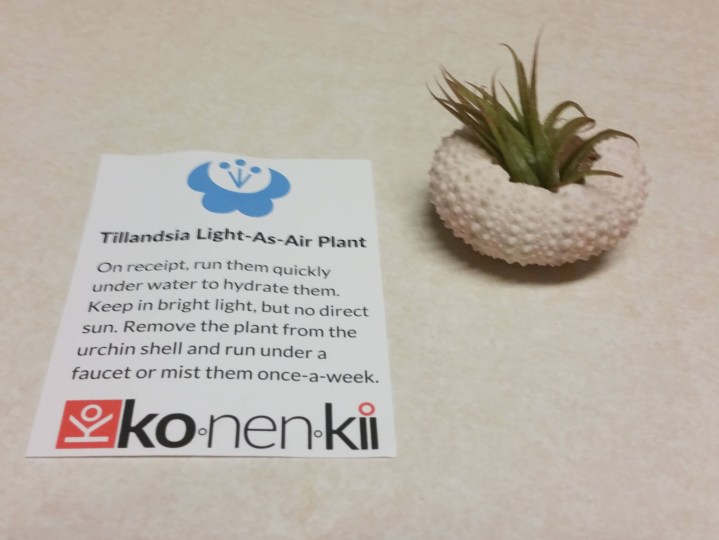 Tillandsia Light-As-Air Plant:  I am not a green thumb, by any stretch of the imagination, so I like that Konenkii keeps trying with me!  Last box, they sent wildflower bombs – throw, water, grow.  Super easy.  This box, they sent a teensy plant in a seashell that requires me to mist it once a week.  I can handle that!  I look forward to seeing if I can keep this little cutie alive.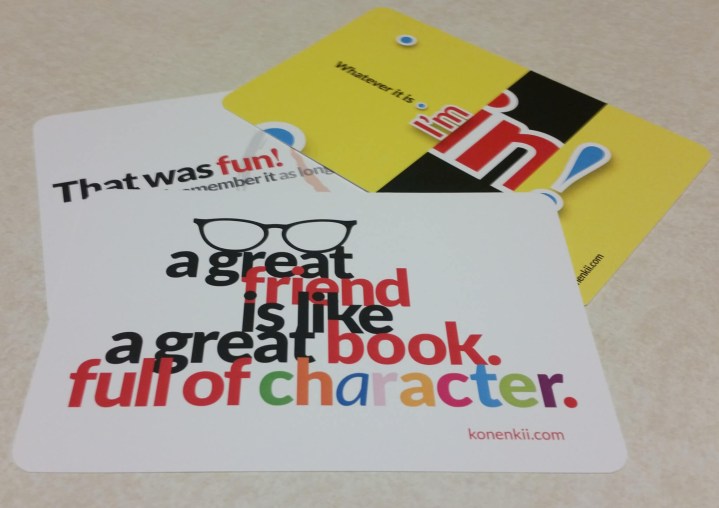 Konenkii Voice postcards:  Summer time is travel time, so its fun to get some postcards to send.  As a woman north of 40, I still remember good times of sending and receiving actual mail, so I am looking forward to sending these cards to my friends.  The quotes are fun and I love the bright colors too.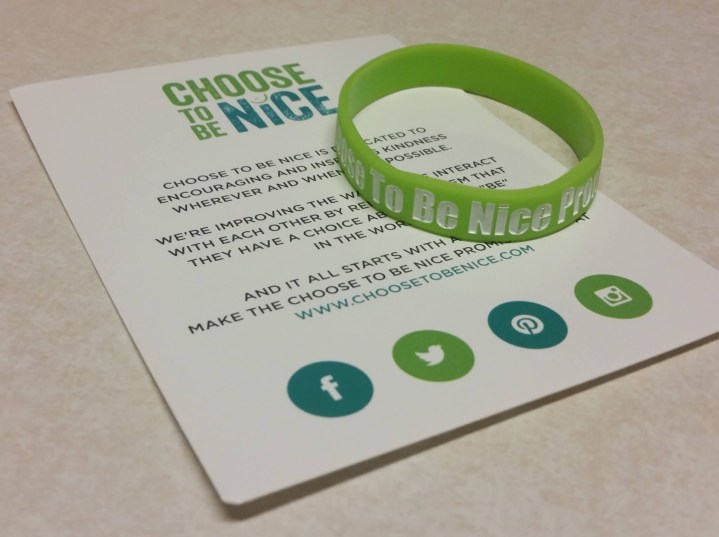 Bonus item – Choose to Be Nice Bracelet:  The last thing in the box isn't on the card.  It's a card about encouraging kindness and improving the world through positive behaviors…choosing to be nice.  Plus there's a fun green bracelet to wear as a reminder to choose to be nice.  I like the positive message of the card and the fun bracelet.
I love Konenkii – I know that I will like and use everything in the box, even things I wouldn't normally pick for myself, which is cool.  The products are perfect for women north of 40, not because the products are for smoothing out my laughlines or hiding my grey hair, but because they celebrate the fun of being a bold, mature woman.  Red nail polish!  Coconut rum cookies!  Plants I can't kill!  I also totally love how the curators envision the theme and make it work for people like me.  A lot of summer boxes are tank tops and shell beads…which are fine…but you can tell the Konenkii creators put more thought into it when they include things like a large scarf!  I recommend Konenkii for anyone like me, who is "aging fearlessly and having fun along the way!"
Visit Konenkii Box to subscribe or find out more! Save $10 on any subscription! Use coupon code HELLO10. FYI the summer box is still shipping – this box will be your first box!
The Subscription
:
Konenkii Box
The Description
: Konenkii is a quarterly subscription gift box filled with hand selected full-sized products and the latest ways to help ease, educate, and empower modern women through the aging process – with grace and a bit of humor.
The Price
: $49.99 per quarter