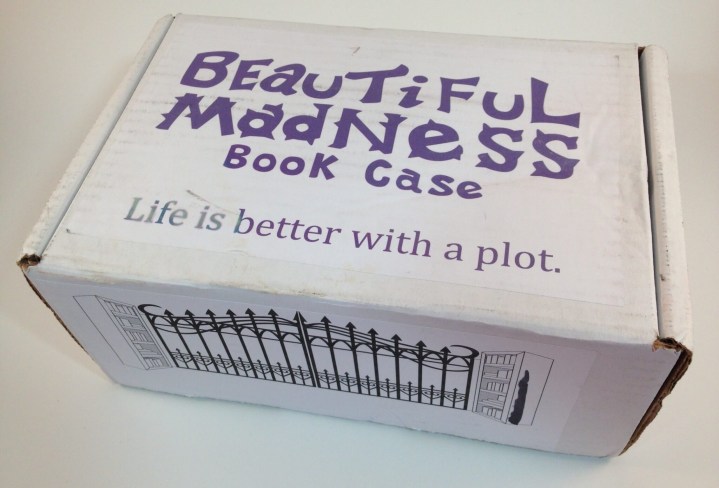 Beautiful Madness Book Case is a new themed monthly subscription box from a former bookseller who wanted to offer something different. This box has a care package feel to it and will contain a book, a drink mix of some sort (coffee, tea, hot chocolate), a snack, and 2-3 items to complement that month's plot. It is $46.50 a month and there are discounts for 3, 6, or 12 month plans and all plans auto-renew. This box ships for free and is currently only available in the US. The Chapter One box is still available in their online shop as a one-time purchase.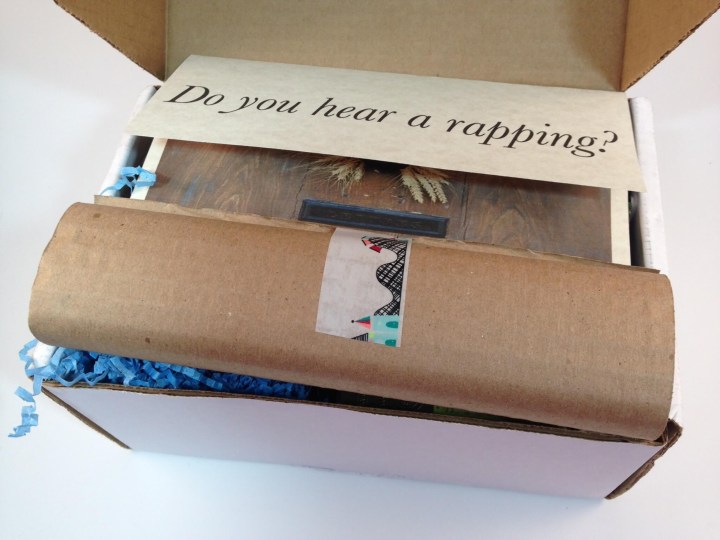 In keeping with the literary theme, this box was called "Chapter One: That Boy is Poe, Son" rather than the usual "June" or whatever. Month names are so last year.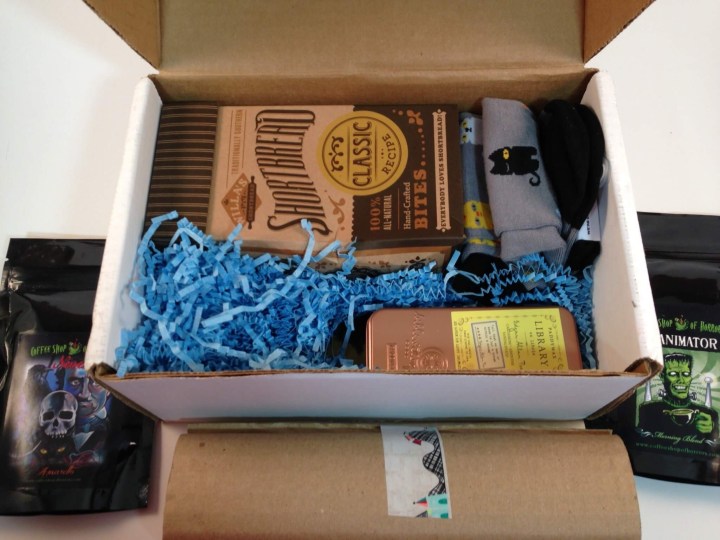 Everything in the box. There is a book under there somewhere.
First up is the product information card, which was a tri-folded paper with the words "Do you hear a rapping?" on the outside above a picture of a door knocker. It included the suggested retail prices of the items as well as their websites so you can reorder your favorites or discover something new.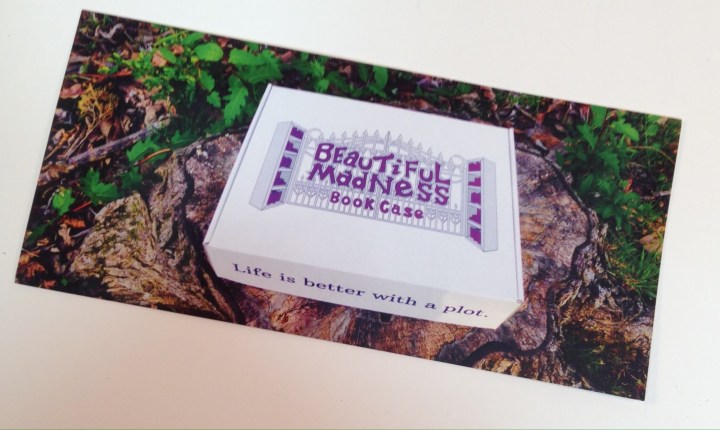 This bookmark is a promo card that has the website for Beautiful Madness Book Case on the other side.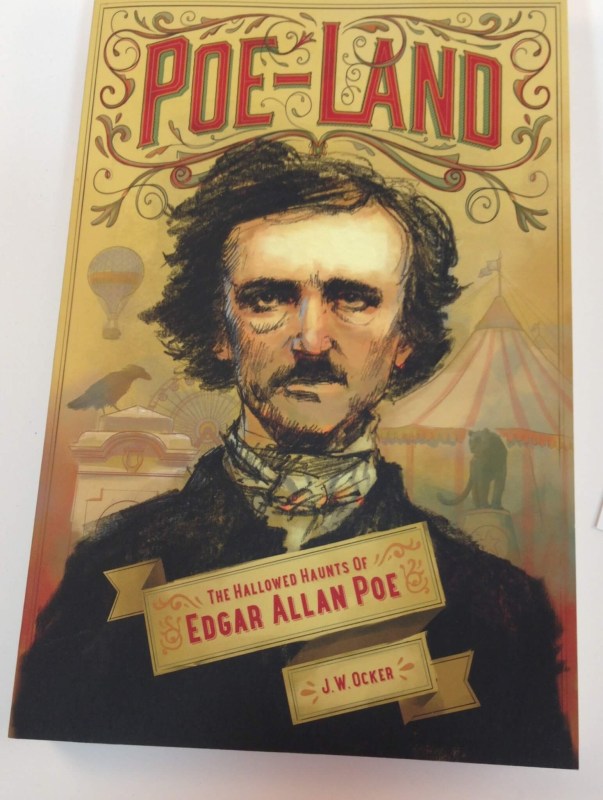 Poe-Land: The Hallowed Haunts of Edgar Allen Poe by J.W.Ocker ($18.95 $15.62) I wasn't expecting a non-fiction book but books included may be fiction, non-fiction, or young adult. In the future they hope to offer either a genre or fiction/nonfiction choice for each box, but the book itself will still be a mystery.
This book has a 5 star rating on Amazon! Here is the teaser:
Follow the footsteps of the father of American horror fiction!

Edgar Allan Poe was an oddity. His life was odd, his literature is odd, his legacy is odd. Actually, his legacy is the oddest part about him. In Poe-Land: The Hallowed Haunts of Edgar Allan Poe, J. W. Ocker explores Poe's strange physical legacy along the East Coast and across the ocean by touring Poe's homes, examining artifacts from his life–locks of his hair, pieces of his coffin, original manuscripts, the bed where his wife died–and traveling to the many memorials dedicated to Edgar Allan Poe.

Along the way, Ocker meets Poe fans from a range of backgrounds and professions–actors, museum managers, collectors, writers, professors, businessmen, sculptors, historians–who have dedicated some part of their lives to Poe and his legacy. Poe-Land is a unique travel diary that follows the afterlife of the poet, author, and critic who invented detective fiction, advanced the emerging genre of science fiction, and elevated the horror genre.
Sounds like a creepy summer road-trip!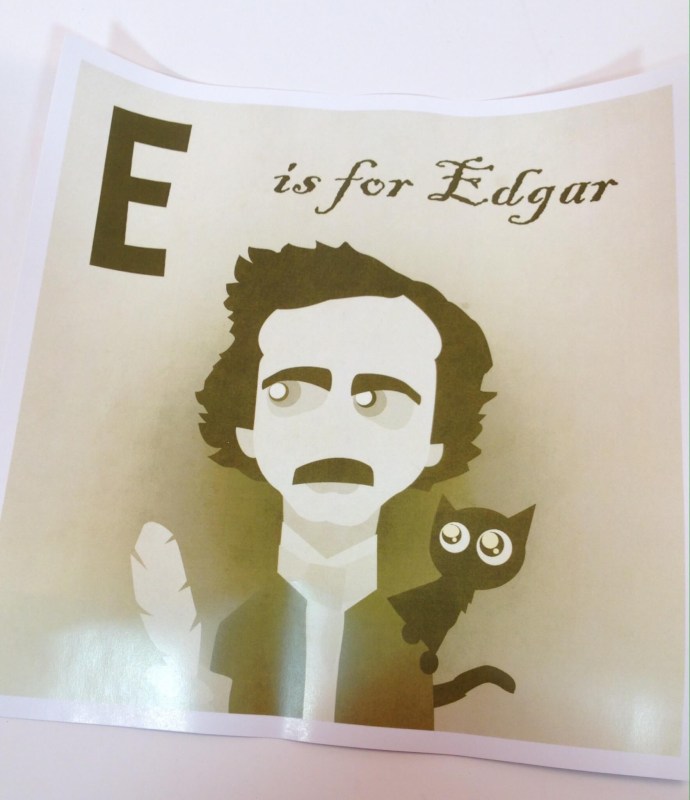 E is for Edgar 8.5″x 8.5″ print by Drew Blank  ($5) This card-stock print is part of the Horror Squares alphabet series (B is for Buffy, C is for Chucky, etc). This is certainly the least creepy offering;  Leatherface and Machete are more blood-splattered.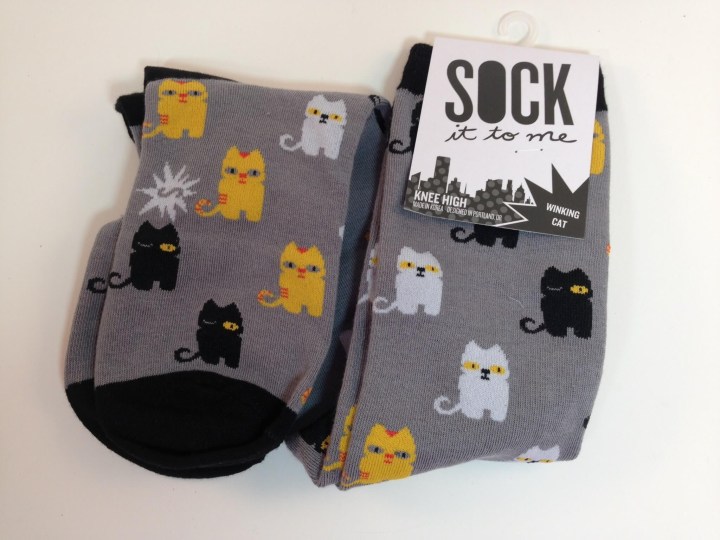 Sock it to Me Winking Cat Socks ($12) These knee-high socks are for women's shoe sizes 5-10 and are made of cotton/polyester/nylon. My 12 year old pounced on them like a cat on a mouse but they reappeared later on her feet.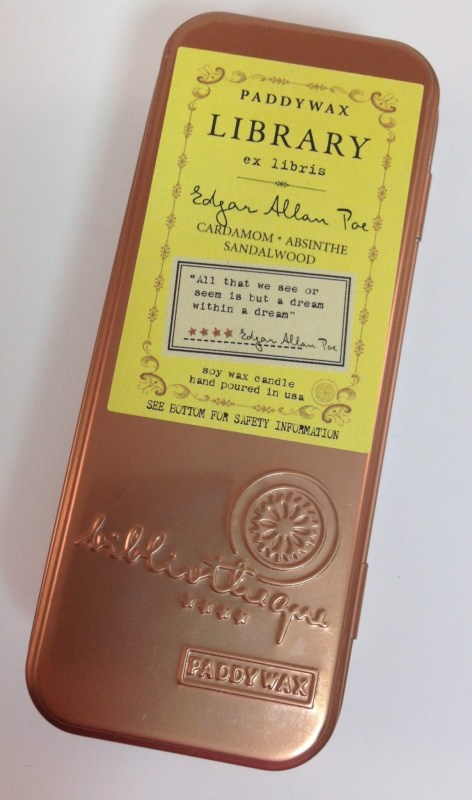 Paddywax Edgar Allen Poe Library Tin Candle ($7.50) This has a cardamom, absinth, and sandalwood scent that I love, sort of like pears and leather with a little cigar smoke in the mix. I LOVE it! Also has a quote by EAP on the lid.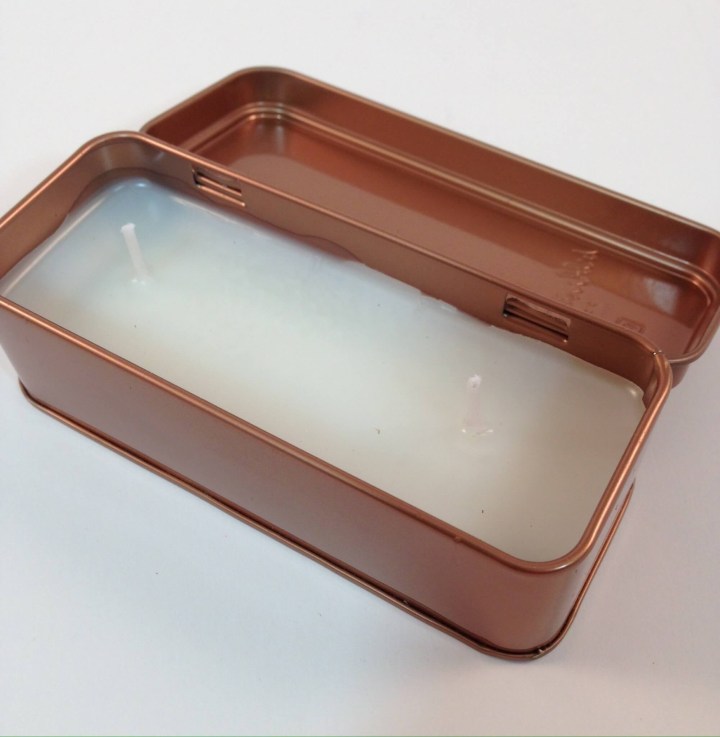 The 2.5 oz  candle was in a copper tin and has a soy base with two cotton wicks.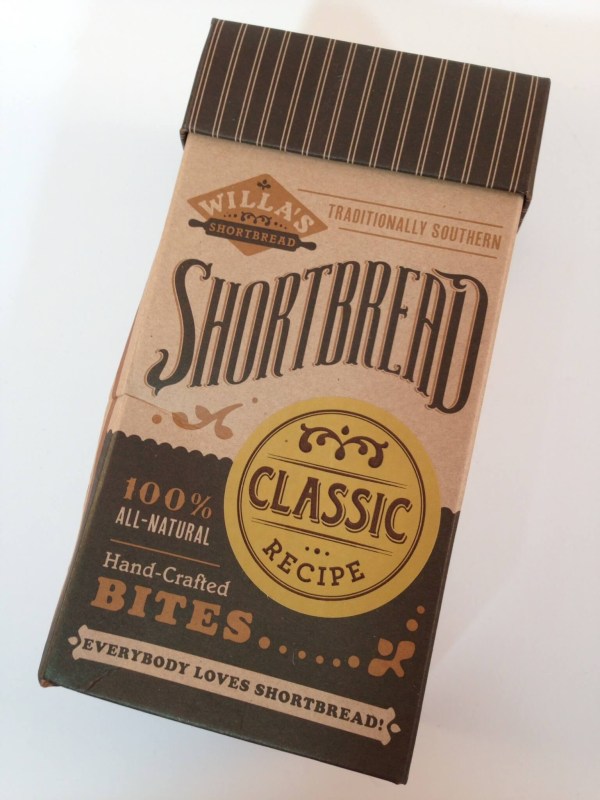 Willa's Shortbread Classic Recipe Shortbread Bites ($5.95) These buttery sweet bites have only 3 ingredients (flour, butter, and sugar) and melted in my mouth. Delicious!
Coffee Shop of Horrors Ground Coffee in Reanimator and Nevermore ($2.60 each) Coffee Shop of Horrors offers coffee, tea, cocoa, and candy from their website and they grind the coffee just before shipping it to you. I am not a coffee drinker but I do occasionally make Starbucks-esque drinks and I plan on cold-brewing the amaretto flavored Nevermore and turning it into an iced latte. I passed the Reanimator Morning Blend on to my husband and asked what he thought of it. Quoth my husband, "superb".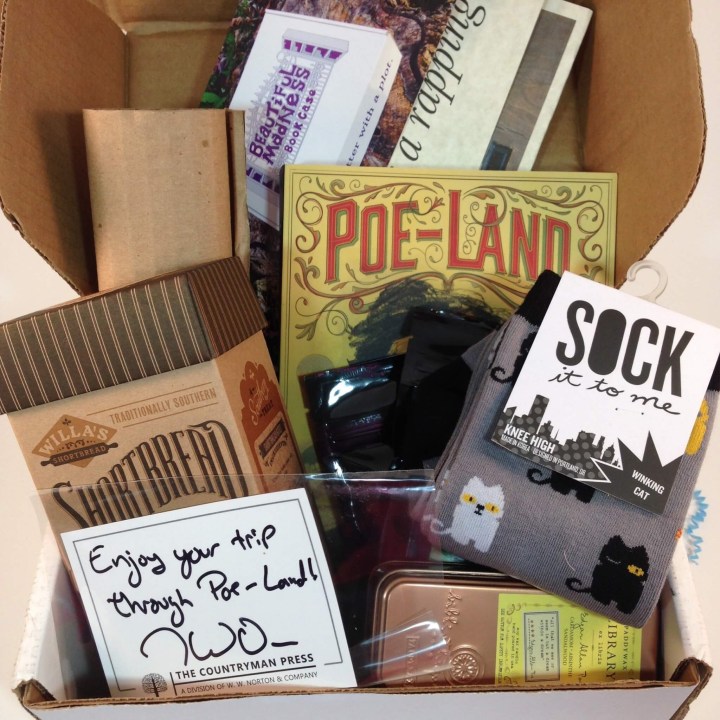 Wow, what a fun box! I love the way all of the products fit the theme and the quality of the products were top-notch. With the exception of the poster all of these items will be used and enjoyed and the value was over $50. I can't wait to see the future box plots. Where do you think Beautiful Madness Book Case should take us next month?
Save $4.00 off your first box! Use coupon code SIMPLYMAD.
Visit Beautiful Madness Book Case to subscribe or find out more!
The Subscription
:
Beautiful Madness Book Case
The Description
: Beautiful Madness Book Case sends a box of happiness to every subscribers every month. The box will include a handpicked book, a snack, a drink that can be brewed or made, and two to three items that complement the book. All you need to do is find your cozy spot, and get lost in a great book.
The Price
: $46.50 per month