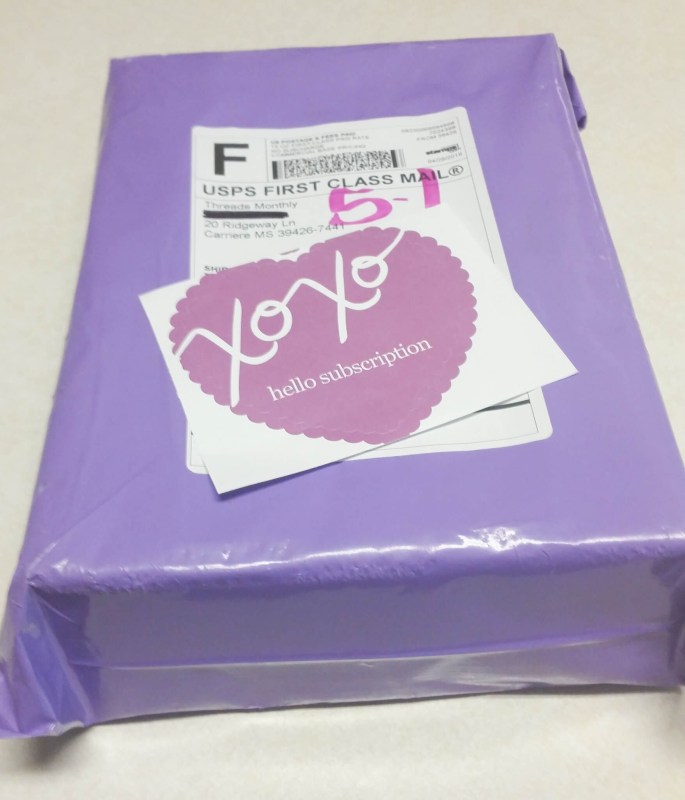 Threads Monthly is a subscription box for "women who love clothing and accessories."  Each month promises one t-shirt, one or two pieces of jewelry, and a themed accessory, all for $20 a month.  I reviewed this box with the help of my budding fashionista daughters, aged 14 and 11.  The box is aimed at women, but my girls wear adult clothes and the items in the package were perfect for tweens, teens, and grownups too!  The last couple boxes we got from Threads Monthly were so much fun, we couldn't wait to dig into this month's goodies!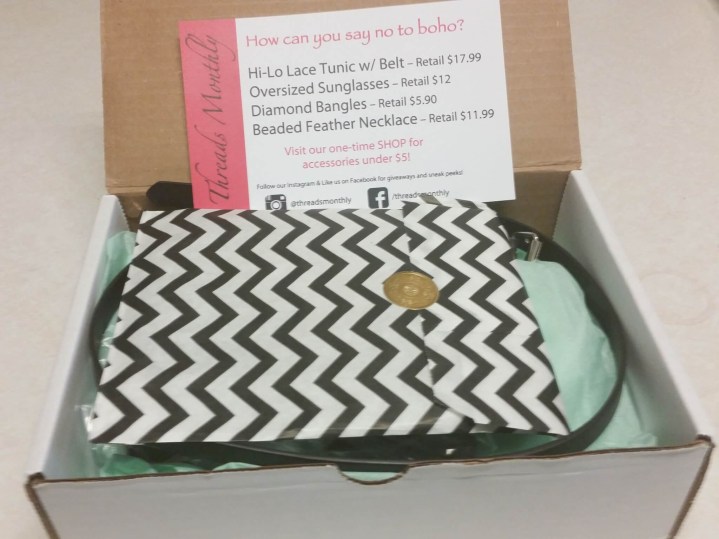 This looks like fun already – the mint tissue paper is super spring-y and we were excited to find out what was stashed in the chevron bag.  Plus the theme – "How can you say no to boho?"  Indeed!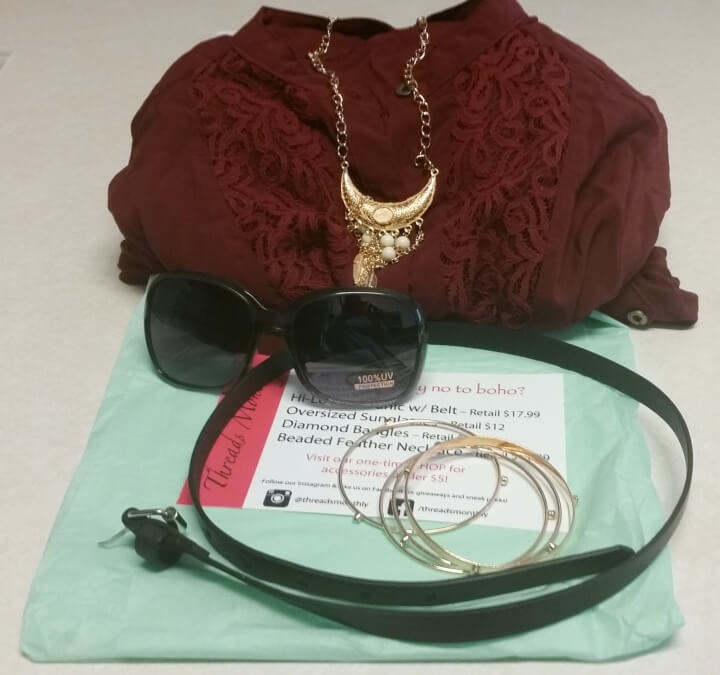 Here's a look at everything in the box.  (The jewelry was in the chevron bag, in case you were wondering!)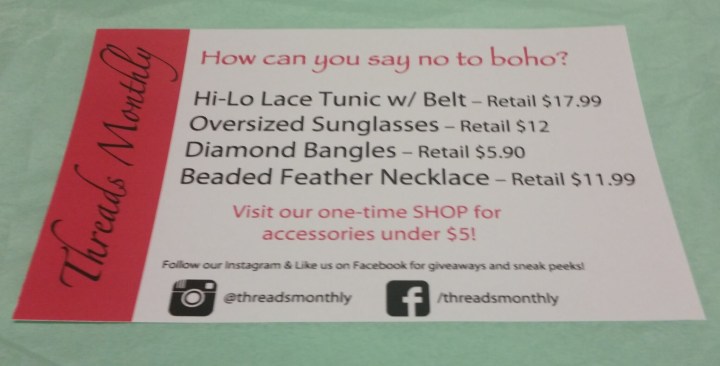 The enclosed card lists the items as well as their suggested retail prices.  Let's check out the "boho" themed goodies!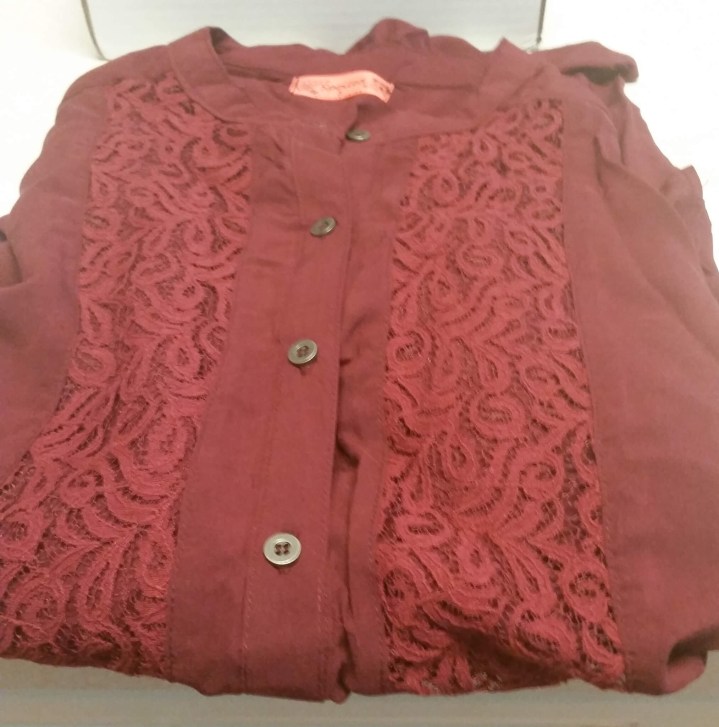 The Shirt:  The shirt this month wasn't a t-shirt at all, but a pretty, burgundy-colored lace tunic.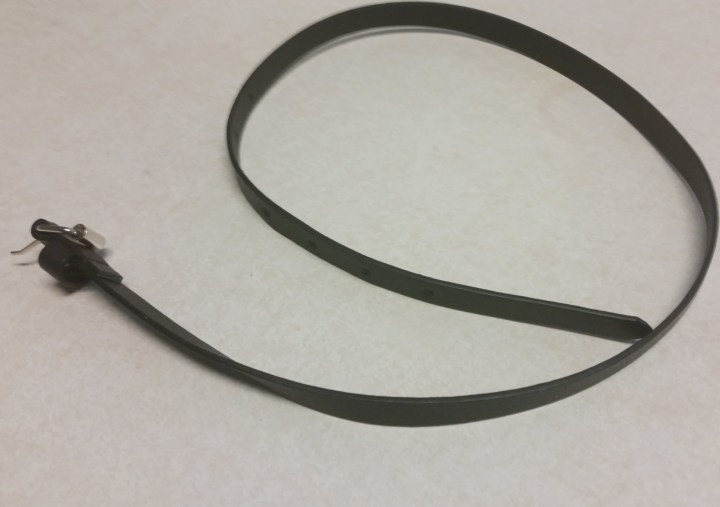 The tunic came with a skinny leather belt to wear with it.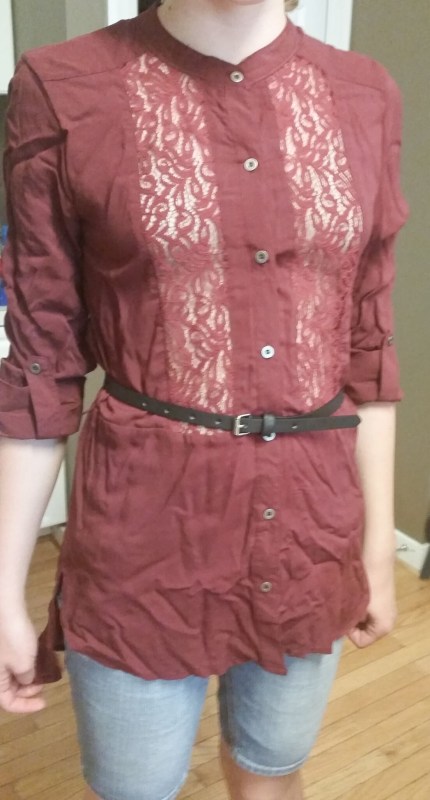 Here is my younger daughter, modeling it out of the box (hence the wrinkles – sorry).  She is wearing a tan cami under the tunic – we weren't entirely sure what color would look the best but tan may not be the best choice!  Anyway, it's a cute shirt and something entirely different than either of my daughters has in their wardrobes, so that is fun.  My younger daughter is a bit more girly; she really liked this shirt.  My older daughter prefers the graphic t-shirts that were in earlier boxes.  Something for every taste!
Jewelry Piece # 1: Diamond Bangles – these are super pretty.  It's a set of 4 gold-colored bangles, studded with little "diamonds."  They are separate, so you could wear one or two alone or all four at once.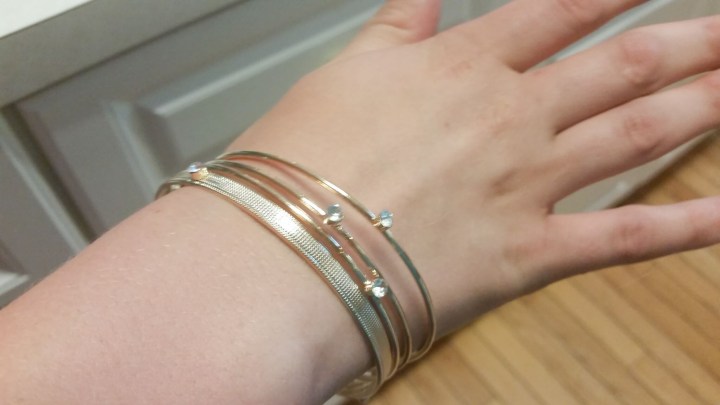 Here is my daughter, wearing the bracelets. (Wow – weird hand angle…she looks like an alien.  She isn't.  Trust me.)  Anyway, the bangles are delicate and very feminine and look great.
Jewelry Piece #2: Beaded Feather Necklace – This is a pretty statement piece.  It wasn't really the style either of my daughters typically wears, but it is really pretty.  It has a nice long chain and I have seen other feather design jewelry in stores this spring, so even if my daughters aren't trendy, this necklace is.  (It's so hard to pick on-topic jewelry that everyone loves, since jewelry is such a personal thing.  However, I think Threads Monthly does a nice job picking different styles every month – there's going to be something you like in the box and there may even be something that you never would have tried yourself that you end up loving!  The fun of boxes!)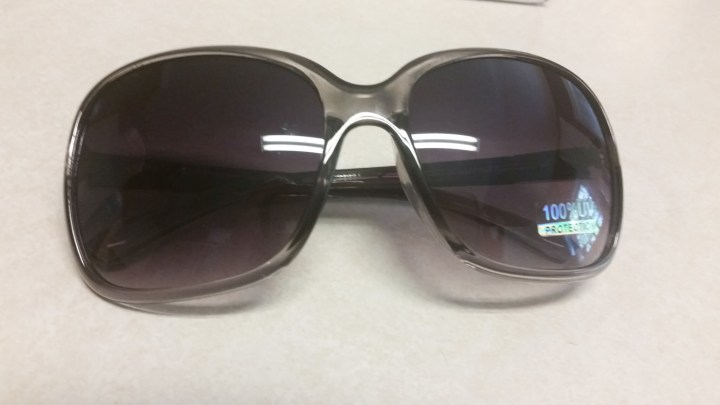 Accessory:  Oversized Sunglasses.  Oh, my – these are a huge hit.  We've gotten a couple of boxes recently that included sunglasses, but both of my daughters (and me, too!) loved these sunglasses.  We're pretty sure we look like movie stars in them!  Anyway, these are nice sturdy sunglasses in a totally trendy style.  Awesome!
We enjoyed this month's box from Threads Monthly again.  The company does a good job of including trendy, on-topic, and cute items that are also totally usable.   We didn't universally love the change from t-shirt to the lacy tunic — one of my daughters liked the change of pace, while the other one preferred the t-shirts that have been included before.  All in all, we are still big fans of Threads Monthly.  They put together a great box, appropriate for teens and grownups, as well as older tweens who wear grownup sizes (subscriptions are from adult S to adult XL, subject to inventory availability).
What did you think about Threads Monthly?
Visit Threads to subscribe or find out more! Save 20%! Use coupon code HELLO.
The Subscription
:
Threads
The Description
: Included in every month's subscription is one T-shirt, one or two pieces of fantastic jewelry, and one "Monthly Themed" accessory.
The Price
: $20.00 per month