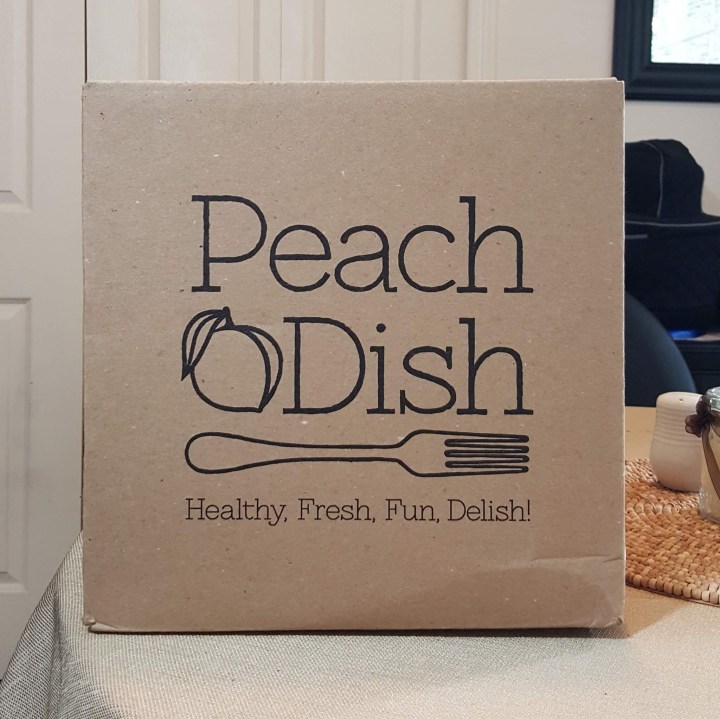 PeachDish is a fresh food/dinner kit subscription, sending the ingredients and recipes for 2 meals for 2 people to your house each week for $50.  They are now using UPS 2 day delivery.
Since this was my first delivery, Peach Dish included a welcome letter letting me know everything that I can expect with my subscription.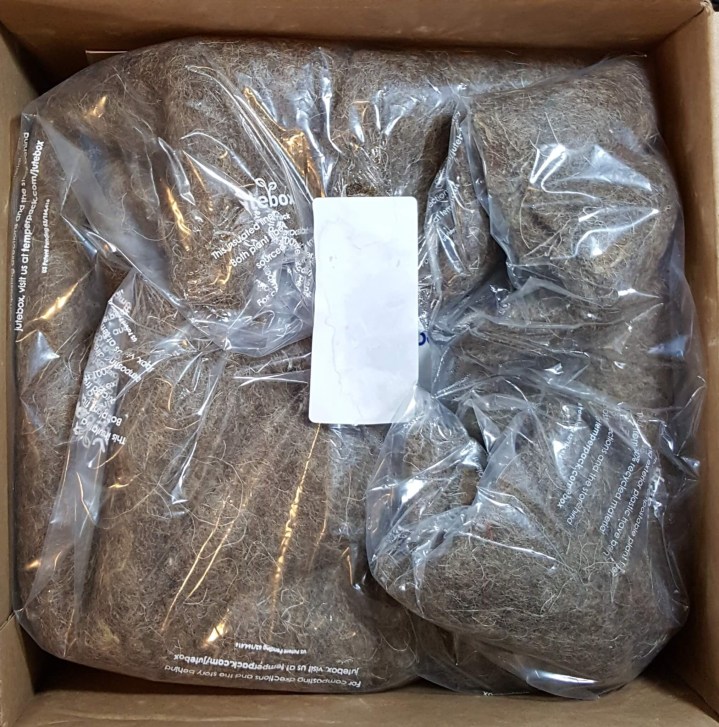 Everything is packed in jute insulation…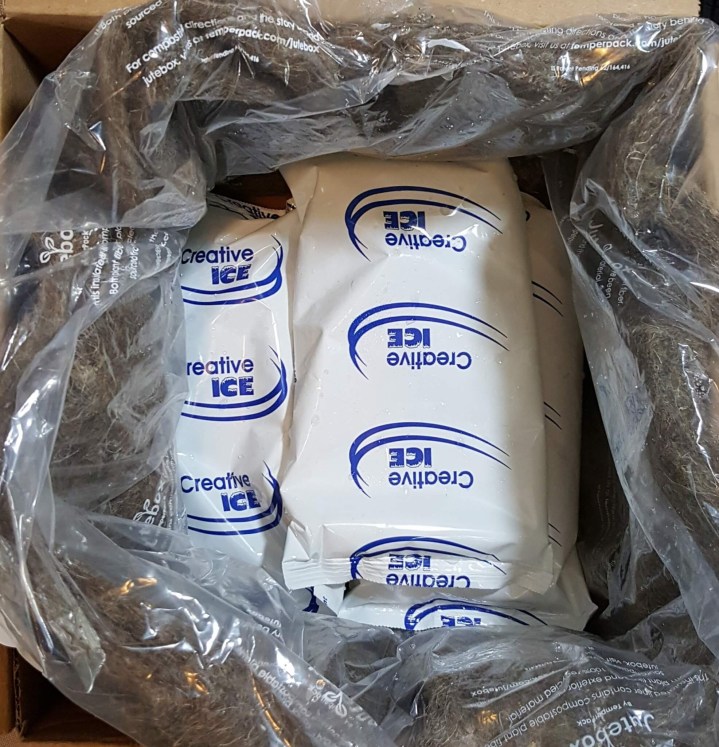 And there are multiple ice packs to keep food cold.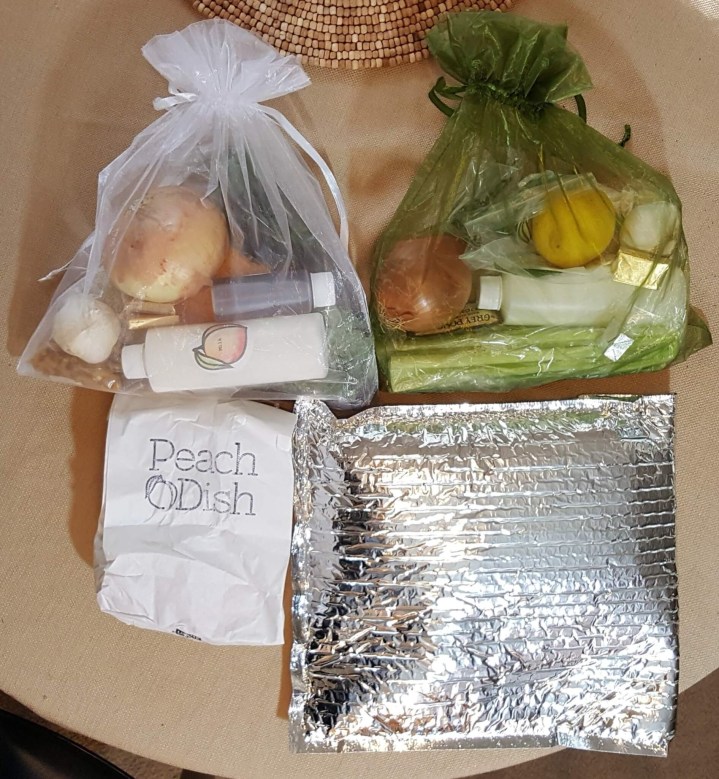 Here are the ingredients for the two dishes I ordered.  All of the veggies and pantry ingredients are separated by meal in mesh bags.  The meats are packed together in a mylar insulated bag.  There was an ice pack resting on the bag with meat for additional cooling.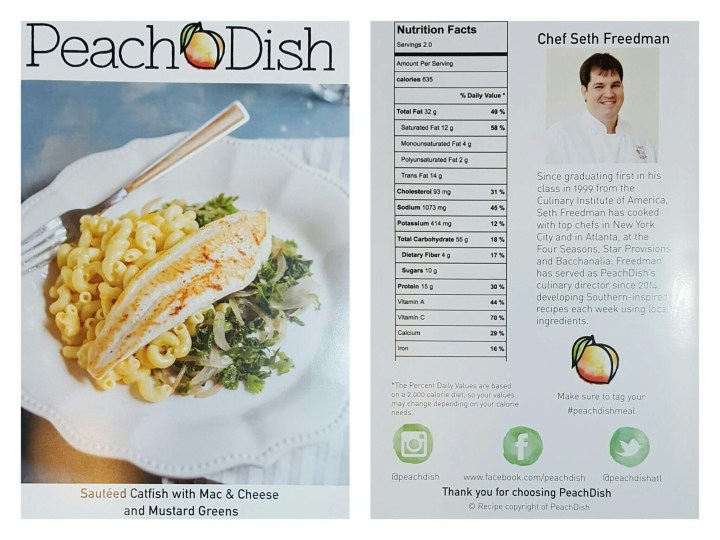 Each dish comes with a fold out information card.  The front shows a picture of the completed dish, and the back of the card provides nutritional information and details on the chef who created the recipe.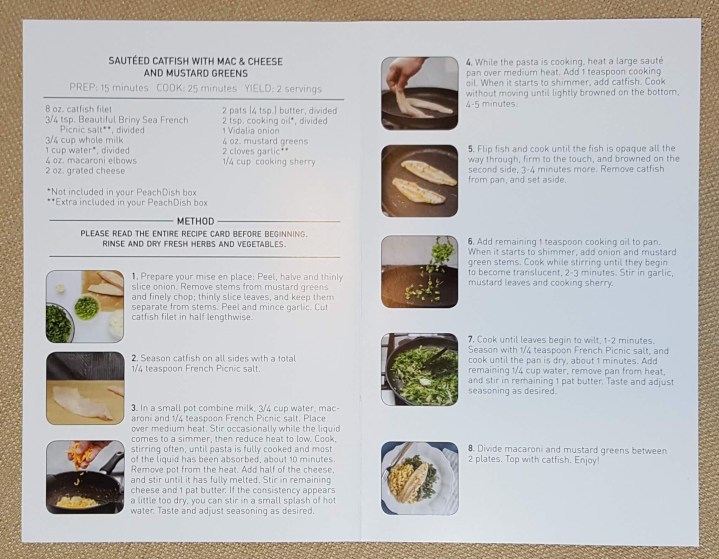 Inside the card, you'll find step-by-step directions to help you make the meal.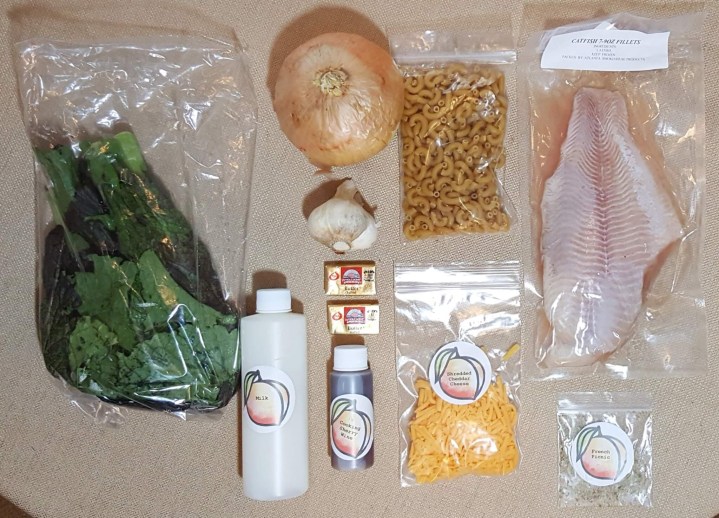 Ingredients – Sauteed Catfish with Mac & Cheese and Mustard Greens
Following the directions, I prepped all of my mise en place before starting to cook.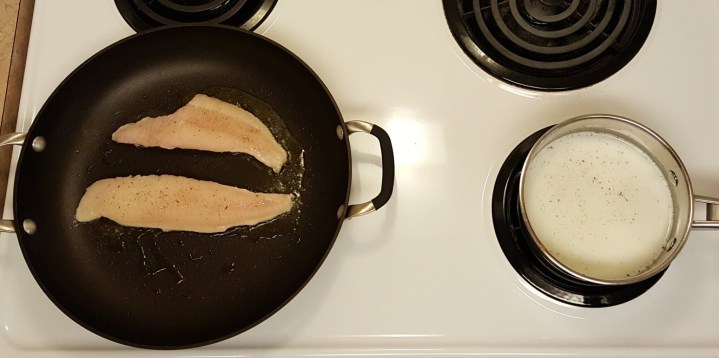 Sauteing the catfish filet and starting the mac & cheese.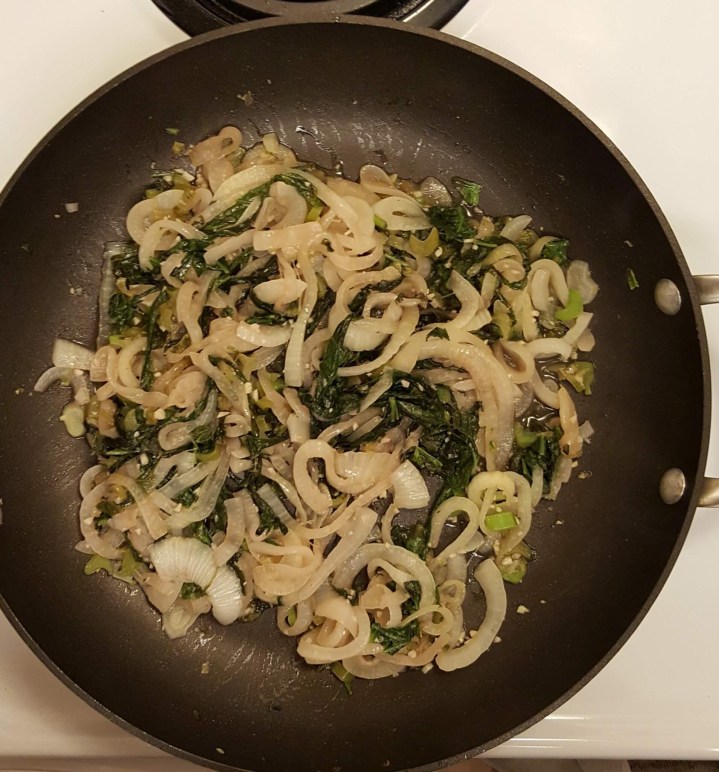 The mustard greens and sweet Vidalia onions.  I felt that the ratio was a bit off and would have preferred more greens.
My finished meals.  As you can see, there were more than enough sides for 2 people.  It was a hearty and healthy meal.  This is similar to a meal that I regularly make, with a few exceptions.  Like a true Southern girl, I fry my catfish and bake my mac & cheese (with a ton more cheese).  This lighter version is much more waist friendly and got a thumbs up from dad, so I guess it's a keeper.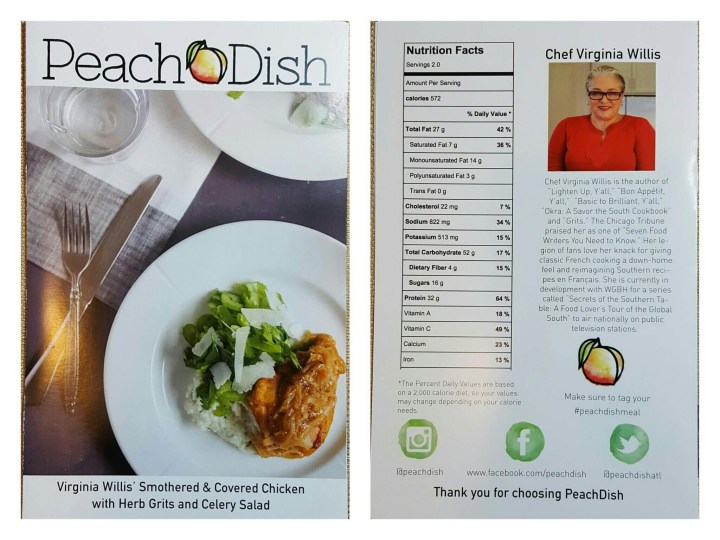 My second dish for the week was Chef Virginia Willis' Smothered & Covered Chicken with Herb Grits and Celery Salad.
Step-by-step directions with photos.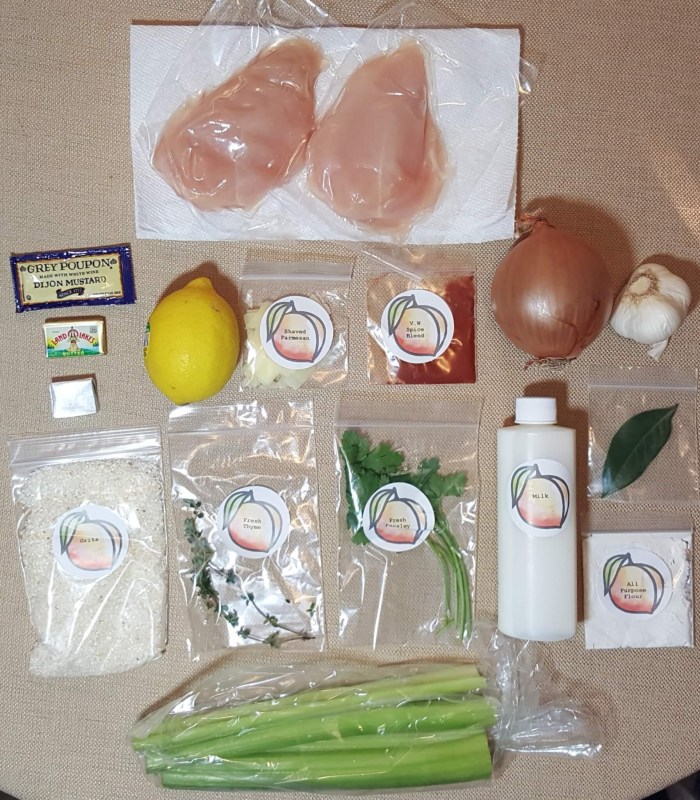 Ingredients – Smothered & Covered Chicken with Herb Grits and Celery Salad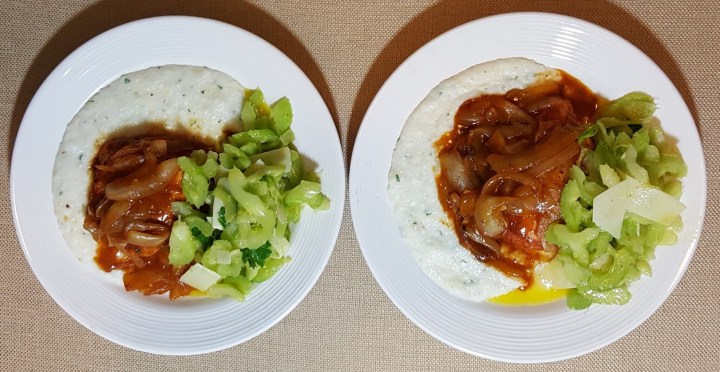 My finished plates.  My plating is not on par with the chef's, but it's not too bad.  Unfortunately, my salad dressing broke before serving, so there was a bit of an oily mess on one plate.  I really liked this meal.  The salad had nice acidity from the lemon juice and Dijon mustard.  The best part, for me, were the grits.  These were really creamy and combination of grated onion and parsley added the perfect amount of savoriness.  Those grits would be a great substitution for rice or potatoes in a host of meals.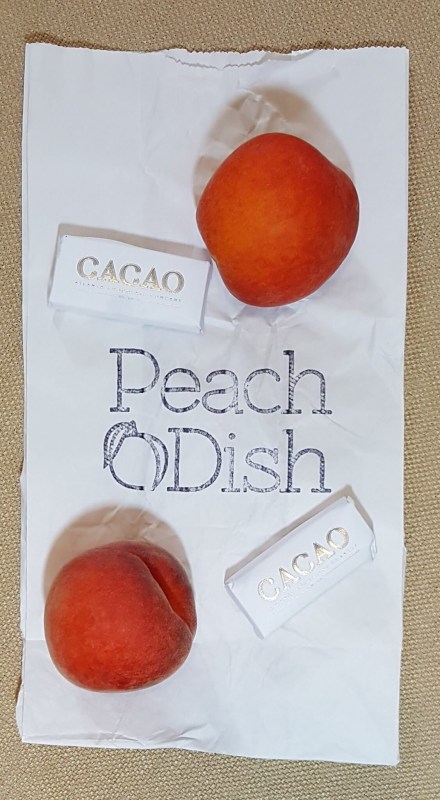 And my bonus, dark chocolate and peaches. Cute!
I was impressed with this box.  Peach Dish has done a great job making sure that you have everything you need for your meal.  The quality of the food is top notch.  I was surprised that each recipe gets a whole unit of each ingredient, even if an ingredient is shared between the ordered meals.  For example, both of my meals called for cloves of garlic.  Instead of sending me one head of garlic to use between both meals, I received 2 heads!  One was not used and is in my pantry for later.  For $50 you get 2 great meals and enough food to feed 2 adults more than comfortably.  Honestly, this is cheaper than eating out twice a week.
Have you tried Peach Dish yet? You can get $10 off the first box with coupon code aEQw1MIS.
Visit PeachDish to subscribe or find out more!
The Subscription
:
PeachDish
The Description
: Get a box of recipes & ingredients once per week to make 2 meals for 2!
The Price
: $50.00 every week