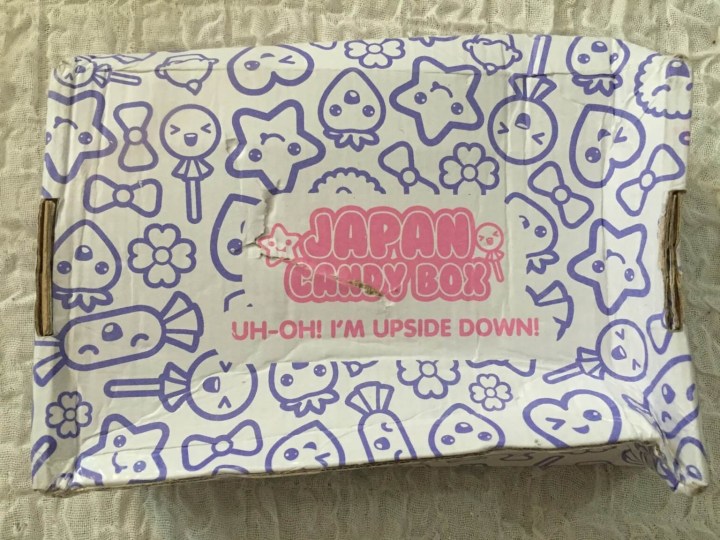 The March box from Japan Candy Box arrived fashionably late at the end of May, and I think it got stomped on by a sugar-craving Canadian moose along the way. The box is so cute, though! I'm kind of bummed it got smushed, because it's adorable!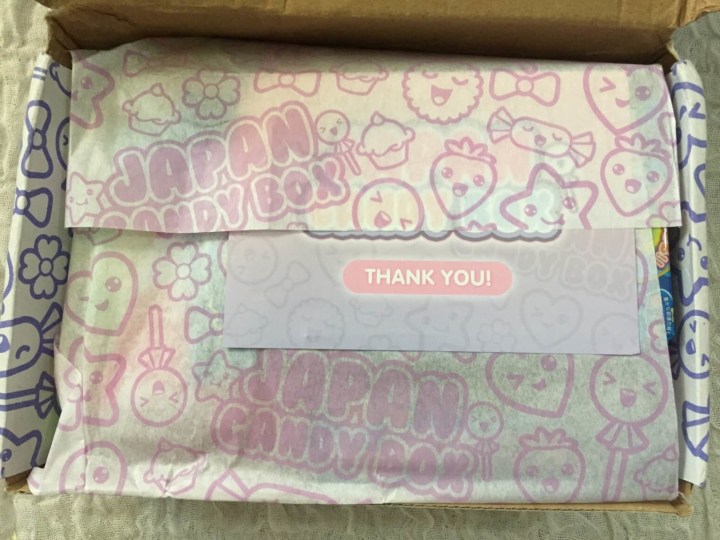 Luckily the tissue paper is just as cute! I love how it matches. What's underneath?
March's box is sugary sweet with a few savoury items thrown in for good measure. I see a lot of cola and soda flavoured items, which is awesome because I love anything cola. There aren't a lot of details about each individual item, which is something I personally prefer — I need to know if this cracker is squid-flavoured before I dig in.
Despite the outer box being a bit beat up, everything inside was safe and secure.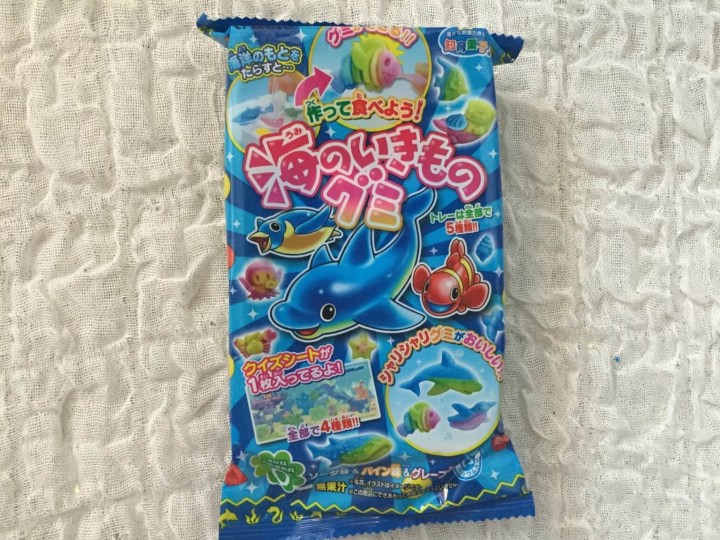 Kracie DIY Sea Animals Kit I have received this before in another snack box, but I'm not complaining — I love Kracie kits, especially the popular Popin' Cookin' collection. This set features powdered gel mix that you add water to and then press into molds to make the animal shapes. Even if you can't read Japanese, I find the instructions are usually pretty visual and easy to follow.
Bourbon Pucchi Grlled Pizza Rice Crackers I've tried about 5 of the Pucchi (Pucchi = Petit/Small) offerings, and I think these are my favourite. They're a light rice cracker and they're pizza flavoured. Cheese is the most prominent note, but you also get herbs and tomato as well if you stop and savour. I love these.
Calbee Sapporo Potato Veggie Snacks These were really disappointing, which is a shame because I normally love Calbee snacks! They're not unpleasant, but they don't have much flavour — they taste like weak vegetable soup stock.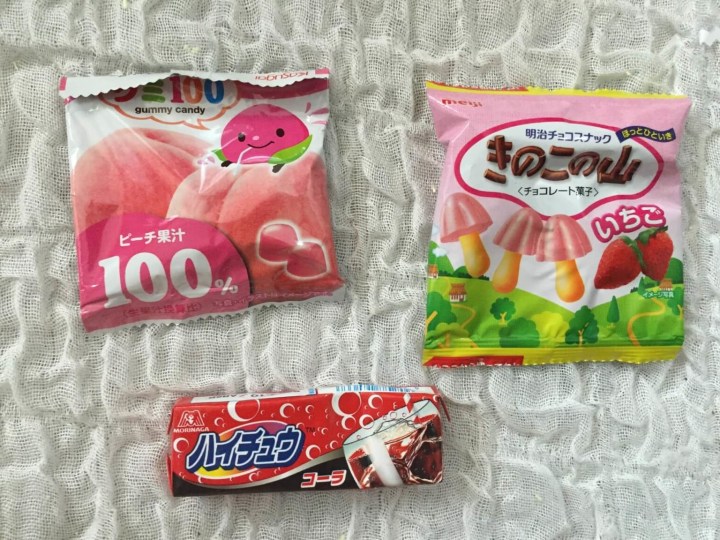 Kasugai 100% Fruit Juice Gummies These are peach (momo!) flavoured, and they are so good! They're juicy and sweet and taste like real peach.
Meiji Mushroom Cookies Meiji makes some of the best chocolate. These are strawberry chocolate flavoured and have a cookie 'trunk' and a chocolate top.
Cola Hi-Chews I love cola flavoured anything, so these are perfect for me! Hi-Chews are a soft taffy, not quite a gum, but take a bit of chewing to soften and get down.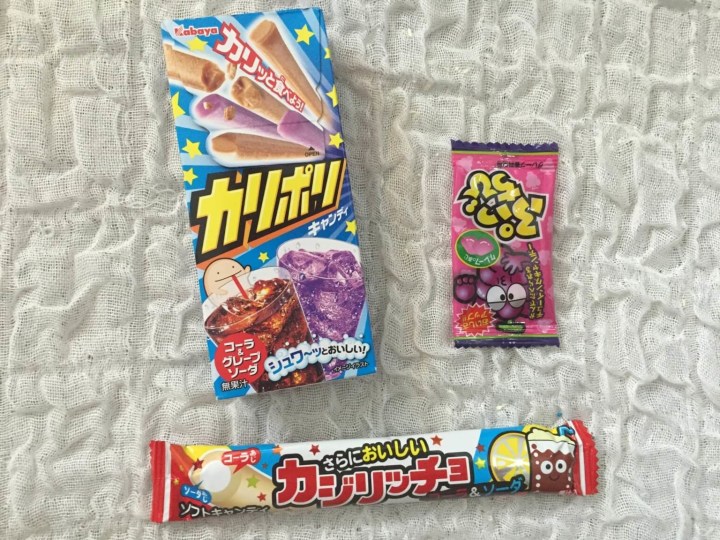 Kobaya Karipori Candy Sticks At first I thought these are Pocky-like biscuits? But when I opened them, they're actually candy sticks! They're individually packaged which means they're perfect for sharing. Maybe.
Meiji Grape Gummies These are also by Meiji, and are grape flavoured small gummies.
Coris Cola Soft Candy I didn't like this as much; the cola was a bit too sweet and left a weird aftertaste in my mouth.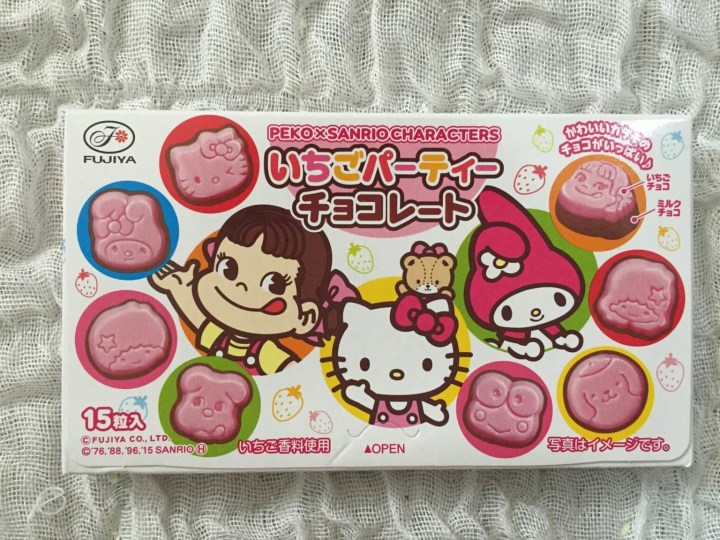 Fujiya x Sanrio Chocolates Oh my god, not only Hello Kitty but ALL the Sanrio characters! Little Twin Stars! My Melody! Keroppi! Who else remembers Pochacco? Is he still around? These chocolates are honestly too cute to eat, but I'm saving them for a Sanrio-loving friend of mine. These are also strawberry chocolate flavoured. I've had Fujiya chocolate before and it's some of the best there is. (I feel like a broken record, but Japan does really good chocolate!)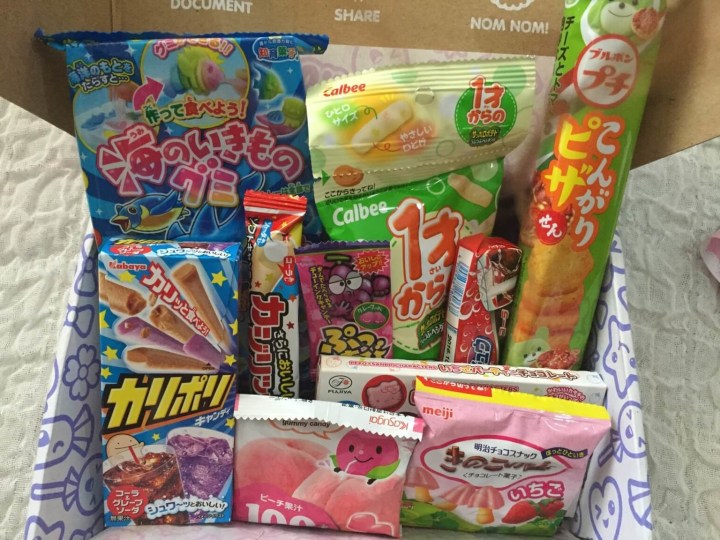 Japan Candy Box was full of really fun treats! I loved all of the cola and soda flavoured items, and I really enjoyed the pizza rice crackers. This box is definitely more on the sweet side than the savoury but there was a little bit of everything to try.
Visit Japan Candy Box to subscribe or find out more!
The Subscription
:
Japan Candy Box
The Description
: Every month Japan Candy box will send you a box filled with a carefully selected mix of quirky Japanese sweets & snacks. Each box will include 10 sweet treats delivered right to your door.
The Price
: $19.90 per month