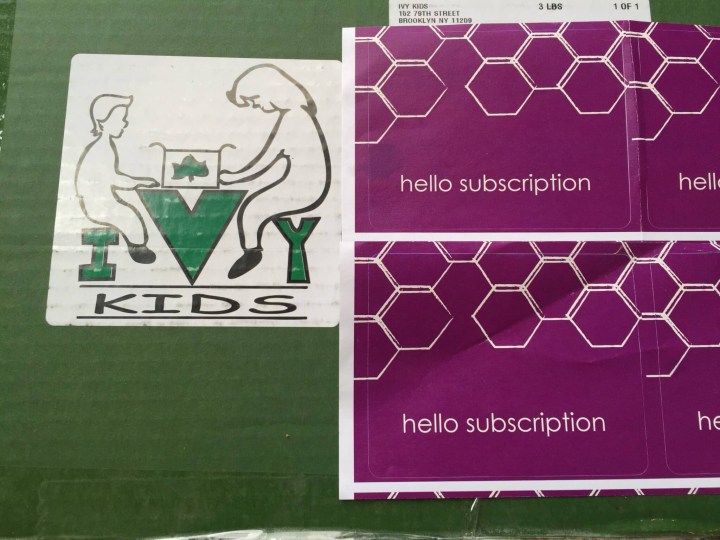 Ivy Kids is a monthly educational subscription box for children ages 3-8. Designed by early childhood educators who themselves have children, each box contains tons of fun, thematically-focused activities that help to reinforce children's math, literacy and science skills.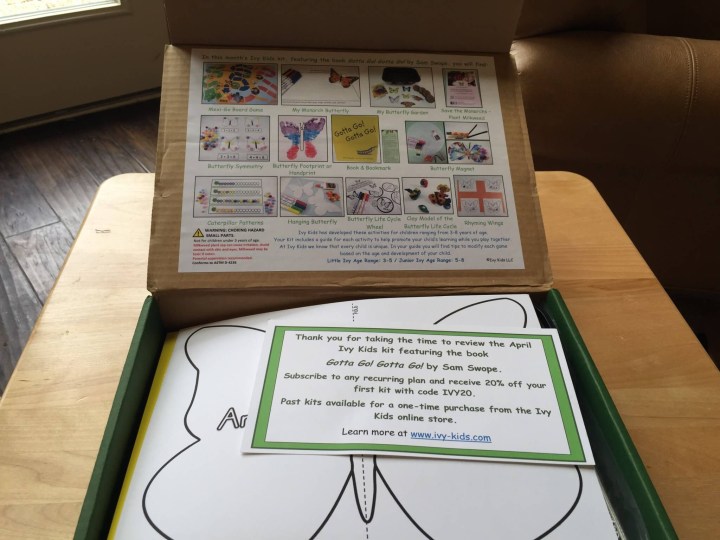 I have no idea how the folks behind Ivy Kids fit so much stuff into a medium-sized box, but they manage.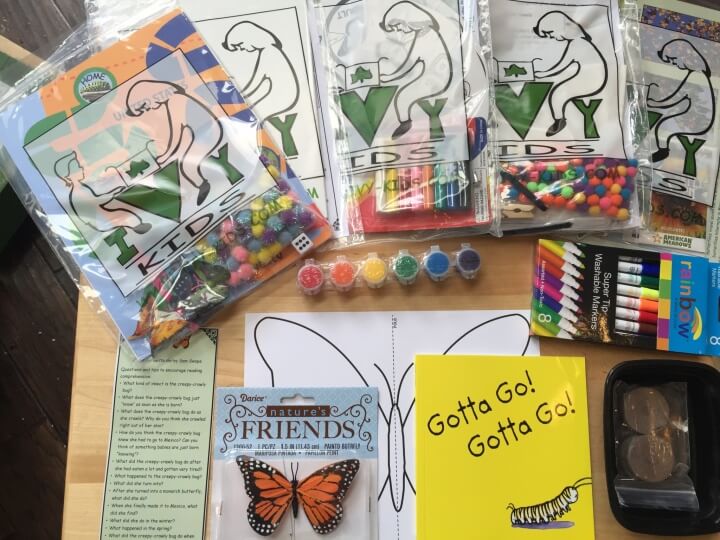 The theme this month was Monarch Butterflies.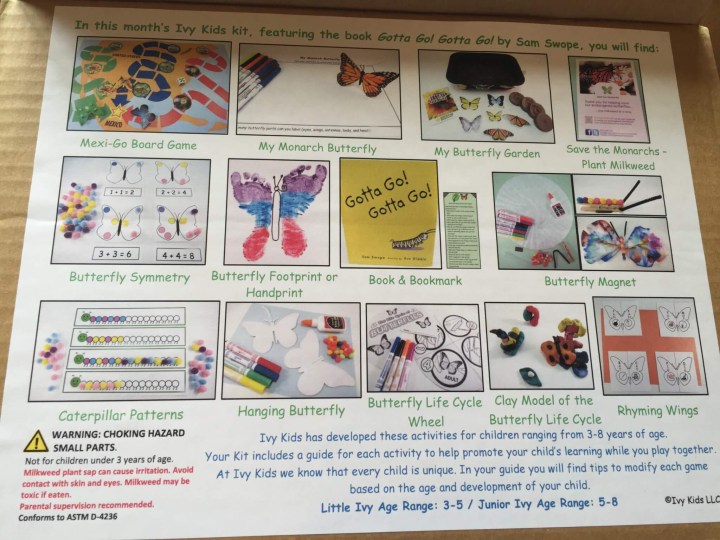 This month's kit arrived with thirteen activities. Each activity comes with an instructional sheet for parents that includes suggestions for scaffolding each activity. Ivy Kids uses the designations "Little Ivy" to describe activities appropriate for children 3-5 years of age and "Junior Ivy" to describe activities appropriate for children 5-8 years of age. I love how easy Ivy Kids makes it to tailor each activity's difficulty level to your own child's needs!
We began our Monarch butterfly box by reading the book, "Gotta Go! Gotta Go!" by Sam Swope.  This book was a great introduction to the concept of migration. My son hasn't stopped saying "Gotta go! Gotta go! Gotta go to Mexico!" since we finished reading the book. It makes him giggle every time. The book tied in nicely with the Mexi-Go! game that we pulled out next.
In this game, players begin with their butterflies on one of three home bases. They then take turns rolling the die and moving their butterflies to the appropriate square along their migratory path to Mexico. The winning player is the player who gets their butterfly to Mexico and back to the home spot quickest. On the way back, the butterflies deposit eggs whenever they stop for a turn.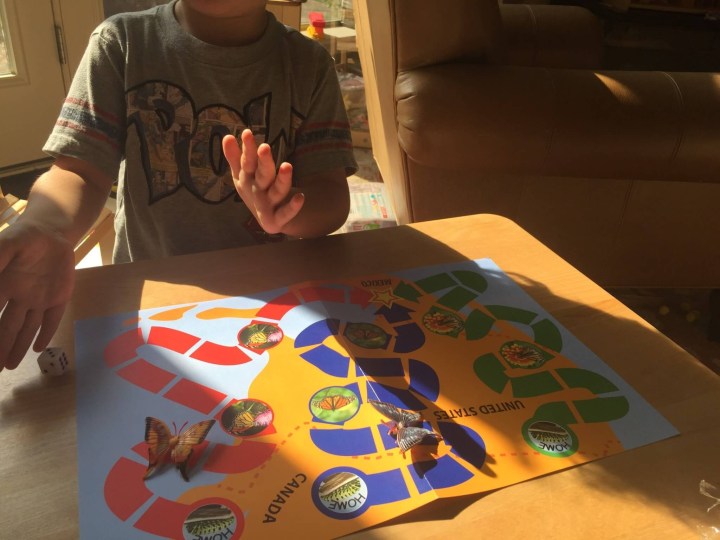 My son loved this game! He thought it was a lot of fun. On the way down to Mexico, we kept saying "Gotta go! Gotta go! Gotta go to Mexico!" As our butterflies left Mexico and traveled north, we discussed how weather/temperature affects food supplies.
Ever since my son entered preschool this year, we have done few academic activities with him at home (outside of reviewing subscription boxes, of course!). I was excited to see how he did with this one. In this activity, children begin by extending the patterns depicted. The final activity asks them to make their own pattern.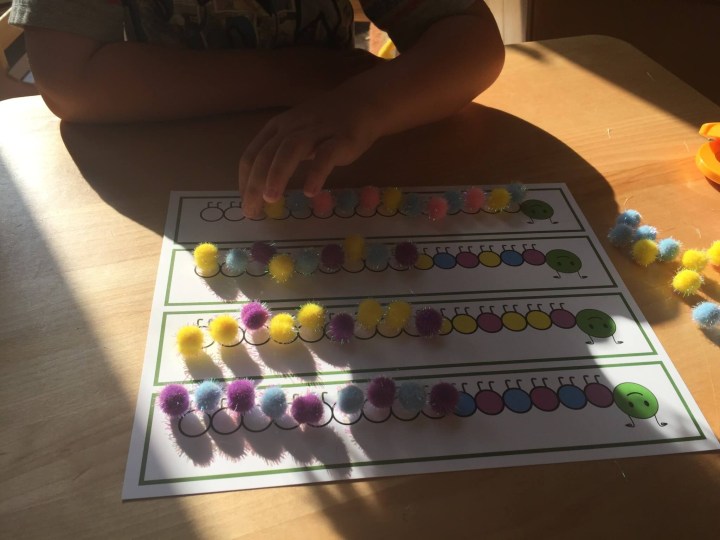 My son thought this was a lot of fun. He especially enjoyed making his own pattern at the end.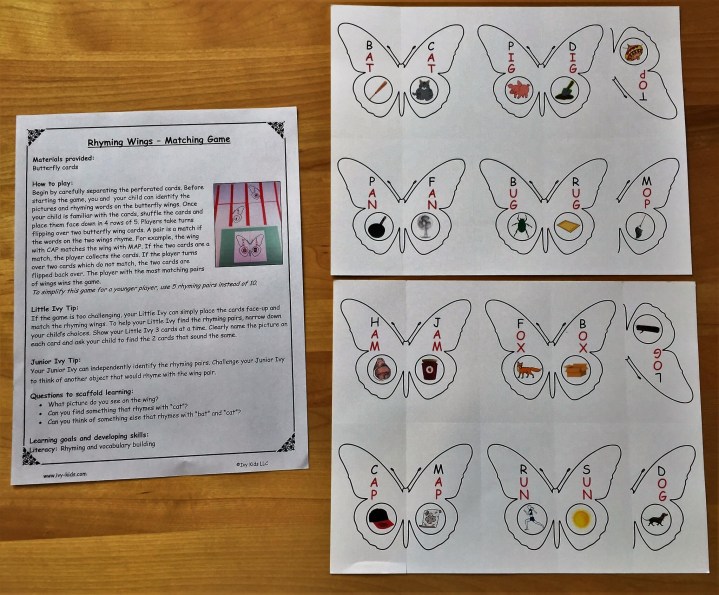 I loved this next activity! We began by separating the butterflies and reading the words on their wings. I loved how each of the words was perfect for children just learning how to read. My son had no difficulty reading these words. He loved doing it!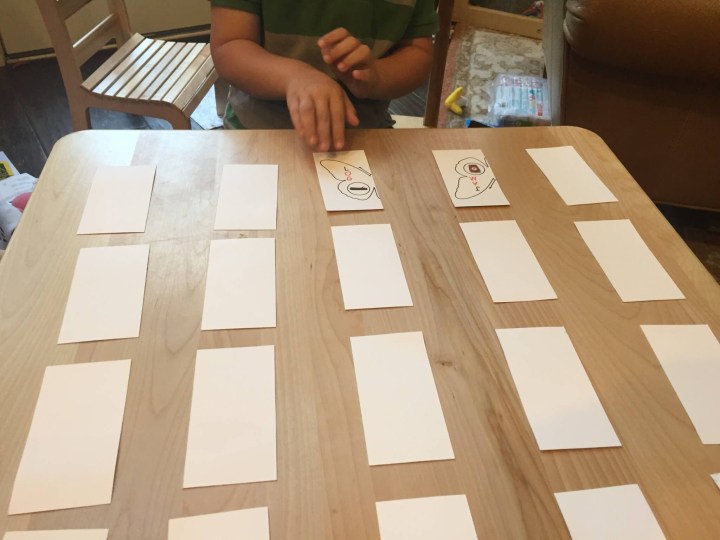 Next, we shuffled the cards and turned them over to play a game similar to Memory: instead of matching pictures, we matched rhyming words. This was great! Whenever we turned cards over, we read the words out loud. If we found two words that rhymed, we kept the pair.
We finished in a tie. My son thought this was great! Later that night as he was going to bed, my son randomly started listing words that rhymed with one another. "Bag, sag, flag, etc." Clearly, thanks to Ivy Kids, he's mastered rhyming.
In the next activity, children create a symmetric pattern on the butterfly's right wing. While my son completed 1, 2 and 3 with ease, he was more thoughtful about 4. He smiled when he knew he had figured it out. Next, he matched the equation with its pictoral butterfly depiction.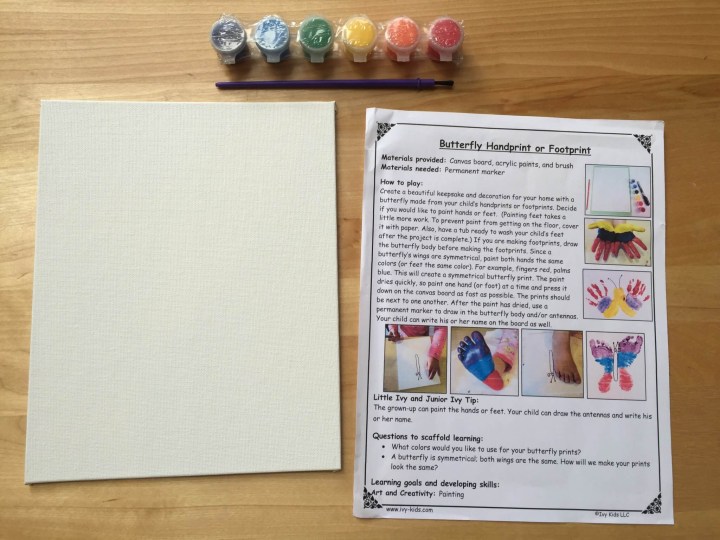 In the next activity, parents paint either their child's hands or feet. The child then applies their painted appendages to a canvas and adds either antennae or antennae, a thorax and abdomen to create a butterfly. For the sake of getting this review completed and out in a quasi-timely manner (my vacation has, unfortunately, slowed things down a bit), my son and I plan to complete this activity later this month.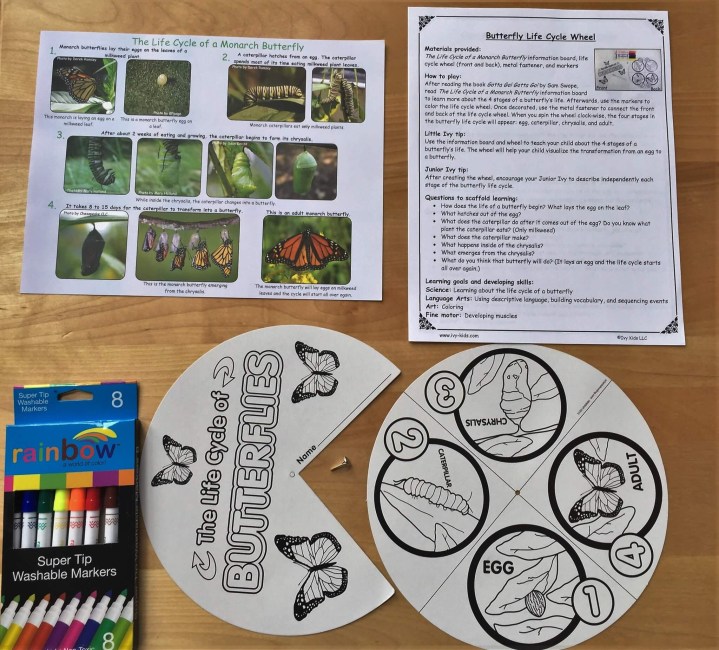 By the time we reached this activity, my son had mastered the Life Cycle of the Monarch butterfly. Still, it was a great reinforcement exercise, and he enjoyed coloring in the pictures.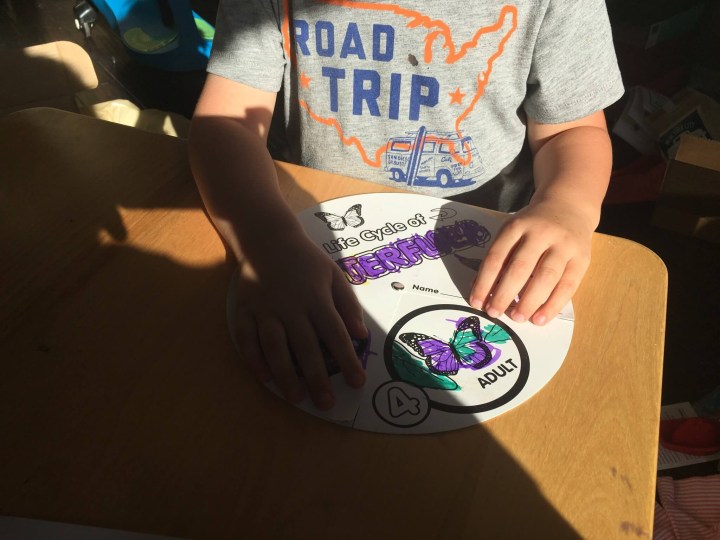 This was the second time he's used a brad this week, and he loves them!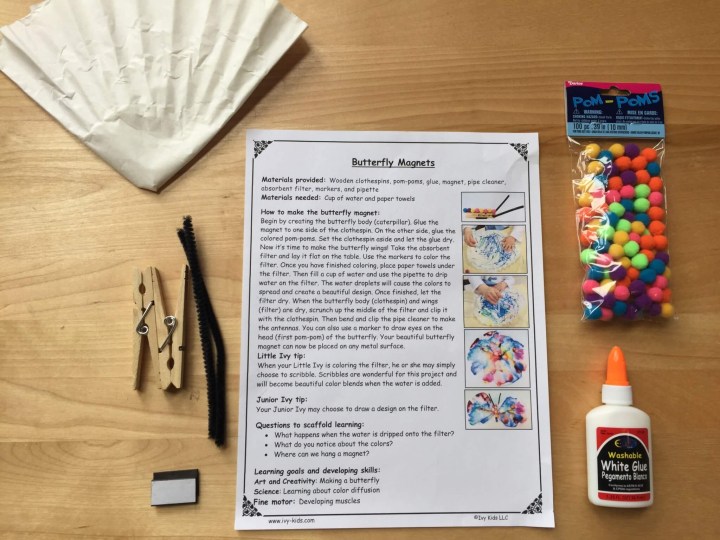 In the next activity, children create their own butterfly. They use water to separate the colors of a marker to decorate the wings.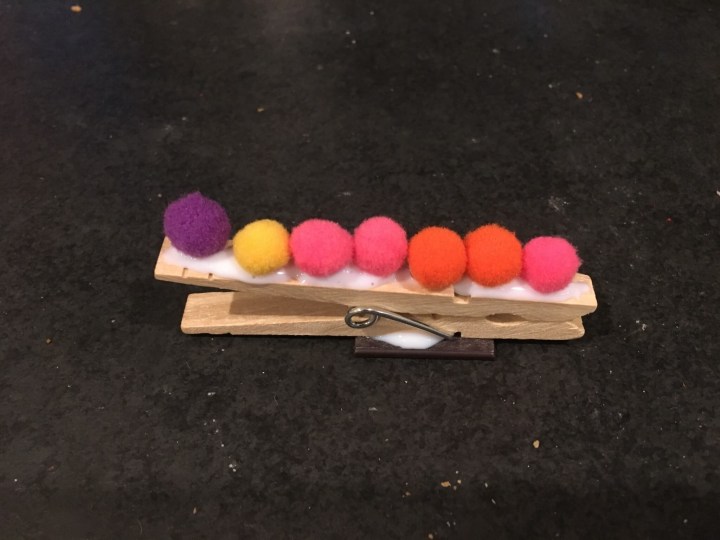 My son enjoyed starting this activity, but we'll have to leave the rest of it for a later date.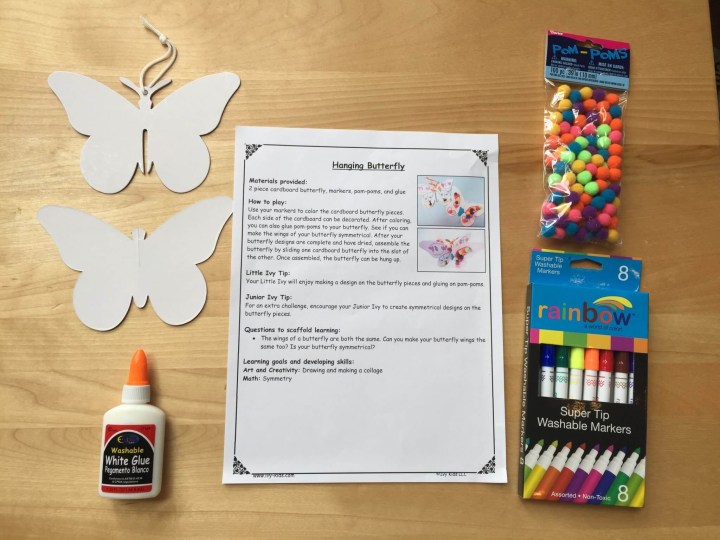 It looks like we have a lot of artwork left to do! I look forward to completing this decorative butterfly at a later date.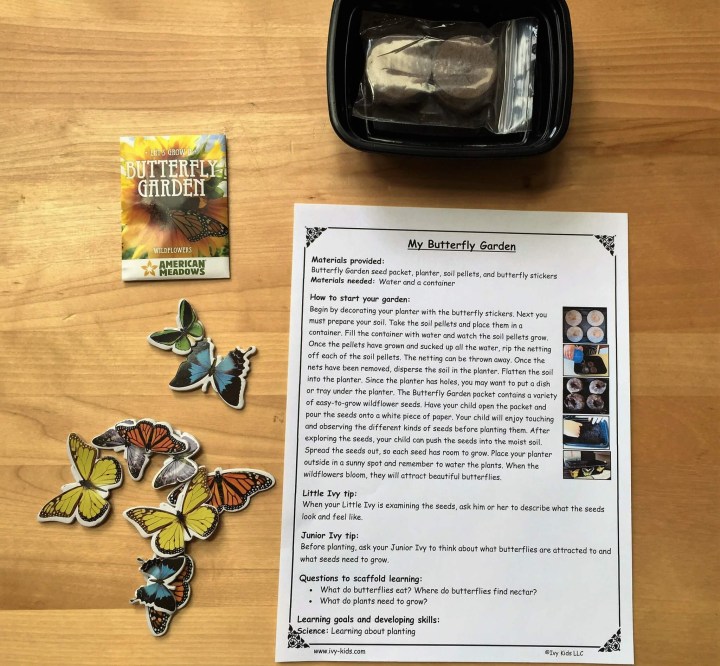 My son was very excited to make a butterfly garden!
The first order of business was to decorate the wildflower container. Note: Although Ivy Kids says there are holes in the bottom of this container, I didn't see them. I tried pressing the circles at the bottom, but they wouldn't budge. Not quite sure what to do about it, I let my son decorate and fill the container and decided I'd figure out what steps to take to allow for more drainage tomorrow.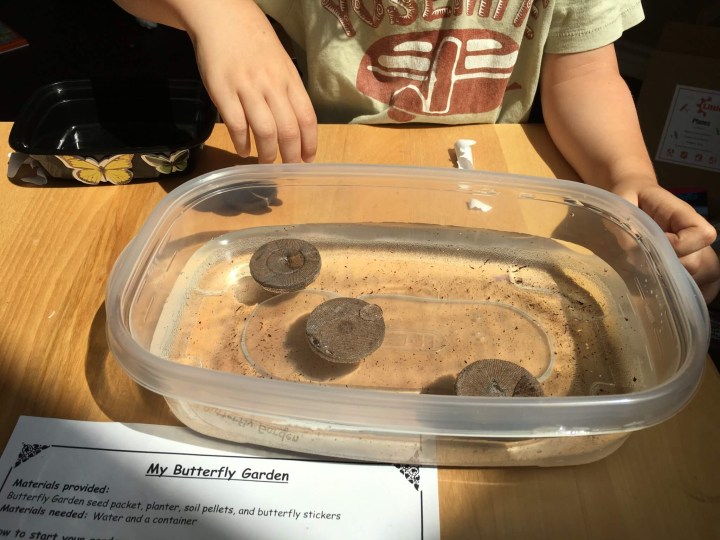 After decorating his container, my son placed the four soil pellets into water and let them sit until they had fully expanded.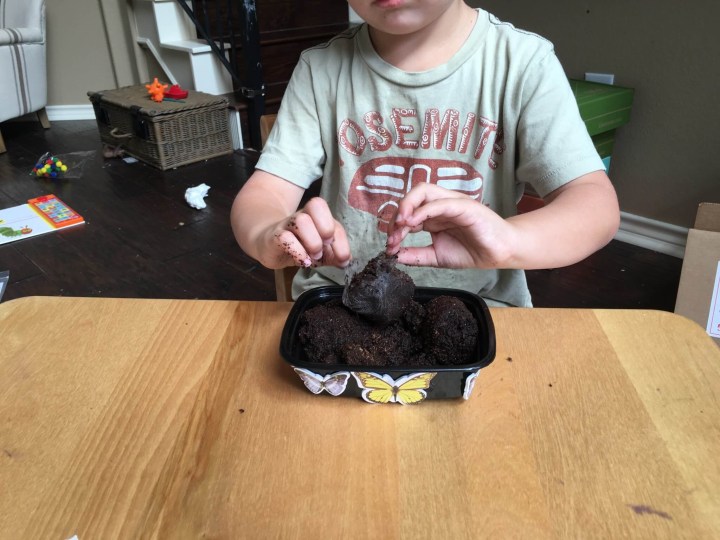 Next, he unpeeled the mesh from the soil and packed the soil into his container.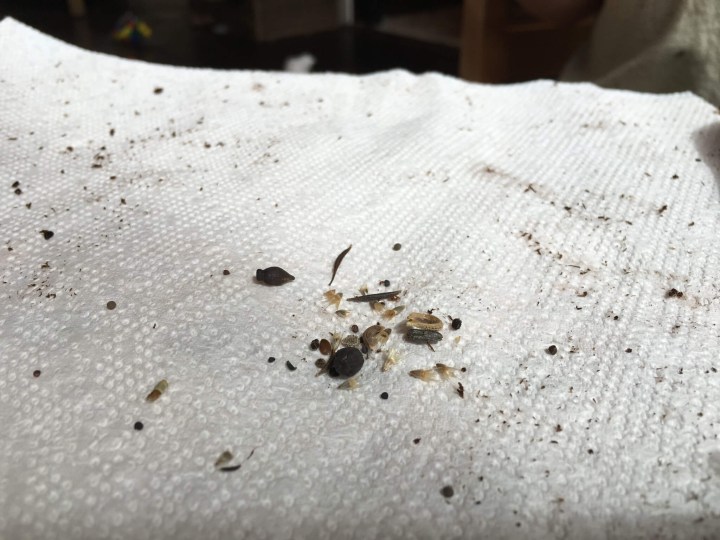 He poured the wildflower seeds onto a paper towel to inspect them before planting.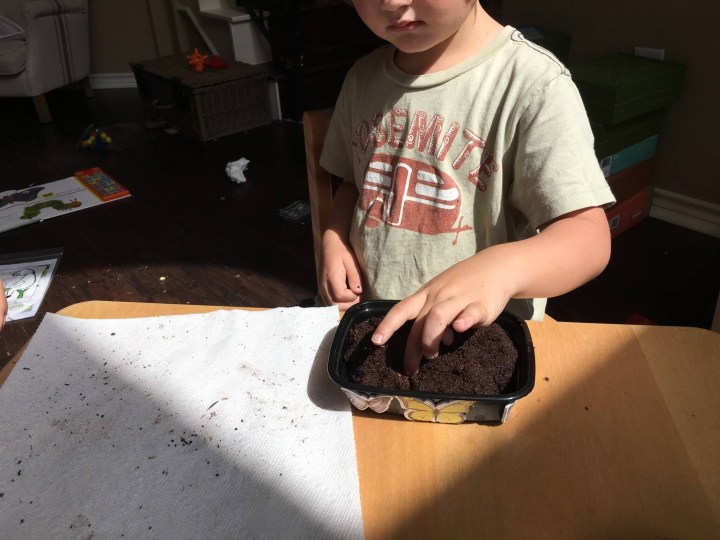 Next, he planted the seeds into his soil-filled container.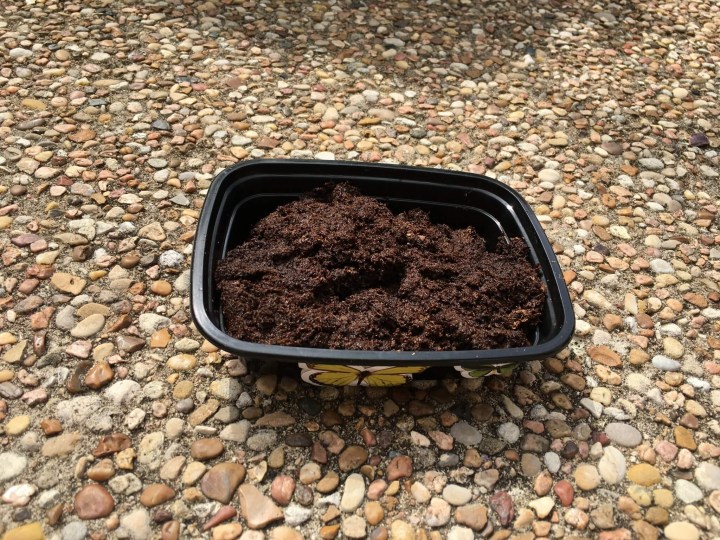 Finally, he placed the container outside in sunlight. He's eager to see the wildflowers grow and attract butterflies. I asked him what butterflies like to eat. He replied, "nectar." I asked where nectar comes from, and he replied "flowers." I asked what other animals like to eat nectar, and he replied "hummingbirds and bees." With any luck, once the wildflowers blossom, we'll be seeing some of those too.
My son is very excited to plant milkweed. He wants us to plant as many butterfly host plants as possible.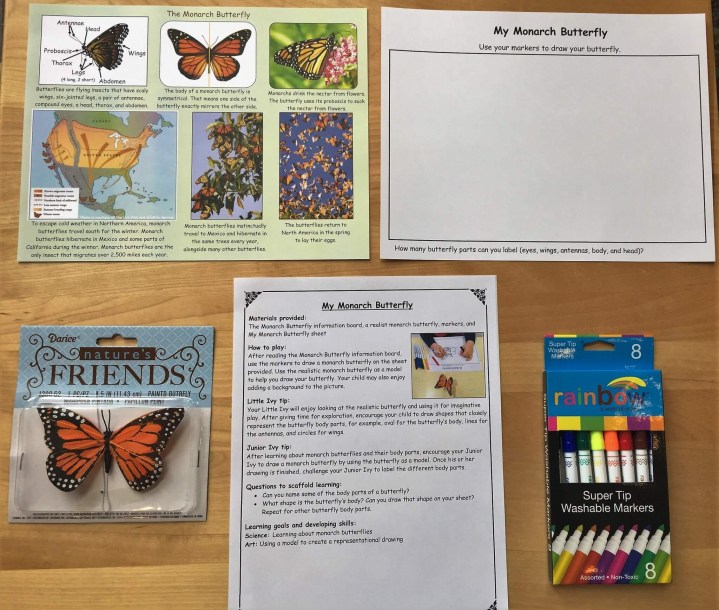 In this activity, children draw their own Monarch butterfly, naming the different parts of the butterfly once they're done.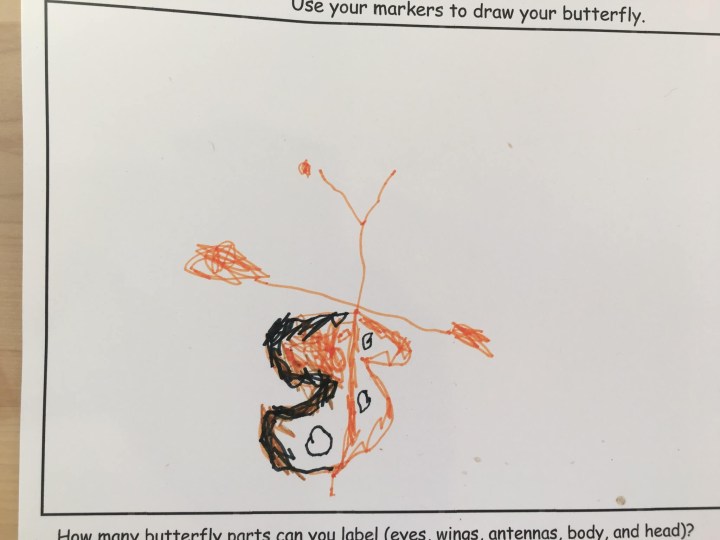 We had a lot of fun singing "Head, Thorax, Abdomen" to the tune of "Head, Shoulders, Knees and Toes" once we were done.
For our final activity, my son creating a monarch egg, caterpillar and chrysalis. He had never used clay before, so this was a big hit for him. He was very proud of his creations.
Ivy Kids is great! Of all the subscription boxes I've seen, Ivy Kids has the largest number of developmentally appropriate, engaging, practical activities for children to complete. The activities are well thought out and fun, and could easily take a month to complete. My son and I have been trying actively to complete the activities, but in a week and a half, have been unable to finish all of them. The curation around a central theme was a real win for us. Ever since we saw migrating Monarchs in Austin last spring, my son has been fascinated by them. I think this box has helped to reinforce a lot of what he already knew while also introducing him to new facts about Monarchs. It would certainly be a great subscription for homeschoolers, though anyone would be lucky to have so much fun playing, making art and learning about Monarchs. I can't wait to see what they send out next month!
Tell us what you think about Ivy Kids! Save 20% on your first box with coupon code IVY20 or code IVYFREESHIP for free shipping on any past kit.
Visit Ivy Kids to subscribe or find out more!
The Subscription
:
Ivy Kids
The Description
: Ivy Kids is a monthly educational subscription box for children ages 3-8 with the goal to make every moment with your child quality time. Have the tools at your fingertips to ensure your child has a solid foundation in math, literacy, and science.
The Price
: $39.00