MunchPak is a subscription box sending you the best snacks from all over the world, and possibly beyond! The subscription costs $19.95 per month.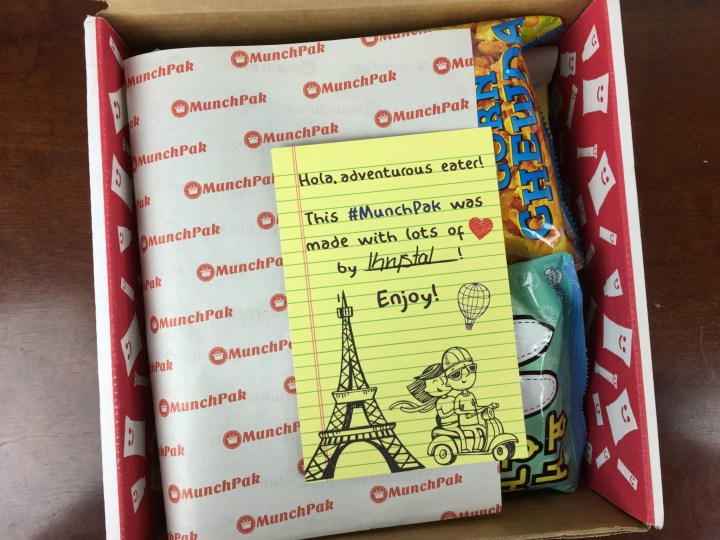 This box was lovingly prepared by Krystal from Munchpak.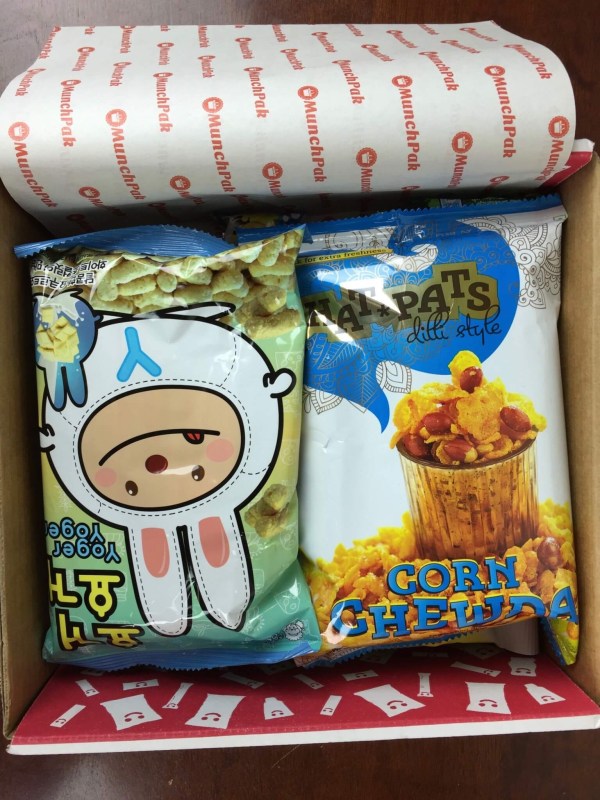 There are a couple bags of tasty snacks on top…
There's a lot more at the bottom!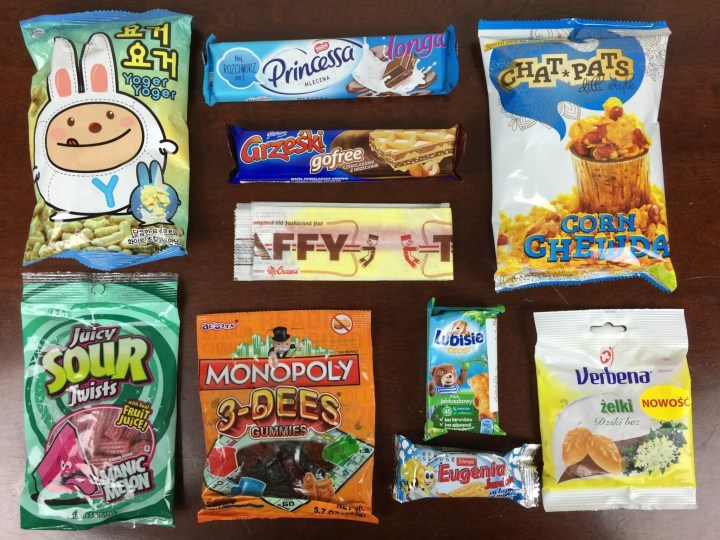 Everything included in this box.  The Chat Pats were the only item that had a predominantly savory character; all the rest are sweets.
Kennys Twists Sour Melon ($2): These taste exactly like watermelon flavored Twizzlers with citric acid would taste!  The main body of the candy even has the same firm texture of a Twizzler.
Monopoly 3-DEES Gummies ($6.08):   These were really tasty and had a very smooth and addictive texture.  They come in strawberry, watermelon, orange, and mixed berry, but our pack just happened to not have any mixed berry.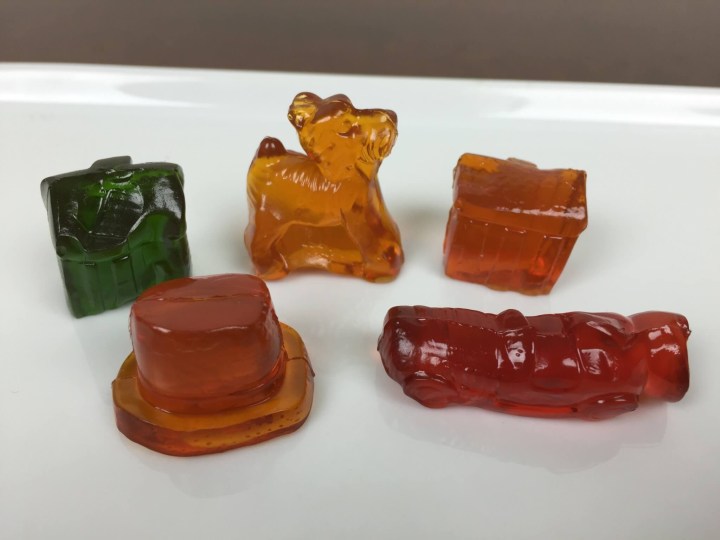 The Monopoly pieces were very detailed and adorable.  I love the little doggy!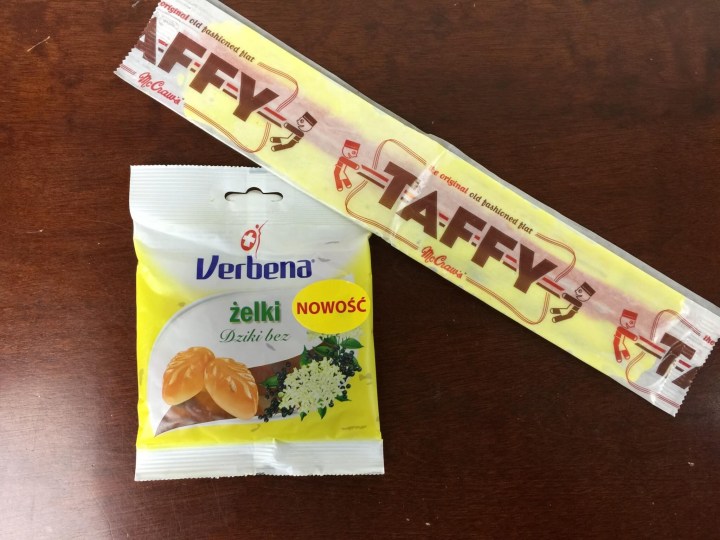 Verbena Zelki Elderberry Jelly Gummy ($2):  Elderberry has a cranberry like flavor, but these were sweetened enough to have very little sour in them, just a nice light flavor.
McCraws Original Old Fashioned Flat Taffy ($2) : This looked familiar – it was in a Popsugar Must Have box a year ago!  Each strip is color-coded, and a key on the package identifies it.  This one was banana (brown stripe between two yellow), and it had a nice flavor that wasn't overly artificial tasting.  The texture was very soft and only slightly chewy, a very tender taffy.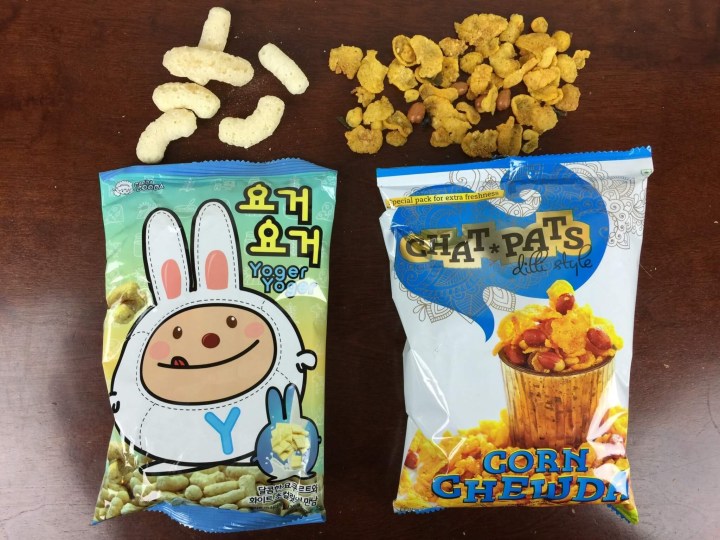 Gooda Gooda Yoger Yoger ($2):  These look like platinum-blonde puffed Cheetos, but they are slightly softer and a little bit sweet.  A yogurt-based topping glazes each puff, but it has more of a mild white chocolate flavor than yogurt.
Chatpat Corn Chewda ($3):  I really liked the seasoning on this snack mix (or "chewda"), and I also like the way the name sounds a bit like "corn chowder."  It combined flakes made of corn and sago (palm flour) with peanuts, lentils, and a mild but flavorful Indian seasoning.
Nestle Princessa Longa Milk Chocolate Wafer Bar ($1):  A very light wafer bar with a chocolate creme filling and coated with dark chocolate.  The filling has a deceptively dark chocolate flavor.
Grzeski Gofree Hazelnut Chocolate Wafer Bar ($1):  This wafer is much more dense and firm than the Princessa.  It holds a layer of chocolate creme and a layer of hazelnut creme inside.
Lubisie Mini Teddy Bear Apple Cookie Biscuit ($1):  The cake is very soft and moist.  This is fun for kids, and they even colored the paws with different colored batter.
 Dobrogea Eugenia Junior Honey ($1):  These may look like a vanilla creme wafer, but the flavor of the filling is distinctly honey flavored.
Sweet apple jam is injected into this little guy, creating pockets of tasty filling.
MunchPak was a fun box of snacks to munch through.  I liked the taste of nearly everything — the one that I was just so-so on (watermelon sours), the kids absolutely adored!  This is a great subscription for trying interesting snacks from all over the place, and each snack was quite substantial — not a single one-biter in the box.  The value is good, especially with the coupon — there was $21 worth of snacks in this box (and that is with very modest values, in my opinion, assigned to most items).
What did you think of the snacks in MunchPak? Save $2 on your purchase. Use coupon code MOMMYSPLURGE.
Visit MunchPak to subscribe or find out more!
The Subscription
:
MunchPak
The Description
: The best and most unique snacks from all over the world. Expect to see snacks from Australia, Sweden, Japan, United States, Canada, and many other countries.
The Price
: $19.95 per month