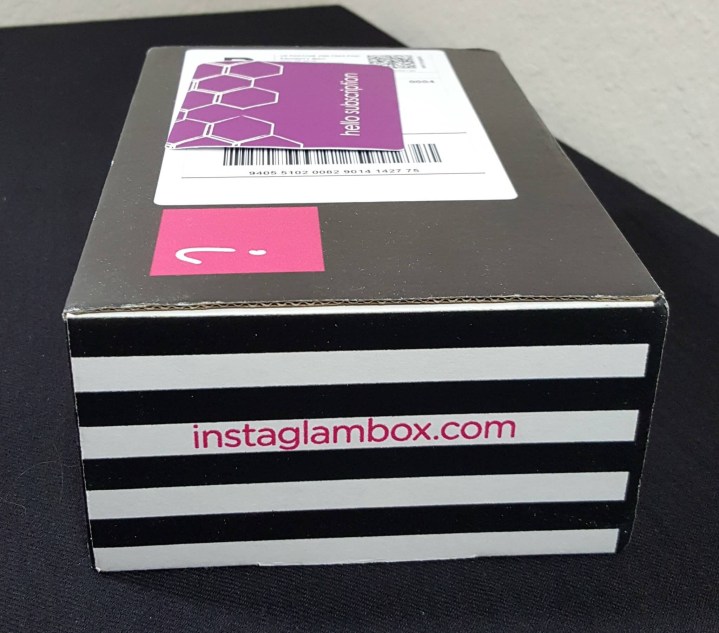 Instaglam is a new accessory and clothing subscription box that creates perfectly styled outfits and sends them straight to your door! For $59 per month, each box includes a top  and five accessories such as a scarf, earrings, bracelet, and sunglasses.  Pre-paid subscribers with an extended plan will receive a survey each month to select the top style, unless it was selected at time of purchase.  The 5 accessories will coordinate with the theme.   Add-ons such as pants, wallets, purses, shoes, etc. are available at an additional cost.  Sizes XS-3X are available.  The theme for April was Fresh & Fun, and the box contained the Royal Breeze Kimono Set.
My first look in.  There was card with a reminder of how many boxes are left in my subscription.  The note with shipping details only noted the subscription deal that was purchased and my size.  There was no price breakdown by item or cost details at all.
All of the jewelry items were individually packed in plastic bags, and the whole package was wrapped in tissue paper.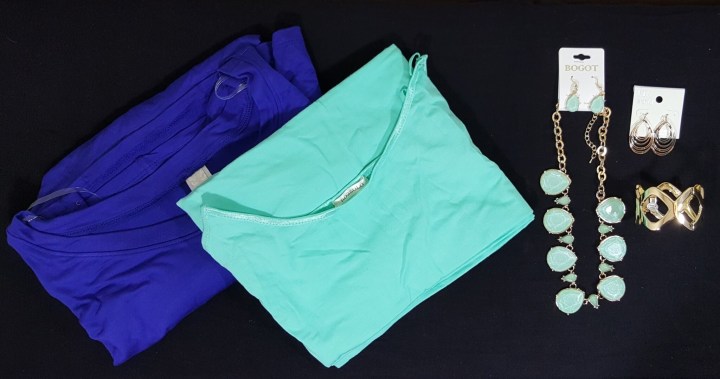 All of the pieces in my April box.  I did not choose any add-ons with this order.

Bogot Earrings and Necklace Set in mint (approx. $15-$20):  I couldn't find this exact set anywhere for pricing, and Bogot jewelry sets varied across sites.  I love this color, and it is perfect for spring.  The necklace and earring set feature teardrop shaped stones in a gold setting.  The stones have a shimmery sparkle, and the necklace length can be adjusted.  I received several compliments on the necklace when I wore it.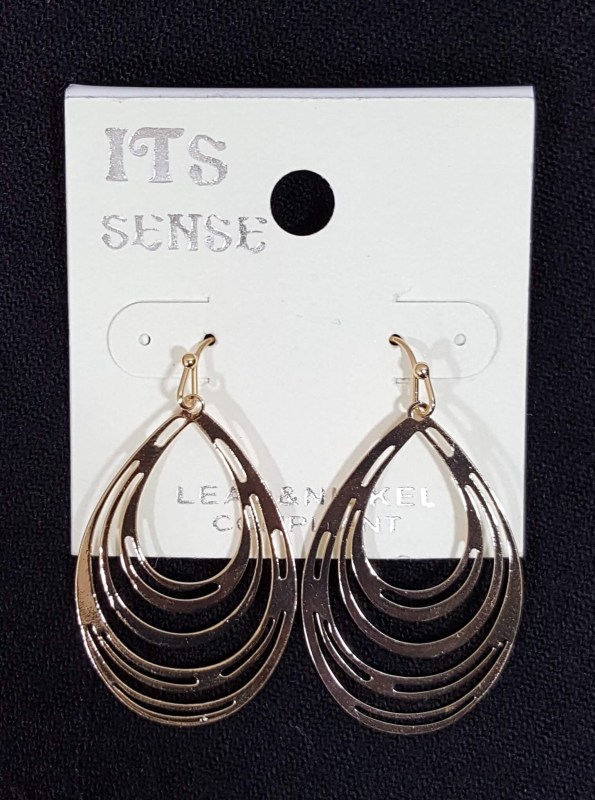 Its Sense Gold-tone Earrings (approx. $10-$15):  These delicate earrings have a layered design that reminds me of a peacock feather.  All that's missing are the bright colors.  The simple, yet elegant, design works well with other pieces but looks great on its own as well.
Gold-tone Hinged Bangle Bracelet ($5-$10):  There was no information on this bracelet other than a "made in China" sticker.  I'm basing the value on similar pieces that I already own.  I have large hands and often can't wear bangles, so hinged pieces like these are great for me.  I love the X or open diamond pattern of the bracelet.  This fit my wrist, but just so.  I will more than likely gift this to my sister.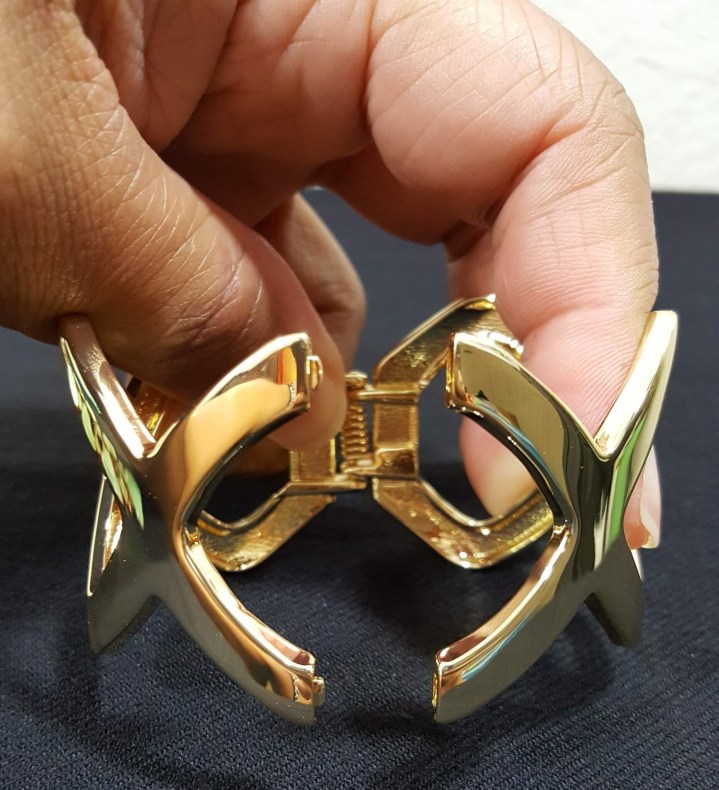 A look at the hinge and opening.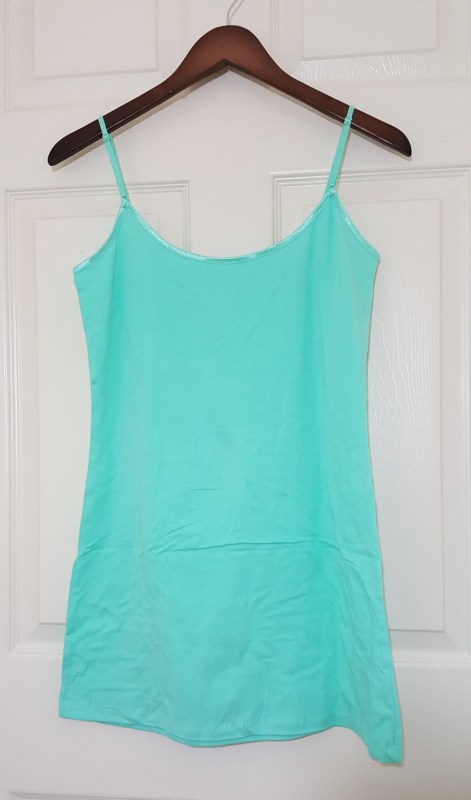 Bozzolo Cami in Jade ($6.50-$8.95):  This is a longer cami (covers the hips and butt) with adjustable shoulder straps.  It is a great basic for any lady's wardrobe.  I am happy that it does not have a built in bra – they always cut in the wrong places and offer no support.  The fit was true to size.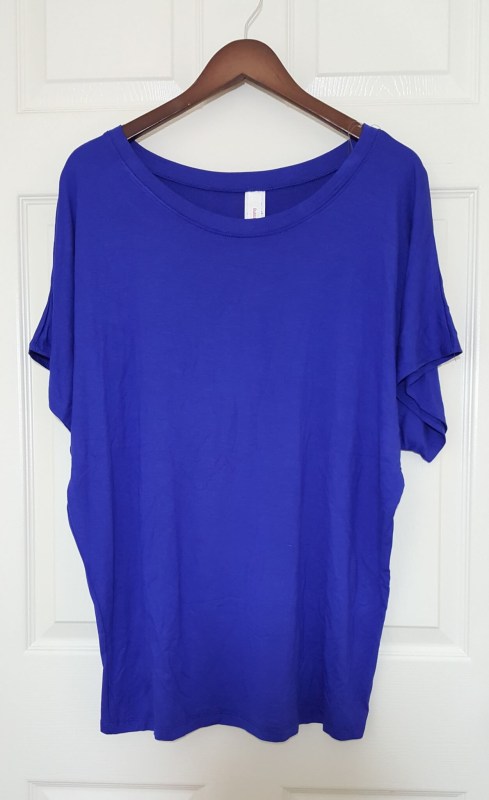 Bubble.B Top in Royal ($7-$15):  I wasn't able to find this exact top online, but Amazon.com does carry other Bubble.B styles.  This tee features short, kimono-style sleeves and a fitted bottom.  The top of the shirt is very roomy and the color is gorgeous.  The color contrast between this and the cami look great together.  Wear the cami untucked so that a band of color shows under the hemline of the top.
I had a hard time calculating a value for this month's instaglam box.  Using the lower retails I listed, this falls short of the $59 cost; however, the higher end brings the box in line.  Regardless, I liked the coordinated look that you get when all of the pieces are pulled together – sorry I forgot to take a picture.  The suggested add-ons (shown when you complete your monthly survey) also provide some inspiration if you need help on styling.  I can't wait to see what next month brings.  The featured top is coral colored.
Visit Instaglam to subscribe or find out more!
The Subscription
:
Instaglam
The Description
: Instaglam is a new accessory and clothing subscription box. Each box includes a Top & 5 Accessories such as Scarf, Earrings x 2, Bracelet, and Sunglasses. Sizes XS-3X.
The Price
: $59.00 per month