Baker's Krate is a Canadian subscription that sends you a box of delicious desserts once a month. The bakeries featured are all Canadian and local! Baker's Krate recently revamped their entire box, so the new box is more compact. The familiar logo is still there, but the packaging is now white instead of brown.
If you *are* Canadian, be sure to like the new Hello Subscription Canada page on Facebook and follow Hello Subscription Canada on Instagram!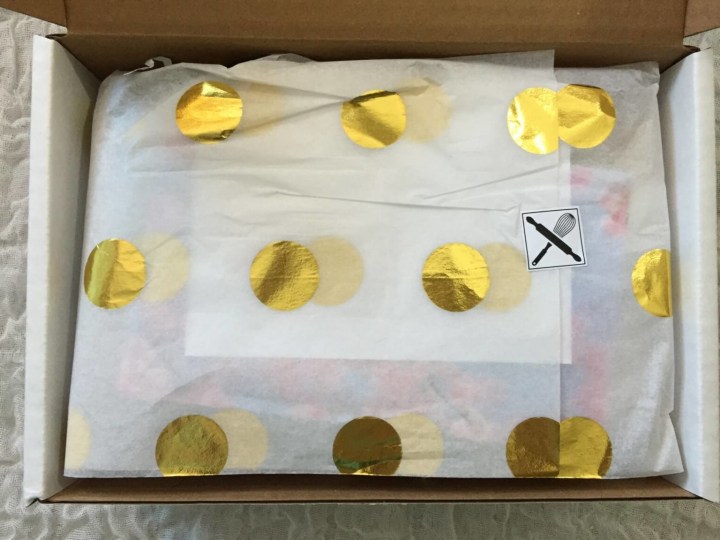 The printed tissue paper is new, as is the Baker's Krate logo sticker!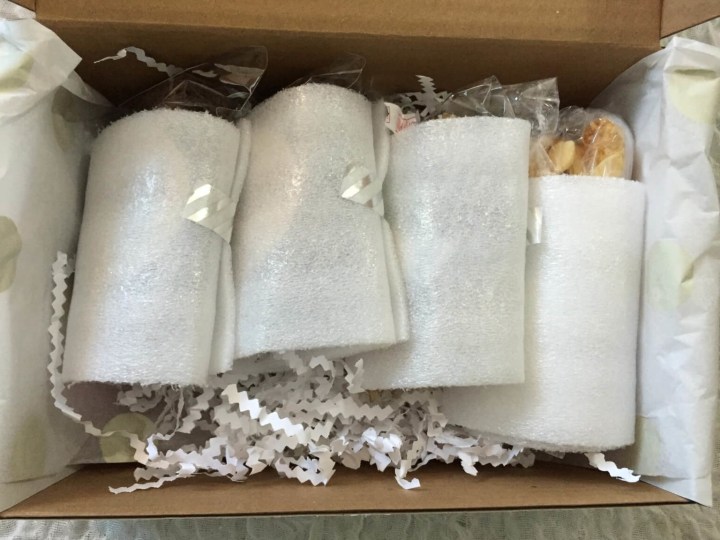 The items are now wrapped in foam and nested together vertically in the box.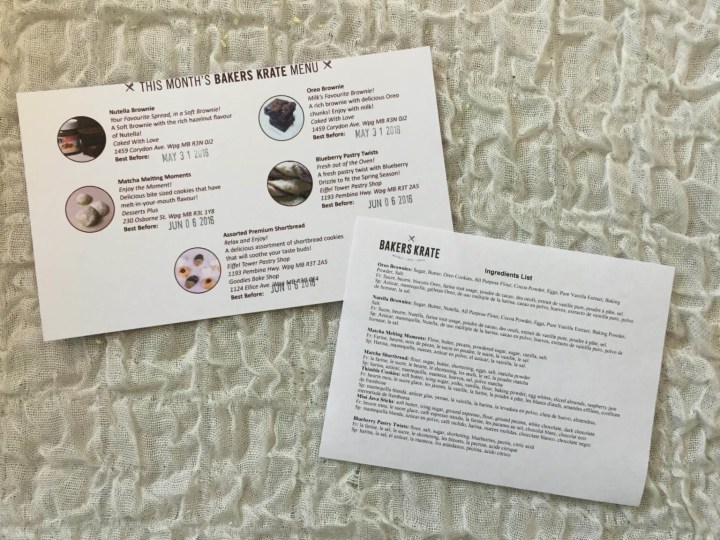 Everything is smaller now, including the info card and the ingredients list.
This box had seven items, more than enough to share, so I took the whole box into work on Saturday, figuring we'd need a little sugar-boost to make it through the last day before the long weekend. My coworkers were more than happy to help review this month's box! I don't have solo shots of everything this month due to technical difficulties.
On the left:
Melting Matcha Moments (Desserts Plus) I got to try one of these, and oh my gosh they were amazing. They are very small buttery cookies covered in powdered sugar that really do melt in your mouth! There's a green tea aftertaste to them, but mostly they just taste like sugar.
Blueberry Pastry Twist (Eiffel Tower Pastry Shop) I was thrilled that this was still soft and flaky even after being in transit for a few days. Everyone fought over this! The blueberry jam inside was tart and sweet at the same time.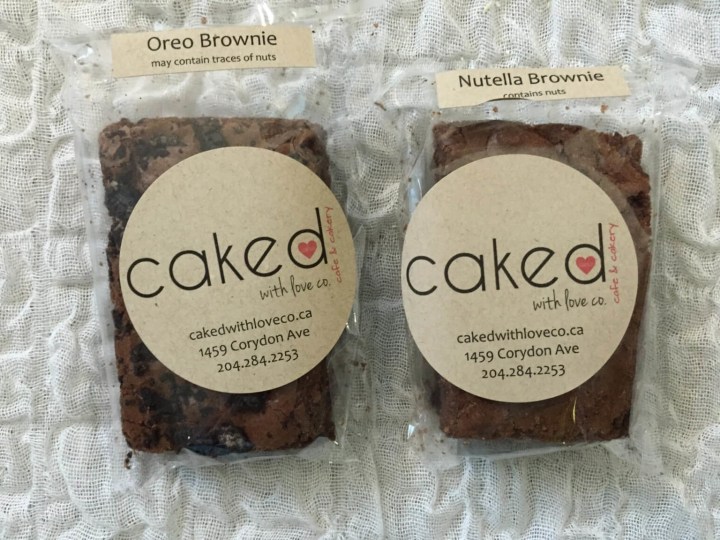 Nutella Brownie (Caked With Love) I was saying last month that I'd love to see some new bakeries featured, and it's like they read my review, because we got two awesome brownies from Caked with Love! The Nutella brownie was soft and moist, and had a strong Nutella flavour — this prompted a running debate at the office about whether it's pronounced 'Nuh-tella' or 'Noo-tella.' (Seriously, this has been discussed before with strong passion.)
Oreo Brownie (Caked With Love) Apparently this brownie wasn't quite as distinct as the Oreo brownie — the cookie crumbles on top were a nice addition, but it basically was just a chocolate brownie. Nobody was complaining, though — brownies are still brownies!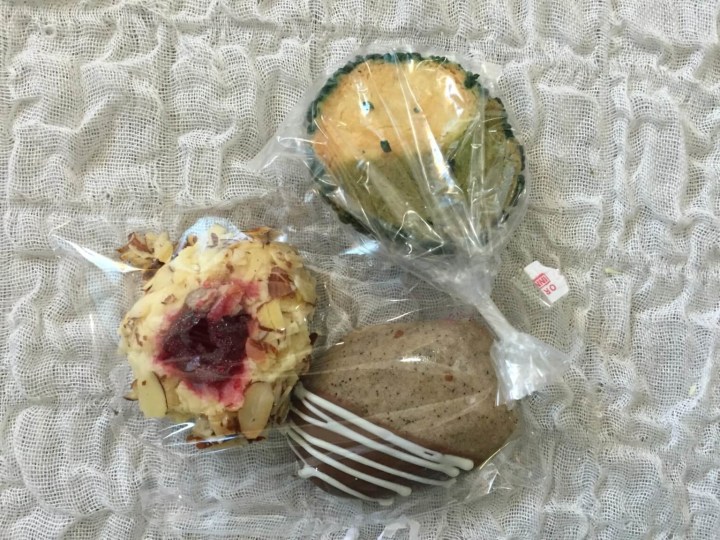 We also sampled a shortbread assortment from Eiffel Tower Pastry Shop and Goodies Bake ShopQ
Matcha Shortbread: This tasted of a light green tea/matcha flavour. It was the most buttery and traditional shortbread of the three.
Raspberry Almond Shortbread: This had slivered almonds on top and raspberry jam in the center. It was like a bird's nest cookie, but in shortbread form.
Coffee Shortbread: This had a very strong coffee/espresso flavour! It was a bit dry and didn't really feel like shortbread.
Baker's Krate has made some changes to their box, but so far it seems to be just as solid as it has in the past, albeit in a compact size! We still got a good assortment of treats to try, and everything was fresh and delicious. I'm happy to see a new bakery being featured, as well as some old favourites as well.
Have you tried Bakers Krate?  Save 10% on your first month with coupon code SWEET.
Visit Bakers Krate to subscribe or find out more!
The Subscription
:
Bakers Krate
The Description
: A Subscription Box Club in Winnipeg for Foodies and Dessert Lovers! By subscribing to Bakers Krate, they provide you the tastes and varieties that Winnipeg Bakeries have to offer! Each Box comes with variety of different treats. The treats can vary from cookies, macarons, cupcakes, pastries, pies, small cakes or a slice of cake! Currently shipping to Canada, coming to the US soon!
The Price
: $19.99 per month