Sun Basket is a meal kit delivery subscription box. Sun Basket's focus is on delivering delicious easy to prepare healthy meals – all non-GMO and sustainable produced from West Coast farms with grass-fed, antibiotic-free pastured meats & sustainable seafood. They offer a standard menu (Chef's Choice), plus paleo, gluten-free & vegetarian menus every week – you can pick and choose between all the options or substitute in another of their offerings. They also have a Rise & Shine Menu with 2 breakfasts and 2 dinners – this is what we reviewed!
Like other dinner subscription boxes, the ingredients are pre-measured and ready to cook for your gourmet meal designed by Chef Justine Kelly (who used to head The Slanted Door – a famous restaurant in San Francisco).
SunBasket has expanded its delivery area! This subscription now delivers to: AZ, CA, CO, CT, DC, DE, FL, GA, ID, IL, IN, KY, MA, MD, ME, MI, NC, NH, NJ, NV, NY, OH, OR, PA, RI, SC, UT, VA, WV, VT, & parts of AK, AL, MI, MS
Sun Basket sends everything in a nice and friendly looking box and will take back the box and ice packs using a pre-paid USPS shipping label – find more information about SunBasket's recycling program here
Sun Basket meals include everything you need to cook the meal, except for olive oil, grapeseed or sunflower oil, and salt & pepper. Some meals call for optional wine and/or butter additions.
Piña Colada Smoothie: The Pina Colada Smoothie was the easiest meal to prepare from this box.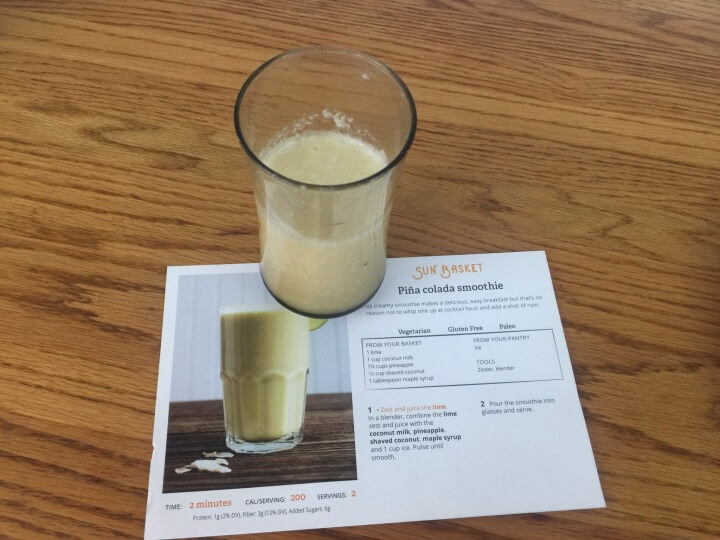 The smoothie was a little too fresh for me and I'm not sure if it was my blender or the ingredients but it was a bit thick.
[Hello Subscription Note: It would have been helpful for the recipe card to include a tip on thinning this shake out!]
Scrambled Eggs With Chermoula:  I've been using kale in my eggs for a few months now to add to my daily intake of greens but I had never heard of chermoula until this box arrived. Chermoula it turns out is just a mixture of parsley, cilantro, garlic, coriander, cumin, salt and olive oil. It will make a delicious addition to my normal cooking rotation.
It was amazing that they managed to send organic pastured eggs in this box – no breakage!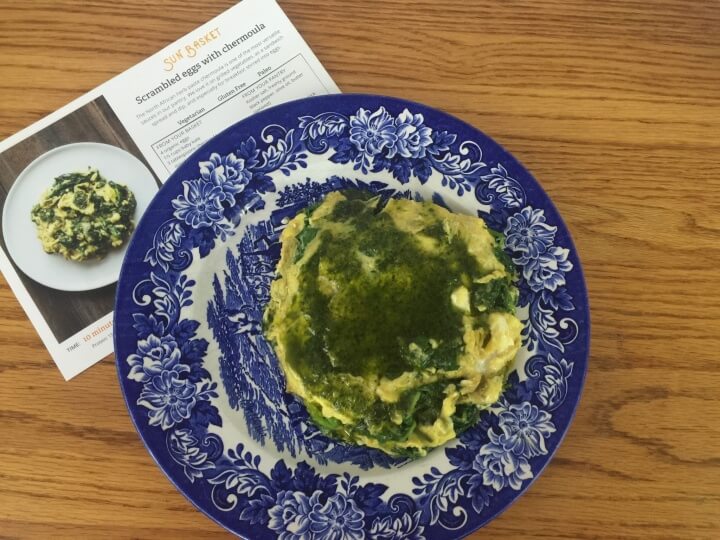 This meal only called for ice cubes and olive oil as the non-included items and would work for breakfast for dinner, too!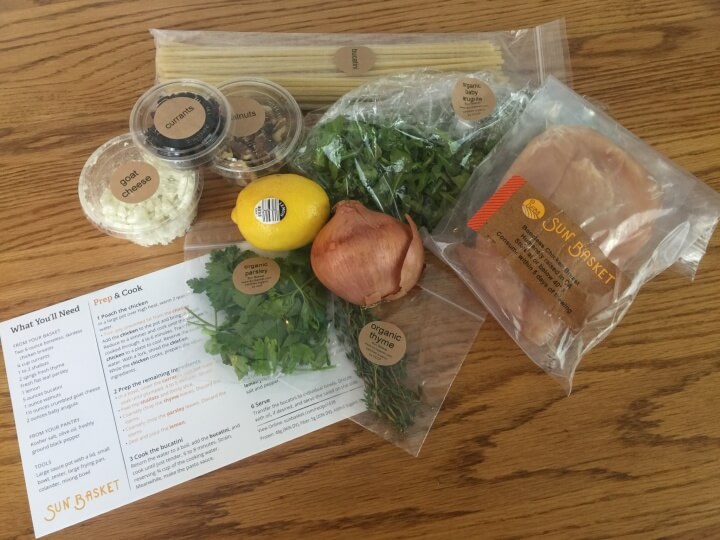 The two dinner meals included in this box are Bucatini with Chicken and Goat Cheese & Stir-Fried Beef with Broccolini and Snap Peas.
Bucatini with Chicken and Goat Cheese: This meal was a lot more labor intense, but the end result was amazing. Sweet and tangy with a hint of bitter from the arugula. The bucatini was odd, looking very similar to spaghetti but super thick with a hole in the middle! By far the worst part of this meal was shredding the chicken with two forks.
Stir-Fried Beef Broccolini & Snap Peas: This meal was my least favorite meal. The vegetables were amazingly fresh and so sweet but the sauce was very generic – I felt that it perhaps detracted from the freshness of the ingredients instead of enhancing it. I did love that the beef came already sliced into bite sized pieces, which made meal prep even easier.
This box was so much fun and tested my cooking skills as I've never made anything like these dinners. It provided some new ideas for every day meals and really sold me on organic vegetables. I loved that all the recipe cards were simple to understand and follow with large enough print that I could see them without missing what was happening on the stove. I will say that the one feature that really solidified this for me was it comes with return shipping labels to send back the packing materials for future use.
The calorie counts and the preparation time for the recipes I received were all pretty standard, which is not true of other meal subscriptions. All meals are between 500-800 calories. SunBasket's meals are $11.49 per person, and you can cancel or skip at any time.
Visit Sun Basket to subscribe or find out more! Save $30 on your first box – about half off! Use this link to get the deal.
The Subscription
:
Sun Basket
The Description
: Sun Basket is a new healthy meal kit service that delivers organic ingredients and delicious, easy-to-make recipes for cooking at home. Sun Basket makes it easy to cook healthy, with Paleo, Gluten-free and Vegetarian options, plus healthy breakfasts. Get 3 recipes per week for 2, 4 or 6 people, delivered to your door in recyclable packaging that can be shipped back – free- for reuse.
The Price
: $68.94 every week