RawBox is a monthly subscription box intent on delivering only the healthiest snacks and cleanest lifestyle products.  The snacks are all raw and plant-based, free of gluten, wheat, dairy, soy, and many other common food sensitivity triggers.
Yummy! I see chocolate!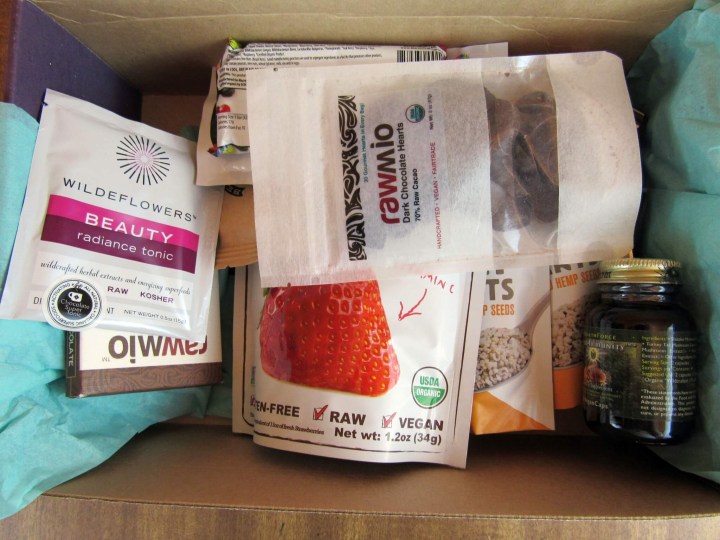 The February Box is already a winner in my eyes. 70% dark chocolate and strawberries, what else is needed?
The February Theme is 'Spread a Little Love.' There are action steps listed to help give yourself some love. We are not always good at that, are we?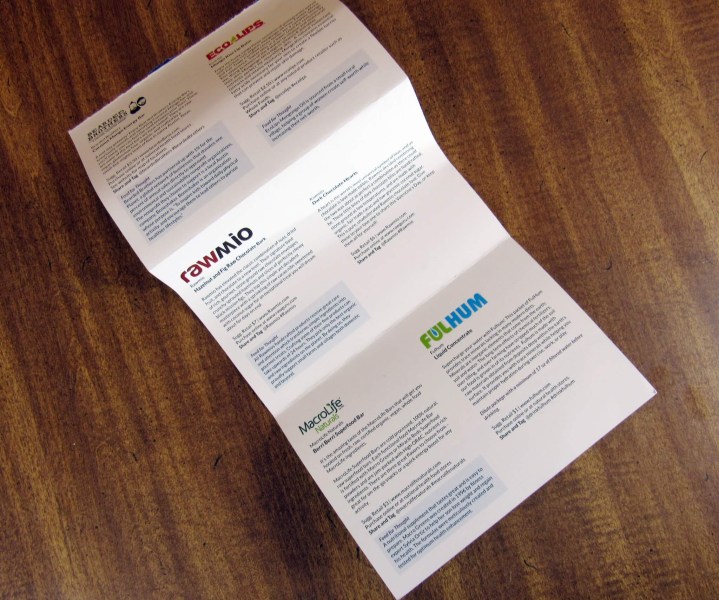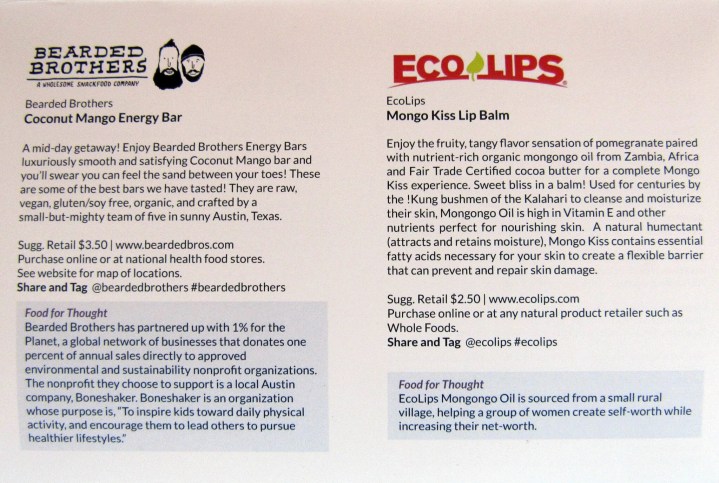 The box includes a giant double-sided information card with recipes, tips, complete information on each product, and a nice letter from the curators.
The box is packed full of items that you can enjoy! It's a great variety of items making it more like a lifestyle subscription for raw foodists.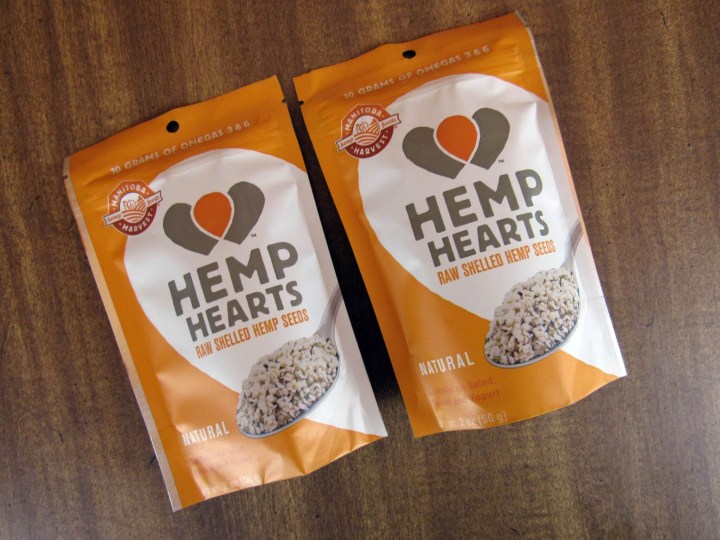 The Manitoba Harvest Hemp Foods Hemp Hearts  ($2.99 x 2) are a simple way to add plant protein to your diet. Give one bag to your sweetie and eat the hemp hearts straight out of the bag or sprinkle on food. Including two bags fits the 'Spread a Little Love' theme nicely.
The Health Force Myco-Immunity Capsules ($6.00) are made from wood-grown mushrooms and Mycelium grown on grain. I found that to be interesting because I see shiitake mushroom logs when attending farm conferences. The capsules may improve immunity.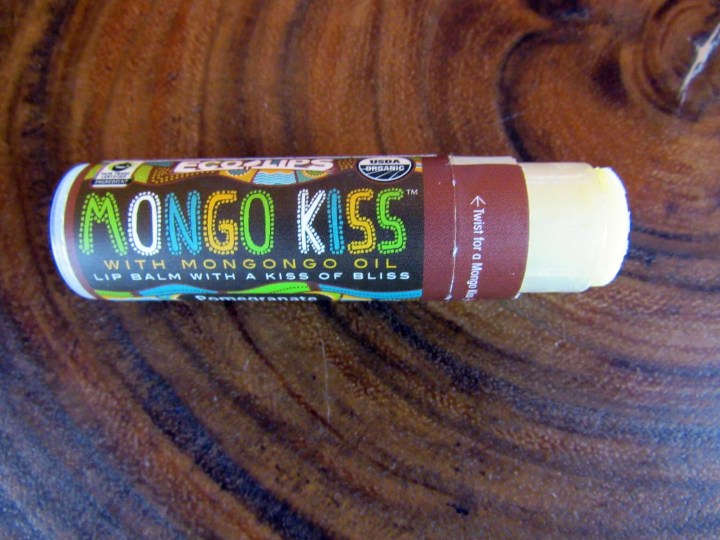 How can you spread the love if your lips are not kissable? The Eco Lips Mongo Kiss Lip Balm ($2.49) contains Mongongo Oil. The gluten-free balm has a soothing mixture of ingredients including Fair Trade Certified cocoa butter, Mongongo Oil which is high in Vitamin E. It has a great Pomegranate scent.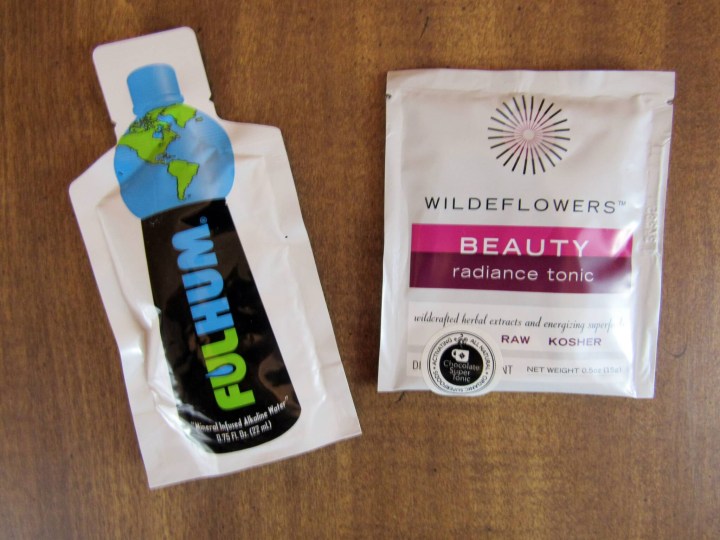 The FulHum Liquid Concentrate ($1.00) adds minerals to your water.The package needs to be diluted in at least 17 ounces of filtered water.
The Wildeflowers Beauty Radiance Tonic ($3.50) is a chocolate super tonic that has many benefits including giving your skin a youthful glow. The key ingredient is Pinctada Martensii which is pearl. Add to warm water and enjoy the results.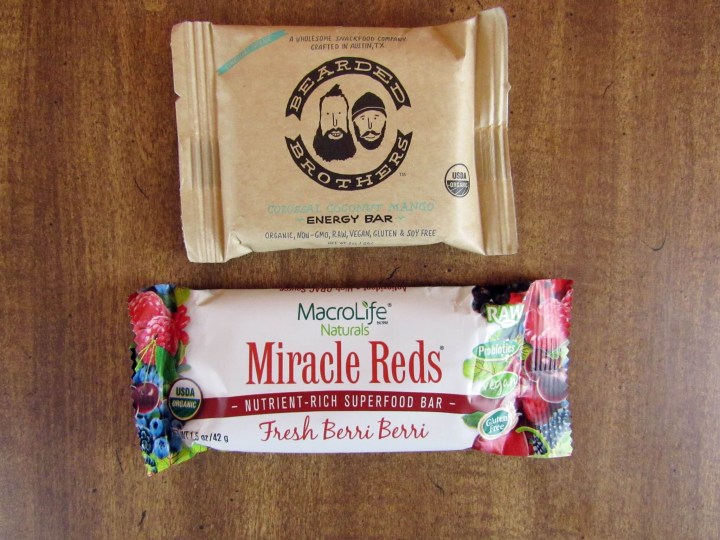 The Bearded Brothers Colossal Coconut Mango Energy Bar (3.50) is organic, non-gmo, raw, vegan, gluten-free, and soy-free. It has a nice smooth texture and satisfies those late afternoon cravings.
The cold-process MacroLife Miracle Reds Superfood Bar ($3.00) is full of all kinds of redberries making it a perfect choice for the month known for the color red. It has a nutty, berry taste. My husband could taste the dates, nuts, and fruits.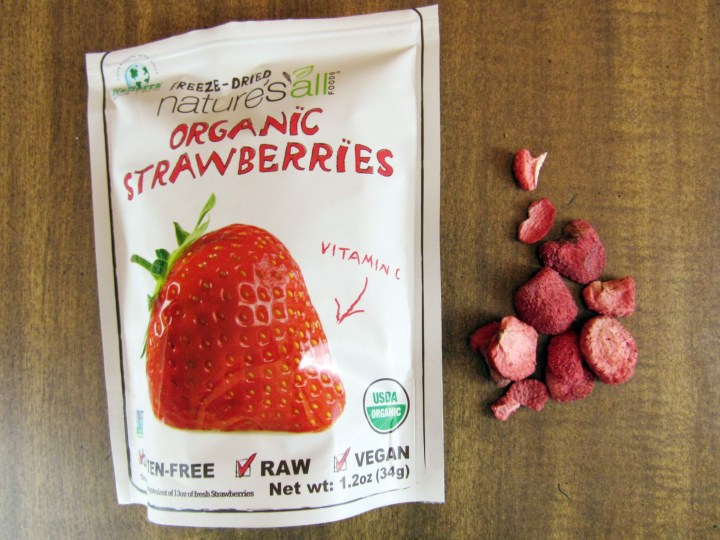 The Natierra Nature's All Foods Freeze-Dried Strawberries ($5.00) tastes like strawberries. My husband volunteered to try them because strawberries do not like me! He adds them to his cereal because they were a little too dry for him.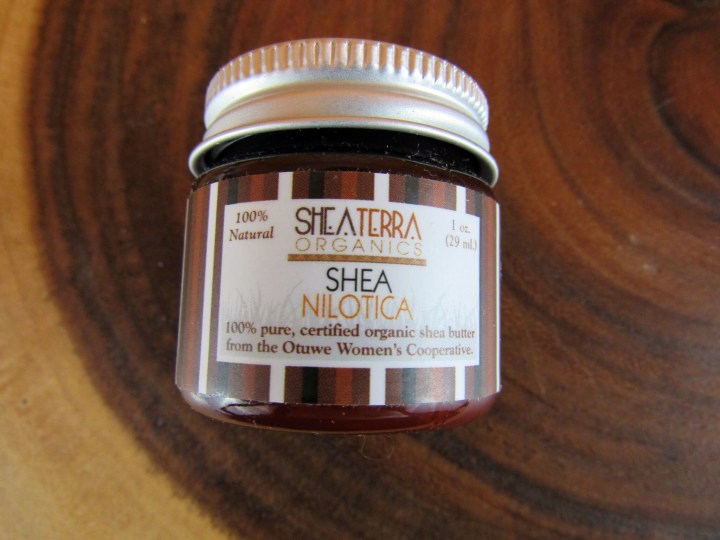 I'm excited to see SheaTerra Organics Shea Nilotica East African Shea Butter ($6.00) because the brand is amazing and it is produced by the Otuwe Shea Butter Cooperative in Northern Uganda which gives women the ability to support themselves and their families. The single ingredient shea nilotica butter is soft and creamy. It can be used on hair, nails, around the eyes, as a body butter and more. I plan to use it mostly on my hair ends. The Shea Butter can also be used as an ingredient in beauty recipes and blended with essential oils.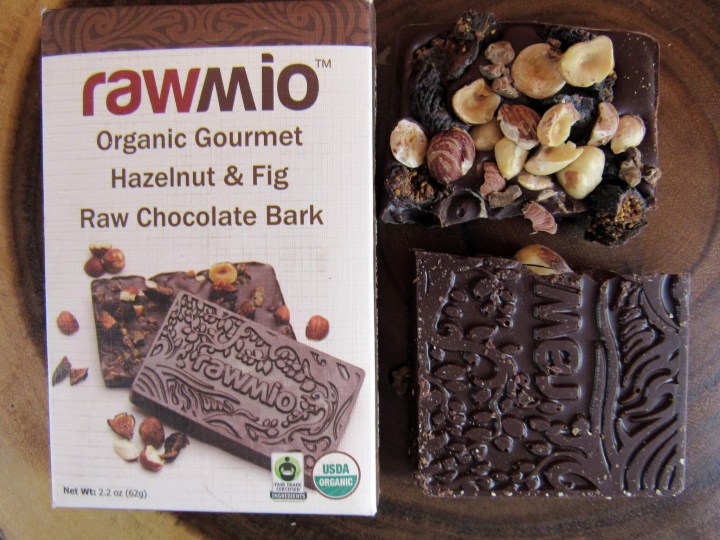 The Rawmio Hazelnut and Fig Raw Chocolate Bark ($7.00) is almost too beautiful to eat. The delicious treat is rich, crunchy, chewy and has decadent chocolate nibs! It's a wonderful treat!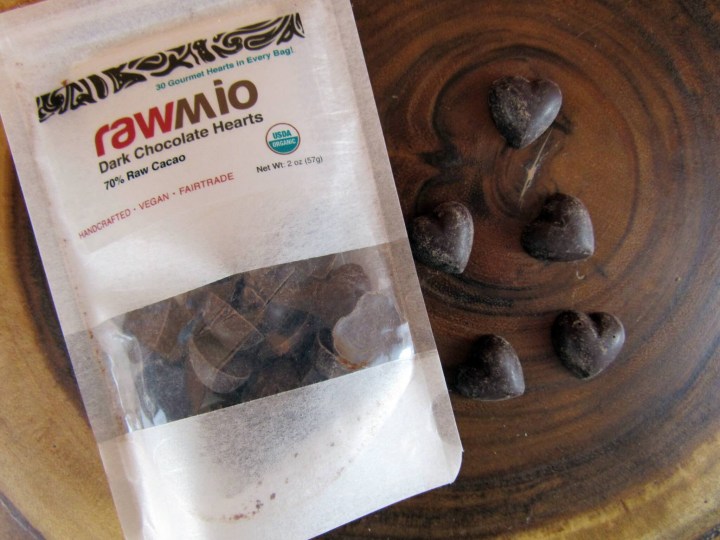 I saved the best for last. The Rawmio Dark Chocolate Hearts ($6.00) are 70% raw cacao. The ingredients are organic raw cacao nibs, organic coconut sugar, and organic raw cacao butter. It was a wonderful decadent treat!
I'm impressed with Raw Box. It has an excellent variety of snacks, drink mixes, pantry items, and beauty products. The items were perfect for the 'Spread a Little Love' theme. I love the creativity with the different heart items, red foods, and chocolate. It's an easy way to make small changes in your life that will lead to bigger changes.
What do you think of the February 2016 Raw Box?
Visit RawBox to subscribe or find out more! Save 15% on your first subscription! Use coupon code  WELCOME15OFF.
The Subscription
:
RawBox
The Description
: RawBox is the first subscription box that may be safely enjoyed by Raw Foodists, Vegans, Vegetarians, Celiacs, Paleoists, Athletes, Dieters, and more. Each box has only raw, plant-based snacks and lifestyle products from the healthiest brands on the planet. 10-12 products; a total value of $60 or more. Totally raw, plant-based, gluten-free, wheat-free, soy-free, dairy-free, GMO-free, MSG-free, sulfite free, and more. All lifestyle products are free from parabens, polypropylene and polyethylene glycols, sodium lauryl and laureth sulfates.
The Price
: $39.95 per month